Discovering the authentic South-West of Mauritius
DunienZîl offers you a different way to discover Mauritius. Thanks to the electric bicycle, excursions to discover the most beautiful landscapes of Mauritius, its fauna, its flora, and the culture of the various components of its population, become a real pleasure where effort gives way to wonder.
The aim is to make you learn, in simplicity and good mood, the different authentic facets of our Mauritius: historical monuments, small trails in the middle of lush nature, magnificent panoramas, majestic mountains, waterfalls, fishing villages …The electric bike remains the mean of locomotion best adapted to explore Chamarel region.
The South-West coast of Mauritius has a crazy charm and a unique cachet that you will have the opportunity to discover if you join us to visit the places that make the magnificence of Chamarel.
The itinerary of the one day ride of Chamarel with electric bikes
This guided tour starts from the restaurant Le Chamarel over a cup of coffee while you admire the most beautiful view of 'Moris' (Mauritius) over the lagoon and the Morne Brabant mountain, a UNESCO World Heritage site. You will then move to the Chamarel Rum Distilery with your electric bike.
Once on site a guide will be waiting for you to brief you on the different stages in the production of rum in double-distillation stills. During this interesting guided visit of this Chamarel plant, you will be invited to enjoy a rum tasting and a savoury tasting of pineapples prepared according to three different recipes. It is however advisable to drink in moderation if you want to continue the ride safely.
We shall continue our route on our super bike towards the authentic and typical village of Chamarel.
We shall pass by coffee fields and stop at a view point to admire the magnificent Chamarel waterfall. Further on you will have all the leisure to admire one of the greatest geological curiosities of Mauritius: La Terre des Sept Couleurs (the seven colours earth).
You will next pay a visit to the giant turtles, and understand their universe and why they are there! We will then commence the descent of Fantaisie, which culminates at 240 m, on a beautiful road lined with sugar cane fields.
We will stop for lunch at a place that only a handful of Mauritians are aware of.
This electric bike tour provides a real change of scenery in one of the most visited places in Mauritius. With DunienZîl, you will discover secluded places where few people have access.
After this well-deserved break, we will continue along the South-West coast to visit historic sites in Mauritius. We will take small sandy paths, more pleasant than the asphalt road, in the direction of Bel Ombre. We will stop at the Castle of Bel Ombre (Heritage Le Château), an elegant 19th century colonial style mansion and its  its sublime French style garden.
After this refined touch, it is at the former sugar factory of Bel Ombre, in «La Place du Moulin» that our guided tour of Chamarel by electric bike will end. Before leaving you can stroll around for a moment and buy local handicrafts as a souvenir.

8:30 to 14:30
1 to 14 persons

Full Day:
RS 3'980 ≃ 86 EUROS
Discover the descent of Chamarel / Rhum distillery of Chamarel with DunienZîl
Practical information
A safety vehicle will accompany tours of more than four persons, and our qualified Mauritian guides will comment on the strategic places you will visit and allow you sufficient time to admire the beautiful landscapes along your route.
Starting point:Le Chamarel restaurant in Chamarel at 8:30 am
End point of the full day trip:Place du Moulin, in Bel Ombre, at 2:30 pm
Chamarel Full Day Trip Rate:RS 3'980 or 86 EUROS
Throughout the route, the guide will make several stops at strategic points to let you learn about the history of the site or tell you interesting anecdotes about Chamarel, Baie du Cap and Bel-Ombre. Rest assured, you will have time for a photo break and enjoy a moment of relaxation, generally very much appreciated.
You should bring:raincoat, sunscreen, mosquito repellent, cap.
You may wish to buy small local souvenirs. Bring some cash as the credit card cannot be used.
Taxi:The ride start in Chamarel and end in Bel Ombre. In order to collect your car which you left at the departure point, we can arrange a taxi for Rs 750, amount that will have topay in cash directly with the driver
Will be provided during the Chamarel ride: bicycles, helmets, safety vehicle (for groups of more than 4 people), professional guides, coffee, entrance fee at the seven colours land, entrance fee at the Chamarel Rum Distillery, rum tasting, pineapple tasting, typical Mauritian lunch (Dish & dessert), water.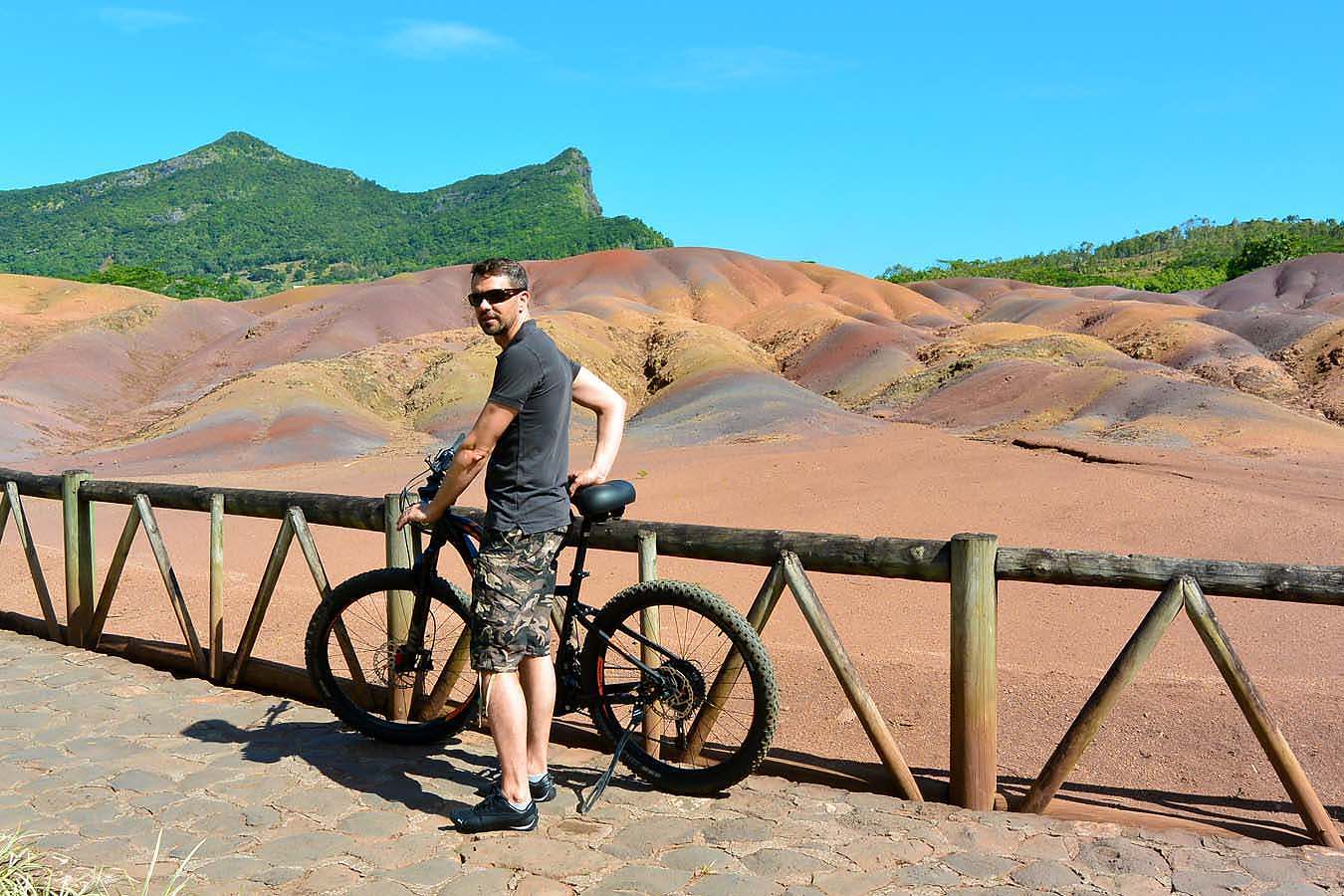 In case of torrential rain, we reserve the right to cancel the trip. However, in case you wish to cancel or postpone your trip to a later date,
you have three alternatives:
48 hours notice = free
24 hours notice = 50% of the price of the ride will have to be paid
same day = non-refundable
Once the trip has started, it cannot be reimbursed in case of bad weather. However, we will do our best to adapt to the situation in order to make the course as pleasant as possible. (It is important to have a raincoat). Photos of your trip in Mauritius will be available on a CD at Rs 800.
To make the ride in good conditions, children will have to be more than 1.47m high and know how to ride a classic bike.
THE HISTORY OF THE CHAMAREL REGION, MAURITIUS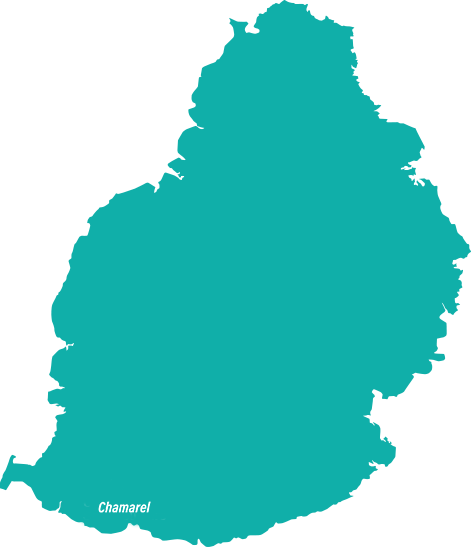 Between Black River Gorges National Park and Morne mountain lies the Chamarel region, 400 metres above sea level. It is one of the places to visit absolutely during your holiday in Mauritius.
Chamarel is a small village of Mauritius and has only seven hundred inhabitants. Chamarel is known for its Terre des Sept Couleurs (Seven Colours land) linked to a rare geological phenomenon. Indeed, the Terre des Sept Couleurs at Chamarel is a small open space in the middle of a forest where one finds small mounds of earth with seven variations of colours of which the most visible ones are ochre, brown, red and purplish. This phenomenon is due to the presence of volcanic ash containing mineral oxides of different colours brought to light by erosion for centuries.
The peculiarity of this earth, it is said, is that once mixed, the colours will separate themselves over time. But far from the tourist clichés, the village of Chamarel and its region reserve many other surprises. Thus, the old Sainte-Anne chapel, dating from 1876, is a place of pilgrimage on Assumption Day and also sees festivities taking place during the year.
Chamarel also hosts a superb coffee plantation, unique in Mauritius, that produces Arabica. Grown on 16 hectares, the coffee plants have been carefully selected according to temperature, rainfall, soil quality and sunshine.
The first owner of the lands of Chamarel was Jean Louis Lousteau. In 1785  the lands were transferred to his sons, Toussaint and Charles-Antoine de Chazal de Chamarel. The latter settled there around 1793 and supplied wood to the colony by exploiting the forest. He also cultivated, among others, coffee and sugar cane. It was only around 1845 that the first sugar cane factory was built but it closed its doors in 1897. Its chimney, still intact, can be seen on the Domaine de La Vieille Cheminée…
In Mauritius, thanks to its tropical climate, the sun shines during the major part of the year, especially on the coast. Mauritius is a mountainous island and quite hilly in the center and in Chamarel.
The temperature is very variable along the same day giving the impression of crossing four seasons in a single day. This microclimate found in Chamarel brings sun, clouds and rain. So make sure you have appropriate clothing when you visit.