Our Fat Bike Tour in Mauritius
An exclusive getaway with DunienZîl
Experience the fat bike with your family and discover an exclusive course that is perfect for children. A wonderful family bike ride awaits you on the easy trails of the Wolmar hunting grounds located on the west coast of Mauritius, at Flic en Flac. DunienZîl opens the doors of this private domain generally closed to the public. Enjoy this outdoor family excursion without further delay.
This family biking tour is ideal for everyone who loves nature and who is looking for exoticism. Going at the discovery of this hunting area, which opens its doors to our cyclists, off hunting periods, allows you to admire the fauna and flora of Mauritius while pedalling gently on the sandy paths
Throughout the course you will have the chance to see animals in the open air, 'brown pigs' (wild boars), Java deer, hinds with their fawns, geese and birds, all in their natural habitat.
It's a fantastic adventure for children; a breath of fresh air. Accompanied by an experienced Mauritian guide who knows well how to keep alive the attention of children, this walk will remain for them an unforgettable memory of their holidays in Mauritius.
They will have a lot to tell their friends on returning back home. Breaks at strategic locations will allow you to rest and take pictures with your children. They will be delighted to climb the wooden watchtowers on which hunters settle during a hunting party to better see the animals from afar.
Like all children, they will be delighted to admire the wildlife while having fun. It is the whole family that will be fascinated by the beauty of nature, plants and tropical vegetation of this very special site in Wolmar.
Family bike ride with a baby seat (baby over 1 year)
This gentle walk, adapted to the pace of children, will allow you to enjoy nature and animals that you will have the chance to cross.
We suggest you to put a baby seat for the little ones (as from one year) at the back of your bike. For older children we have bikes (MTB) adapted to their size and age.
One of our trained guides will accompany you and will propose halts at strategic places to make you discover the beauty of the landscapes of Mauritius. Our Fat Bikes are very stable and allow a family excursion in serenity and in complete safety. Join us for a fabulous adventure to discover Green Mauritius
Bikes available for Wolmar Family Excursion:
This excursion is accessible to the whole family, toddlers as well as adults. The choice of the right bike is essential for the smooth running of the outing. Thus, our bikes will be allocated as follows:
For persons measuring more than 1m45: Fat Bike or electric mountain bike
For those measuring less than 1m45: classic mountain bike adapted to the size of the child
For the little ones: A child seat can be installed on the bike of one of the parents, on request

8:30 to 12:00 / 13:30

With lunch:
€ 85

Without lunch:
€ 65
Discover the Wolmar domain with DunienZîl
USEFUL INFORMATION​
Starting point of the family walk: Wolmar hunting grounds, at 8:30
Arrival point of the family walk: Wolmar at 11:30
Lunch: Possibility of lunch for groups of more than 6 people. You will then finish your tour between 12:00 and 13:30. At lunchtime, those who have opted for the 'inclusive lunch' option will be able to taste typical Creole dishes (deer or chicken curry, lentils, rice, chutney, ice cream and coffee).
Duration: About 3 hours. We will not drive for 3 full hours, but we will make a few stops to let you discover Mauritius, take photos and have moments of relaxation.
Will be provided: Private guide, lunch, water, coffee, fresh fruit juice, light snack, safety helmet, baby seat on request.
To provide: Sports shoes, sun protection cream, cap, mosquito repellent, waterproof coat.
Rate :
WOLMAR WITHOUT LUNCH: € 65
WOLMAR WITH LUNCH: € 85
KIDS UNDER 9 YEARS OLD – WOLMAR WITHOUT LUNCH: € 25

KIDS UNDER 9 YEARS OLD – 

WOLMAR WITH LUNCH: Rs € 35
BABY LUNCH: € 10
LESS THAN 3 YEARS – WOLMAR WITHOUT LUNCH: FREE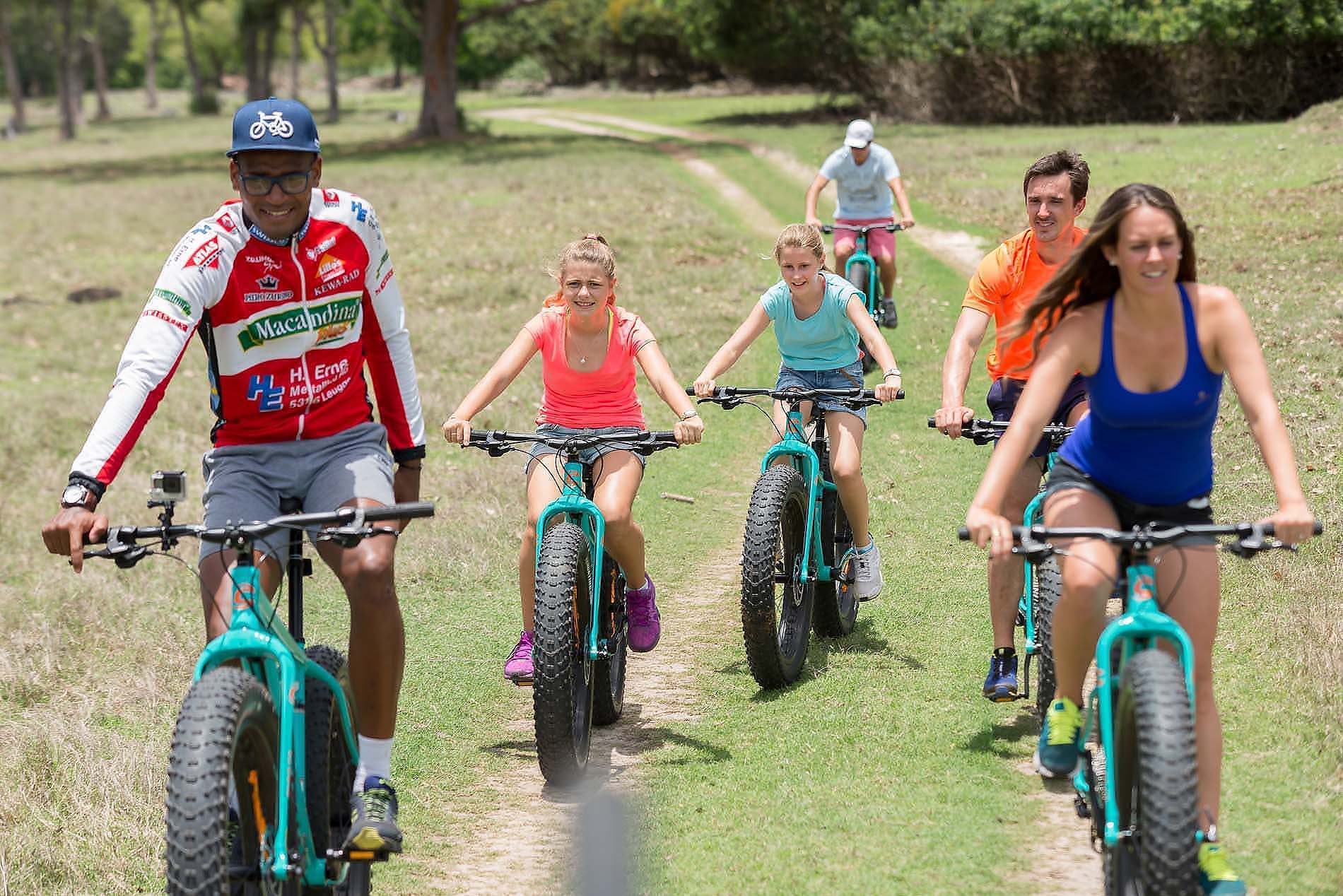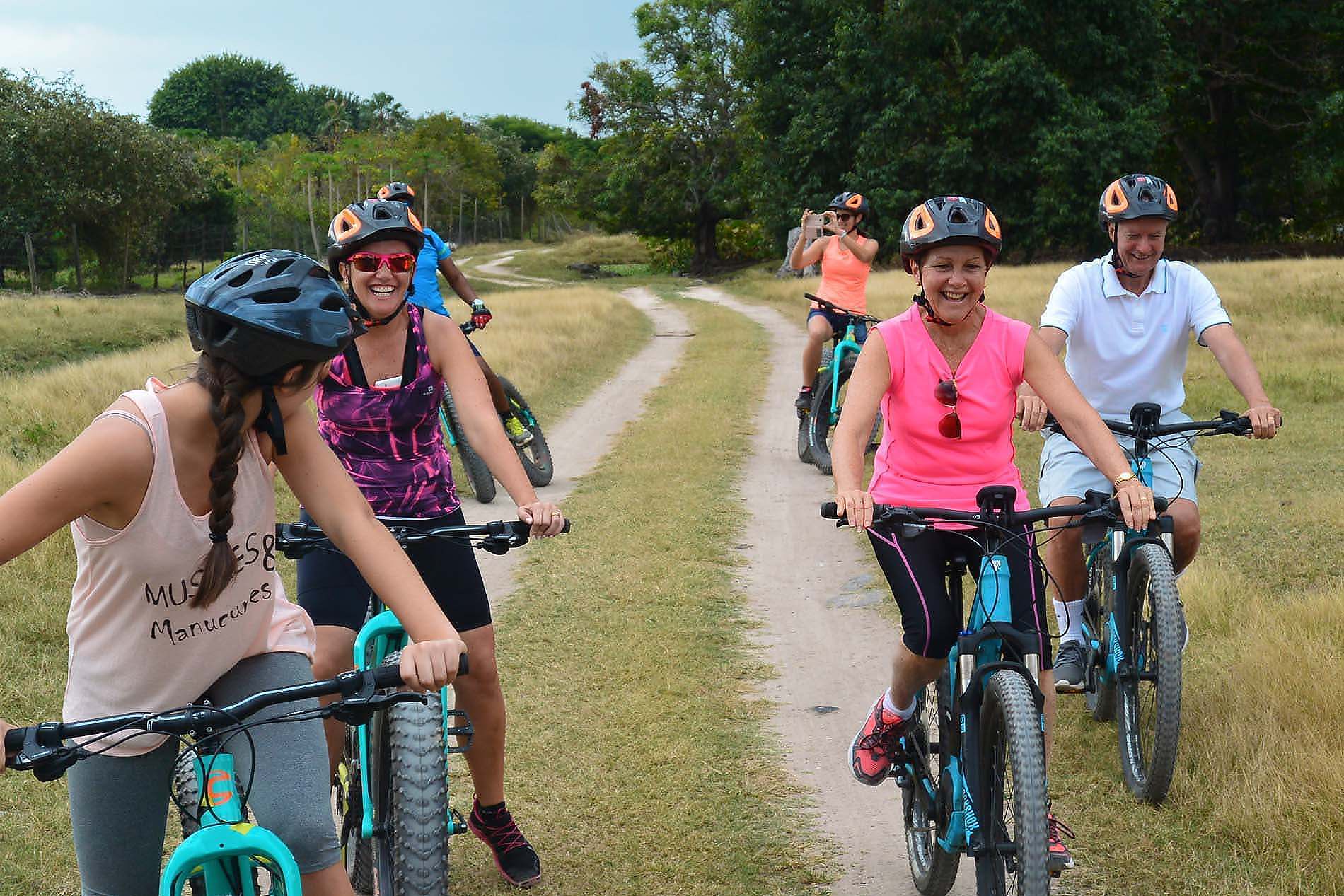 Join us for an unforgettable experience
In case of torrential rain, we reserve the right to cancel the trip. However, in case you wish to cancel or postpone your trip to a later date,
you have three alternatives:
48 hours notice : free
24 hours notice : payable and non-refundable
same day : payable and non-refundable

Once the trip has started, it cannot be reimbursed in case of bad weather. However, we will do our best to adapt to the situation in order to make the course as pleasant as possible. (It is important to have a raincoat). Photos of your trip in Mauritius will be available on a CD at Rs 800.
In order to be able to ride in good condition, children will have to be over 1.47m tall and know perfectly how to ride a classic bike.
Wolmar is located at the end of the village of Flic en Flac on the west coast of Mauritius. Wolmar's private estate is hilly and wooded giving it a crazy charm. It is close to the sea and to a beautiful irresistible sandy beach, quieter than the large public beach of Flic en Flac. Being less busy it allows a peaceful swim with the family. It is also the ideal place to make beautiful pictures.
This hunting ground offers beautiful hikes thanks to its paths and trails drawn in the middle of lush vegetation. The primary function of this nature reserve is deer hunting, from June to September, and tourist activities are obviously held off hunting period. Cycling excursions allow you to be closer to the animals (deer, 'brown pigs' (wild boars), bats, hares and birds). Large coral blocks scattered over the place are one of the curiosities of this green place. Part of the forest is planted with Eucalyptus trees used for the production of coal. Here, you can observe the Mauritian nature as you have rarely done!