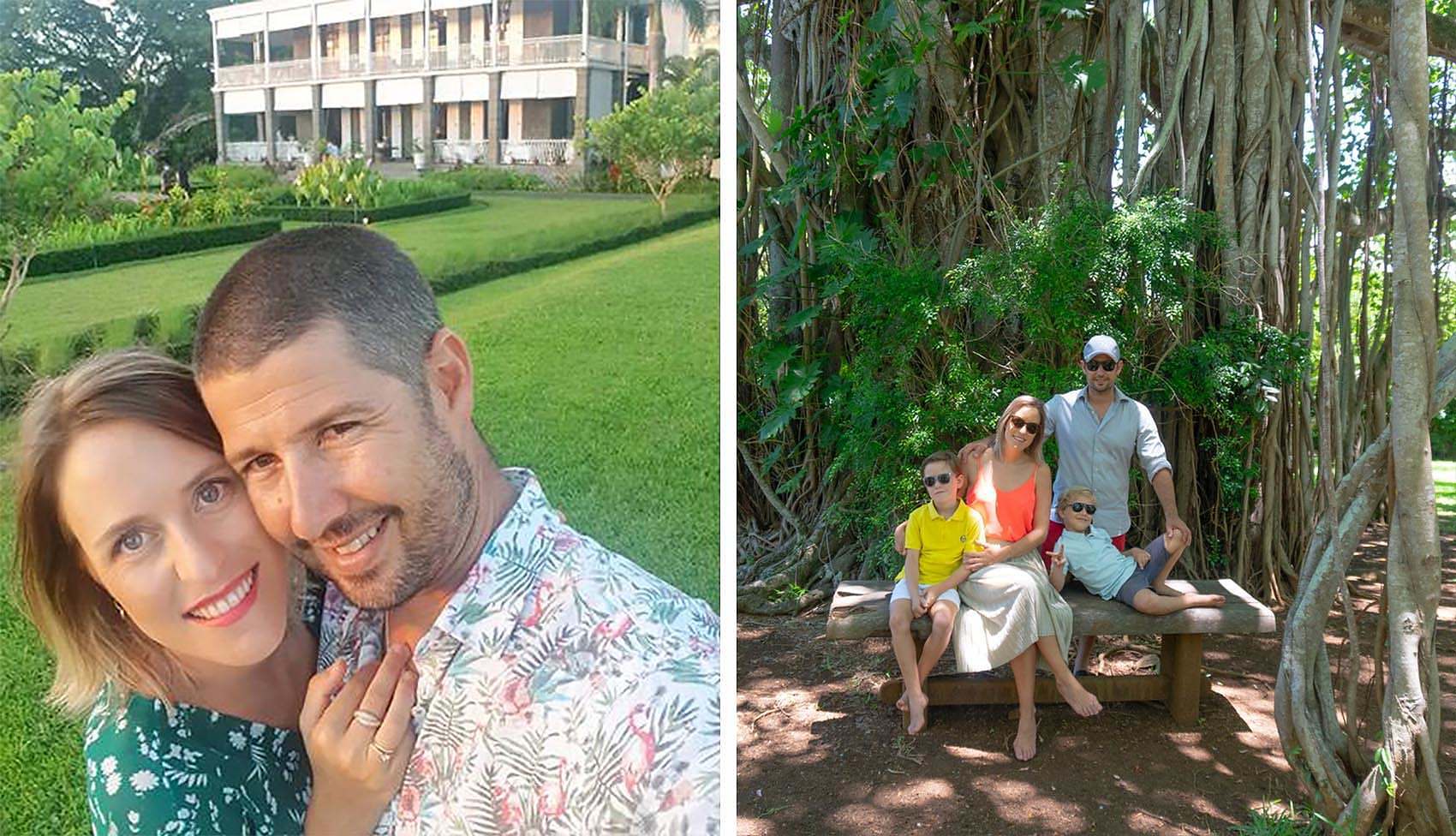 Qui Sommes-Nous ? Pourquoi Ce Blog ?
Si nous avions été un vélo, nous serions un tandem. Avec mon mari Laurent, anciennement dans la construction et moi dans la décoration, nous sommes les parents de deux adorables garçons, Raphaël et Victor. On peut dire que notre troisième bébé, c'est «Electro-Bike Discovery« , notre société qui propos des visites guidées par Laurent en vélo électrique. Nous avons commencé par les balades de Souillac, de Chamarel et du Morne et le succès de ces randonnées inédites à Maurice nous a poussé à développer aujourd'hui un vrai concept d'éco-tourisme avec «Explore Nou Zil« .
Passionnés et amoureux de notre île Maurice, de ses habitants, sa culture, sa nature, c'est de manière écologique que nous avons souhaité partager nos connaissances et nos coups de cœur. Sentiers battus ou lieux méconnus, suivez-nous dans la découverte des mille activités familiales de l'ile Maurice.
Activités plaisir grâce aux vélos à assistance électrique, activités familiales ou activité sportives avec le fat bike ; avec nous, prenez le temps d'aller à la rencontre des habitants et d'admirer cette nature luxuriante qu'offre l'île Maurice. Laurent est un excellent guide qui met toute sa passion au service d'activités inoubliables. 
Au gré de nos balades, venez découvrir Moris (Ile Maurice bien sur) dans toute son authenticité, et, si vous êtes en vacances à Maurice, soyez un vrai Mauricien l'espace d'une journée ! Nous proposons des activités a faire en famille à Maurice.
Ce blog est destiné à être un recueil d'anecdotes vécues, de personnages rencontrés, de lieux méconnus, de recettes hautes en couleurs et en saveurs, de bons plans à ne pas manquer. Nos activités se font en famille afin de vous proposer des plans sympas et agréables qui plairont à tous, le plus sincèrement possible.
Après avoir consulté notre blog, vous n'aurez plus qu'une envie : « Explore nou zil » avec Laurent, votre guide attitré !

Mauritius is famous for water sports of all kinds. Its turquoise lagoon and water temperature are ideal, a real paradise for this type of sport.
Water-skiing, wake-boarding, kneeboard, mono-ski, stand-up paddle, kayak, pedal boat, windsurfing, or kite surfing are very popular and make the happiness of holidaymakers in Mauritius… and Mauritians.
Read more »
A bike ride with the kids is so much more fun to discover Mauritius! This ecological way allows us to explore the hidden treasures of our island, to ride in unusual places, to take small paths inaccessible by car, to pedal at our own pace, according to our desires.
Read more »
Mauritius bewitches the traveller with its mixed gastronomy, the fruit of its ethnic diversity from India, Africa, Asia and Europe. Ti Chevrette restaurant in Moka, offers traditional Mauritian cuisine, through Creole dishes with the flavors and scents of Mauritius.
Read more »
This 100% Mauritian blog was created to allow you to discover Mauritius differently. My husband Laurent, my children Raphaël and Victor and I, Amélie, have tested for you different types of accommodation, restaurants, spas, cultural activities, land and water activities in the four corners of the island.
This blog will give you a multitude of ideas and addresses to make your next family holiday in Mauritius a success.


This error message is only visible to WordPress admins
Error: No connected account.
Please go to the Instagram Feed settings page to connect an account.
Mauritius is a small island in the Indian Ocean bordered by paradise beaches of fine white sand and surrounded by a turquoise lagoon. The barrier reef protects us from the big waves and ensures a calm sea in the lagoon. The holidaymakers who have chosen Mauritius during the summer holidays will be delighted to bathe in warm water safely.


Mauritius is an island with a tropical climate where sunshine is present mostly all year round. The warm climate is characterized by the alternation of two seasons: the southern summer from November to April and the southern winter from May to October. Summer remains the wettest period and rainfall is heavy, especially on the central plateau. During this period the climate, 25°C to 35°C, is very pleasant for vacationers, but especially for those who practice water sports and scuba diving. The water is very clear and its temperature is between 25°C and 29°C.
In winter, the average temperature is 25°C during the day and 15°C at night. It is generally very mild on the coasts, but sometimes cooler in the hinterland. The sea is cooler and its temperature does not exceed 22°C.
During this period, the climate is favourable for surfers and deep sea fishing. The cyclonic season is between December and the end of March. But that doesn't necessarily mean cyclones will automatically hit the island every year. For more than fifteen years now they have all passed by Mauritius and watered the island abundantly without causing important damages. But when they are too close, they cause relatively significant damage.

The best periods for holidays in Mauritius would be April to June and September to November. You can then really enjoy your visit, the sea, the water and land activities, and why not, make your honeymoon here.
You will choose your season according to your tastes and needs, but in any case you have a fair chance of enjoying a sunny stay