According to us, the best accommodations in Mauritius
Follow us through our experiences in selecting different types of accommodation such as 5-star hotels, 4-star hotels, 3-star hotels as well as luxury villas, eco-lodges, mountainside chalet, cottages, and guest rooms in beautiful old mansions, with the option 'all inclusive' or half-board.
Our children always accompany us in our various activities. They particularly appreciate the mini-clubs of hotels where there is a large range of activities always perfectly adapted to their age.  At each of our visits we enjoy unique and authentic moments in our beautiful Mauritius.
The Mauritian hotel park includes magnificent luxury hotels with high-end infrastructure, and offering a wide range of activities, both terrestrial and nautical, in order to allow their clients to spend exceptional holidays.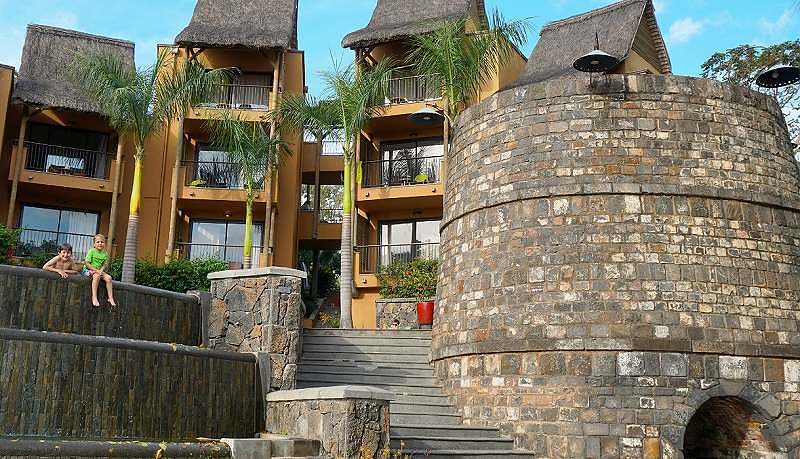 Other types of accommodation in Mauritius.
Curious to discover Mauritius otherwise, in a more authentic way and closer to nature, we went on the east coast of the island to play the Robinson Crusoe. Otentic Tent Experience is an atypical and unusual accommodation for a holiday in the mountains. It offers giant tents on stilts in the Otentic Tent site and wooden mountain chalets in the Otentic Mountain site. As the latter site is located higher up the hill, there is no access to the internet and the mobile telephone network; you are cut off from the rest of the world, immersed in the lush greenery.
With the children, we did many activities such as:
climbing Bamboo Mountain with a breathtaking view of the offering a breathtaking view over the —————-
meeting farmers in an onion field and experience country life
use available kayaks to paddle along the river below
observe monkeys in trees along our route to the Great Southeast River Waterfall
playing petanque with the family
enjoy the typical Mauritian meals of the pretty on site restaurant
stay warm in front of the campfire, a time of rest for body and mind after a day full of activities, adventures and discoveries
Nous avons grandement apprécié notre expérience en famille à la Demeure Saint Antoine à Goodlands, au nord de Maurice, où nous avons été projetés cent ans en arrière. Cette demeure coloniale au charme fou avec ses meubles d'époque, ses boiseries et son jardin aux arbres centenaires, nous ont plongé dans une ambiance romantique. Laurent qui connaît bien les alentours ayant vécut dans ce quartier enfant, nous a montré lors d'une balade en VTT ses coins préférés et surtout le terrain de jeu de son enfance, l'usine sucrière à proximité. Une coupe de champagne et un dîner divin à la « salle à manger » le savoureux restaurant de la demeure nous ont régalé. Un séjour de rêve dans un cadre sublime.
À Heritage Le Château, à Bel Ombre, nous avons vécu la vie de château lors d'une nuit, digne des contes des milles et une nuit dans l'unique chambre existante de cet endroit de rêve. Un voyage hors le temps en amoureux. Nous avons savouré chaque instant. Pris du temps pour apprécier son jardin à la française, pris l'apéritif dans le salon et dîné gastronomique dans ce lieu rempli d'histoire. La chambre avec son lit à baldaquin, ses meubles d'antiquités, ses objets d'antan nous a enchanté. Se poser tranquillement au réveil dans un fauteuil en rotin sur notre terrasse avec vue sur le jardin et la mer a été tout aussi exceptionnelle. Une expérience exclusive à vivre à deux !
Rental of villas and apartments
If you are travelling with your family we also advise you to consider another type of accommodation in Mauritius: holiday rentals. Staying with children in a spacious villa on the beach can be an excellent choice for a successful holiday in Mauritius. This can also be a good choice from a price-quality point of view.
The luxury villas, located primarily on the West Coast, the North Coast and the East Coast, offer direct access to the sea. They often have a swimming pool where it is good to relax. The service of a housekeeper, a gardener, a cook and a security guard is often included in the rental.
Nowadays it's quite easy to rent an apartment in Mauritius for a short or long time period, but you have to make the right choice if you want to have a successful holiday in Mauritius. The accommodations we have selected for your holiday are usually located along the white sandy beaches and are ideal for a holiday with the family. Children can enjoy the lagoon or the swimming pool safely and various nautical activities are often close to your accommodation.
All these houses are very comfortable and are equipped with air conditioning, very appreciated during the periods of high heat that you can occasionally have during your holidays in Mauritius. These periods of high heat correspond to the winter months in Europe.