The enchanted parenthesis

Today, "we play home" : we stay on our West Coast, to discover a small quiet paradise overlooking the beautiful bay of Tamarin: Tamarina Golf & Spa Boutique hôtel. Although located only 15 minutes from home in the Rivière-Noire district of Mauritius, we nevertheless expect a nice change of scenery. We were kindly invited to come and enjoy a short stay and that's good because we wanted to spend a moment with our family, far from our daily lives, and do an extraordinary family activity.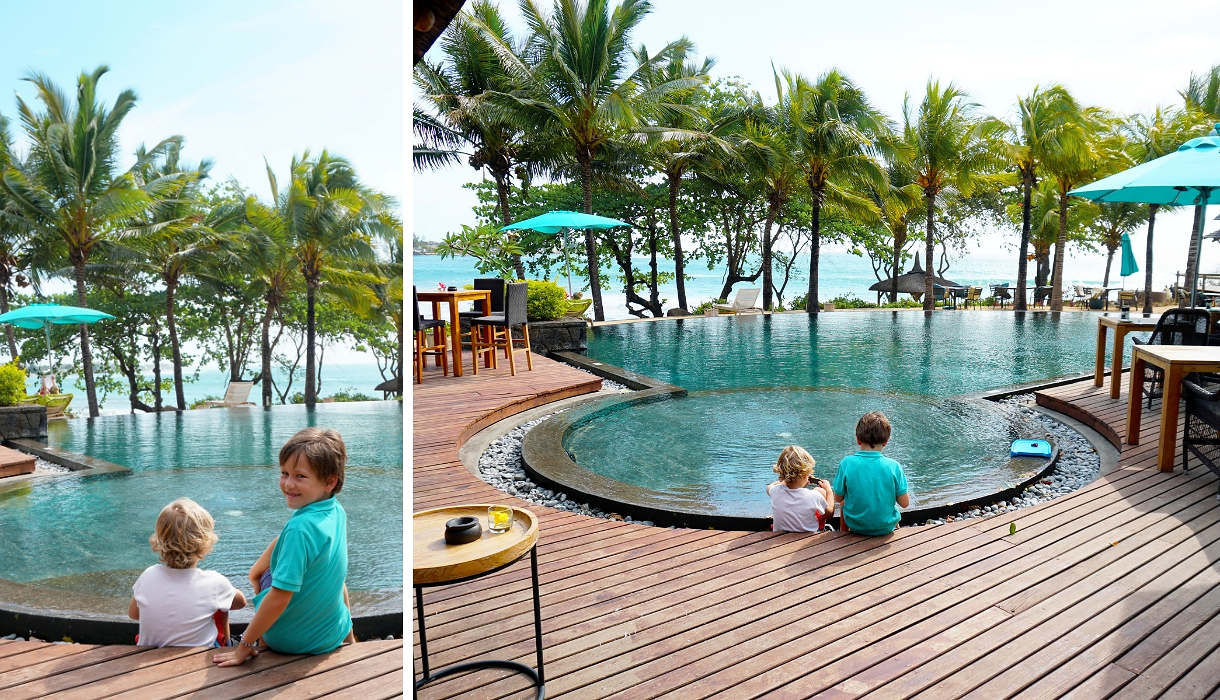 The hotel is accessed shortly after the small bridge over the Rampart River. After passing a superb arch at the entrance of the complex, we drove slowly along beautiful villas before entering a small wood where hares and monkeys were a little disturbed by our presence. While driving on the road leading to the hotel, we unfortunately could not see the Tamarina golf course, famous for its splendid view of the Tourelle, the mountain that watches over Tamarin.
Tamarina Golf & Spa Boutique hôtel has as its main asset the two famous surf spots: Black Stone on the right, Dal on the left. These two spots contribute to the international reputation of surfing in Mauritius. If you are an amateur, I advise you to watch the magnificent 1974 film that reveals Dal to the world "Forgotten island of Santosha" :
If you are wondering what to do with your family in Mauritius this summer, and especially on the West Coast, we suggest a stay at Tamarina Golf & Spa Boutique Hotel because its location is ideal for many unusual activities. The bay is famous for sheltering dolphins, large long-billed dolphins and smaller ones that move right next to their mother. Dolphin watching excursions are organized every morning and the hotel can make the reservation for you. However, be environmentally responsible and choose an operator who respects the rules of observation of these cetaceans. Remember: we are the ones entering their territory, let's respect them!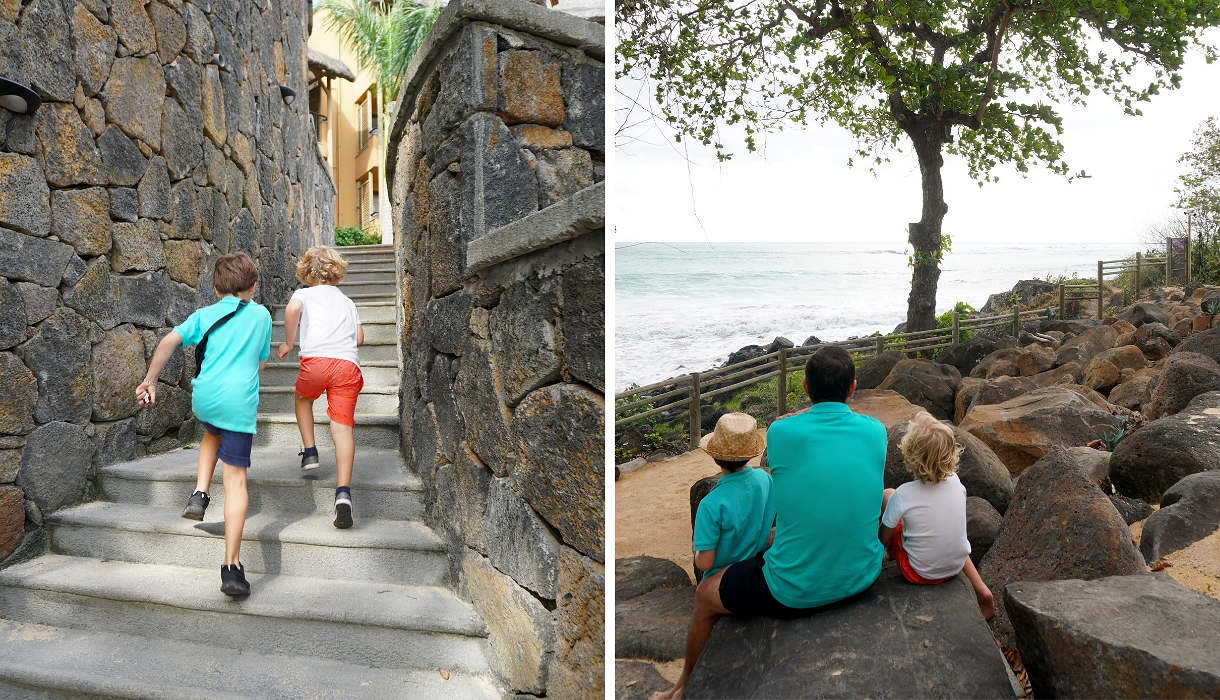 We arrived at Tamarina Golf & Spa Boutique hôtelvat 2:30 pm. The welcome was, as is usually the case in Mauritius, very warm and the staff very attentive to our well-being. For the first time we were separated from our children in a hotel, each one of us having his own room with a view over the sea, to the delight of Raphaël and Victor.

It is the quality of the welcome, combined with the breathtaking view of Tamarin Bay with its beautiful sandy beach, as well as the successful integration of the complex into this wild landscape, that make Tamarina Golf & Spa Boutique hôtel one of the best addresses for a holiday in Mauritius.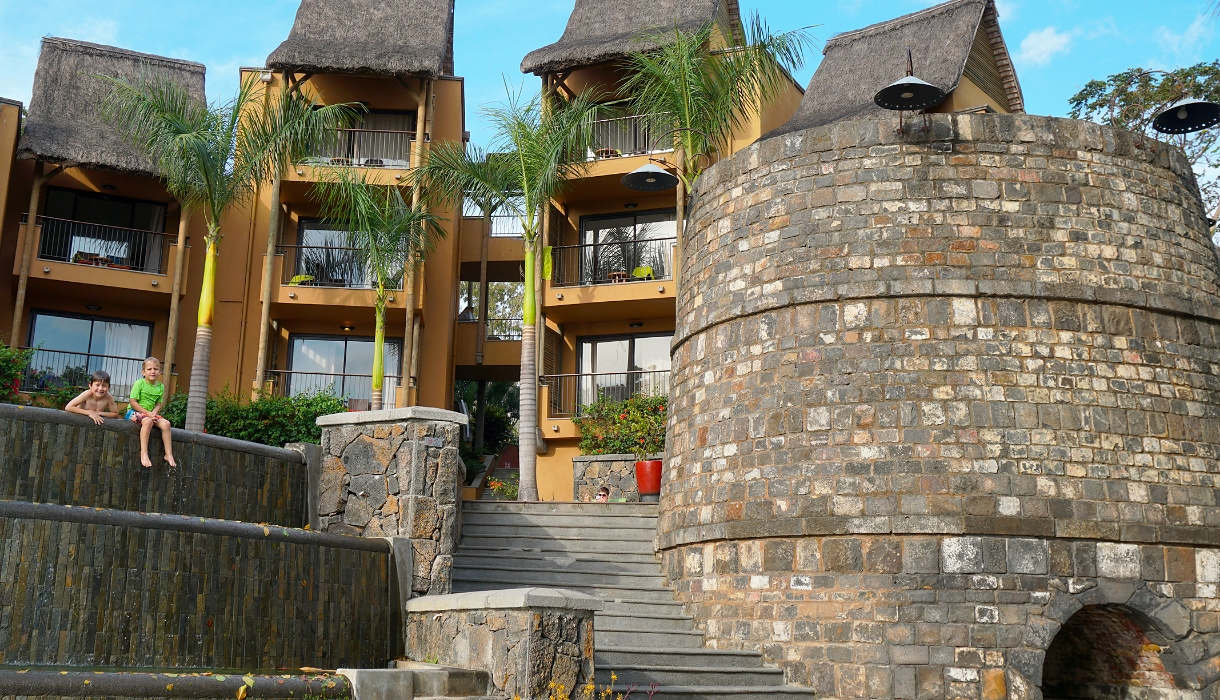 The hotel and its rooms
A magnificent hotel on a human scale with its fifty rooms, Tamarina Golf & Spa Boutique hôtel offers an excellent quality of services centred on the well-being of its guests. It feels like you're in a family home rather than a hotel.
Located on a peak, the superb overflow pool with several basins offers a magnificent view of the ocean and the waves below. Tamarin Bay beach is only a three minute walk away and you can go there at any time safely and with a complete peace of mind for a swim or just to enjoy the sun.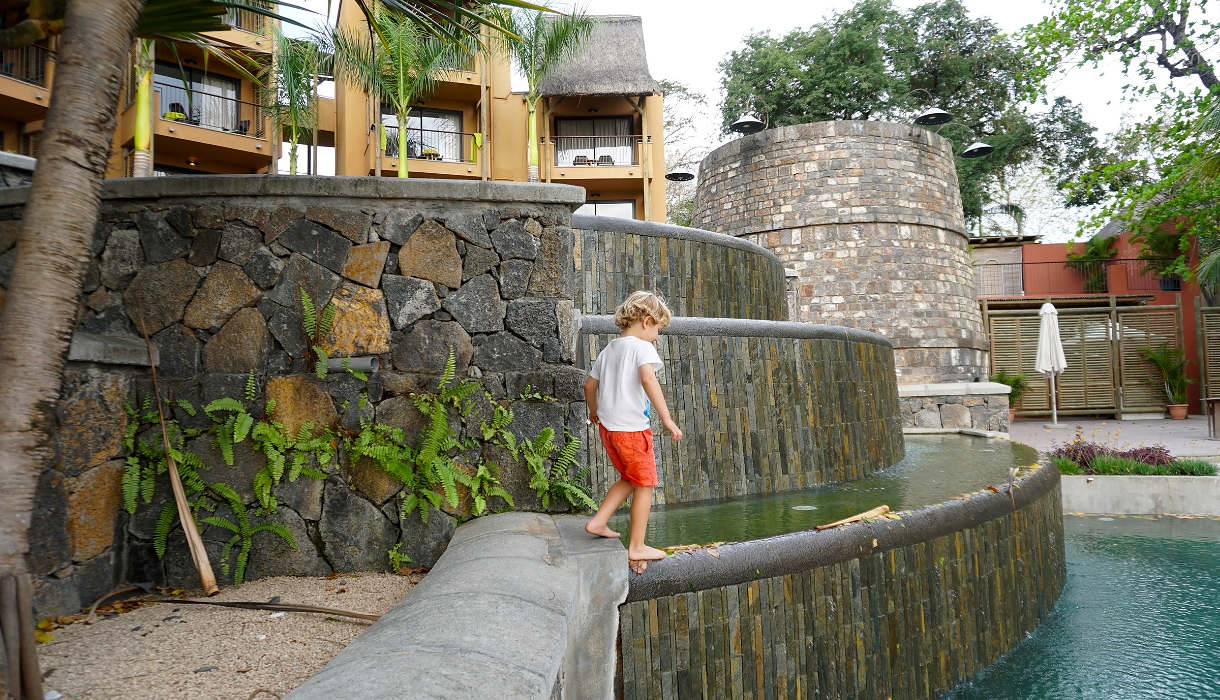 The judicious choice of ochre and brown for the exterior of the hotel's buildings recalls the wild nature of Mauritius and blends perfectly with the large rocks and plants cleverly selected and gives this hotel a special touch.
The rooms are friendly and perfectly furnished for comfort and relaxation. With their bright colours, they are very spacious, with a balcony overlooking the pool and the ocean. Ah! Nothing better than the sound of waves to fall asleep. A hotel that I particularly recommend if you are looking for a holiday accommodation in Mauritius facing a wild and beautiful sea.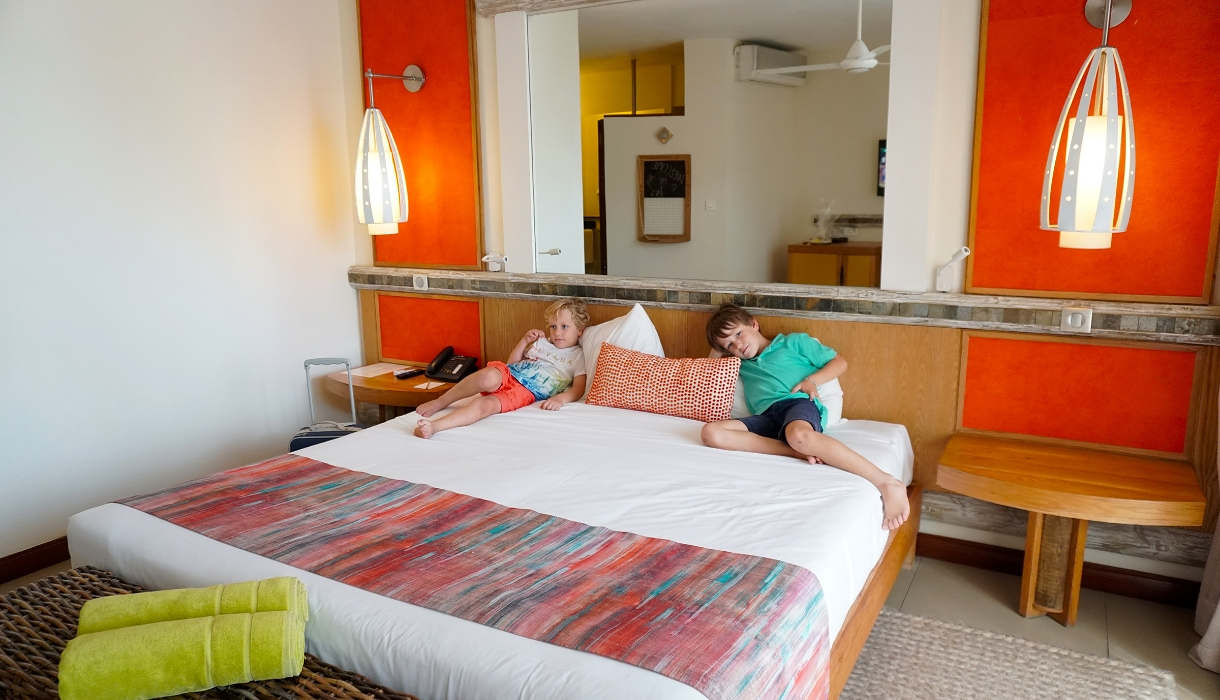 We were invited for an all inclusive experience, which allowed us to really enjoy the place and its excellent restaurant. The "All inclusive" corresponds to full board, overnight stay and meals.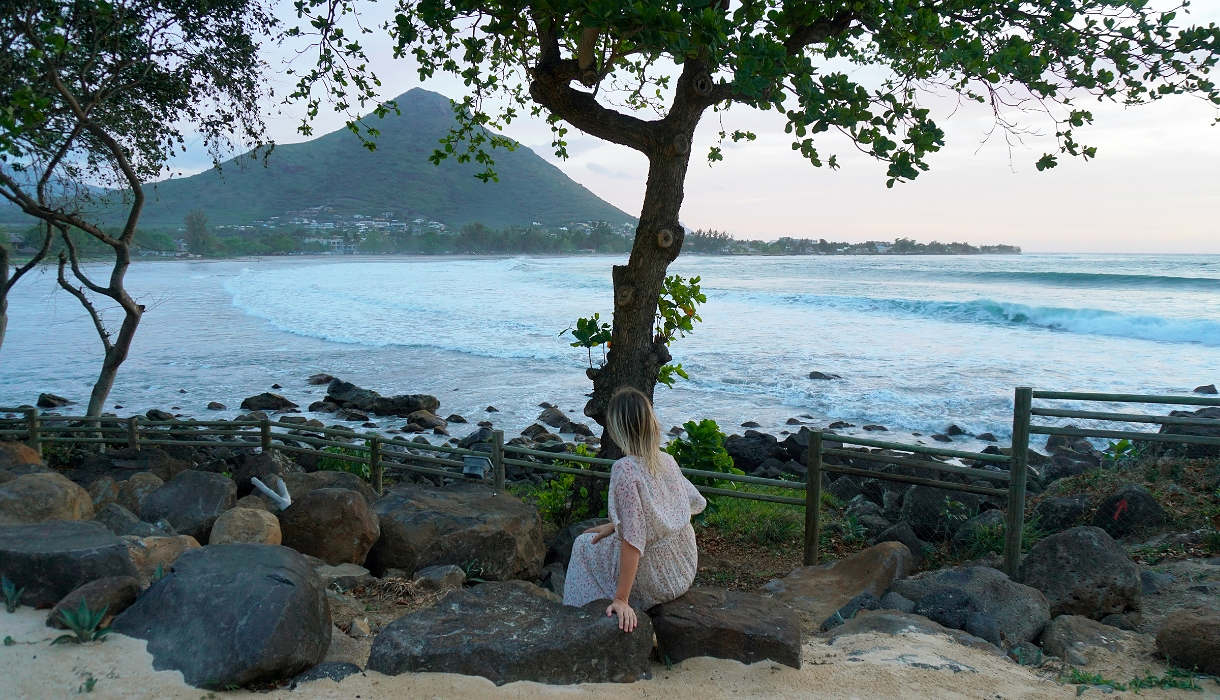 Unfortunately, the weather was quite grey when we arrived with a rough sea and a fairly strong wind coming from the sea. Impossible to enjoy the beach and surfing that this little piece of paradise offers us. It was therefore difficult to play sports with our family or to have an outdoor activity together.
Unfortunately, this is a whim of our summer: the heat causes brief storms to erupt, which can be impressive but do not last long.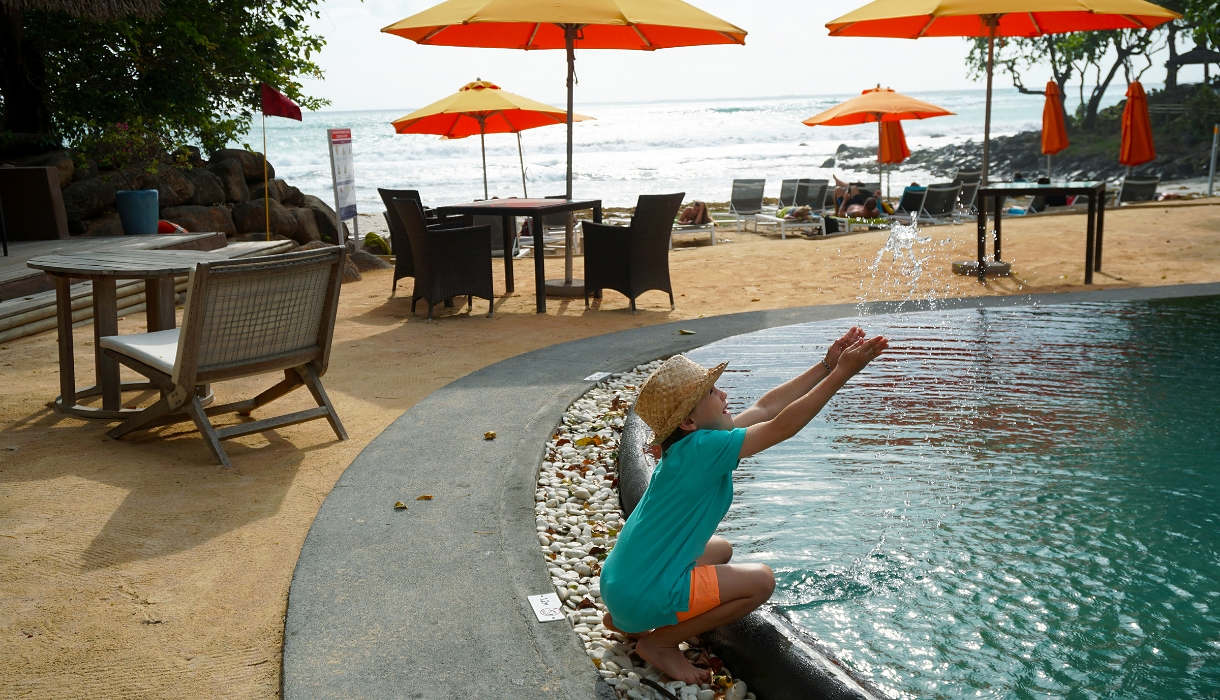 The children took the opportunity to try the pool, despite the fact that they find it very cold, 25°. Finally, for us Mauritians, used to warmer swimming pools and warmer seas, we quickly become cold sensitive. Meanwhile Laurent and I preferred to look for what the Tamarina Hotel's cocktail menu had best to offer and relax while admiring the view.
The restaurant, to the delight of the residents, overlooks the pool and the ocean. It is a real pleasure to enjoy a delicious cocktail or a good meal, facing the ocean, at sunset, while listening to the surf of the waves. This is a pleasant change from the gentle lapping of the calm waters of some lagoons, an image that holidaymakers usually have of Mauritius before visiting us.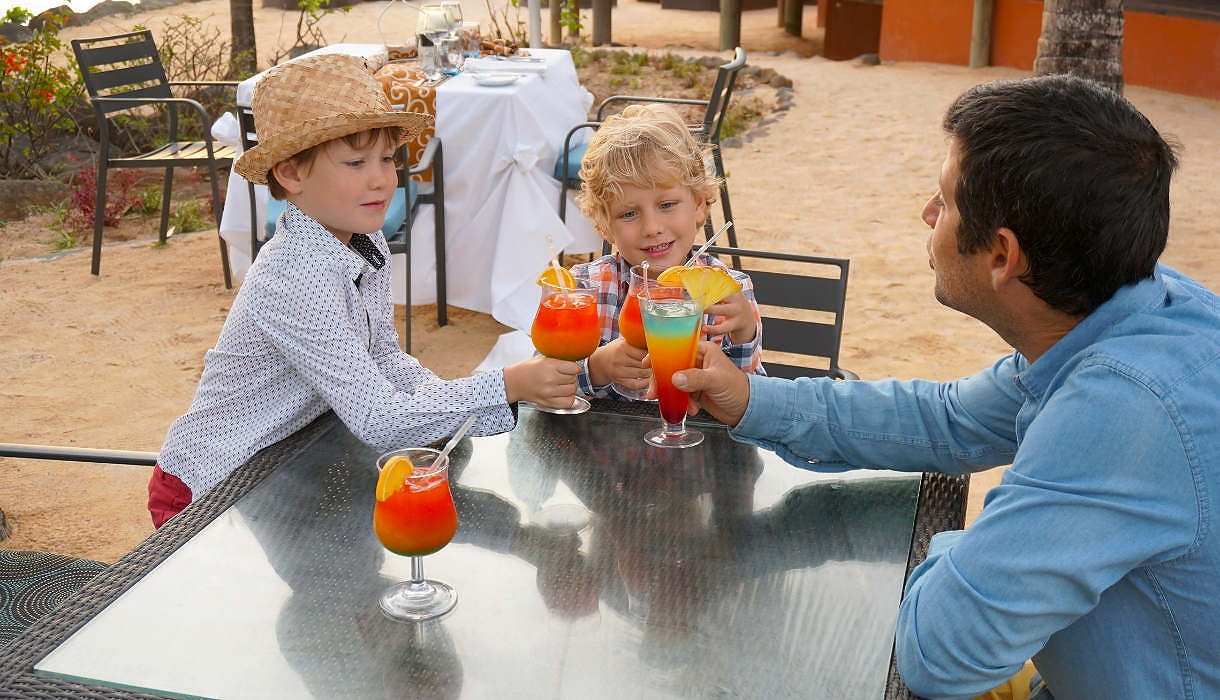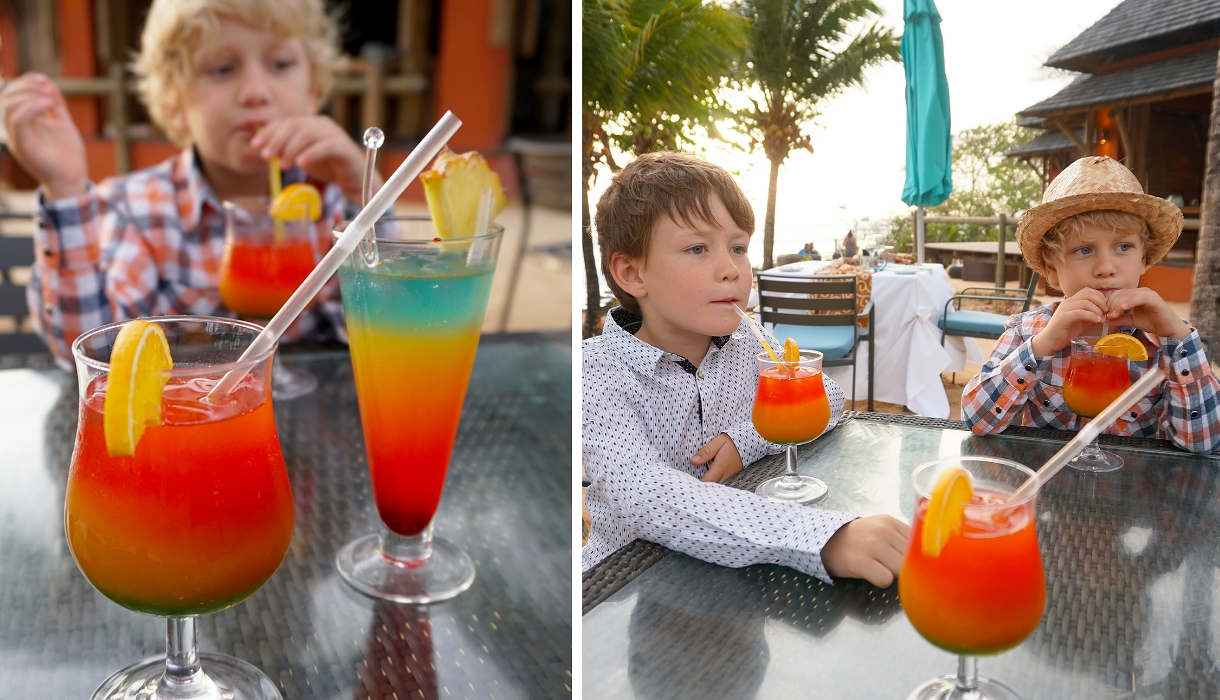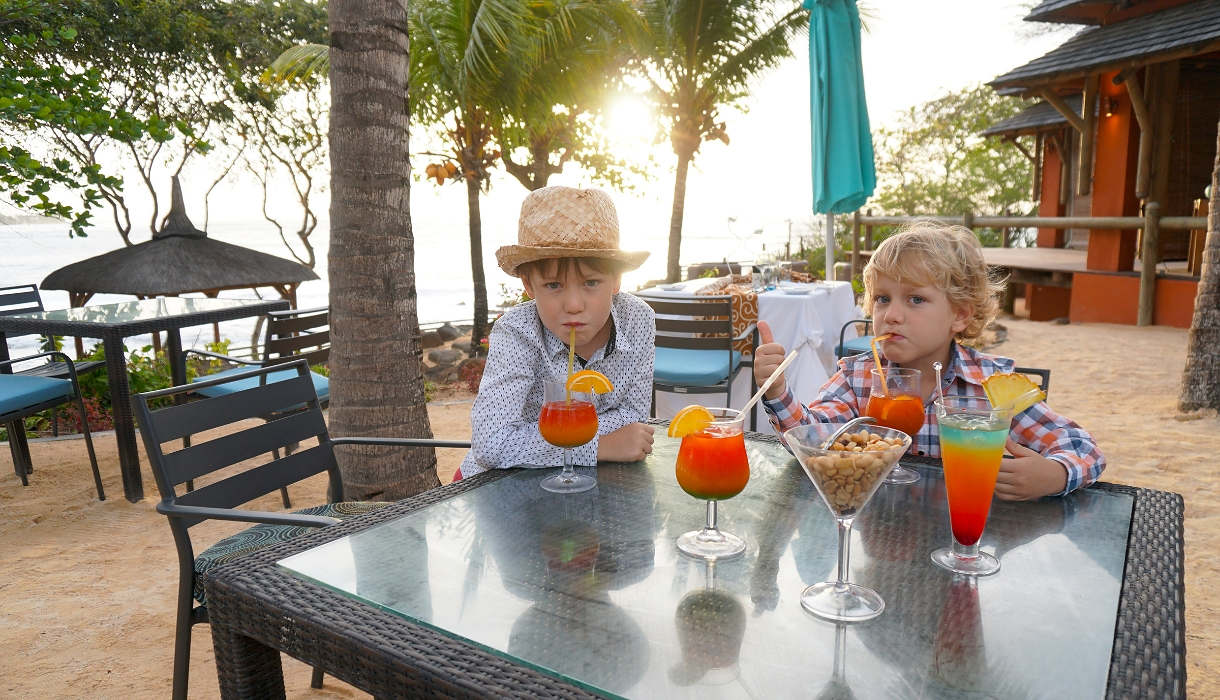 As inhabitants of West Mauritius, we claim to have the most beautiful sunsets on the island. Nature proved us right and delighted us with a breathtaking show with so much beauty! The colours were just splendid and even the children enjoyed this sweet moment. As the sun set over the horizon we watched the colour of the sky change from light blue to orange, and next to purple, in a matter of minutes. It was really amazing.
For this reason on its own, Tamarina Golf & Spa Boutique Hôtel is one of the most popular places to visit in Mauritius.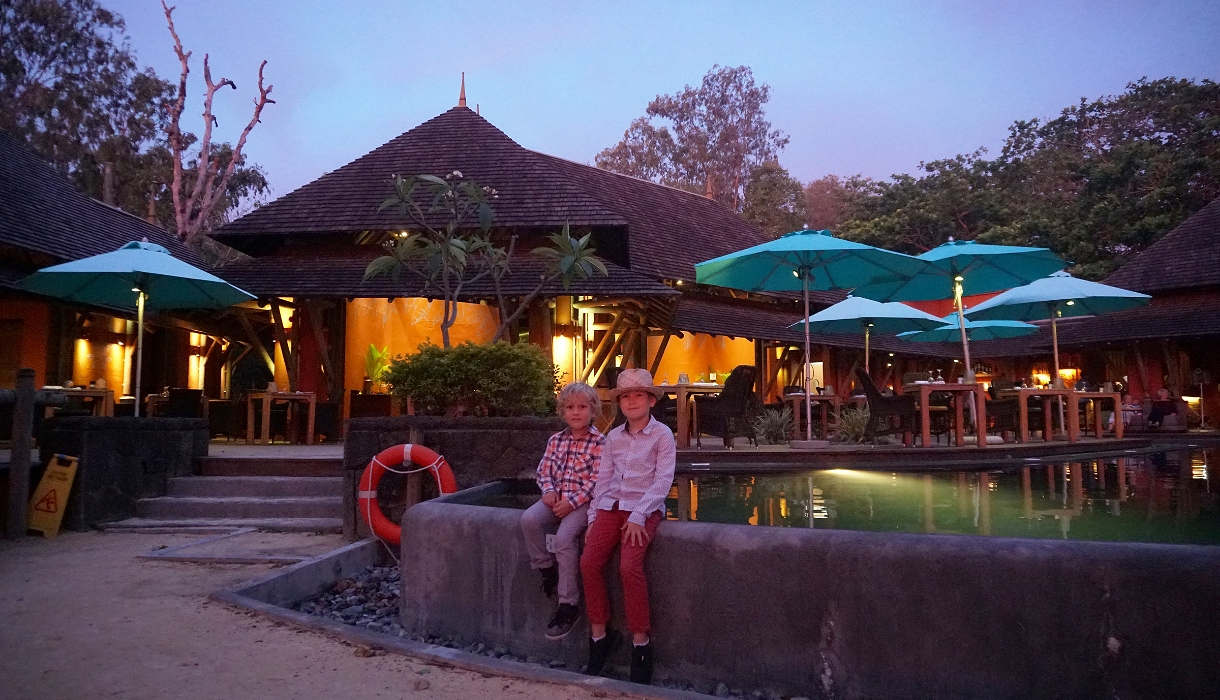 Dinner in a beautiful place in Mauritius
For dinner, we were treated to a delicious Indian buffet. What could be more pleasant and intimate than this dinner lit by candles, by the pool, the wind bringing back the uninterrupted sound of the waves?
Tamarina Golf & Spa Boutique hotel restaurant, La Madrague, open to residents as well as visitors, had on that night a tasty cuisine that combined elements of different culinary traditions, which we call the "Fusion Cuisine". This Mauritian style culinary fusion, whose ingredients came from Europe, Africa or Asia provided us with a real feast. By the way, it was impossible for us to judge the quality of the other dishes tonight, but looking at the happy faces of our neighbours, everything looked delicious, from the starters to the desserts. Mauritian dishes were of course in the spotlight and offered the palette of colourful spices with exclusive flavours that can be found in Mauritius. A table that I recommend, especially since it is accompanied by the most attentive service.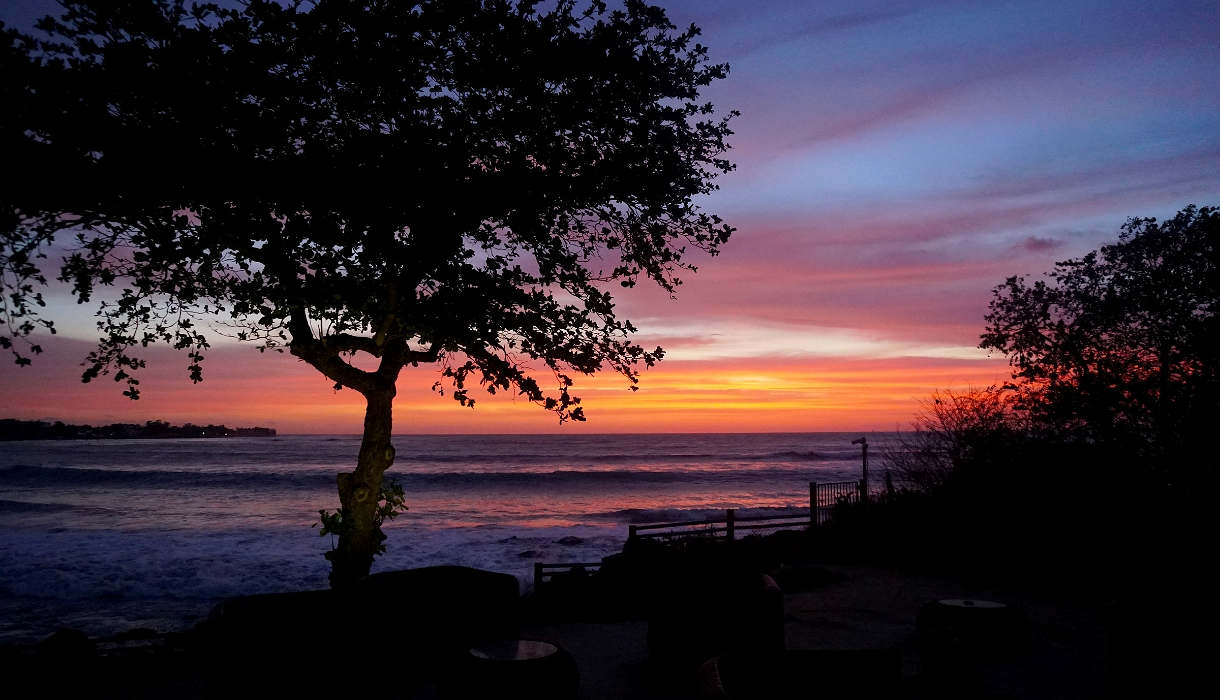 Activities at Tamarina Golf & Spa Boutique Hotel
The next day, after a delicious breakfast, while we sipped an orange juice in front of the sea, we reviewed the different family activities that Tamarina Golf & Spa Boutique hotel, Mauritius, had to offer and we came out with two peculiar activities for our day:
The family spa
Golf initiation with Golf Academy at Tamarina Golf Club. It was for the whole family a completely new sporting experience as we had never played a golf course before. We will tell you about our experience at the Golf in another article from Explore Nouzil… Stay tuned 🙂
These two experiences are highly recommended if you stay at Tamarina Golf & Spa Boutique Hotel, Mauritius.

To be pampered at the spa L'Acacia de Tamarina Golf & Spa Boutique Hotel
For the first time, we introduced our children to the pleasures of a spa. We were welcomed by Natasha, the spa manager of Tamarina Golf & Spa Boutique hotel, who presented us with the massage menu.
The Acacia spa is extremely pleasant and well integrated into its green cocoon, with its cabins overlooking the ocean and its delicate natural essences that delight the senses.
The Acacia has four single massage cabins, two double massage cabins and a ritual bath.

I chose a classic massage performed by Nakshidil. I recommend it to you as I really enjoyed this soothing moment in the delicate hands of this young woman.
Laurent chose an oriental massage, made by Kathy. During his massage hot bags containing medicinal herbs were applied to his back. This massage is perfect for soothing tension, stress and muscle aches and pains. It was so soothing and relaxing that Laurent almost fell asleep.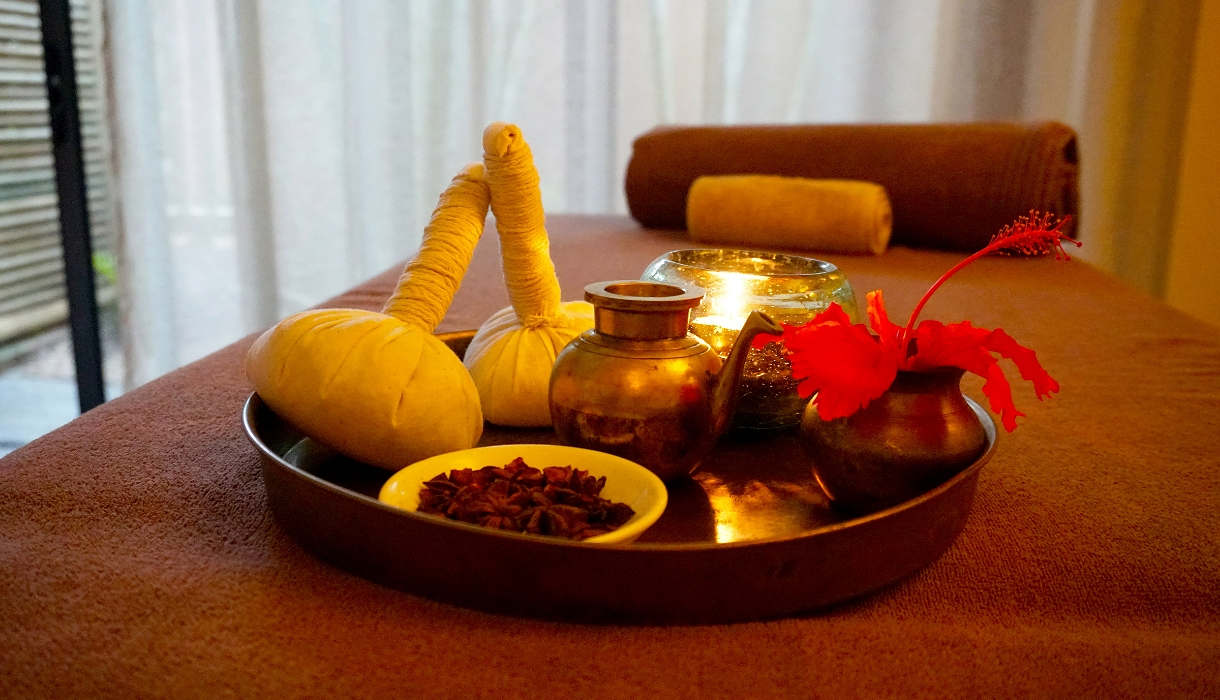 For the children, it was a 15-minute massage of the legs, arms, and back. What about this massage? As it was the first time they had a massage and being very ticklish, they laughed so much during the first five minutes that Deborah and Nakshidil, who were taking care of them, had to stop several times to give them time to calm down. Of course, the goal was only to initiate them; they don't need to relax at all. Both said that they preferred the arm massage.
The Tamarina Golf & Spa Boutique hôtel spa is very pleasant, clean, well arranged and the service is of a very high standard. Above all, these young women do whatever it takes to offer you the relaxation you have been looking for.
I highly recommend these three professional masseuses mentioned above, who have made this special moment an unforgettable memory, both for us and for the children.
After the massages, a surprise awaited us: a bath of flowers and sweet almond oil in a superb basin. We loved this sharing with the children: a moment of rest and relaxation, although the children had fun making foam beards. So, in case you are looking for a romantic moment for two, forget the children!
We come out of there with a soft skin and a relaxed body. An original and soothing super activity to do with your family during your holidays in Mauritius for a real moment of well-being.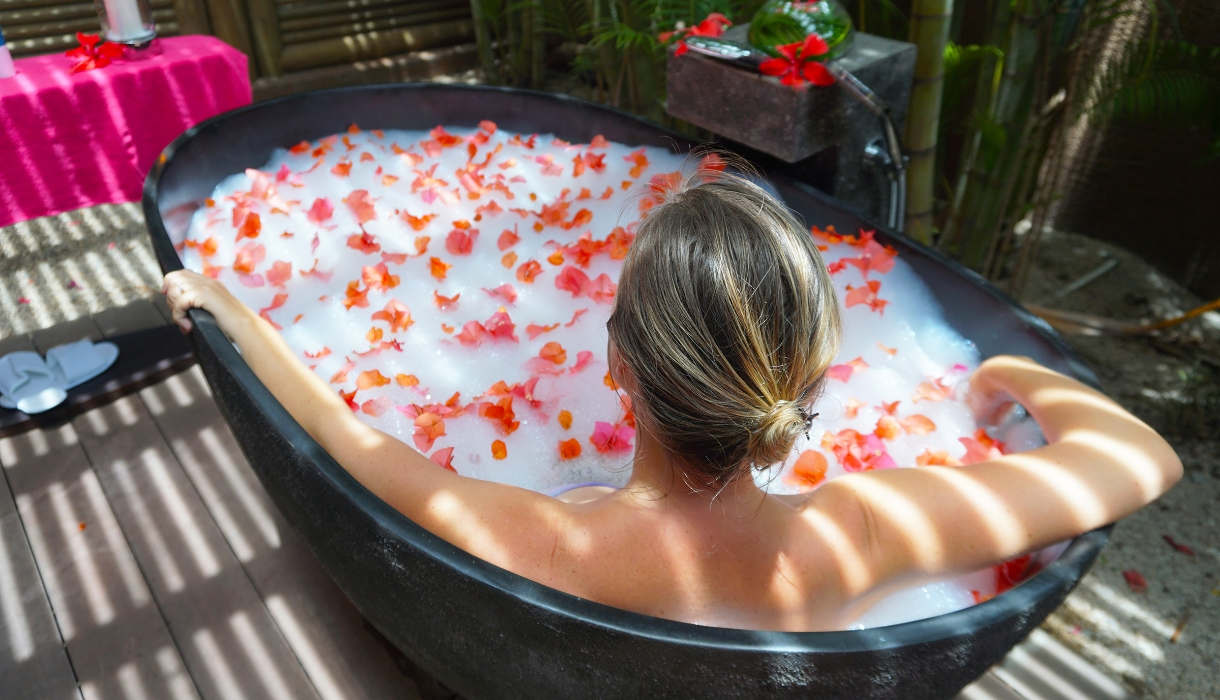 What to do from Tamarina Golf & Spa Boutique Hotel?
This holiday accommodation is well located in Mauritius, between Tamarin and Flic en Flac. So take the opportunity to discover the splendid path along the sea, between swell and forest. Go down to the beach, then turn right, climb a few rocks and walk for about 30 minutes. Discover Black Stone and its formidable left-wing and find yourself in Wolmar. You will then arrive on the beach of the Sands Suites Resort & Spa hotel, and if you continue you will reach the very long beach of Flic en Flac, quite popular with Mauritians. There, you will be able to refresh yourself by having a glass of delicious coconut water. This walk is very pleasant and above all, perfectly accessible to children, if you are with your family in Mauritius…
On your return, take a paddle (kayak or board) and row quietly on the calm waters. But if you are looking for a real change of scenery then go back to the left, to the estuary of the Tamarin River and discover the very rich fauna and flora of this small ecosystem, where seabirds, wild ducks, water hens and monkeys live in complete Harmony. You will also see one of the 18 holes of the famous Tamarina Golf Club course along the river, and which I will talk about in a future article.
Alternatively, you may spend some time visiting the last salt works of Mauritius, which is one of Tamarin's points of interest. You will thus learn how salt is extracted from seawater and observe the women at work, collecting the salt in large baskets…
But if you want to play sports, Electo-Bike Discovery, one of the brands of Explore Nou Zil, can organise for you, your family and friends an exclusive ride on an electric bike in Yemen. This stroll in one of the largest private hunting grounds in Mauritius, "the hunting grounds of Yemen", is a real invitation to contemplate nature. An essential place to discover in Mauritius !