In the previous article, we told you about our walk through the saltpans, evoking its history. So I'm not going to talk about it again. This time, it is with our family, on our mountain bikes, that we go on the sandy trails of the Black River saltpans.
In brief, the Black River saltpans are located between Petite Rivière-Noire and Grand Rivière-Noire, a 20-minute drive from Chamarel and Le Morne. This place, still wild, is ideal for sports enthusiasts. However, soon, the Beachcomber hotel group will create a hotel complex, which will forever change the landscape of this region of Mauritius. So we are still enjoying this playground a little bit.
The Black River saltpans by bike
LLaurent's brother, his wife and two children, Gabriel and Chloé came to join us at our home in Tamarin to spend a day with their family. Laurent proposed us to discover the saltpans by bicycle. So we arrived at the starting point, not so far away from the Domaine de Palmyre, with the bikes on the trailer. Safety is a must. We put on our helmets, adjust our bikes, and we are ready for this family excursion in the Black River region, Mauritius.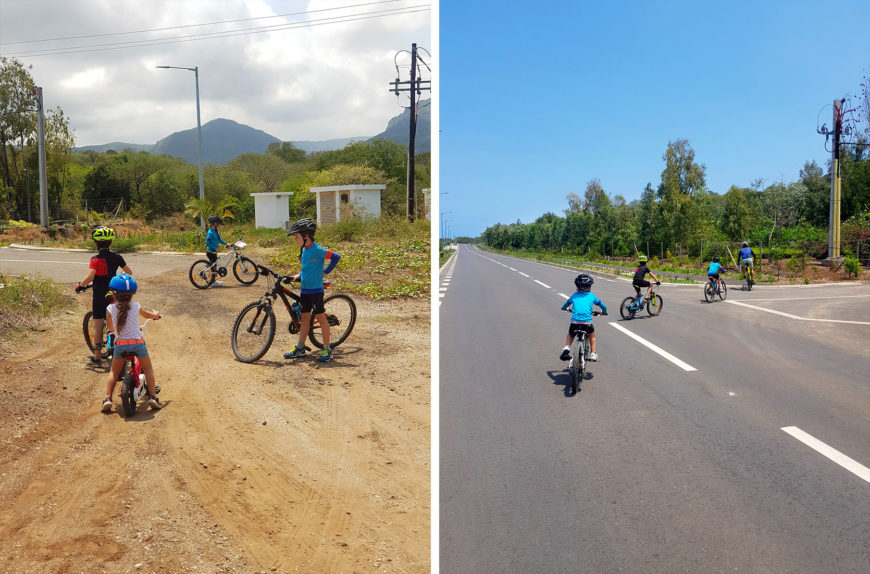 The 7-kilometre route is simple, flat and accessible to all. We start on an asphalt road, then set off on small sandy roads in the undergrowth. But how can we do it for Chloé who is only 3 years old?
Chloé towed by Laurent on her bike
Laurent attaches Chloe's bike to his with a rope and hoists it up. But she still has to pedal to keep her balance. Here we go on this cycling adventure with the kids. Raphael, Gabriel and Victor take the lead. We ride on the bike path that was recently created for the upcoming Beachcomber Hotel Group project. What a joy to be able to use a bicycle path in Mauritius… because unfortunately they do not exist…
On our left we discover the remains of the Black River saltpans. It is sad to see that these are now a thing of the past.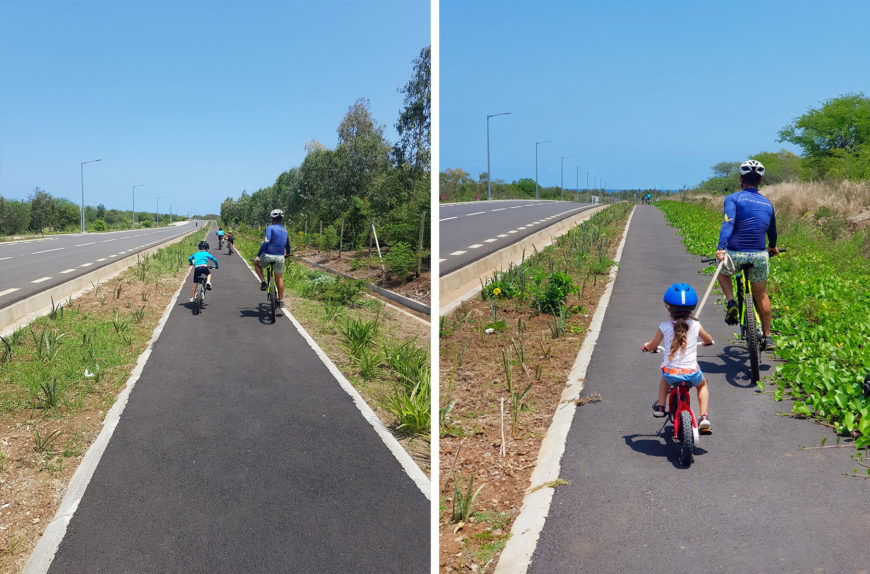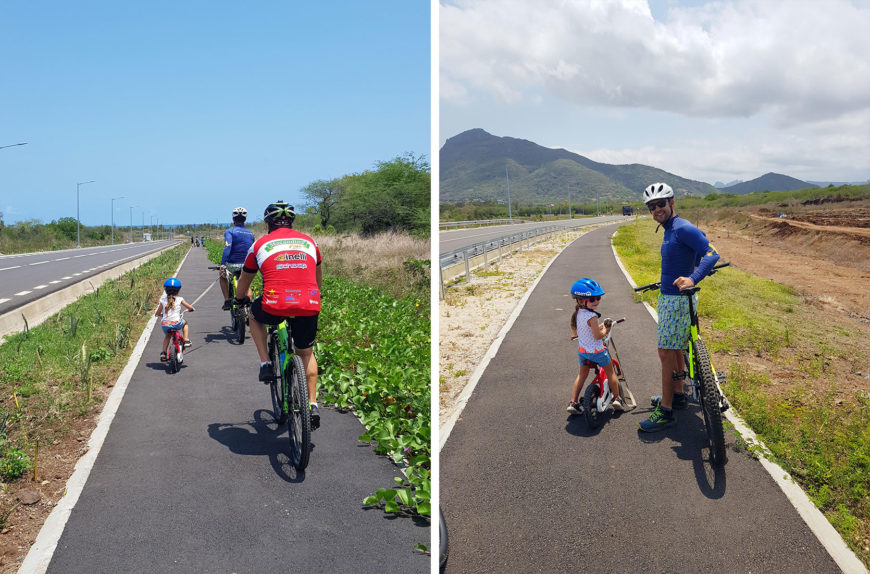 The Martello Tower which is part of Mauritius history, Mauritius Island
We continue our route in the undergrowth on a sandy trail that is still passable by mountain bike. It's very pleasant to ride here because we are in the shade under the bushes. We ride at a fast pace. The children are obviously in front, and are racing.
We discover, on our left, the Martello Tower which was used to protect our coasts during the war. These architectural masterpieces were built by the English in the 19th century to protect the land from the attacks of the French army under Napoleon's leadership. In Mauritius, there are 5 towers across the island. They are about 15 meters high and are cylindrical in shape, which made it possible to accommodate 20 soldiers at a time.
The ground floor was used as a powder magazine and pantry. At the very top were the cannons used to protect the Mauritian coast from attacks.
The children had a lot of fun rushing inside, pretending to be soldiers. I think this tower is being renovated.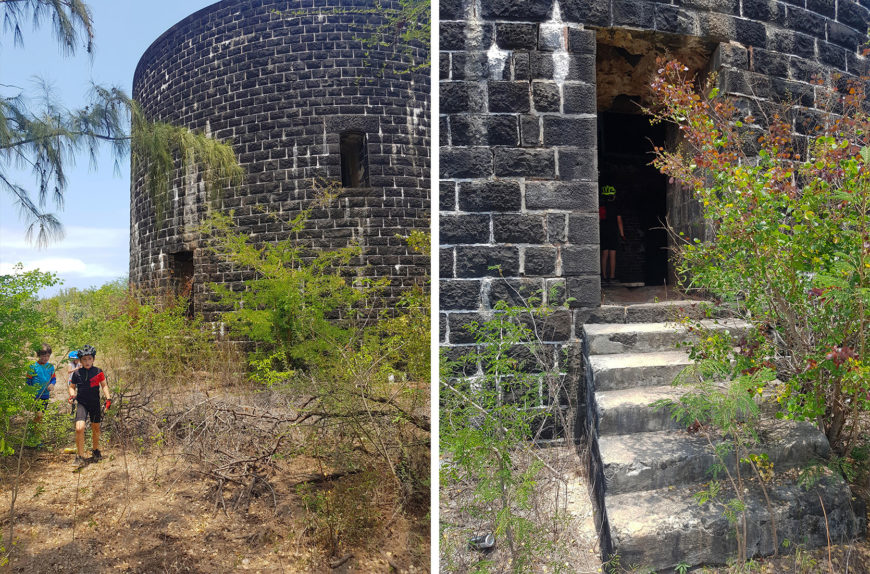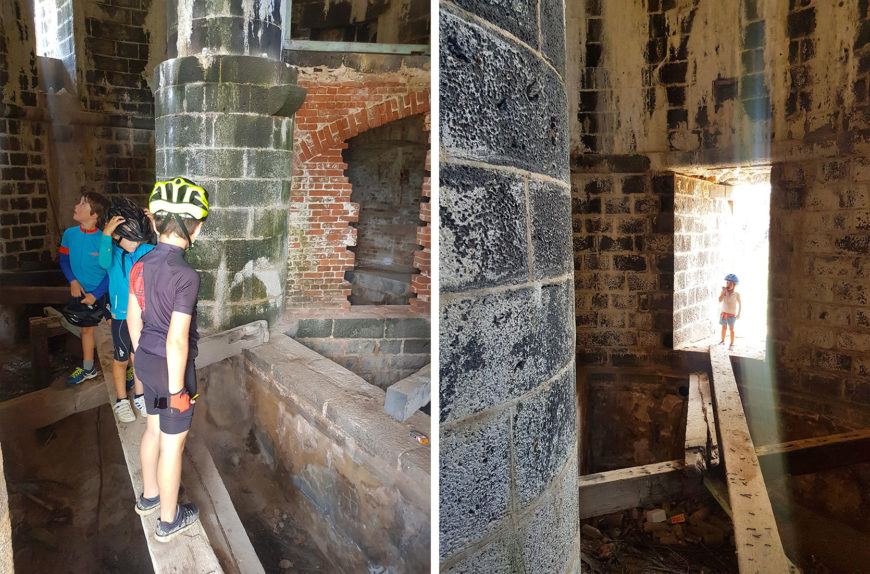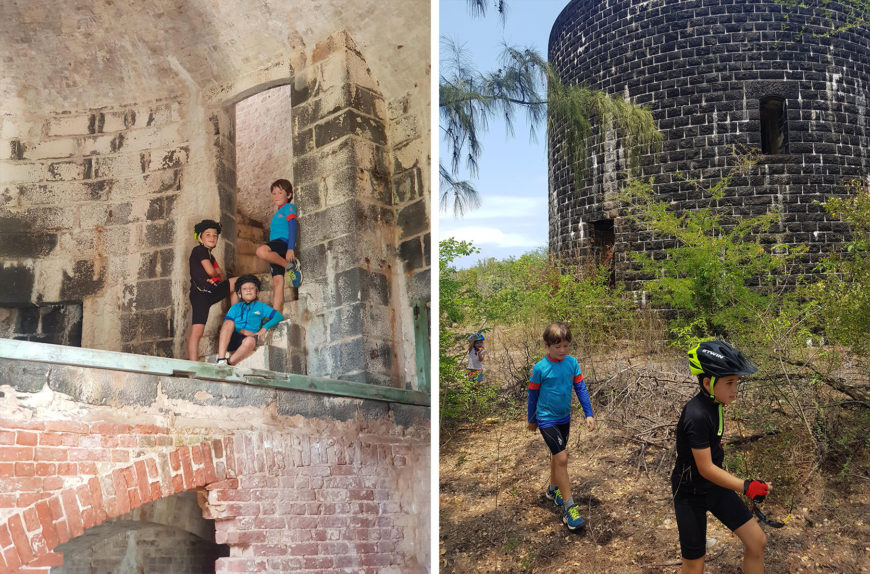 A small floating pier with a view of Le Morne Brabant
We continue our walk as a family. It's dreamy weather. We arrive on a jetty that I like very much. It was built with wooden planks that look like pallets. It must be supported by floating cans but it does not seem very stable to me. We have done this walk many times on foot, but this is the first time on a bicycle.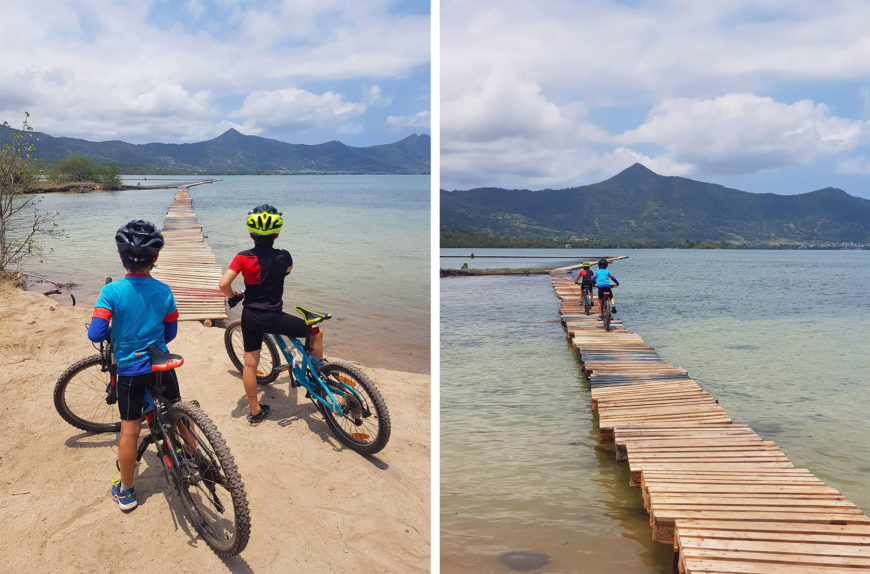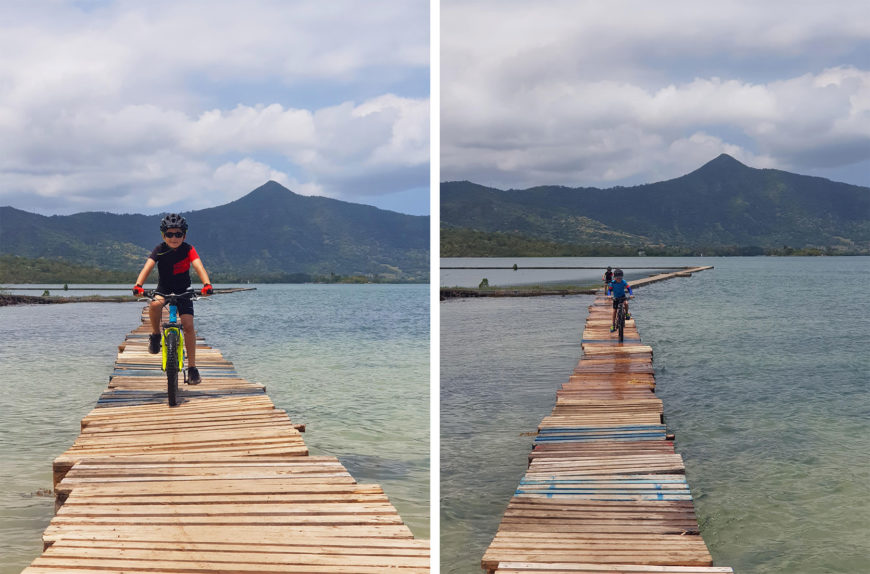 Raphaël and Gabriel set off on this floating pier with their bikes, for them it's the best moment of their day… hihi
Personally, I refuse to try the experiment because I'm too afraid of falling into the water with my electric bicycle. The tide is high and a false move and it's the guaranteed dip!!
We hear a scream. A rat coming out of the water spurts out on Gabriel's foot. Nothing serious but a little fear!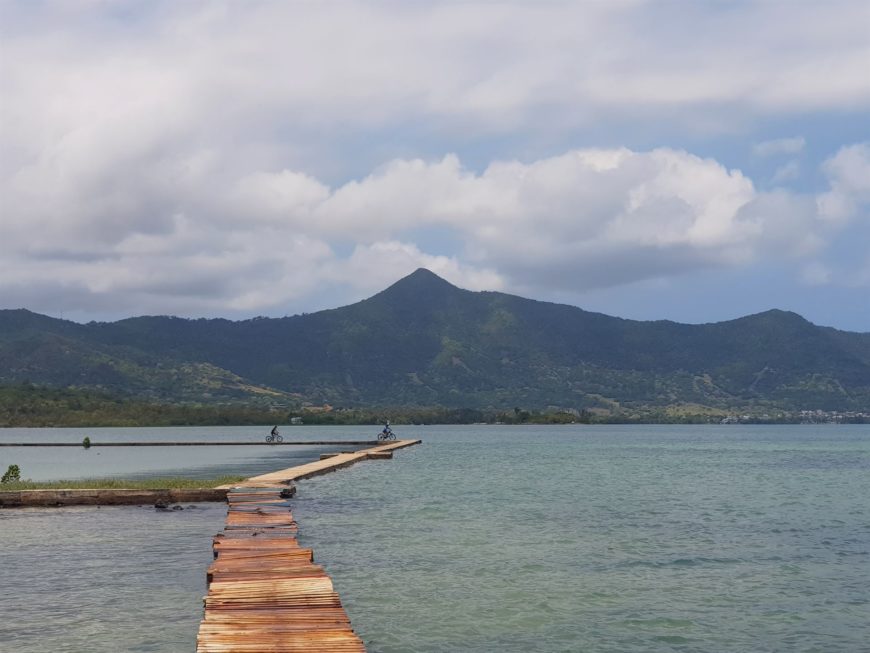 A nice meeting
We continue on our way and arrive on a land of arid and dry land making the soil very hard. This place looks like a lunar and burning landscape due to the heat it gives off. It is surprising to see that throughout our bike ride we discover completely different tracks
At times the terrain is completely flat, then suddenly we encounter a terrain with bumps that, much to the delight of the children, have had fun jumping over them with their bikes.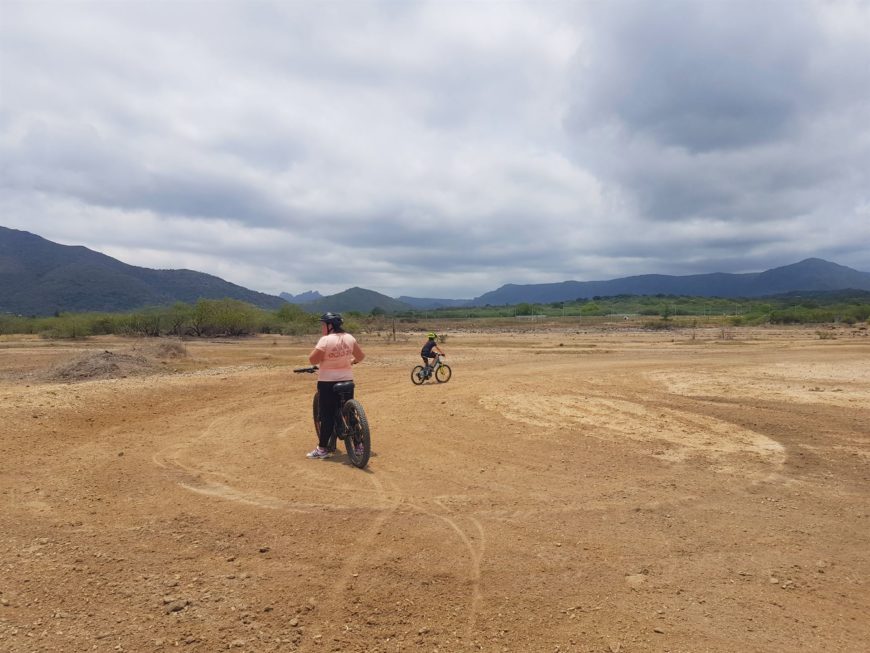 We continue our ride on two wheels, and meet an ox farmer who leads his herd. It is very rare in Mauritius to see oxen. We are surprised by this rather unusual encounter, especially in this dry place with few grasses to graze for his animals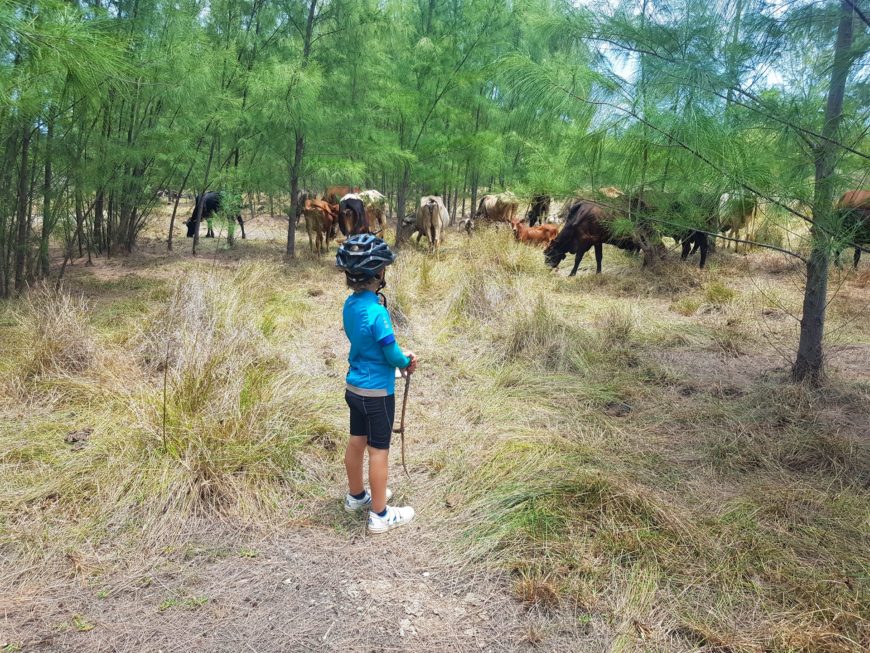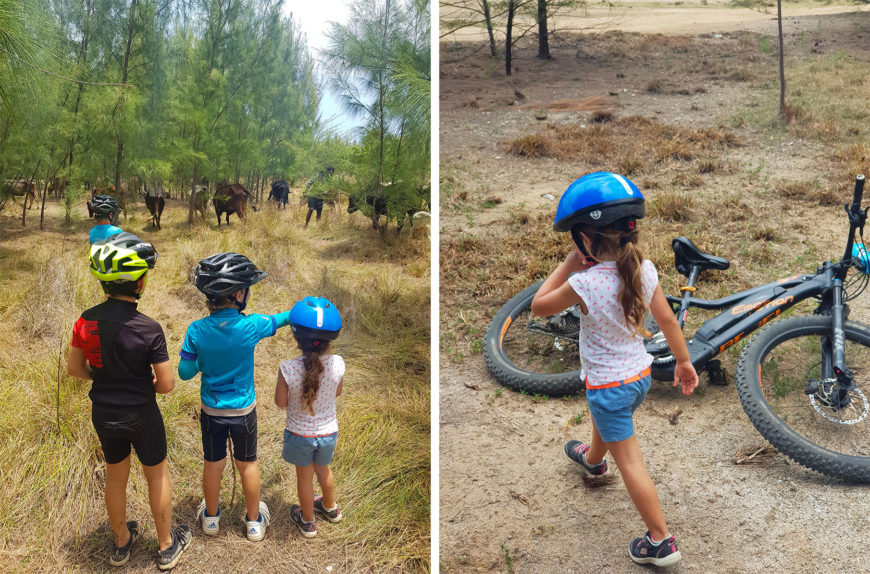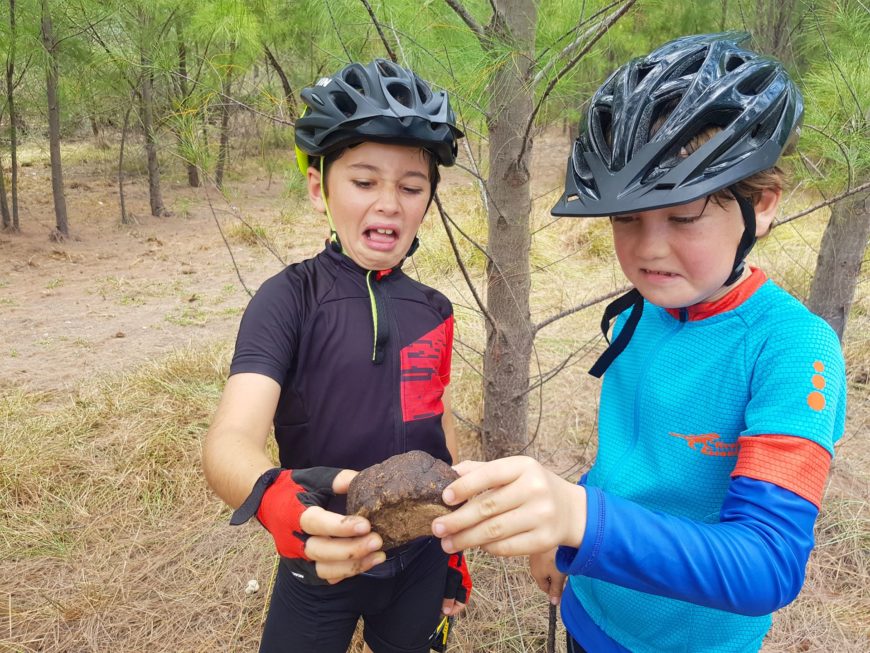 Our two-hour bike ride has exhausted our little Chloe. It's time to turn back and go home. We enjoyed these car-free paths where we can ride easily and calmly with the kids on our bikes. This tour is one of our favourites and we are still enjoying it until the hotel is up and running.
Clic here, to have a look to our rides 🙂