A bike ride with the kids is so much more fun to discover Mauritius! This ecological way allows us to explore the hidden treasures of our island, to ride in unusual places, to take small paths inaccessible by car, to pedal at our own pace, according to our desires. We have found new landscapes in Roches-Noires, the North-East of Mauritius beyond the postcard.
Follow the d'Unienville family in our family adventures in the North-East of Mauritius.
The Northeast region: Roches-Noires
« Roches-Noires, this is my home. I grew up there. I love this little corner of paradise still preserved from mass tourism and little developed.The originality of this region is that it is bordered by fine white sandy beaches on one side and at the back it shelters a dense and swampy forest with underground lava tunnels. The seaside is punctuated by small creeks bounded by black rocks, hence its name! On the other side of the road, in the village of Roches-Noires, there are many filaos (our Mauritian pines) and caves that are surprising to discover. »
Amélie Marrier d'Unienville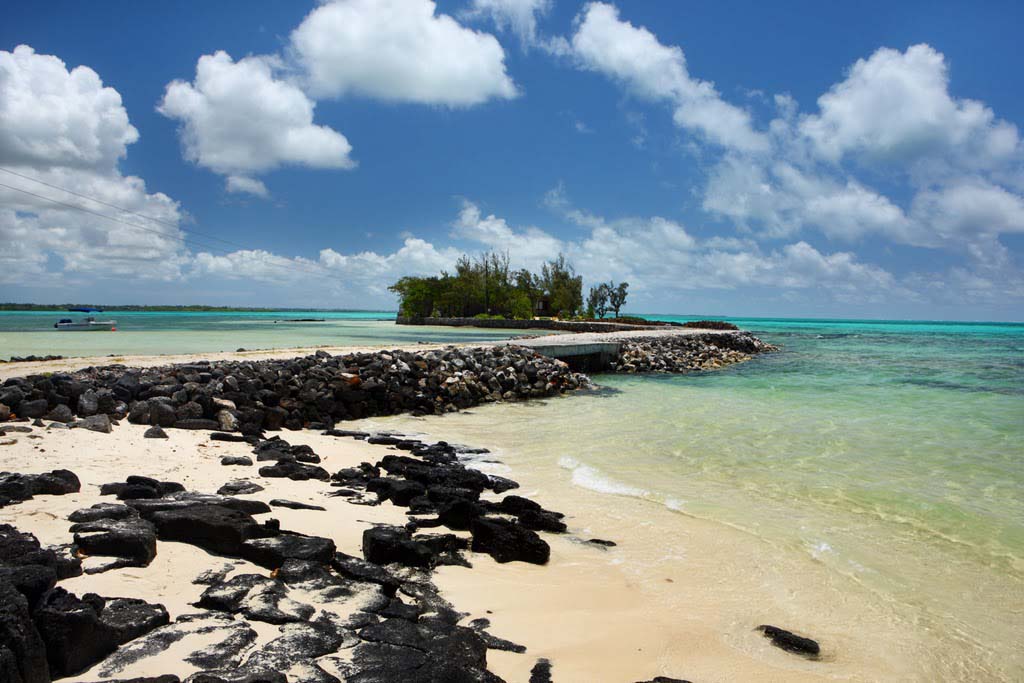 Do not hesitate to contact us for a tailor-made tour in Mauritius. Possible to do it in relaxation mode, in discovery mode or a walk in sport mode. You can choose between classic mountain bikes, electric assisted mountain bikes or Fat-Bike.
Clic HERE
Bike ride with your family in Roches-Noires
I like Roche-Noire too much so I'm gonna stop praising it, lol! Instead, I'm going to tell you about the bike ride we took with our kids. Even though I grew up there, I have no sense of direction! (I'm far too dreamy!) Fortunately Laurent knows the roads, paths, passages and places to visit in the Roche-Noire region very well. I just have to follow my favourite private guide.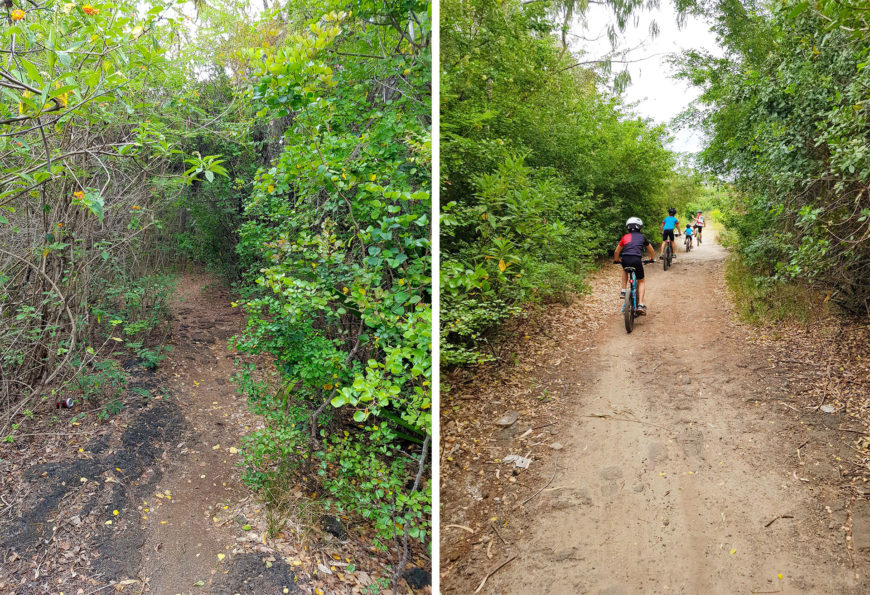 Departure of the bike ride with our young children
It's 8:00 a.m. and it's the big start. It's very gray and the rain is threatening to fall. Laurent adjusts the saddles of the bikes, we attach our helmets, adjust the children's gears and re-inflate the tires. We are finally ready. Gabriel, Raphaël, Victor and Laurent are on their classic mountain bikes. And me… how can I put it… always with my super electric bike. (I promise you that I didn't put any electric assistance… although, maybe a little bit… 😃)
We are staying in a house on the sea side. Before reaching the marshy and wild area of Roches-Noires, we have to ride five minutes on the asphalt road.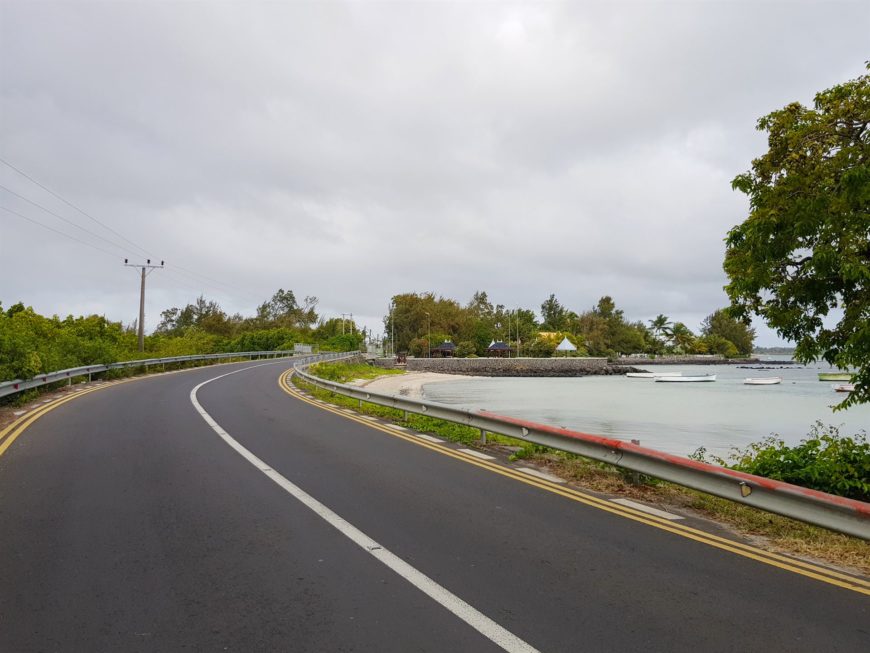 Laurent is in the front and I'm in the back. We pedal quietly towards the Chapel of Notre-Dame-de-l'Assomption, passing over a bridge from where we can admire small traditional pirogues on the turquoise sea. Then, we turn off into a small path of slightly bumpy sand.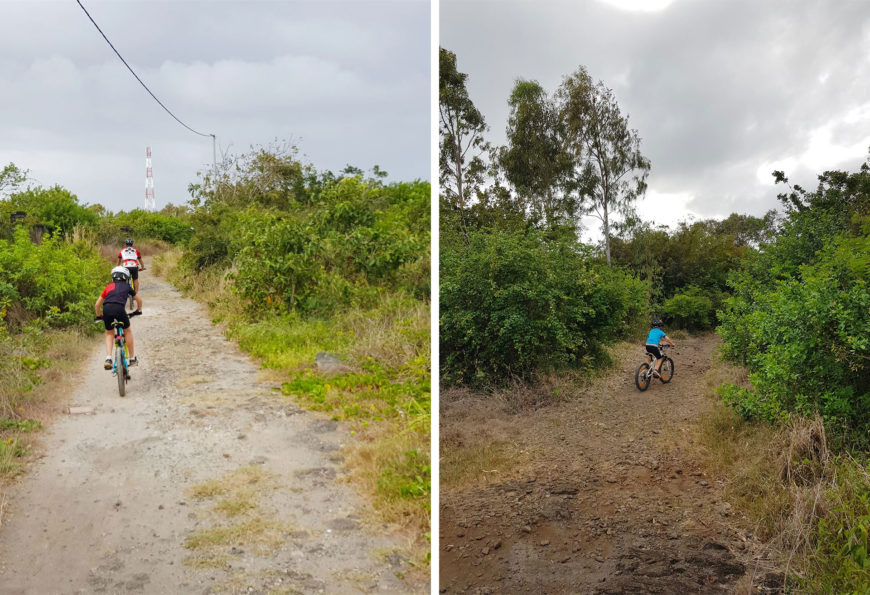 In mountain bike mode in the North-East of Mauritius
We're moving down this sandy path. For me it's complicated to take pictures, not to fall, to move forward, to follow the rhythm… That's where my electrical assistance comes in handy😉.
We are really in off-road mode and have to go around the black rocks, puddles, holes. The kids love to discover so much on their bikes! Cycling in extreme conditions, they love it.
We stop twice because Gabriel and Raphaël were derailed. Laurent has to put the chain of the bike back in place.
Discovery of the lime kiln of Roches-Noires
We discover the ruins of a lime kiln. We enter cautiously inside. The steps are dizzyingly high and are not levelled. We are very careful not to fall down. Laurent explains to the children the history of these lime kilns. These kilns are the witnesses of a very active industrial past. They were mainly used to obtain lime which was used in masonry. Coral was, under the action of fire, transformed into lime. Hence their location near the sea. These imposing stone chimneys could reach 800 to 1000 degrees. Later, the sugar industry used it to clarify the cane juice and obtain a less coarse sugar.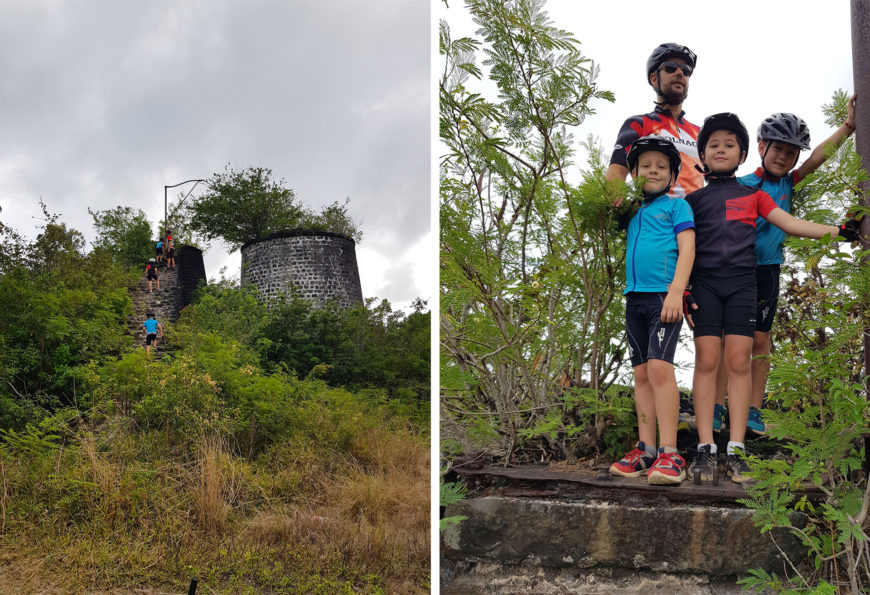 We continue on our way. The small sandy roads narrow in places, forcing us to watch out for the branches of the trees to avoid them.
Visit of Trou Diable
Laurent makes us discover a basin of fresh and clear water. I have a good memory of this place because I often came here to bathe as a child. It is called Trou Diable. The inhabitants tell legends about this place which they consider to be cursed. There are several stories, some say that a soul haunted the old ruins of the old mill, others say that a child drowned there and others maintain that there were hangings in the old building.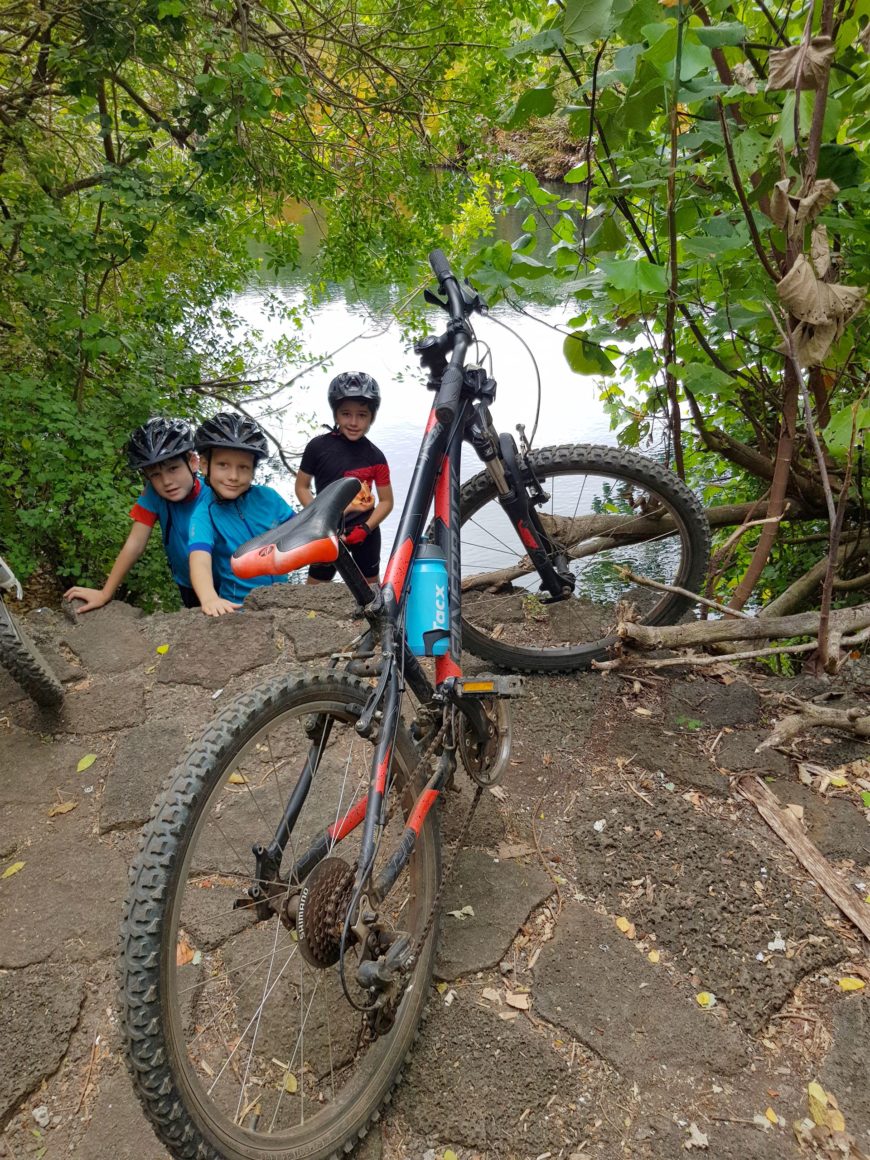 It is also said that huge barracudas live in the basin… I've never seen them, and I don't want to see them.
Anyway the place is beautiful and that's all that matters in the end.
The visit of the inside of the Roches-Noires lava caves
We ride with our heads in the handlebars in the small village of Roches-Noires, towards the caves. I love this place. So typical and authentic. The path looks like a bicycle path, a well laid out and well maintained walk. Sometimes we meet the locals or children playing.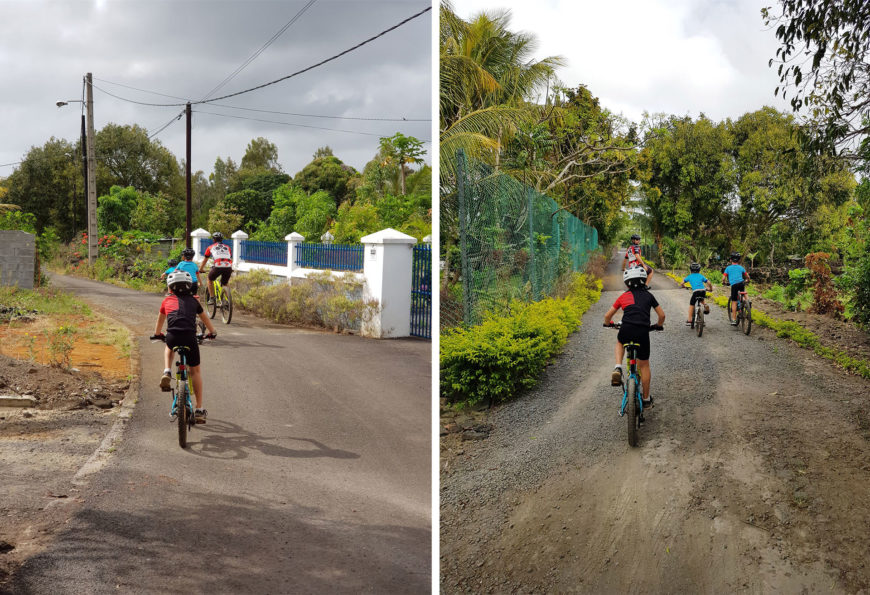 We finally arrive at the caves.
Laurent keeps the bikes on their stands at the entrance of the first cave. The children and I go inside impatient to discover its ' hidden treasures'. The stones form staircases that have collapsed over the years. We go down carefully into this natural cave. Raphaël opens the way with his torch and leads us. The children are amazed to see stalactites and stalagmites forming in this place.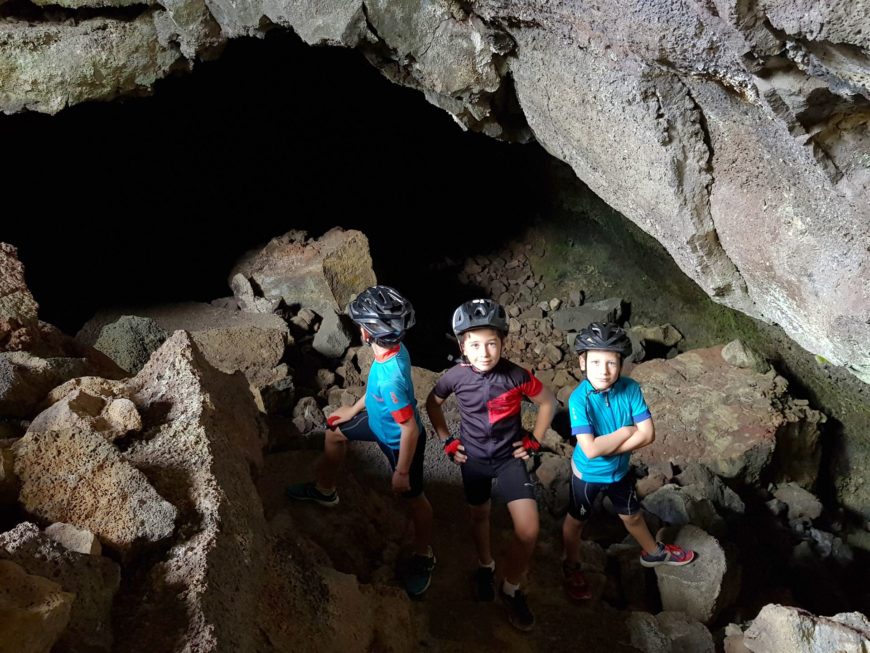 The further we go, the darker it gets. We turn off the torches out of curiosity, just to play to scare ourselves
When we turn the torch back on, swallows and bats burst out of their nests and fly away in a loud noise. This is their sanctuary. The children are startled with fear. We decide to walk at a snail's pace into the cave, it's very dark.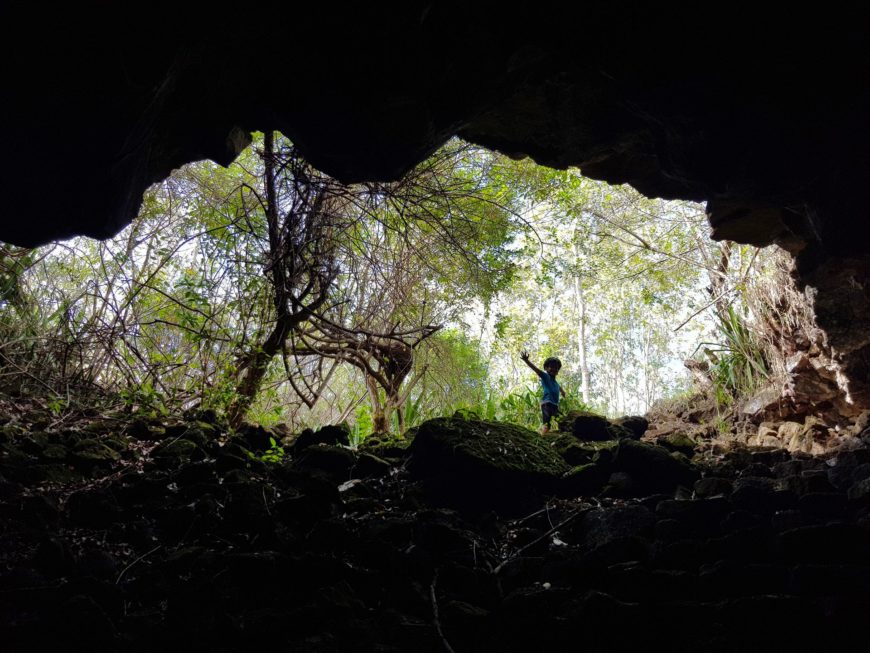 We discover another tunnel to crawl through. It's an underground gallery.
« My friends, the cavemen must have lived there. » says Gabriel.
« Of course they lived here. » says his brother, Victor.
We come out at the other end of the cave. Then we go into a second cave and come out again.They're delighted to play explorers in Mauritius.
Victor annonce : « Well, that's good there! We're here to ride our bikes too. We have to keep moving! »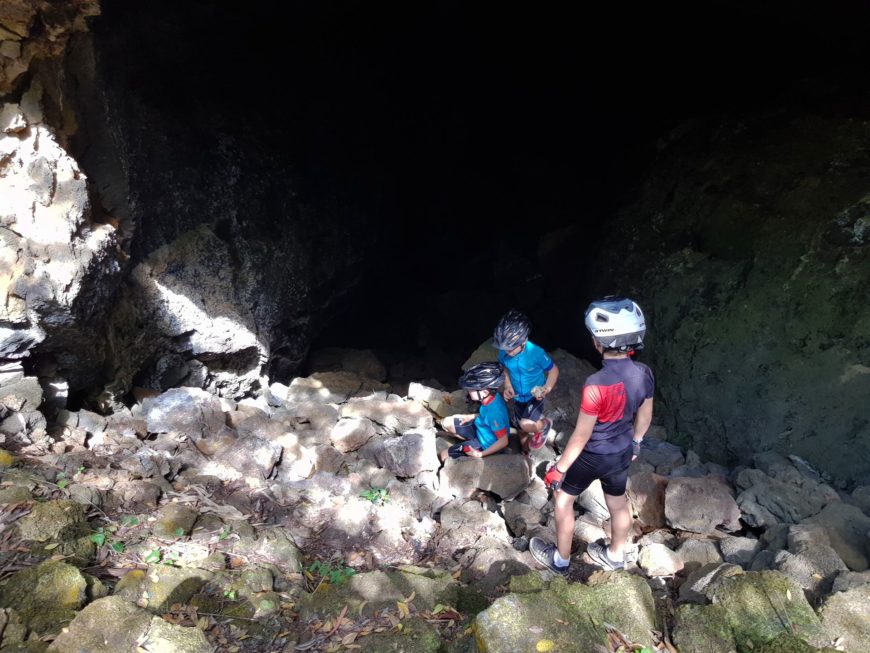 Here we go back on our bikes to discover the North-East of Mauritius.
We're back on the road. We cross small mythical villages of Mauritius. The villagers don't seem to be used to seeing children in vacation mode and cycling.
On the road, in front of their house, dogs are guarding them. They attack everything that passes in front of their house… A dog runs at me and tries to bite my feet. I SCCCRRREEEEAM and pedal at full speed. At that very moment, I greatly enjoyed being on my electric assisted bicycle !!
We meet a cow. The children try to get close to it, but it is scared. They try to feed it, but it is really scared.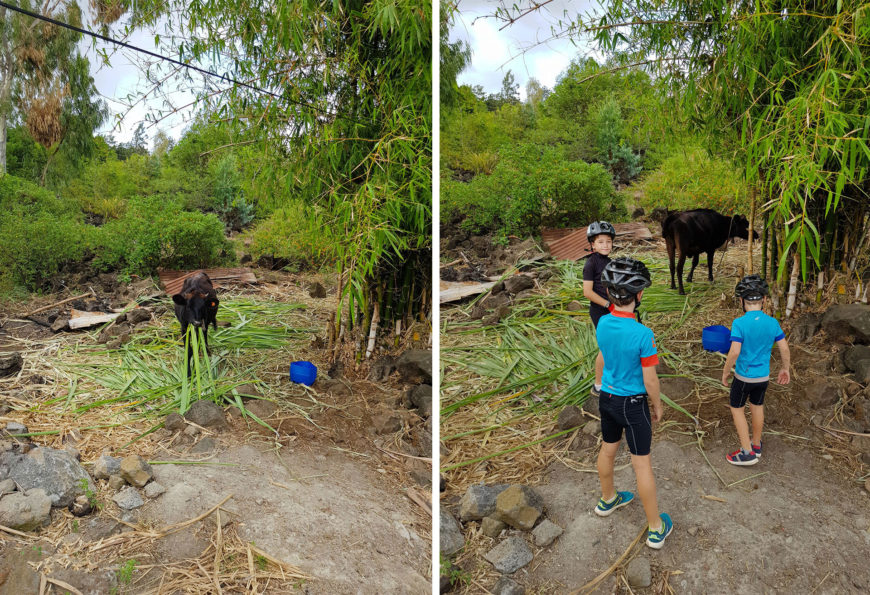 Riding in the cane fields, in the sand and rocks… So much fun!
The terrain is changeable. We go from a sandy ground, to a ground of mud, then rocky, or even to an asphalt surface. Fortunately, our two wheels adapt to everything. We find a passage between the cane fields. As it's the cutting season, it's easy to make our way through and roll. The children had a lot of fun getting on and off the small bumps. A hare passes between our bikes! Laurent brakes hard to avoid it. It was lucky it didn't end up stewing, lol!!!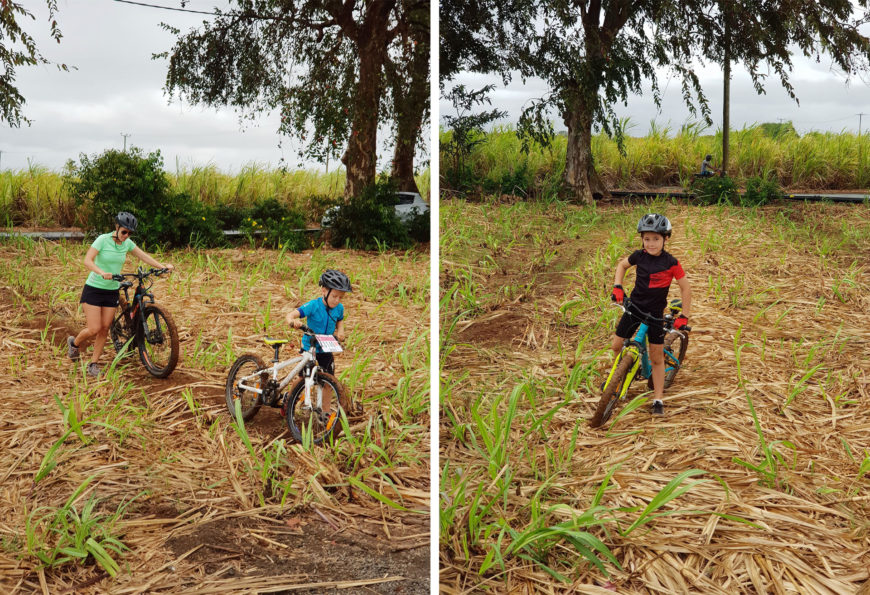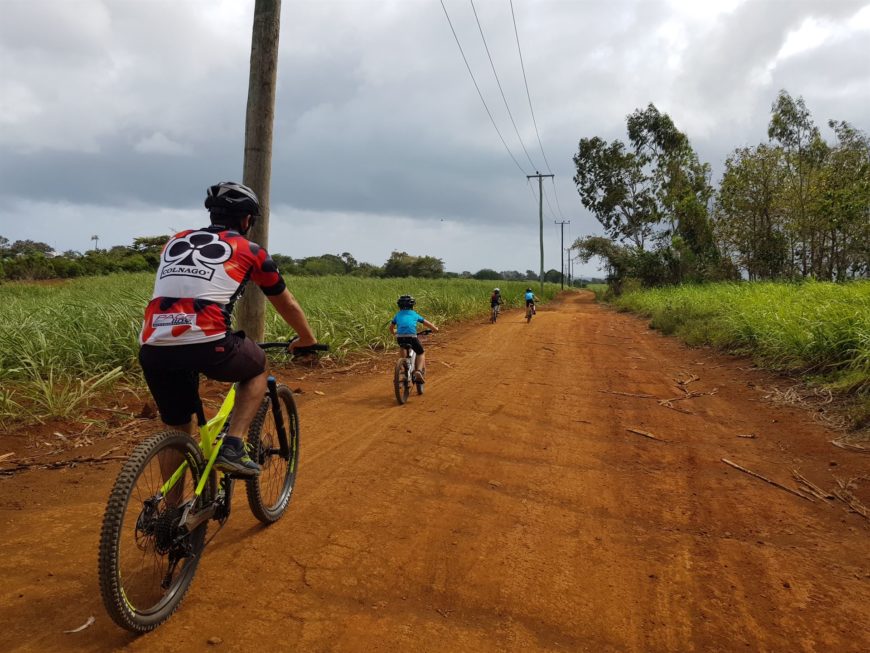 We then arrive at a headland with a 180 degree street on the Ocean. The children get off their bikes to eat, drink and walk.
The weather is really bad and the wind is strong. It is very pleasant to ride a bike because it is not hot.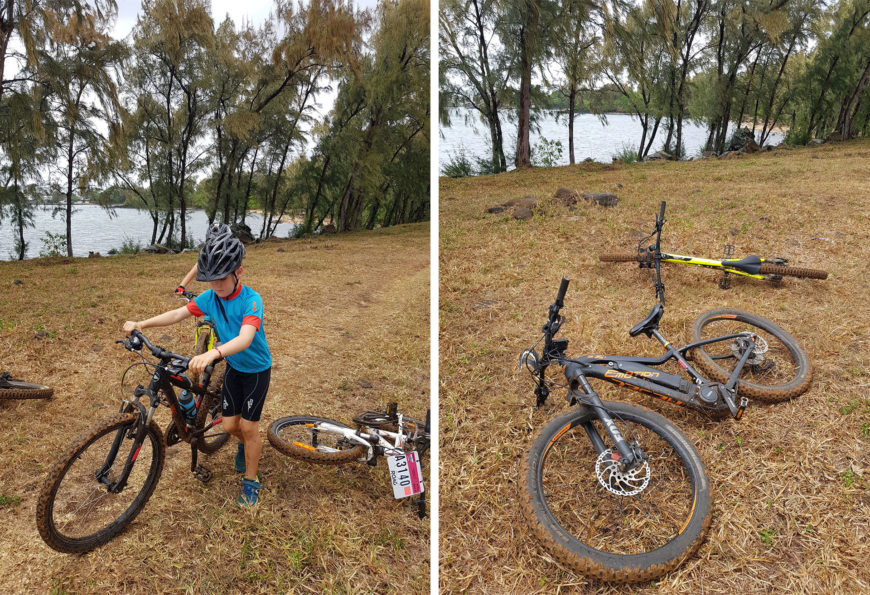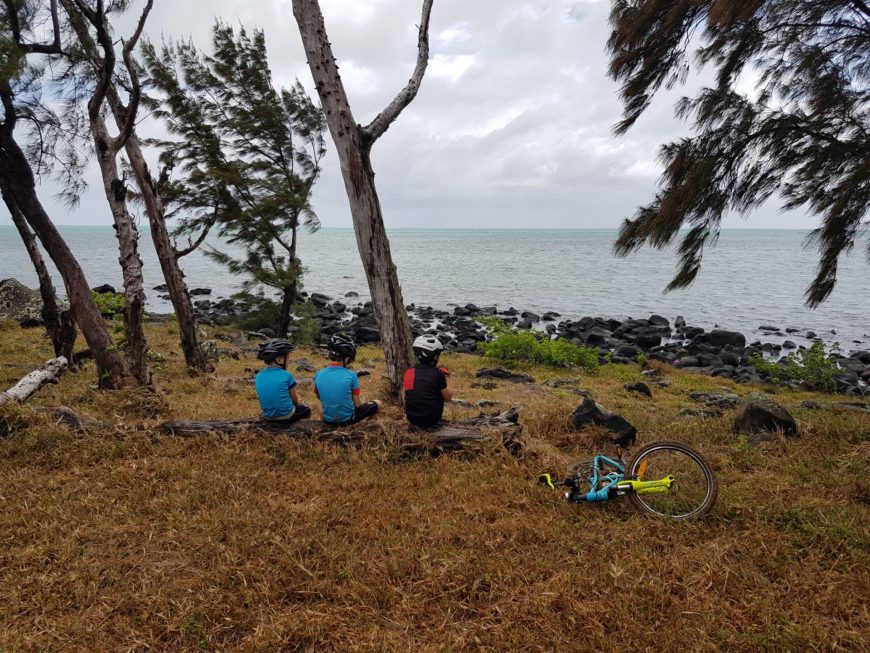 And then the rain catches up with us.
We then discover an orange, almost fluorescent orange dirt road. It forms a hollow with a bump on each side. Laurent proposes to the children to ride in Free-Style mode from right to left. They make 4 round trips. So much fun with little bikes!
It's time to take shelter. The rain is threatening with a big black cloud over our heads. We pedal at full throttle. I confess once again that my electric bike is a great help.
We find big trees for shelter.
Raphaël loves the rain and decides to stay in the rain. Never mind if he's cold!
After a good 10 minutes in the shelter, we take advantage of the lull to get back in the saddle. We take our road off the beaten track, direction Roches-Noires.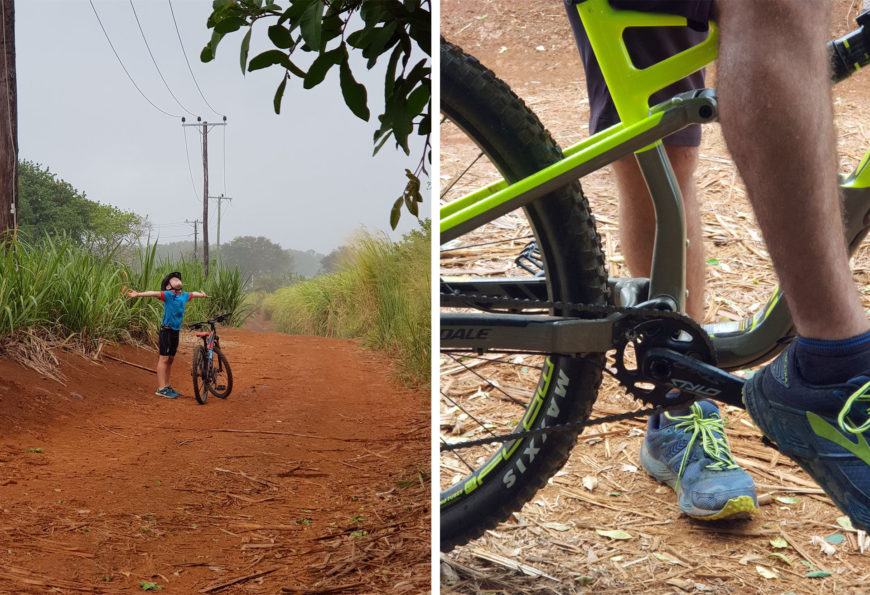 End of the bike ride in the North-East of Mauritius
We continue our route in a place where the vegetation has regained its rights. The crabs have made huge holes in the sand. We have to get off our bikes and push because the wheels get stuck in the mud.
Then we arrive at the boat landing in the village of Roches-Noires. The fishermen put their boats in the water, some take them out. Their wooden pirogues are really beautiful.
We take our road again, towards our beachouse of Roches-Noires.
We arrive wet, muddy and refrigerated from our excursion.
Laurent washes the bikes and explains to the children how to do it themselves.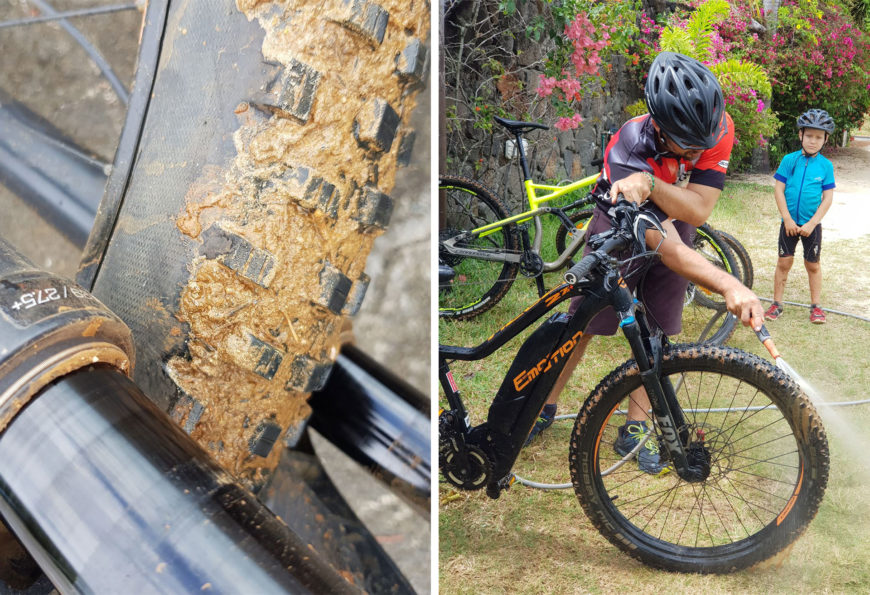 We had a great day biking with the whole family, even if the weather was not good.