DunienZîl delivers high-end bicycles wherever you are in Mauritius.
Escape by bike on the small trails, inaccessible by car, to discover Mauritius. Explore the country differently by pedalling wind in the hair by opting for bike rental. This ecological and fun way to get around and explore the remote places of Mauritius will remain an unforgettable day. Bike rides allow you to go everywhere, stop whenever you want, admire at will the splendour of the island, its turquoise lagoon and luxuriant forests and be able to stop and talk to the people in the remote villages.
Electric-assisted bikes option is of great interest as it will provide you with the necessary assistance when pedalling uphill or when you have to ride over long distances. You will thus be able to visit more places with less efforts than if you are using a classic bike.​
Before every delivery each bike is checked for: brakes, wheels, pedals, lithium batteries, derailleur gears, and handlebar adjustment to ensure maximum safety.
ATV with electric assistance:
Rs 1,500 per day and per person
Fat bike (ATV with electric assistance:
Rs 1,500 per day and per person
Classic mountain bike:
Rs 500 per day and per person
Kids MTB:
Rs 300 per day and per person
We offer quality bicycles, maintained by a team of professionals.
We are open all year round. We rent our bikes only on reservation.
We deliver to your place of residence. If you wish you can pick up bicycles directly from us in Tamarin.
Bike delivery costs depend on the distance, the number of rental days and the number of bikes rented.
We provide helmets, anti-theft devices and charger for electric bikes.
For any bicycle rental, it is mandatory to provide us with ID and a photocopy of your passport.
In case a break-down is caused by improper use of the bike, repairs costs will be your responsibility.
Bike rental is available for a full day. We do not rent for the half day.
Do not leave your bike in a public place unattended; it may be stolen. Park your bike in a safe place and use the anti-theft device.
Join us for an unforgettable experience

Open all year,
everyday
Helmets, anti-theft
Charger
Quality
bikes
Bike delivery and recovery wherever you are on the island.
Bike delivery and recovery wherever you are on the island.
Technical assistance.

For any minor problem related to the bike (puncture, broken chain, etc.), you can have the repair done at the nearest garage or do it yourself if you are connaisseur.
For any minor problem related to the bike (puncture, broken chain, etc.), you can have the repair done at the nearest garage or do it yourself if you are connoisseur.
On your own, with friends or with your family, choose the bike most suited to you. You can choose between a VAE (electric assisted bike), a fat bike or a VTT (classic mountain bike).
You have to take in consideration the places  you have chosen to visit and the extent of your physical shape when selecting the type of bike most adapted to you. Choosing the right bike will enable you to optimize your ride. The helmet is strongly recommended and is included in the rental for all types of bicycles. Our bikes are accessible to all, adults and children.
Location of Fat Bike in Mauritius:
The fat bike is an all-terrain sports bike particularly suited to rough terrain. Its oversized wheels ensure optimal grip on all types of surface including sand and mud. Unlike some conventional mountain bikes, it has no shock absorbers; shocks are being absorbed by its big wheels. It is also more comfortable than a classic ATV.
The Fat Bike is ideal for those who really want to ride on rough surfaces. This bike goes everywhere, where other bikes do not pass. The Fat Bike is without electric assistance and is ideal for sportsmen.
We rent mountain bikes for children, as from the age of 5, so they can follow you on your hikes through Mauritius.
We have a wide choice of children's bikes adapted to their size and age.
In Mauritius, we are not equipped with bike lanes or green lanes to encourage safe cycling.
It is therefore strongly recommended not to authorise children to ride on public roads by their own. The roads are relatively narrow in Mauritius and often without sidewalks.
If you are staying in a place nearby forest trails, or roads that are not well travelled, take advantage of it to make excursions on two wheels. The family bike rides will leave you with unforgettable memories.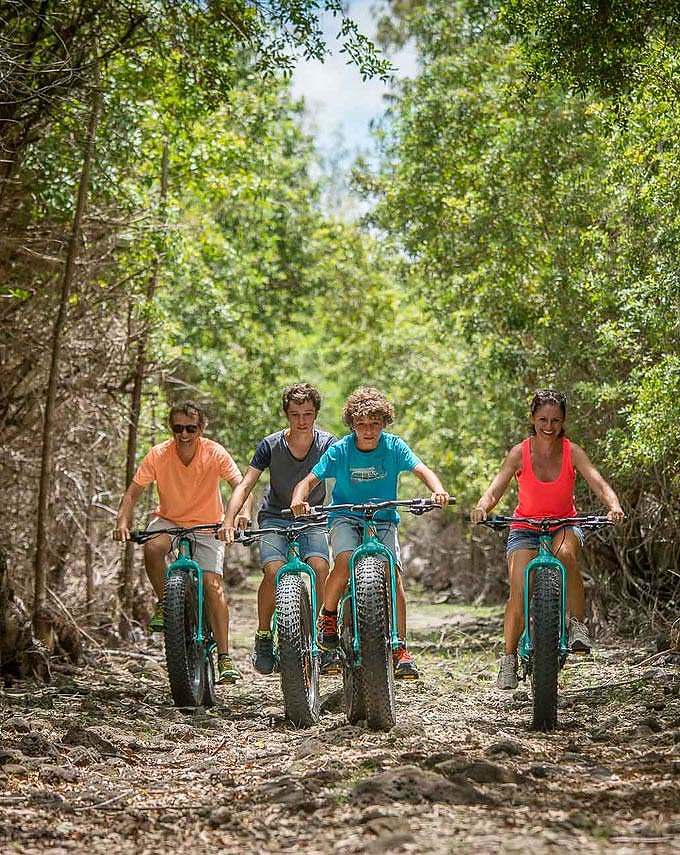 Electric bicycle rental (VAE) in Mauritius:
An electric-bicycle also known as an e-bike is a bicycle with an integrated electric motor which, on demand, can be used for propulsion.
The VAE (electric-assisted bike) is ideal for off-road walks and provides valuable assistance during climbs or moments of fatigue. Pedal normally and the electric power assist motor turns on automatically. It will provide more power as soon as it detects that you need more assistance. This bike can reach 25 Km / h.
The benefits of the electric-bike are more obvious when in a group the physical level of each participant is different.
The assistance provided by the electric motor will allow the less sporty person to follow others more easily. With our electric-bike you will travel a greater distance in less time, visit places not accessible to cars, and you will be less tired. The electric bike is the best way to explore Mauritius through its narrow roads and sandy paths in the countryside. You will be able to maximize your activities and excursions during your holidays in Mauritius.
Classic mountain bike rental in Mauritius:
The mountain bike is a bike for sports hiking and as the name suggests is an all terrain bike. It is therefore ideal for riding on all types of surfaces. It is very practical for those who want to enjoy beautiful sceneries of Mauritius while performing a sport activity.
Child seat or baby carrier
We can, on request, provide you with a child seat for young children so that they can enjoy excursions with you during your holidays in Mauritius.
Find out more about the most suitable routes for cycling in Mauritius. Unfortunately bike lanes do not exist on the island. Some roads and trails, including those that cross sugar cane fields, are rarely used by cars and, therefore, are the safest. Some less travelled public roads run along the sea for several kilometres in the south of Mauritius. You may use them but you should remain very prudent. However, it is better to use the trails that will take you in the wilderness.
 The best solution to discover Mauritius is to take a guide, who knows his island, points of interest and trails adapted to the bike for half a day or for a whole day.