Souillac is a small village of about six thousand inhabitants nestled in the south of Mauritius. Of strategic naval importance a long time ago, this little jewel of the south has multifarious sites of interest. Explore nou zil gives you the opportunity of having a bike ride in Souillac : Perfect for starting the weekend or your stay in Mauritius. You will be amazed by the natural and wild beauty of the south of the island. Let's go for a new adventure! Here are some key places for your electric bike ride.
Time for an unforgettable adventure!
For this Mauritius excursion, plan: sports shoes, sunscreen, sunglasses, raincoat, mosquito repellent and cap. It is noted that the maximum number of people for each hike is 14. It is also necessary to measure a minimum of 1,47m and, of course, everyone should know how to ride a bike!
Stage 1: Place du Moulin
At 8:30, the journey begins! Located in the beautiful setting of Bel Ombre, Place du Moulin is a restored factory founded in 1910. The historic soul of the site has been kept untouched and there, you can admire the old stones, structures and turbines that were preserved during the restoration of the site. Off we go bike riding!
Stage 2: Jacotet Bay
The guides will tell you the legends about pirates and treasures that surround the Jacotet Bay. This bay is guarded by the Sancho Island. On the latter, one can find ruins testifying to the role of the island as a surveillance post. This spot is also popular among surfers who enjoy the direct winds of the south.
Stage 3: Rivière des Galets
Rivière des Galets is known for its beach lined with black pebbles that is completely different from other Mauritian beaches. In this place, you can take a break and why not have a rock throwing competition? Ricocheting is an activity that will delight both adults and toddlers!
Stage 4: Le Batelage
It is known as the former port of Souillac. This stage will give you the opportunity to take a lunch break at Le Batelage, a restaurant that owes its name to this historic place. If you want to immerse yourself completely in the Mauritian culture, the guides will recommend places to taste Mauritian flavours at some inhabitant's home or in a typical small restaurants. To date, this vessel is still being used by fishermen as well as the coast guard. The council of the village of Souillac is also there.
Stage 5: The Telfair Garden
The Telfair Garden, located near the beach, is the ideal place to take a break. Old trees are waiting for you, including a banian tree, recognizable by its branches and vines! The calm setting, the sound of the waves as well as the humming of the birds will lull you for a moment of relaxation before going back to the road for your electric bike ride.
Step 6: La Roche qui Pleure and Gris-Gris
You will be impressed by the waves that come crashing down on the cliffs with force. This phenomenon is due to the fact that this part of the coast is not surrounded by coral reefs and promises a grandiose show at high tide.
Option: Rochester Falls Waterfalls
As from 10 people, Explore Nou Zil offers an interesting package that includes nature immersion and a refreshing swim at the Rochester Falls waterfalls between Souillac and Surinam. With its impressive cliff and magnificent waterfalls, Rochester Falls is worth a visit… Don't forget your swimsuit and towel!
On the way back: Come on, let's go home!
15:30. It's time to turn back after this good dose of adventures!
Stage 7: St Felix and Riambel
You think you've seen everything? Wait to see what awaits you for the way back! The St Felix site with a health track will be quickly visited in order to reach Riambel with its tourist beach and its vortex, a peaceful place where you can refocus.
Last stop: Bel Ombre
All this to finally complete your journey to the Bel Ombre sugar factory. And yes, back to square one! The tour will have lasted all day and you will have made a lot of memories! Marvelous, isn't it?
Why choose Explore Nou Zil?
Choosing Explore Nou Zil means opting for a safety vehicle for groups of more than 4 people. Our guides are experts and the routes have no secrets for them: They will guide you to strategic places and will make you admire breathtaking landscapes. Indeed, throughout the course, the guides will propose different stops in order to let you discover the anecdotes and history of the place. They will accompany you even during your photo breaks.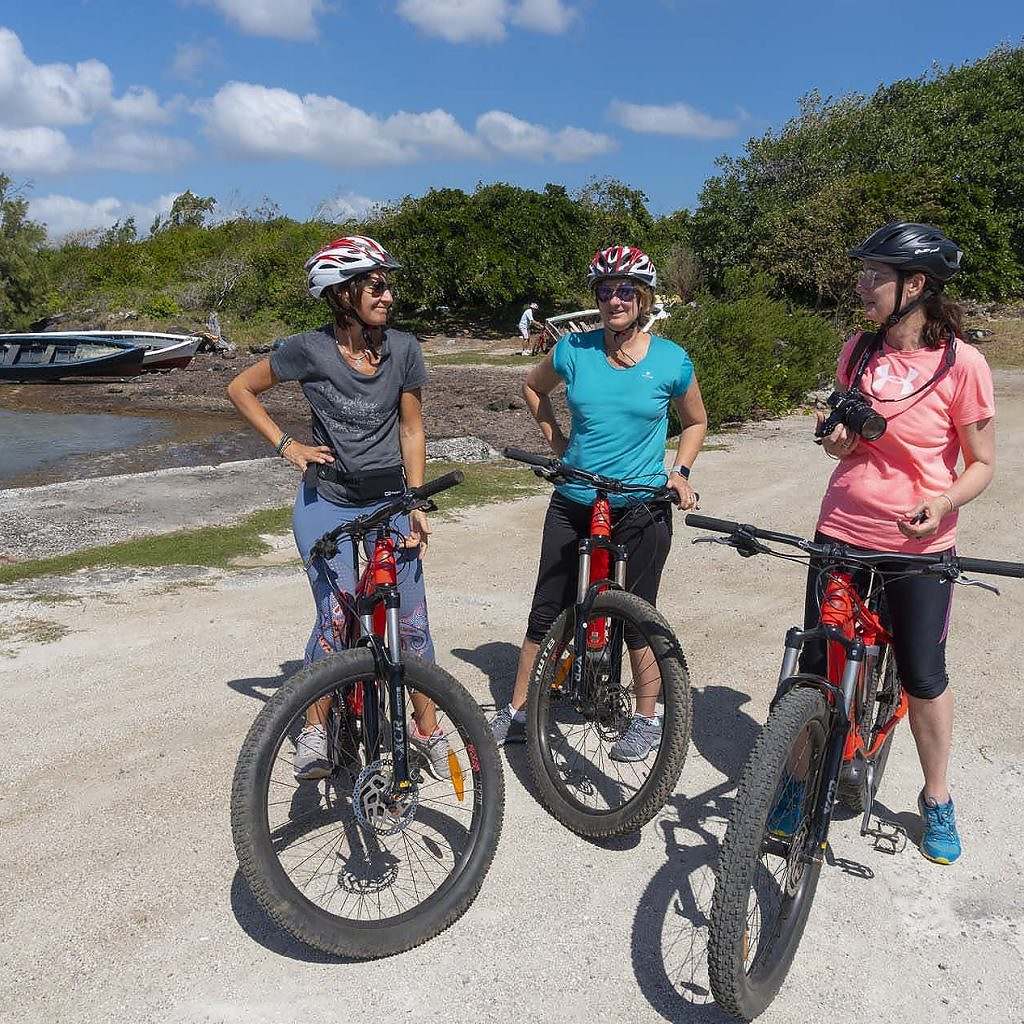 Bike rental
To enjoy trails inaccessible to cars, you can rent bicycles with Explore Nou Zil! Break from your daily routine with us. There is nothing better than the feeling of riding to discover new landscapes, new horizons. Choosing our bikes is about making an ecological choice. This makes your exploration  even richer and memorable! With the electric bike option, your hikes will be even more enjoyable: Especially if you are accompanied by your children! The climbs will be of great ease and within everyone's reach! Before each exit, the bikes are checked starting with the brakes and wheels. Then, the lithium cranksets and batteries are inspected to optimize your journey in electric mode. Finally, our team will adjust the handlebars to ensure your safety.