A family week-end in Bel-Ombre
We are on our way to a new family adventure. This time we shall discover the Heritage Le Telfair hotel which forms part of the Heritage Resorts group. We are staying three nights and are all delighted to experience all the land-based activities that Heritage Le Telfair has to offer. This 5-star hotel is located in Bel Ombre on the South-west coast of Mauritius, the wildest and most unspoilt part of Mauritius.
We took 35 minutes from Tamarin. Yes, in Mauritius we estimate the distances in time and not in km. Although the island is small, the journeys sometimes seem excessively long to us.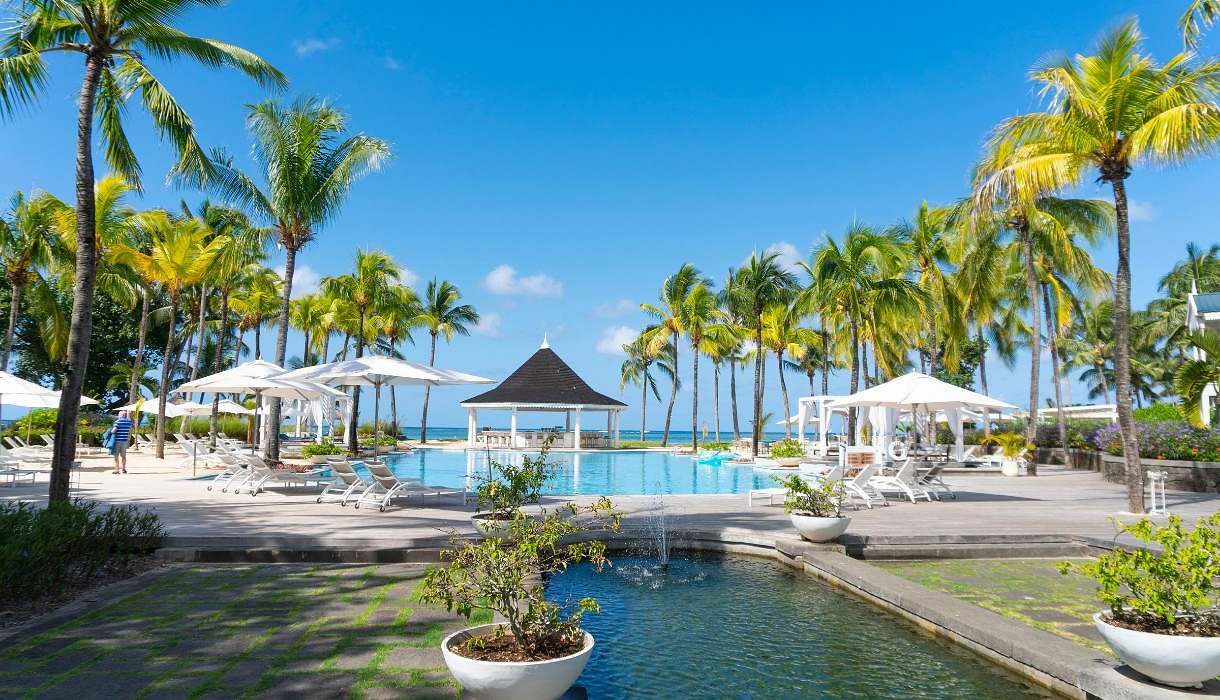 Hotel Heritage Le Telfair
After crossing a superb gate we follow a beautiful alley lined with Royal palm trees, which leads us to a majestic residence with its impressive wooden structure, dating from the colonial era and typical of plantations houses of that time in Mauritius.
On entering the reception, we discover a magical place, the furniture, the colour scheme and the decoration are in perfect harmony and soothing. Neat, airy, with its splendid suspensions, the place is very welcoming and you immediately feel good and already on holiday. A view on the pool and the sea gives a magnificent perspective effect and provides you with a brief insight of the beauty of this 5-star hotel in Mauritius. The check-in is rapidly done as we are all eager to enjoy this family fun break in a 5-star hotel in Mauritius.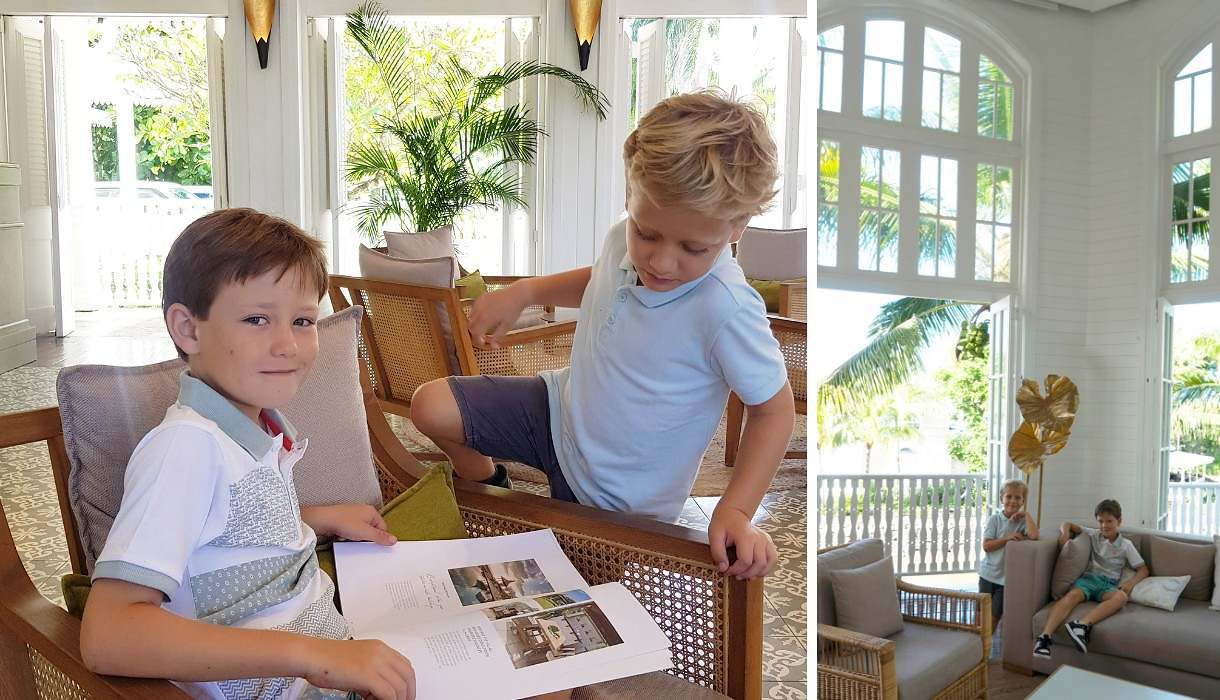 The Heritage Resorts group has no less than 12 restaurants and bars in its four hotels in the region namely, Le Telfair, C Beach, Château de Bel-Ombre and Awali. Heritage Telfair hosts four of them. The Heritage Le Telfair hotel has a spa, a bar and a mini-club for children, which I will tell you about later.
Day 1
Elegance and romance in our family room at Heritage Le Telfair
We were assigned a family room near the heated swimming pool (essential for me during the Mauritian winter. Yes, islanders are sensitive to the cold,…!), The buildings of the Heritage Le Telfair hotel are enhanced with exotic plants perfectly adapted to the environment. We discover our room, all made of wood and very chic. The room is very spacious and tastefully furnished. The canopy bed in the middle of the room is the main element. At its foot is a sofa bed, open for children. A small lounge area is installed there as well as a coffee area with its Nespresso machine.
The decoration is really nice with its lovely wooden floor, beige walls and stylish wall decoration elements. This accentuates the chic and colonial style of the place. The main colours are natural wood, white and shades of blue and green to blend in with nature, bringing a modern touch. This composition is really smart. At the back of the bed there is a recess with a dressing room. Very well organized, the management of the place!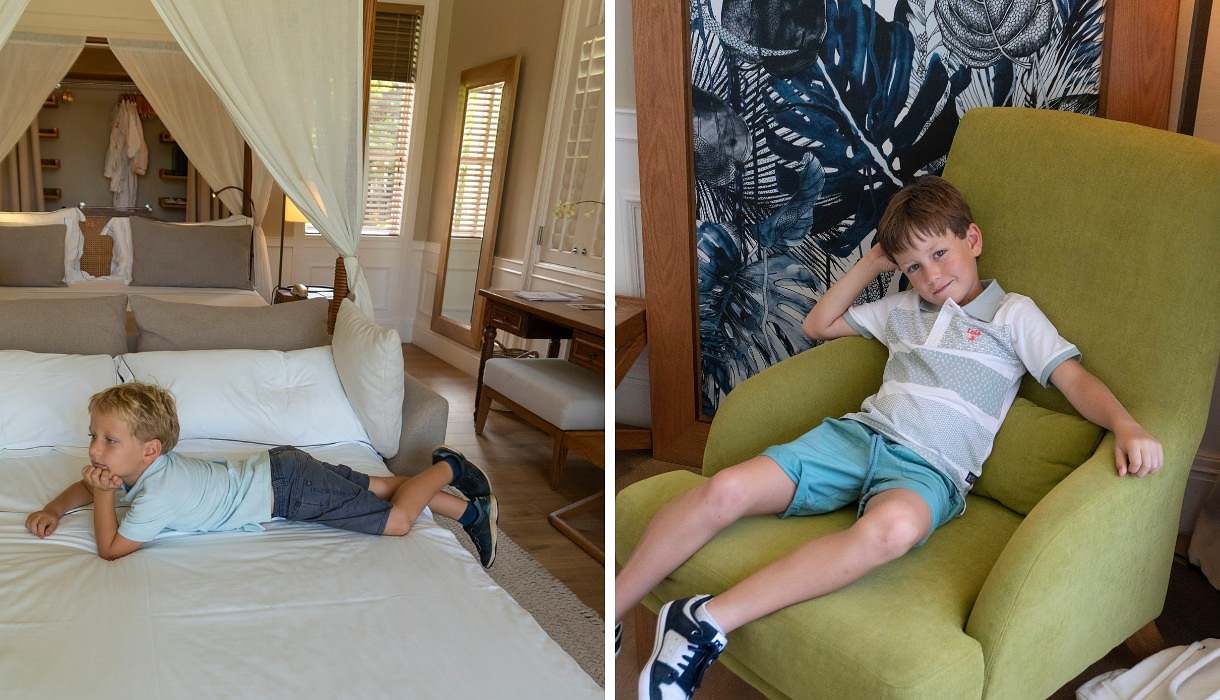 We discover the bathroom with its cosy hairdresser, its attractive bathtub, all in a zen atmosphere, thanks to the brightness of the room.
The design and arrangement of the room and its bathroom is so nice and romantic that it incites us to rearrange ours once at home.
The room opens onto a balcony overlooking this lush greenery and the swimming pool. Our family holidays in a 5 star hotel in Mauritius can finally start…
Discover the personalized visit in a video with Victor and Raphael
Breakfast at restaurant Annabella's
Before going to the mini club, we decide to have a great breakfast at the hotel buffet at the restaurant Annabella's. We discover a huge tiled room, very chic, with its dimmed lights and tables installed around the openings that overlook the pool and gardens. Space and privacy go hand in hand with gourmet pleasure! The U-shaped buffets offer a wide choice and everything is abundant and encourages gourmet delights. You will find: fruits, pastries, various pancakes and waffles, dried fruits, cereals, fresh juices… and my favourite treat: the English breakfast… I confess it's my best meal of the day. Yesssss… our stay at the Heritage Le Telfair hotel begins happily!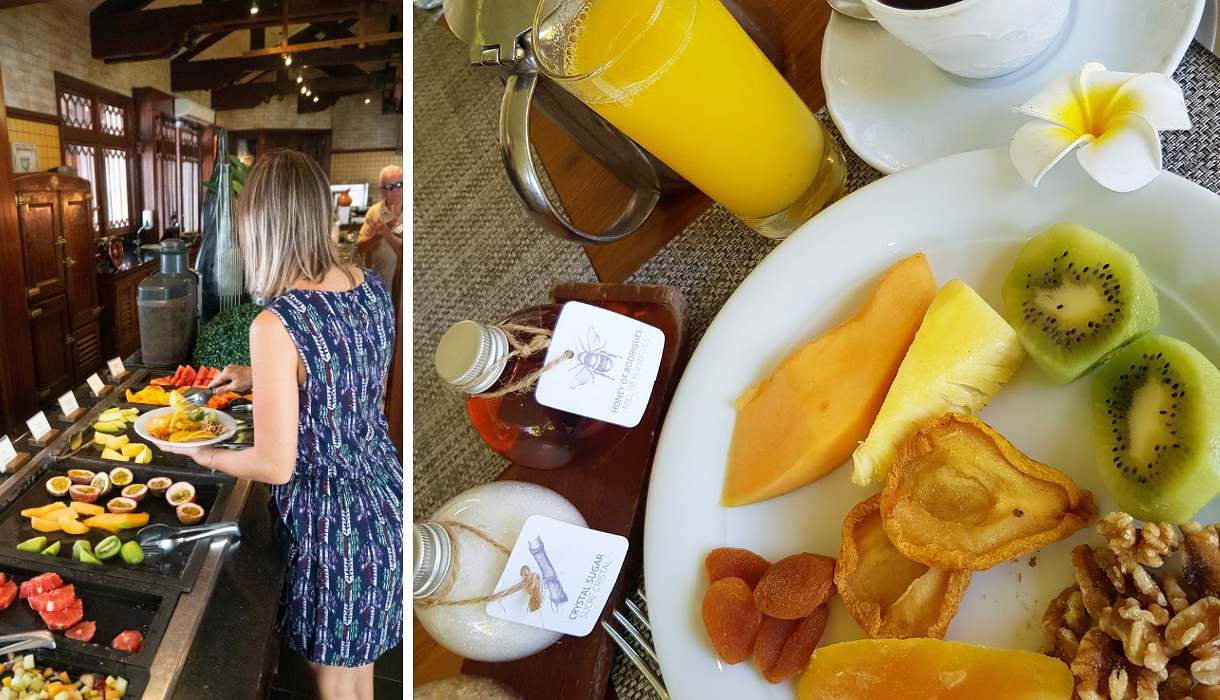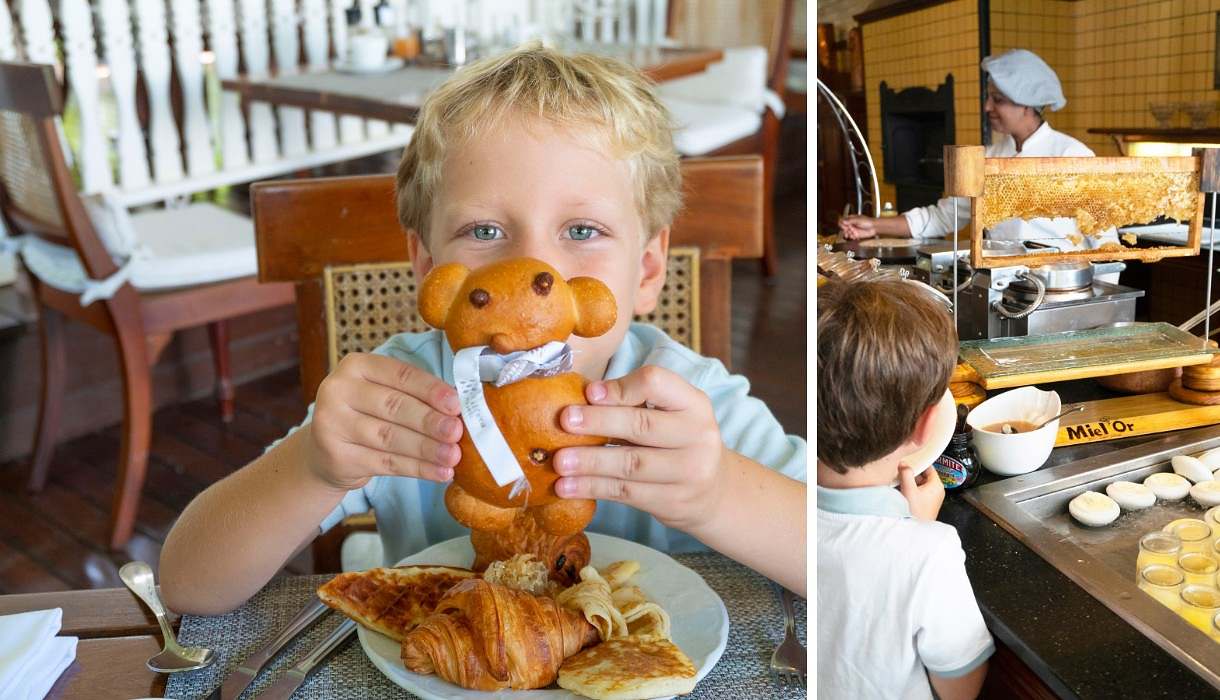 A children's paradise: the TI MOMO mini-club
The children are too impatient and we don't even have time to settle down after this hearty breakfast… We head to the mini club as quickly as possible because there is a cooking class and pizza tasting that starts at 11:30 am. What a nice surprise when you arrive at the TI MOMO mini club to discover a room that is perfectly adapted to the needs of our little guests! There is even a space at the entrance to write on the walls, strictly forbidden at home, and get dirty at will. Mari Bonne! (Great!). There is also a TV corner, a reading area and play areas. Obviously, Heritage Le Telfair is a great place for children; it's good to know if you want to spend a quiet family holiday in Mauritius.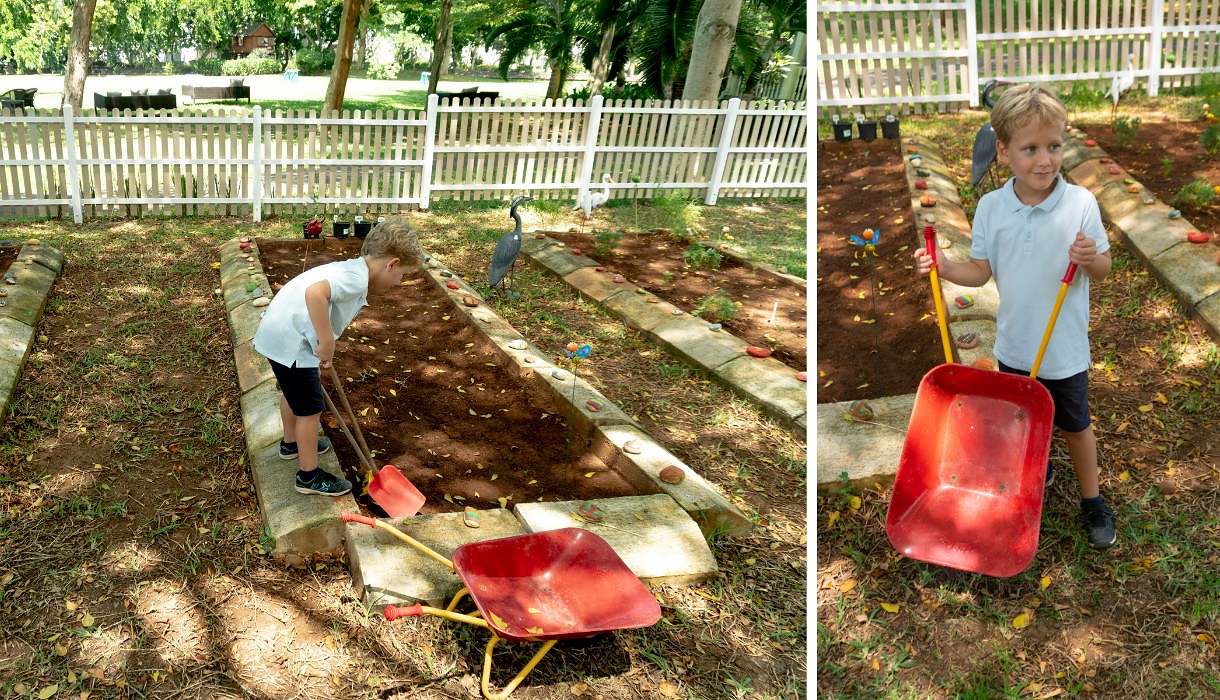 Outside, we discover scooters and rollerblades in free access. My children are all excited… Unfortunately, we didn't have time to use them… In the garden, we discover, to our great surprise, an indoor swimming pool for children, a vegetable garden and a mini farm with chickens, birds and rabbits…. We lingered on the rabbits… "Mari Comique" (very funny) to see the children running after the rabbits, trying to catch them.
After this interesting moment with the animals, it is time to start making pizza.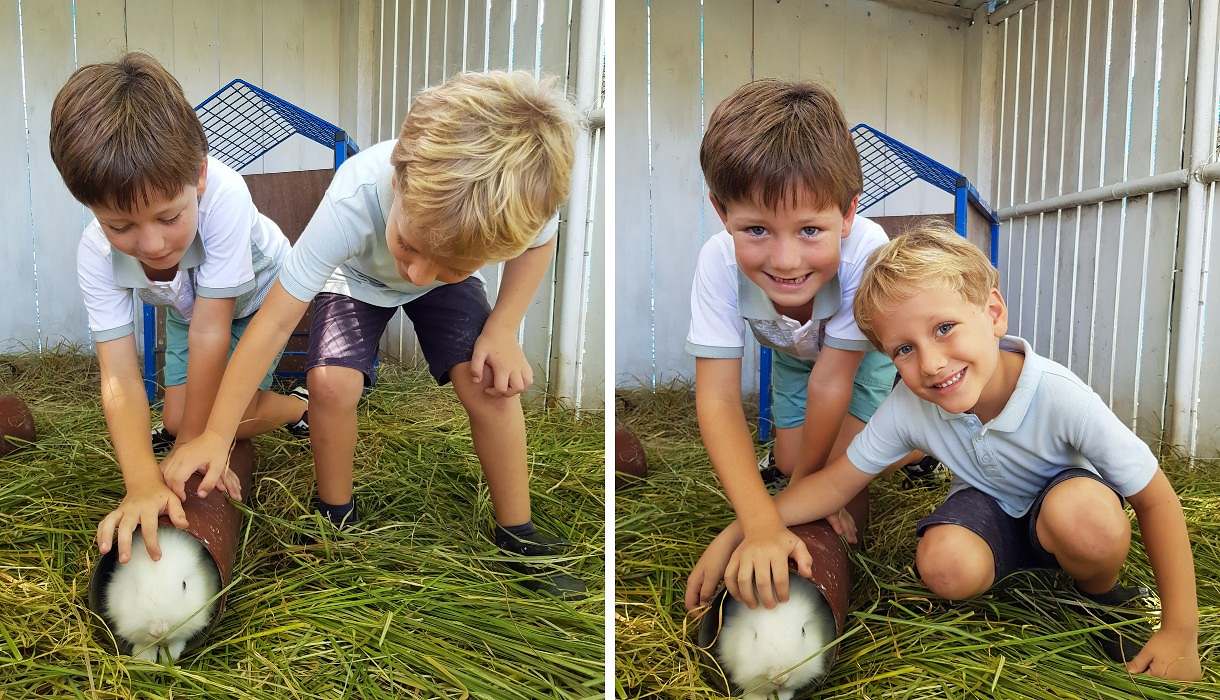 Pizza class at the Ti Momo mini club
To be a good chef, you first need an apron and a chef's hat. The children had fun kneading the dough and creating little veg pizzas. Raphael has managed to make a round pizza, because he is used to rolling faratas (a kind of salty pancakes, of Indian origin) from Chez Mala, the place where we have lunch when we discover Souillac by electric bicycle, a guided tour organised by Electro-Bike Discovery.
There's nothing better than having your holiday at Heritage Le Telfair with your family when you come to Mauritius.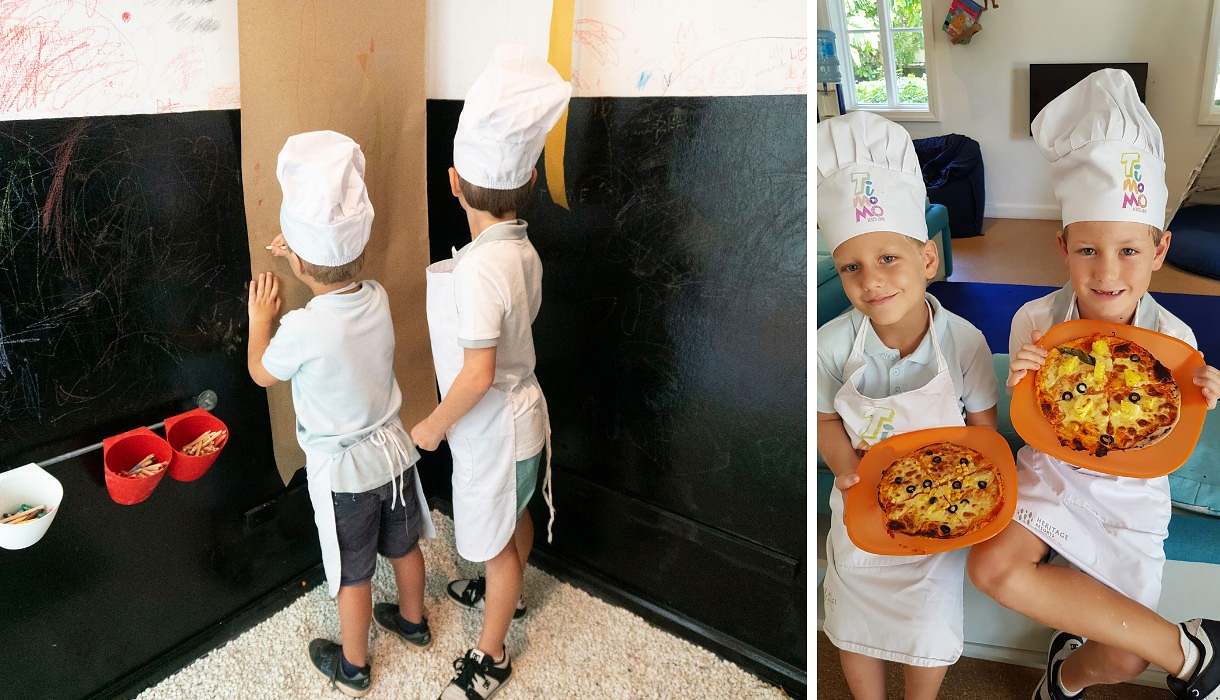 Relaxation in the pools of the Heritage Le Telfair
After this pleasant moment with the kids, I take them for a swim in the hotel's heated swimming pool. What a strange idea to choose this pool in the summer! The water is warmer than the air. Perfect for winter but avoid it in summer! It's far too hot and we're rapidly off to the main pool. It is situate in between the two main restaurants and the bar. From the pool you can see the lunch kiosk and the sea at the front, and at the back, the pools and the entrance to the hotel, which looks great.
Large animal-shaped buoys are available in the pool. Raphael and Victor have a really good time with it.
Le Palmier, lunch with your feet on the sand
As the children have already eaten their pizza and they are no longer hungry, Laurent and I settle down at the Le Palmier kiosk-restaurant at Heritage Le Telfair for lunch. An idyllic setting, with a light South-east wind, and having in front the ocean which lies as far as the eye can see. Even for a Mauritian used to beaches, I was dazzled by this view: turquoise lagoon and huge sandy beach….. One is never bored by the beauty of Mauritius!
This kiosk, openened to the soft trade winds, has its kitchen in the centre and the ocean in the background, is ideal for those looking for a light lunch while having an incomparable view on the ocean. It is nice to eat while watching the cooks prepare the dishes. IT is a completely different concept from the standard restaurants. Laurent has a Caesar salad and I had a tuna tartar. What's also nice is that they serve a large loaf of bread and olive tapenade. You have to break the bread and sauce it before you eat it.
As in Mauritius hotels, the service is attentive, the staff taking care of the guests. The smile is warm and the food tasty. After our coffee, we drop the children off at the mini club to do the other activities on the program, such as mask making and water polo.
Laurent and I, meanwhile, will experiment the Osteopathy activity: I will tell you about it in the next article!
Taste the beauty of a sundowner
After a good shower, we finally take the time to discover the beauty of the place. Hotel Heritage Le Telfair is part of a splendid setting. With its beautifully maintained gardens, wooded and flowered, the hotel is particularly successful in its colonial theme. The modern touches of tasteful decoration offer a very interesting contrast. Every detail is taken care of, from the interior decoration to the perfectly maintained beaches, worthy of the top-of-the-range services of a five-star hotel in Mauritius. Hotel Heritage Le Telfair has enough space that you can easily find a quiet and intimate space to relax.
Laurent, Raphael, Victor and I now climb the big steps up to the main building. It is the sacred moment when the sun plunges into the Indian Ocean. What a magical moment. The sky and sea gradually change colour from light blue to orange and then to bright red. The sun, before disappearing completely at the horizon, sends golden darts in all directions for a majestic exit. We recommend that you do not miss this extraordinary moment during your holiday in Mauritius. It's fabulous.
Diner at Annabella's
It's time for dinner, and we're exhausted. We're going to the main buffet Annabella's. This name was given in honour of Charles Telfair's wife of Irish origin. Charles telfair was a botanist who settled in Mauritius in 1811 at the age of 33 to practise as a doctor in this British colony. Passionate about plants, he introduced several species to Mauritius, especially at Bel Ombre. He contributed to a large extent to the development of this region and was the first to install a horizontal mill to crush the sugar cane.His wife, an amateur artist, painted some of the paintings now on the walls of Heritage Le Telfair.
Laurent, always fond of history, is delighted to discover the names given to the different restaurants, as they are all related to our past. The children have chosen cheese pasta for diner and Laurent and I opt for a trilogy of risotto and a duck breast. Excellent initiative!
A exceptional meeting
After the meal, we met Gilberte who has been painting for 22 years, and who comes once a week at the hotel to offer painting classes which she defines as art therapy. During the evening, she produces her paintings in public and it is possible to buy some. "When I was a child I loved painting, art, music, foreign languages. After school I immediately started to work in order to earn a living. In 1996, the Caudan Waterfront was under construction and I hoped that I would be authorized to anchor there. My demand having been successfully considered I was allowed to bring my very first paintings to be exhibited there. Nowadays my paintings sold to tourists visiting Mauritius go around the world and decorate houses there".
She also gives painting lessons to children and adults on reservation. Discover her work on her Facebook page Gilberte artiste
Congratulations to Heritage Le Telfair for this unique activity that combines art, therapy and painting initiation to which you will have free access during your vacation in Mauritius!
Day 2
A gentle awakening at Heriatge Le Telfair.
It is in the fresh air of a beautiful morning bathed in sunlight that this second day at the Heritage Le Telfair begins.
The children are febrile and they don't want to miss any of the many activities of the Ti Momo mini club.
We start this wonderful day with a walk on the beach before going to watch the fish in the pools of the Heritage Le Telfair Hotel. The boys wear their favourite shorts from the Mauritian brand Aqua Swimwear. I love this brand whose entire range of impeccable quality products and beautiful colours are entirely designed and manufactured in Mauritius. (You will find them on Facebook: AQUA swimwear or on insta : aqua.swimwear.mauritius or more details) To start this day I also chose a tunic from the same brand. Ayo I love it… (a purely Mauritian exclamation to the delight of visitors passing through Mauritius).
We continue our exploration of the superb gardens of Heritage Le Telfair which gradually come back to life as the sun rises in the azure sky.
Play Robin Hood
The children are eager to go to the Ti Momo mini club, because this morning an archery activity is programmed. They are really excited to take part at this activity because they have been dreaming of it for a long time. Once on site, the manager asks the children to follow her into the garden of the mini club. She's the one who's going to do the initiation. There are only three children and they have 30 minutes to have fun.
We discover that archery is not only a sport of precision and skill, but also requires physical and mental balance. Concentration is required. The children learn to control themselves knowing that they have a certain responsibility and that they must exercise care. Well supervised by the personnel of Heritage Le Telfair, it is a fun and safe activity, perfectly suited to families on holiday in Mauritius.
This educational sporting discipline is perfectly adapted for children, and Raphael and Victor appreciate it enormously. The only drawback is that the 30 minutes go by too fast. The children love being like Robin Hoods and they keep asking for more. In any case, this introduction to archery at Heritage Le Telfair's Ti Momo mini club make us want to repeat the experience, but this time as a family.
Golf break at Heritage Golf Club
Time is passing too fast and it's time to get ready for the shuttle that will take us to our new family activity at Heritage Golf Club. Raphael and Victor are very excited because, not only they will play golf, but especially because they will be able to drive the golf cart. They both love playing golf and since their first golf experience last November at Tamarina Golf Club, they have been talking about it all the time.
So we all get in the cart, heading for the golf course. Arriving at the Heritage Golf Club, we are welcomed by the coach who starts the session by explaining the basic rules of golf to the children. For Raphael and Victor, these rules are already well understood because this introduction to golf at Heritage Golf Club is their second experience.
The children are all placed two metres away and each have their own golf club and balls for a 30-minute session. Unfortunately, they are not dressed for the occasion but nevertheless they have a great time. 'Let's go for a little competition of the one who aims the furthest' now proposes ………… Victor, who doesn't like competition, and feeling weaker than his older brother, prefers to stop. Meanwhile Raphael has a great time. They are both delighted to hear the coach ask how long they have been playing this sport, and to answer that it is only the second time.
It is now super hot, and the time that has been allocated to us has already lapsed. So we leave by cart for the hotel. We consider having devoted enough of our time to the children, and we are relieved to see them return to the mini club Ti Momo at Heritage Le Telfair with a smile on their faces. They'll have lunch there.
Laurent and I, will finally be able to have a relaxing moment together, without the kids, before our massage session scheduled for early afternoon. This is a "selfish" pleasure that you must know how to arrange during your family vacation in Mauritius! That's what mini clubs are for, and your kids will have a great time!
An intimate tête à tête by the pool
It is dream weather, and finally, we can enjoy a relaxing time for both of us at the pool. It's great to have managed to get a place in one of the beach beds around the little "pool" which provides us some privacy. I want to address a special mention for Jean and his straw hat for his smile and impeccable, kind and discreet service.
I really appreciate this relaxing moment (especially without children), to rebuild the world with Laurent and to discuss all our 2019 projects for Explore Nou Zil…. ?
After this relaxing moment we are on our way to have lunch, as it is already late and I am already well tanned. We take a lamb chop as main course and a tiramisu for dessert… Delicious…
We next have a very interesting discussion with the chef who tells us about his career.
After this enriching exchange and delicious meal, we will prepare to go to yoga class.
Peace and inner balance during a yoga break
As the Ti Momo mini-club is closed from 5pm, we pick up Raphael and Victor and bring them with us to yoga class on the beach near the C Beach Club.
We have a great time, and this is Laurent's first yoga class. Being an excellent sportsman he is quite surprised to discover how stiff and inflexible he is. Unfortunately our children have come to join us and we have to keep an eye on them which prevents us to concentrate fully on our yoga.
Discover this moment in our next article on wellness activities to do on holiday at Heritage Le Telfair.
It's almost 7pm, the sun is almost down, and it's time to get ready for dinner… Especially since the kids are eager to participate in the crab fishing organized by Ti Momo Kids club, and to be present at the movie night.
Romantic evening on the beach
They absolutely want to have dinner "like grown-ups", alone. So we install them at the table, order and leave them.
Laurent and I are going to the Cavendish bar for a glass of wine. This place is splendid with its cosy piano bar atmosphere, its high roof typical of colonial buildings, designed to enable the air circulates freely.
That evening we chose the Pan-Asian restaurant in a pavilion on the beach, the Gin'ja. The setting is very beautiful, very romantic and quiet with candles and small lights well dimmed. I take a fish and Laurent always the same dish when he goes to the restaurant: an octopus curry.
Having fully enjoyed this last evening as a couple, we pick up our children at the Ti Momo mini club and go back to the room.
Day 3
We decide to have a full breakfast so as to avoid having lunch later in.
Hymn to well-being
Laurent and I have decided to devote entirely this last morning to our well-being, the more so that Heritage Le Telfair has everything to satisfy the most demanding.
Discover our enchanted break at the Wellness Spa in our next article on wellness activities to do on holiday at Heritage Le Telfair.
A last sweet parenthesis
PWhile we are at the massage, the children are at the Ti Momo mini club. When we collect them, it is with great pride that they show us the painted stones and T-shirts they made.
We are not hungry, but we still decide to test the Kiosk Gourmand. A magical place for children because they are presented with jars of candy, pancakes, chocolates, lollipops… Here the children are kings and can order what they want. They had ice cream and a handful of candy each.
Unfortunately, it's time to go… We loved this stay at Heritage Le Telfair, which is perfect for families on holiday in Mauritius, with 5-star services, exciting activities, a stay dedicated to well-being, all in a splendid setting!