The successful "West Spirit" of the Veranda Tamarin
Looking for a hotel that fits and integrates into Tamarin's surf & beach spirit? Then, let's go to Tamarin for new family adventures in Mauritius. This time, we tested for you the newly renovated Veranda Tamarin 3*+ hotel, which has been taken over by Veranda Resorts. We spent two days and two nights in this hotel ideally located facing Tamarin Bay in the heart of the village. The bay is the place to be in Mauritius for surfers, morey lovers or for those who are simply looking for the pleasure of swimming in a splendid bay.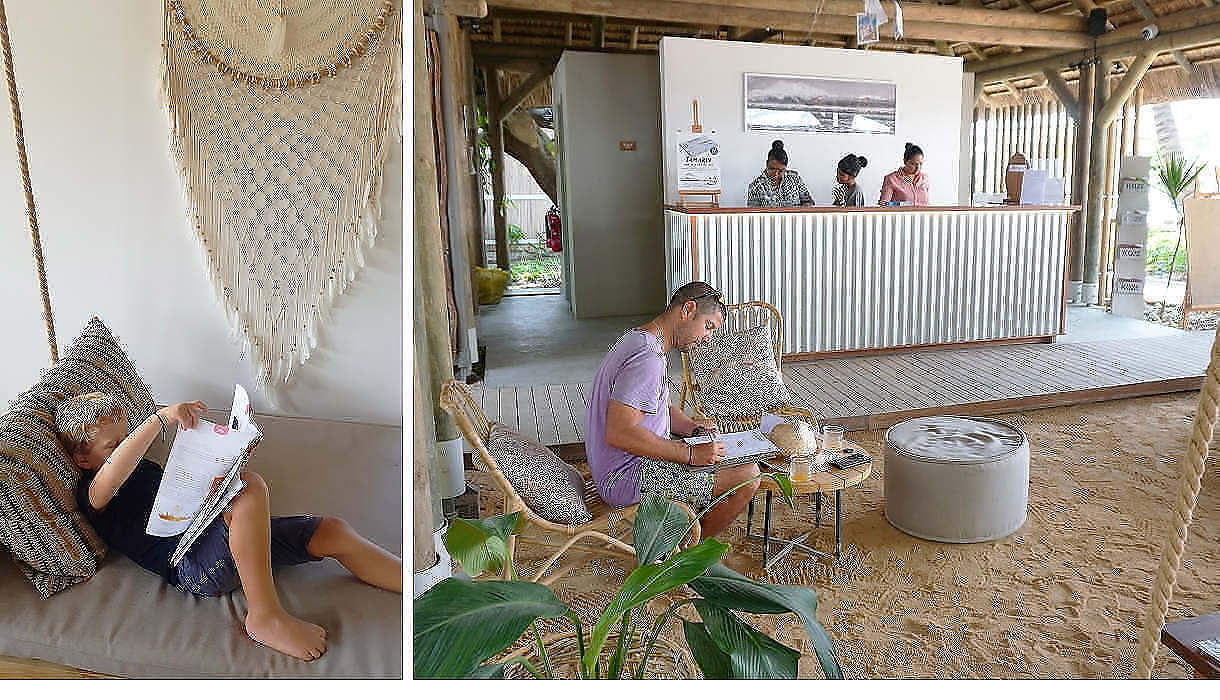 A welcome under the sign of tamarind
The welcome on our arrival is very original: tamarind compote* in the palm of your hand, tamarind juice and bracelet with a tamarind seed. The region has many majestic tamarind trees. Veranda Resorts, with the renovation of the Veranda Tamarin, has really succeeded in giving a new soul to this hotel in Mauritius, facing the bay of Tamarin and the surf spot. By playing the tamarind card to the full, Veranda Tamarin claims the authenticity of the real Mauritius.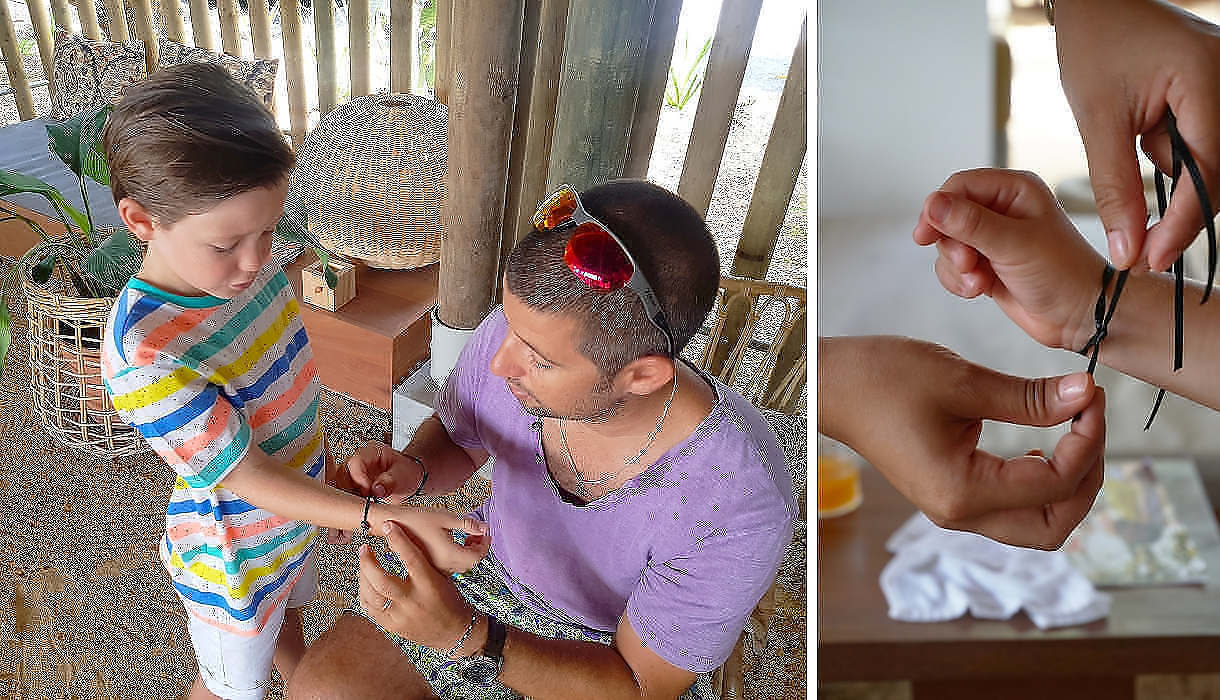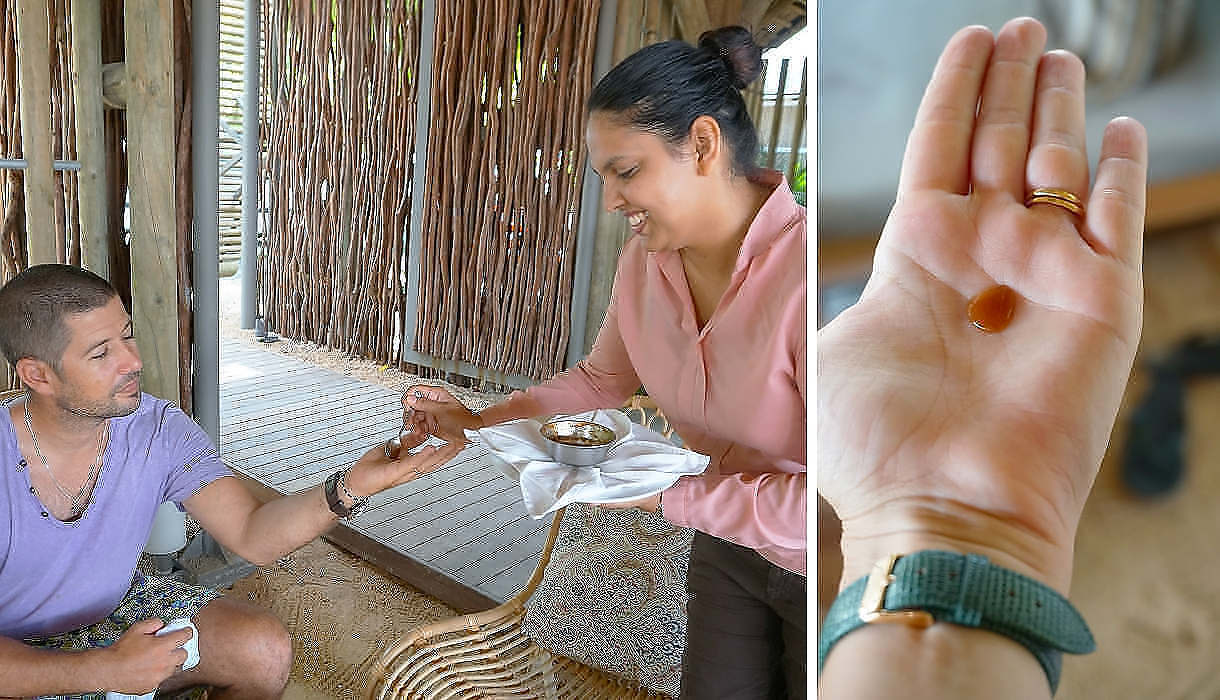 If you are looking for an original accommodation for your holidays in Mauritius, or if you are a Mauritian in disconnection mode, Hotel Veranda Tamarin is for you!
From the hammock atthe entrance, to the "sheet metal" counter, with the sand on the ground and the local and rustic decoration, everything makes you want to put yourself barefoot, at ease.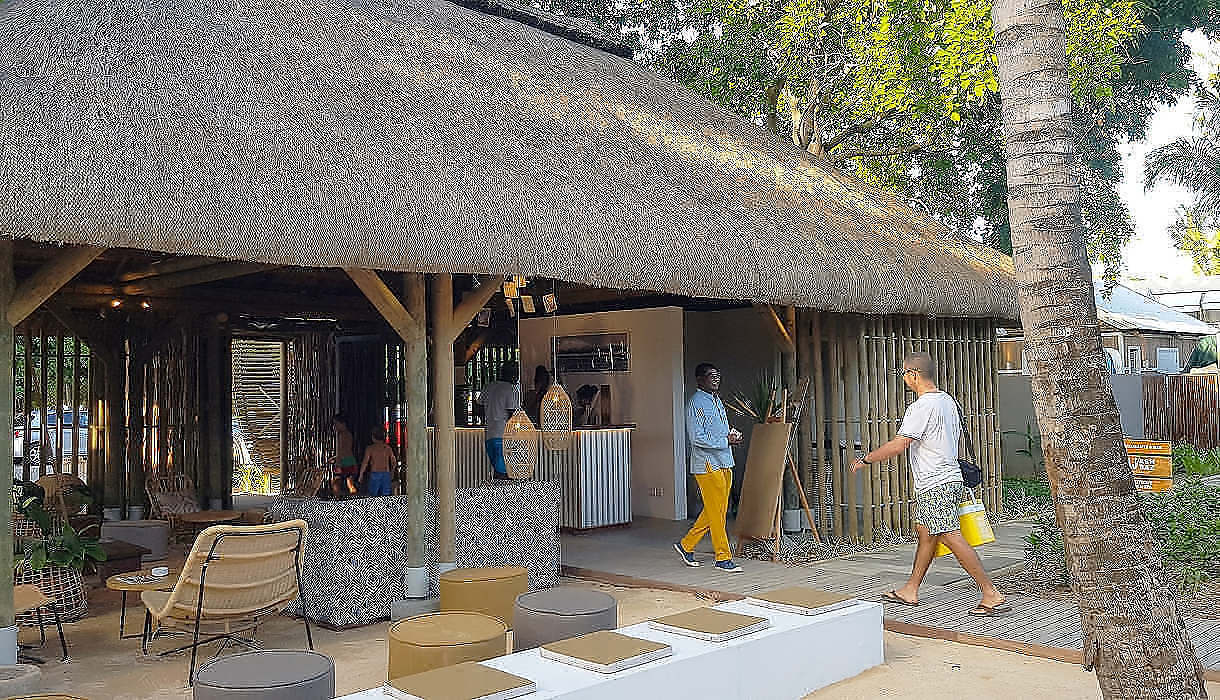 (*Tamarind is the fruit of the tamarind tree (Tamarindusindica), a tree native to East Africa that thrives in tropical climates. It is a small fibrous fruit with a slightly sweet taste)
A Zen and soothing room
Our family room, with its original character and a "Mari bonne" atmosphere ** and view on the swimming pool, plays the authentic Tamarin village card.
The lamps, mirrors, furniture, up to the toilet paper holder are made of simple local materials such as Chinese Guava wood, coconut rope****, and vacoas. All this rustic aspect gives an impression of simplicity and "pas kass la tête" ***. You feel at ease right away, as the room is so comfortable and simple.
Ce thème a été exploité a 100% dans ses moindres détails. Bravo Veranda Tamarin !
Mari bonne** : great, wonderful
Pa kass la tête *** : don't get caught up in the head
Corde coco**** : rope made of coco fibres
An excellent idea isthe Veranda Tamarin laundry roomfor autonomous and eco-responsible holidaymakers who travel light. Located on the first floor, it even has board games and a table football to make waiting less constraining. Laurent was enthusiastic about this idea (even if he never does laundry at home).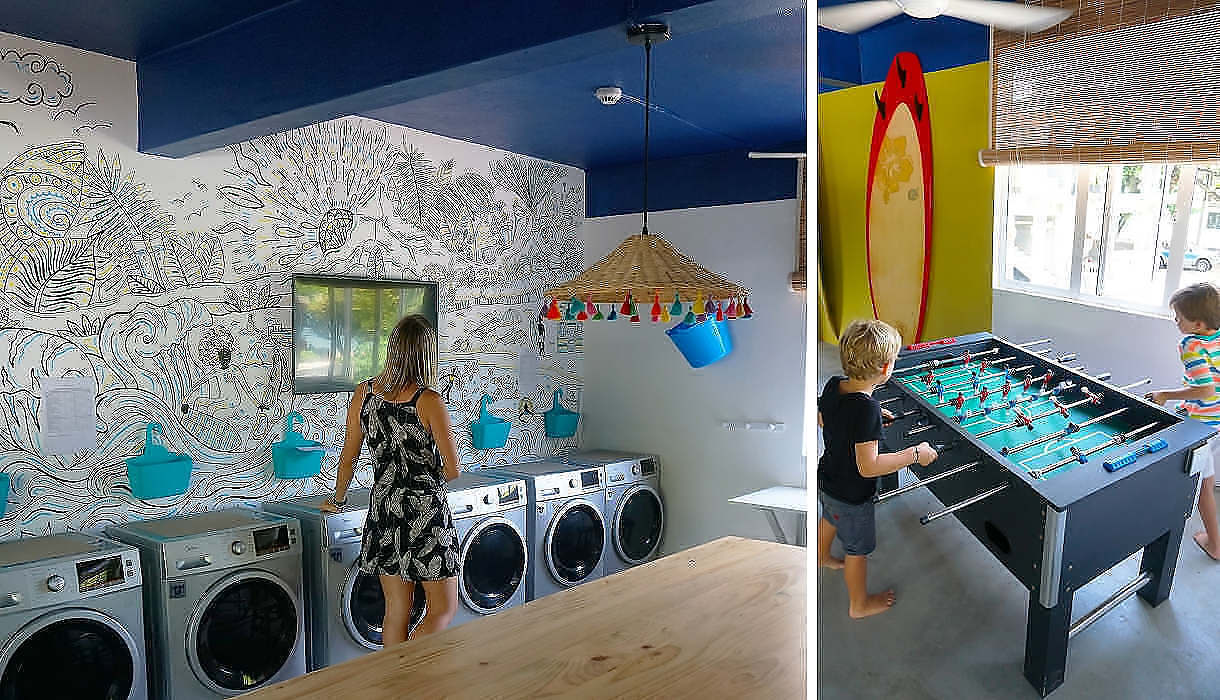 The restoration at Veranda Tamarin
Veranda Tamarin offers a varied, affordable and open catering service for both non-residents and Mauritians.
The restaurant Tribu is open for dinner and offers a Mauritian menu à la carte (on reservation).
The Ye man restaurant offers breakfast and dinner in buffet mode.
Crazy Fish restaurant offers relaxed and light lunches, with a choice of burgers, salads… In the evening, the Crazy Fish bar, open to residents and non-residents alike, offers a variety of extremely enjoyable concerts, while we showcase local and international artists. It is one of the most important cultural sites on the West Coast.
Finally, Kaz dalopened on the bay, for lunches on the go: hotdogs etc.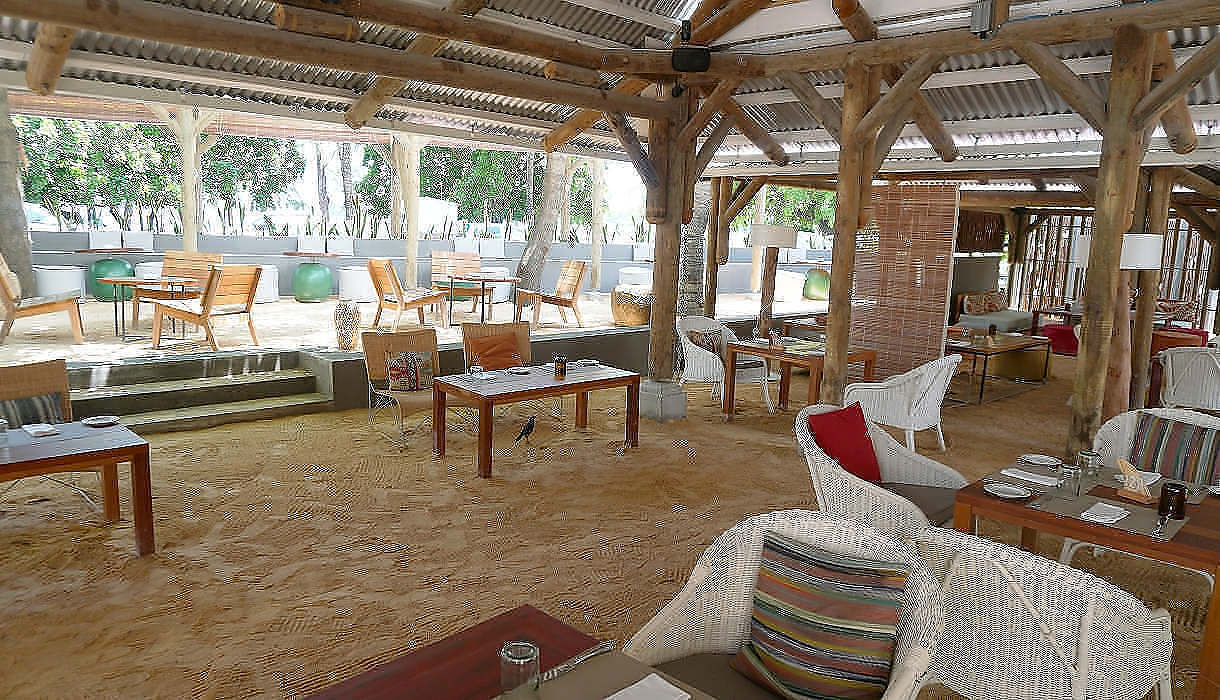 What activities to do during your stay at Veranda Tamarin?
It's time to go enjoy the place. During our stay, we tested for you:
Surfing in Tamarin Bay, one of the peculiaractivities to be done in Mauritius
Seven Colours Wellness Experiences Spa
Kayaking, another great activity for the whole family in Mauritius,
Activities within the hotel grounds such as baby-foot, table tennis, swimming pool
Tamarin Bay beachon sundowner: A must do in Mauritius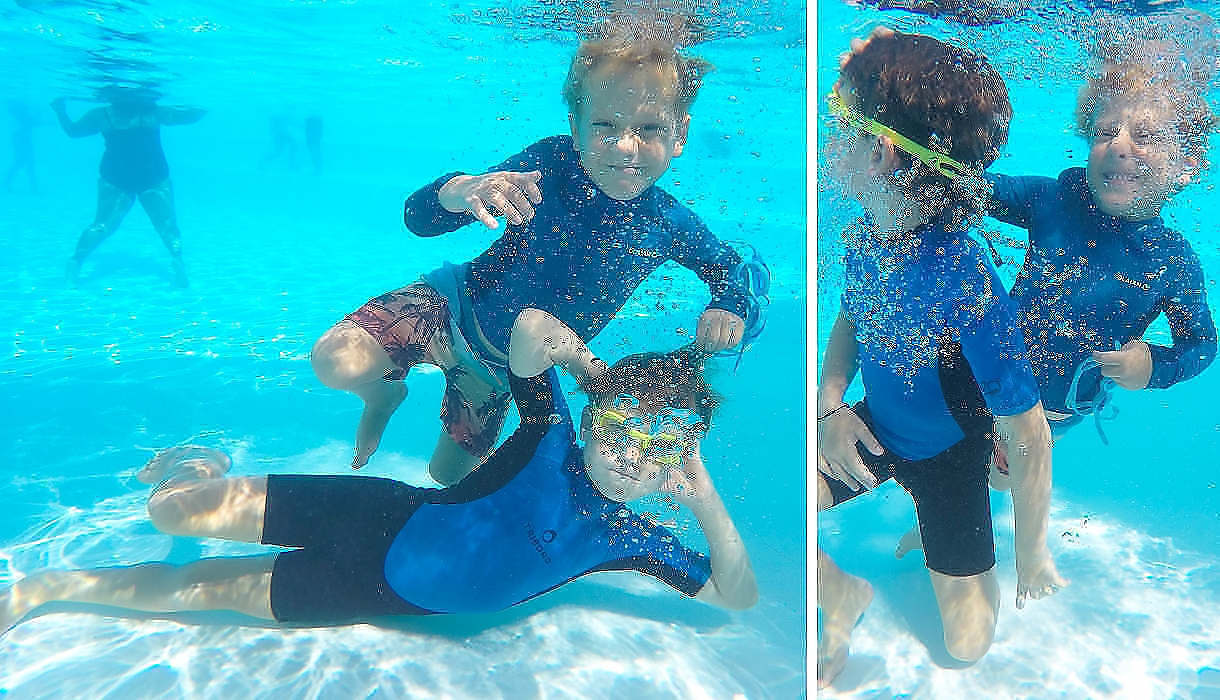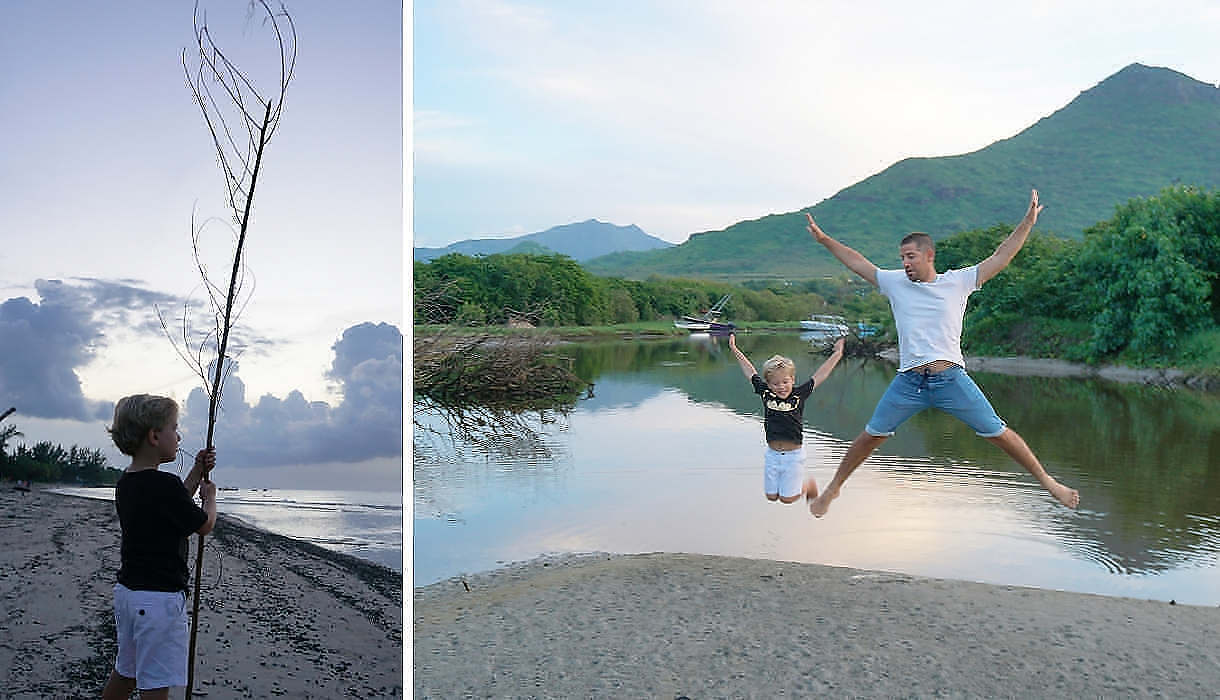 Activities and catering on our firstday.
We are embarking on frantic ping-pong tournaments. Hotel Veranda Tamarin is kids-friendly, perfect for our 6 and 8 year olds.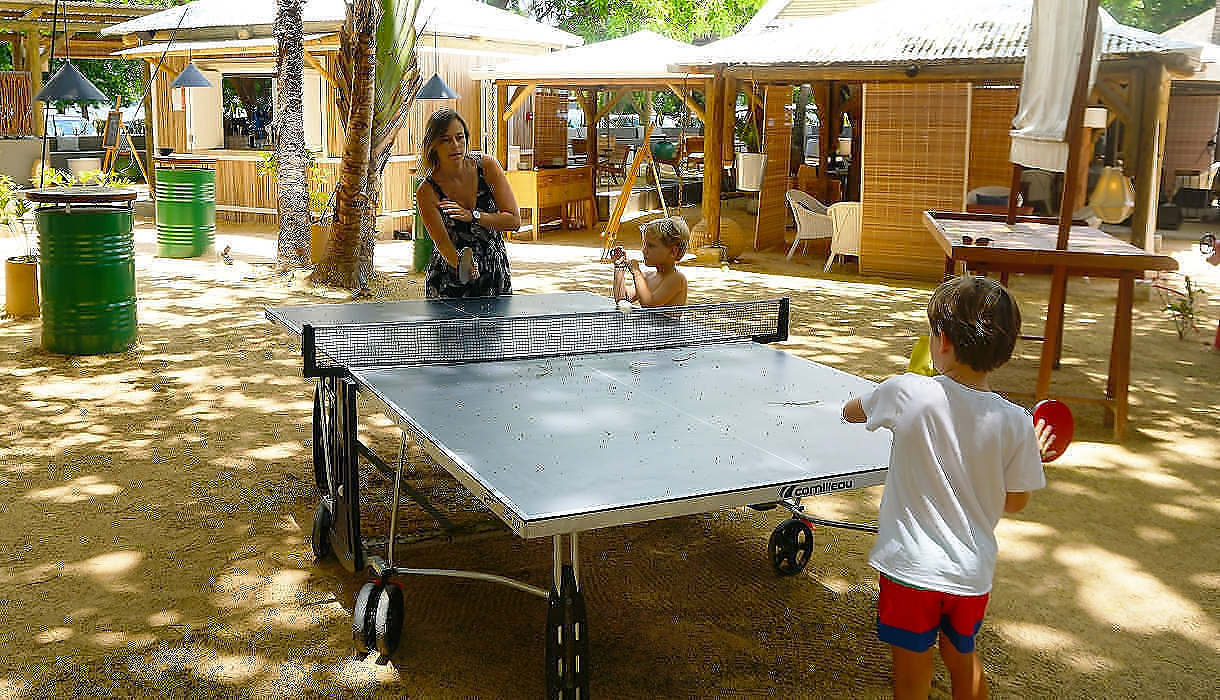 It's already 12:30 and we're starving. Direction, the Crazy Fish facing the sea (just a small road separates us from the beach). I love the relaxed atmosphere of this very friendly place, with disparate furniture and sand underfoot.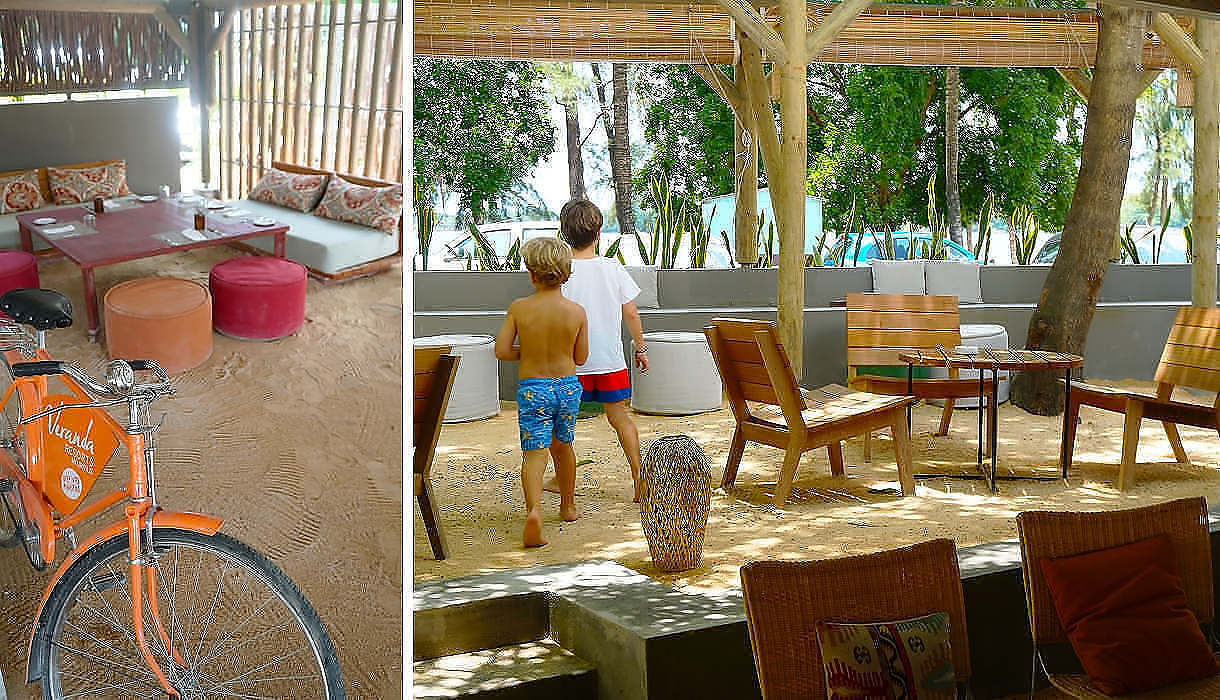 Also open to Mauritians and non-residents for lunch, a drink in the early evening with live music. Frankly, it is a very nice restaurant with more than fair prices. "Ayo, mauvais bonne…" (Wow, that's great!)
Laurent has a deer burger and Raphael, Victor and I have a beef burger. Yummy,… delicious, tasty and copious as it should be. The deer burger is a very original specialty. I've never seen anything like this before.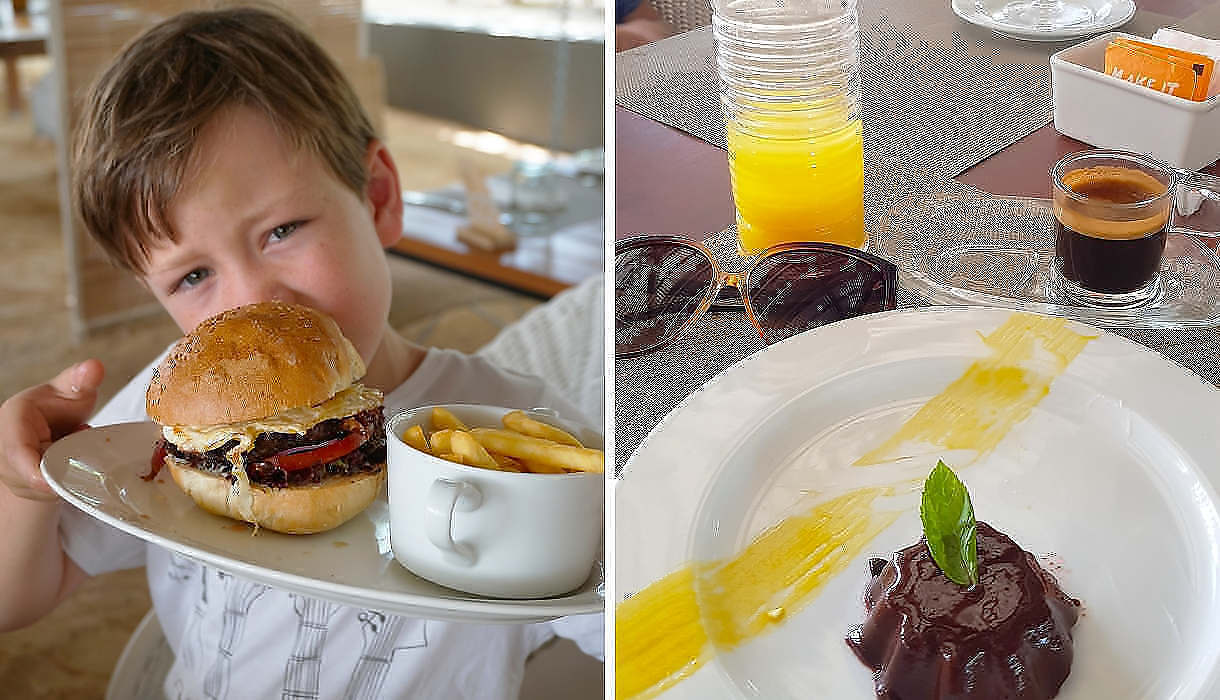 After the meal, Laurent and I head up to the Seven Colors Wellness Experiences spa for a two-hour wellness break in a spa.
Find our experience at Seven Colors Wellness Experiences spa in Veranda Tamarin in a future article.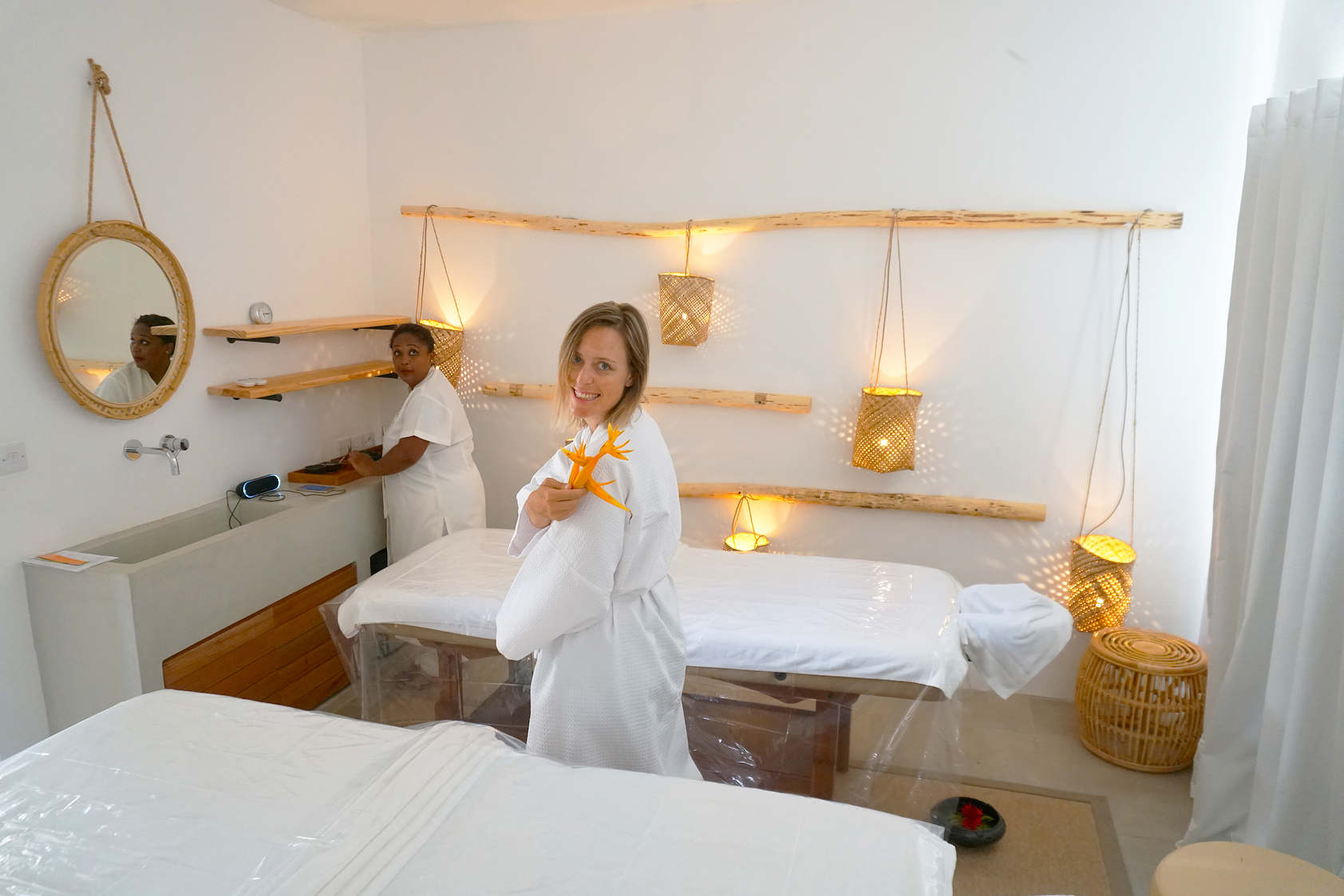 After a good shower, we decide to go to Tamarin Bay for a sundowner. So I put on my outfit of the famous Mauritian designer, Valérie Wiehe Jordaan, from the Sundae boutique, who kindly offered me shorts and a top for this afternoon at Veranda Tamarin. I love this style which combines chic materials and trendy colours, with always a very feminine touch in the clothes. (Vous pouvez la retrouver sur Facebook: Sundae Clothing, ou sur Insta: Sundae_mu)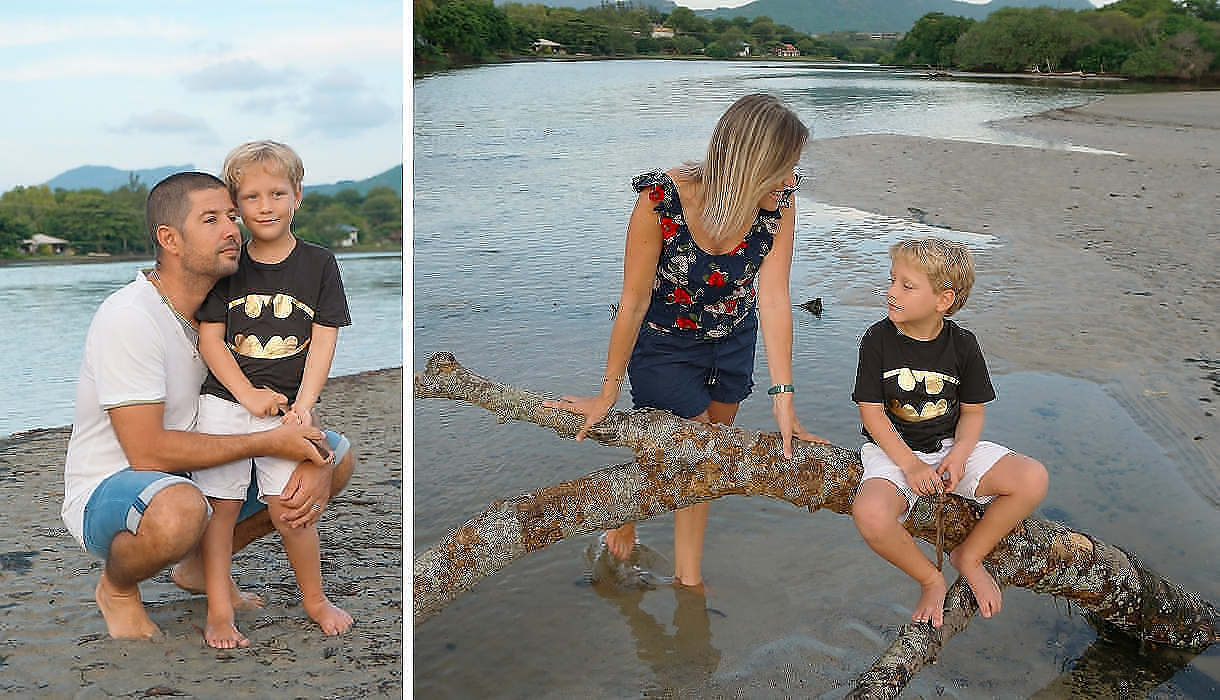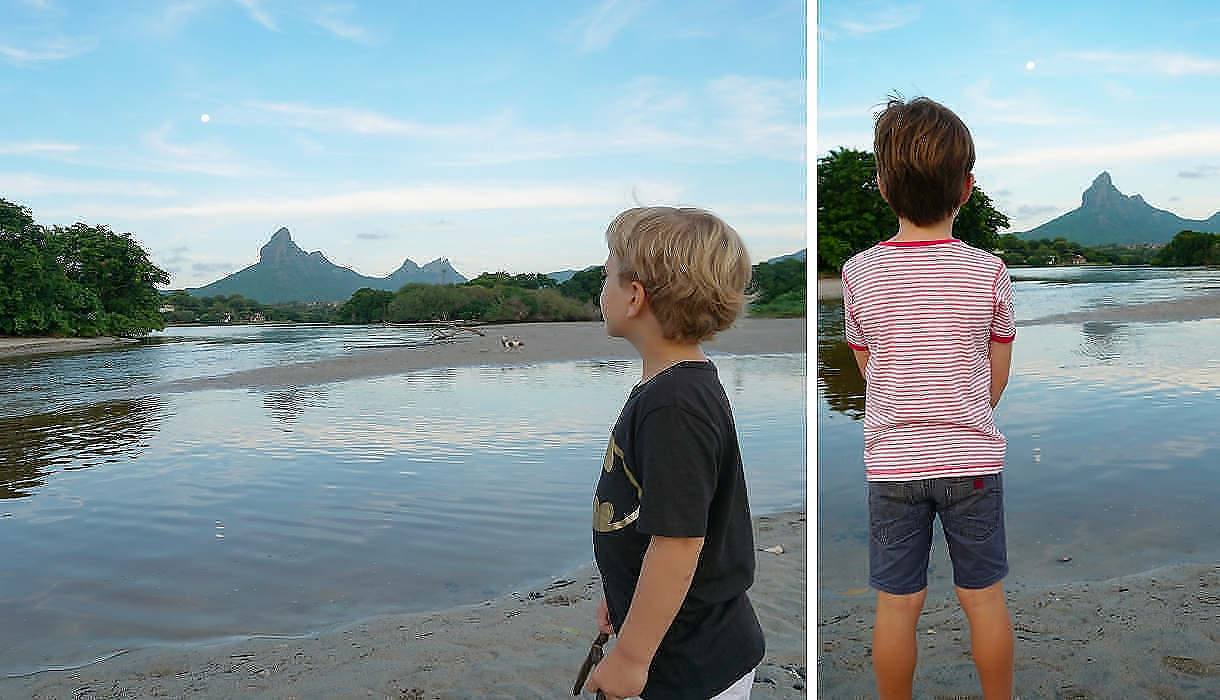 Oiled and relaxed, after our body scrub and massage, a good shower seemsessential. Then, we will have dinner at the Ye man restaurant, for the Chinese buffet of the Veranda Tamarin hotel with dumplings, fried mines…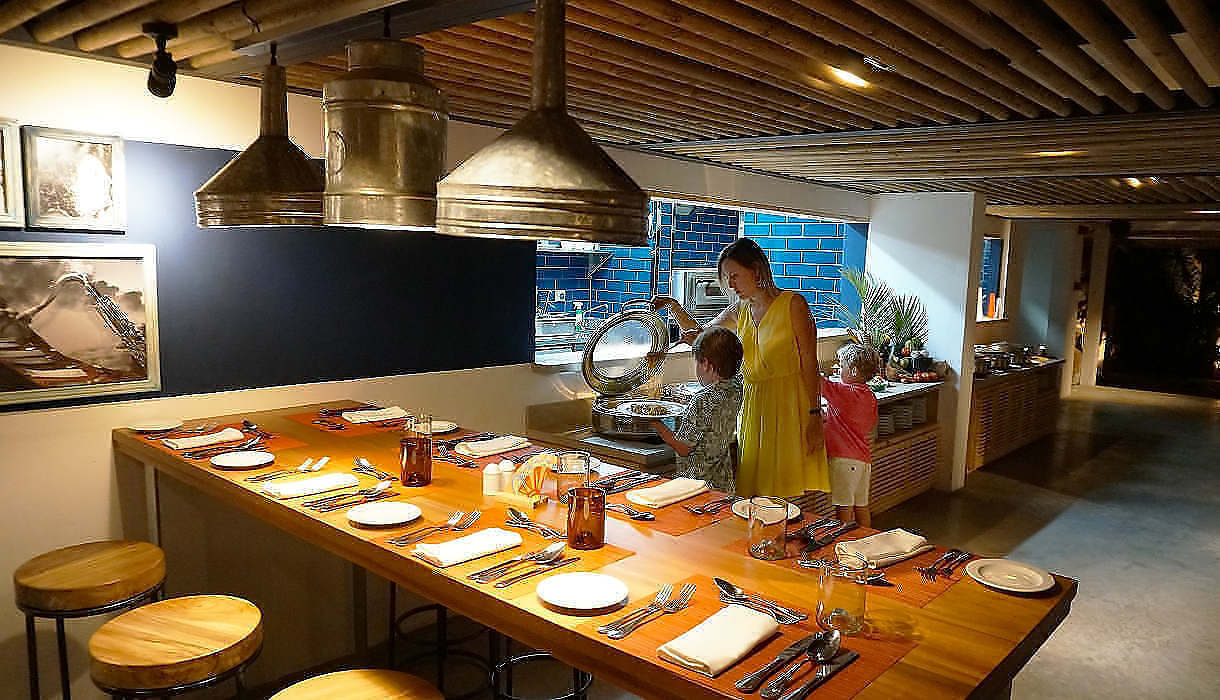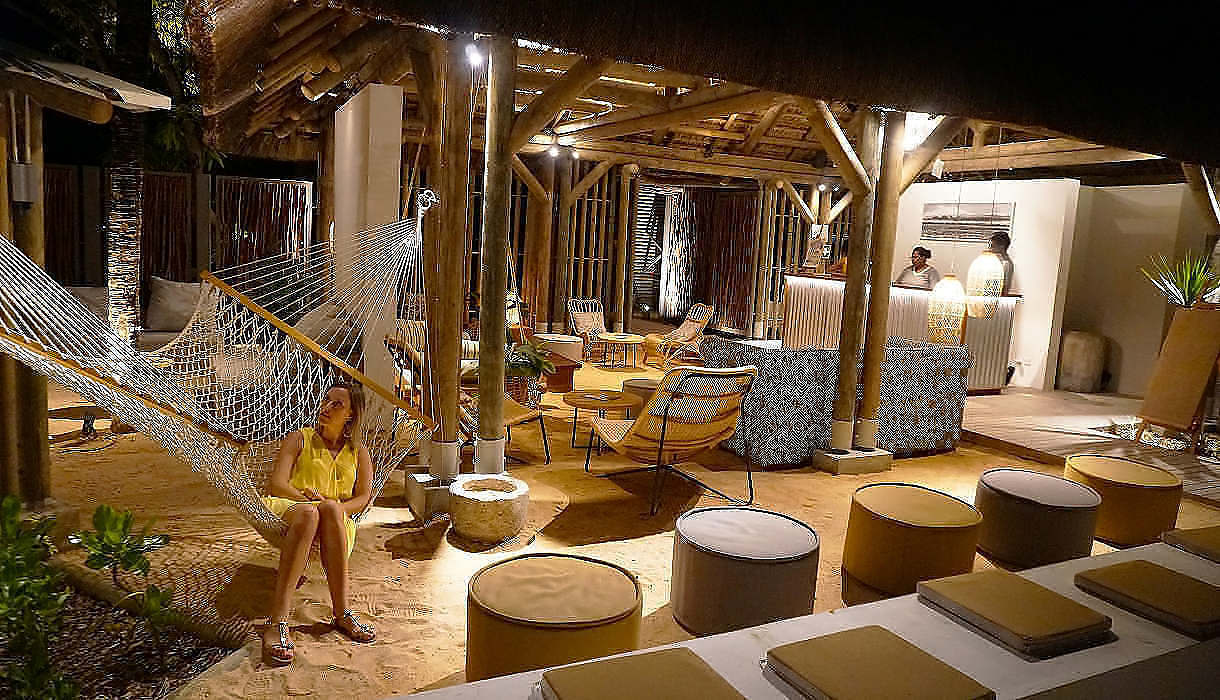 During the dinner, a Mauritian musical group plays live. Tourists on holiday in Mauritius, Mauritians and expats like to meet there for a drink. The old hotel has long hosted one of the best annual jazz concerts in Mauritius and the new Veranda Tamarin maintains this "west spirit" to our delight. After a day full of diverse activities, you can enjoy an exotic cocktail, a beer and live music groups on the specially designed small stage.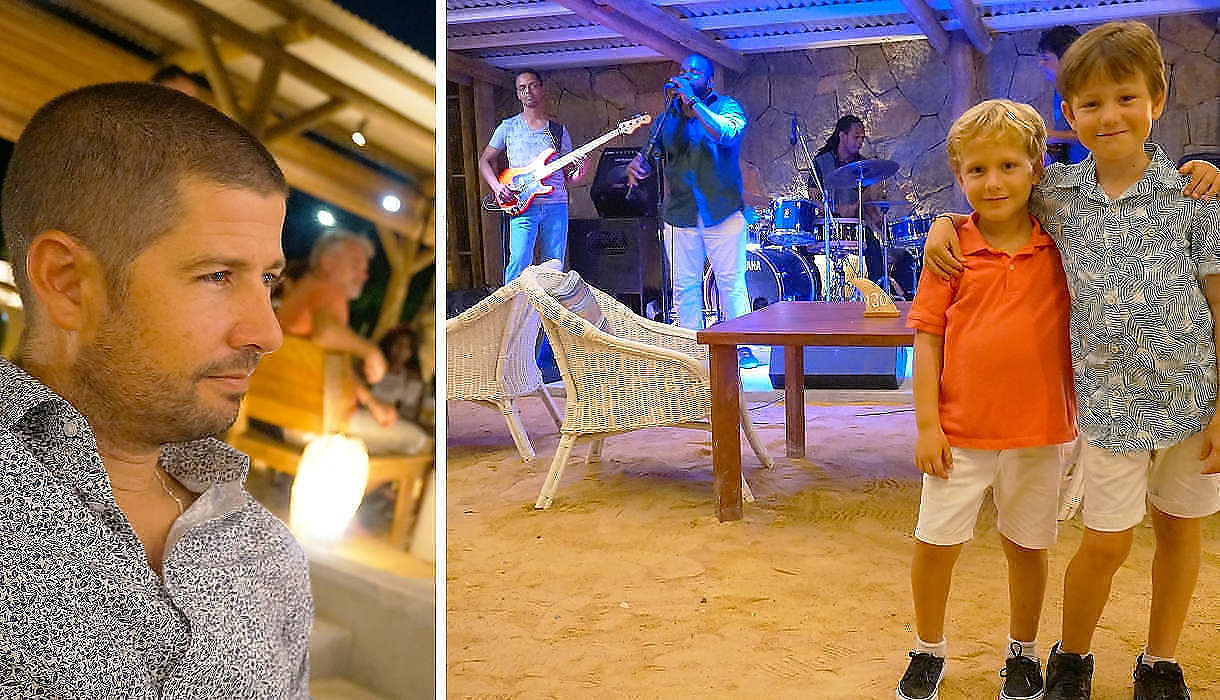 Our second day at Veranda Tamarin
Up at 8am, we start our second day with a multitude of activities to do with the family. After a hearty English breakfastand a few pastries, we are on our way to our two water activities that we have chosen to do: the surf lesson with Cyril and kayaking with the family. We think of ourselves as visitors passing through Mauritius.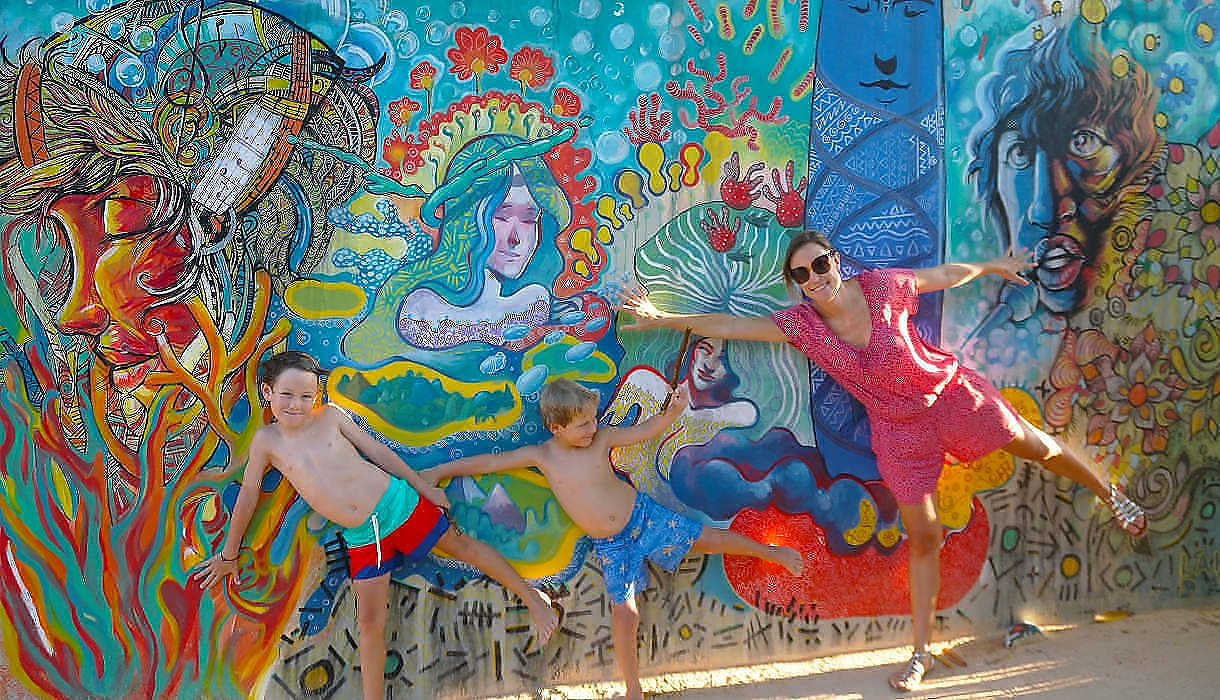 Surfing in Tamarin Bay
Tamarin's surf spot is ideal for beginners as well as for the most experienced during heavy swells. Laurent and I decideto let the children enjoy this surf lesson with Cyril. The surf school is located on the left of the hotel entrance. It is accessible to residents of the Veranda Tamarin Hotel, as well as non-residents.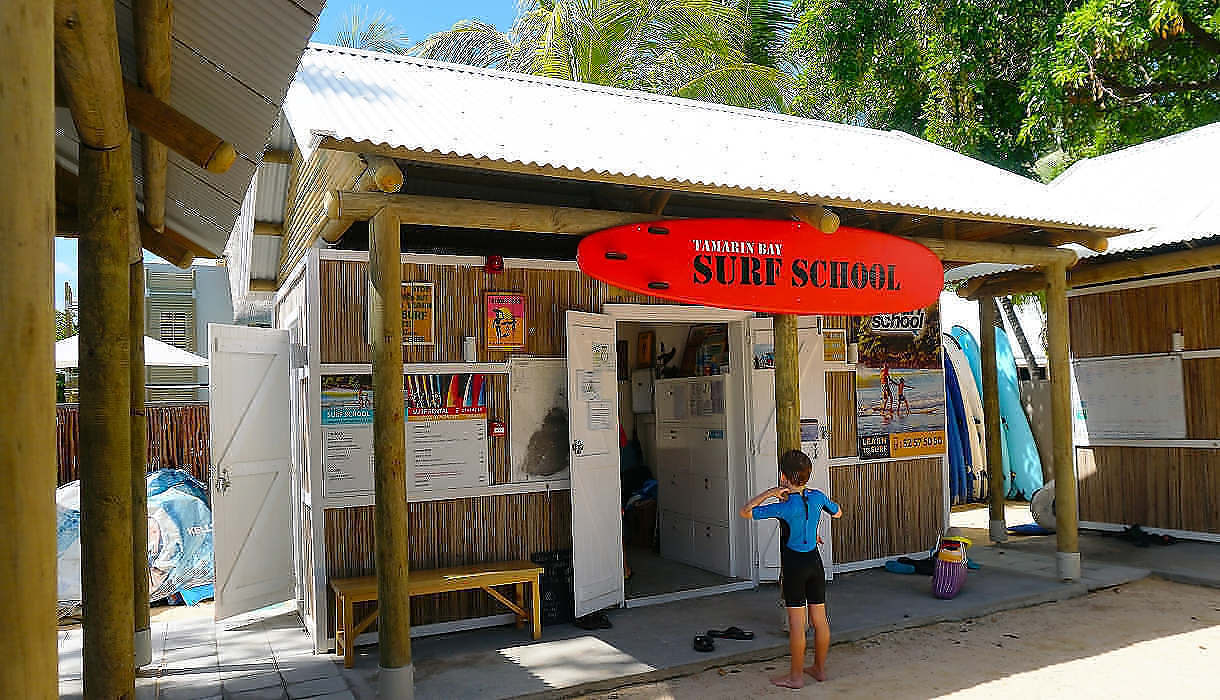 The children quickly put on their suits. Raphael has been surfing since he was three years old, but he has no practice. For Victor, it is a new activity to discover in Mauritius.
The surf teacher, Cyril, who is used to children and an excellent teacher, had no trouble putting Victor at ease and self-assured. After 15 minutes, Victor takes his waves alone. For Raphael, it's a real pleasure. Thank you Cyril for giving my children the taste of surfing!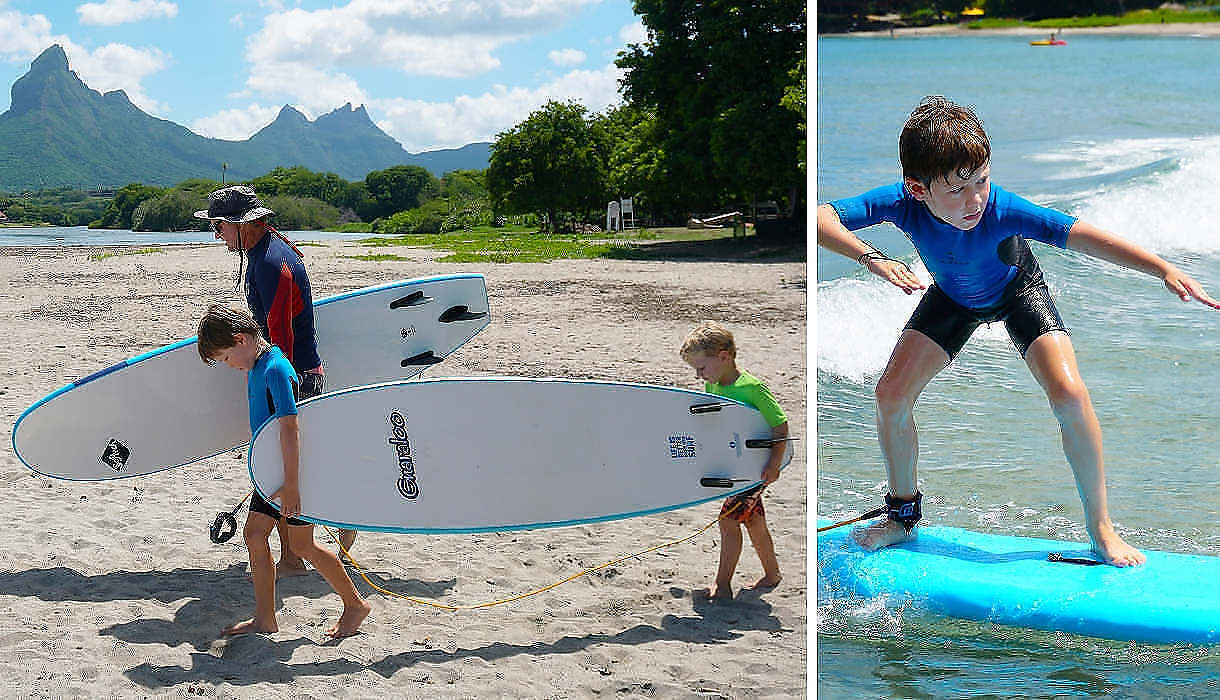 Hotel Veranda Tamarin has an ideal location for surfing in Mauritius, an ideal family destination if you come to Mauritius on holiday with teenagers or younger children. Surfing in Tamarin is an activity for the whole family, whether you are an expert, an amateur or simply curious to discover a new sport.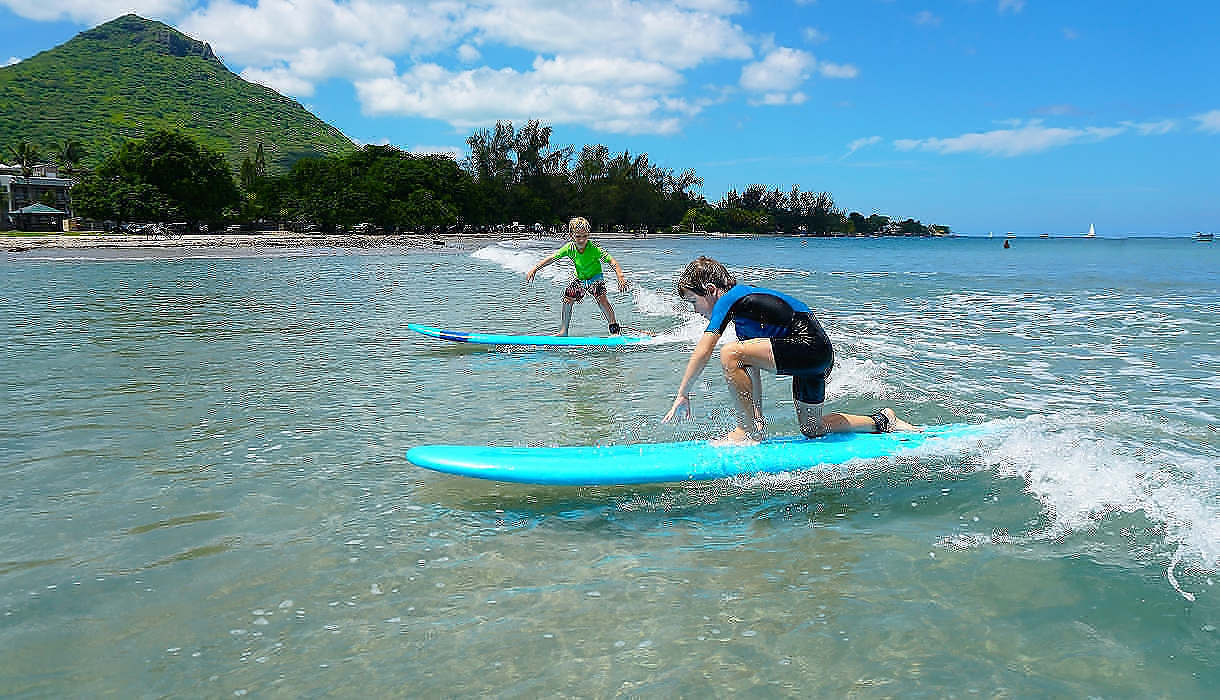 The Tamarin River as it flows
If you are wondering what else to do as a family in Mauritius, kayaking is an ideal activity to do with children, as it allows you to practice a sport while admiring the landscape, and everyone at their own pace.
After surfing in Tamarin Bay, we chose a duo kayaking activity. Once again, Hotel Veranda Tamarin offers a superb tour starting from the hotel. Kayaks can also be rented from Cyril.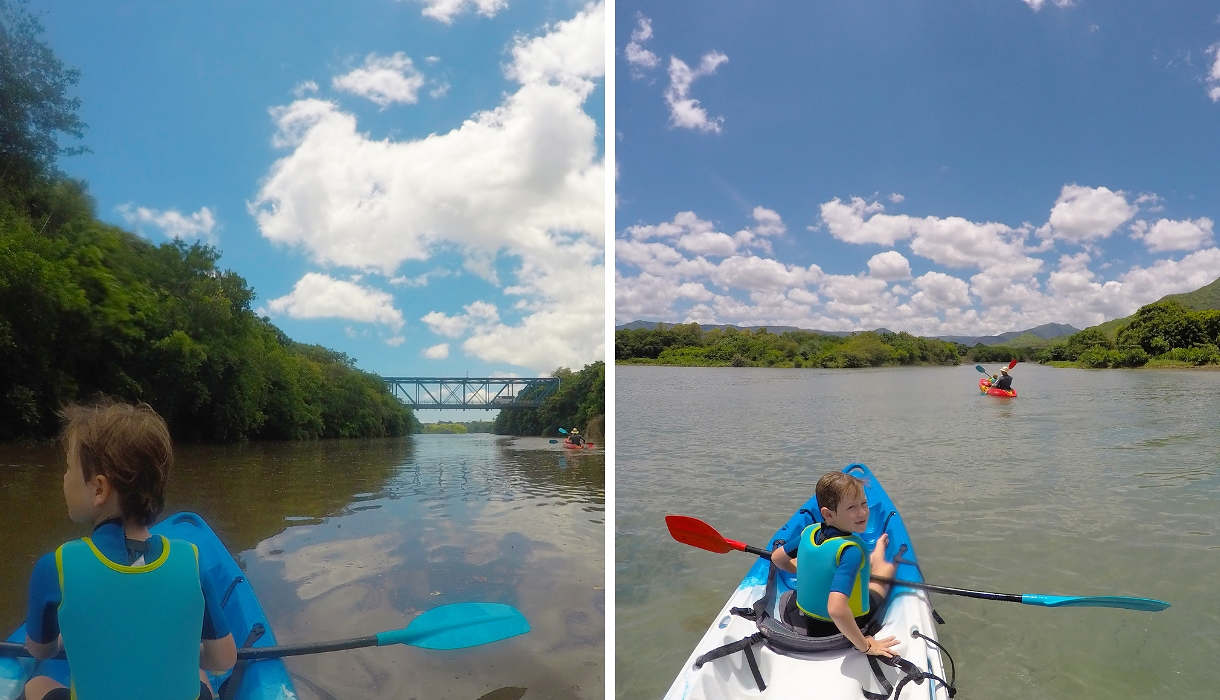 The duo, Victor and Laurent, are the first to start, followed by Raphaël and I. We do have a wonderful trip along the Tamarin River as we pass by Riverland (Tamarin Sports Center), Paul and Virginie French School, and under the old bridge. A great time spendin a calm and soothing environment discovering a preserved fauna and flora: the ideal activity for the whole family.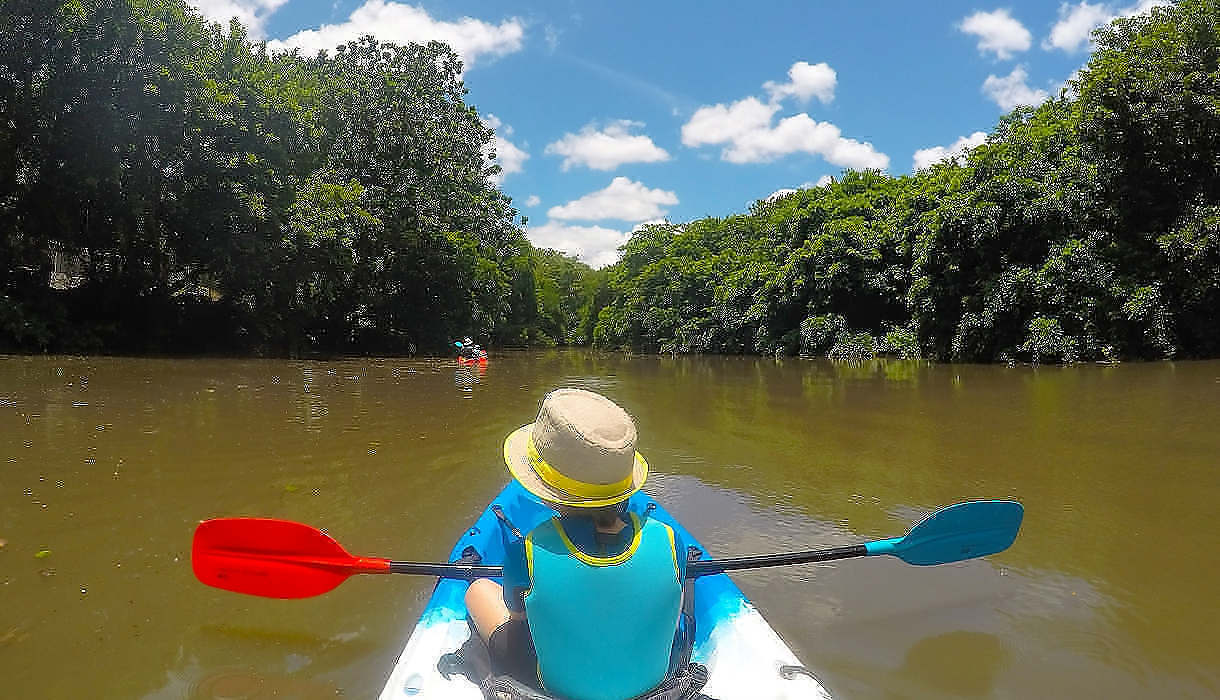 Gourmet flavours with Crazy Fish
The menu of the Veranda Tamarin hotel offers on some Sundays a barbecue with fish, chicken, meat and accompaniment. It is really excellent, with its tasty fish, tender meat, gourmet side dishes and sweet treats. I strongly recommend coming to lunch on a Sunday when they do a barbecue. In any case, we will certainly come back, the restaurant being open to everyone and Mauritians are welcome. Remember to book, as Mauritius good restaurants are usually crowded on public holidays.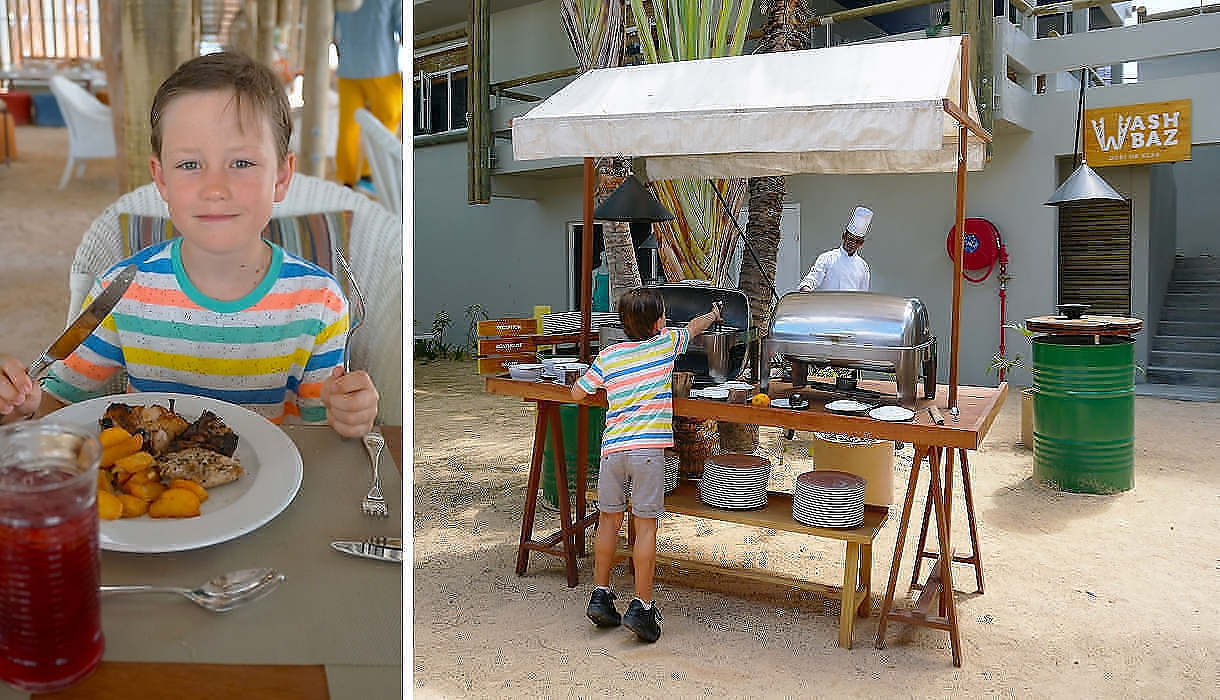 After a nap, we won't miss the local speciality, which all Mauritians love: the Veranda Tamarin style sundowner, in Tamarin Bay, just in front of this family hotel in Mauritius. The inhabitants of Tamarin and Rivière-Noire usually come in the afternoons to watch the sunset, well settled on the beach. It is the meeting place for Mauritian families living on the West Coast.
Sunset in Tamarin Bay: a must do in Mauritius
Veranda Tamarin has developed a fun concept to enjoy the sunset. All you have to do is take the cooler provided in your room, on request, as well as mandalas (round towels), stop by Kaz dal to fill the cool bag with ice cubes and drinks of your choice, and go to settle on the beach as the Mauritians usually do every Sunday.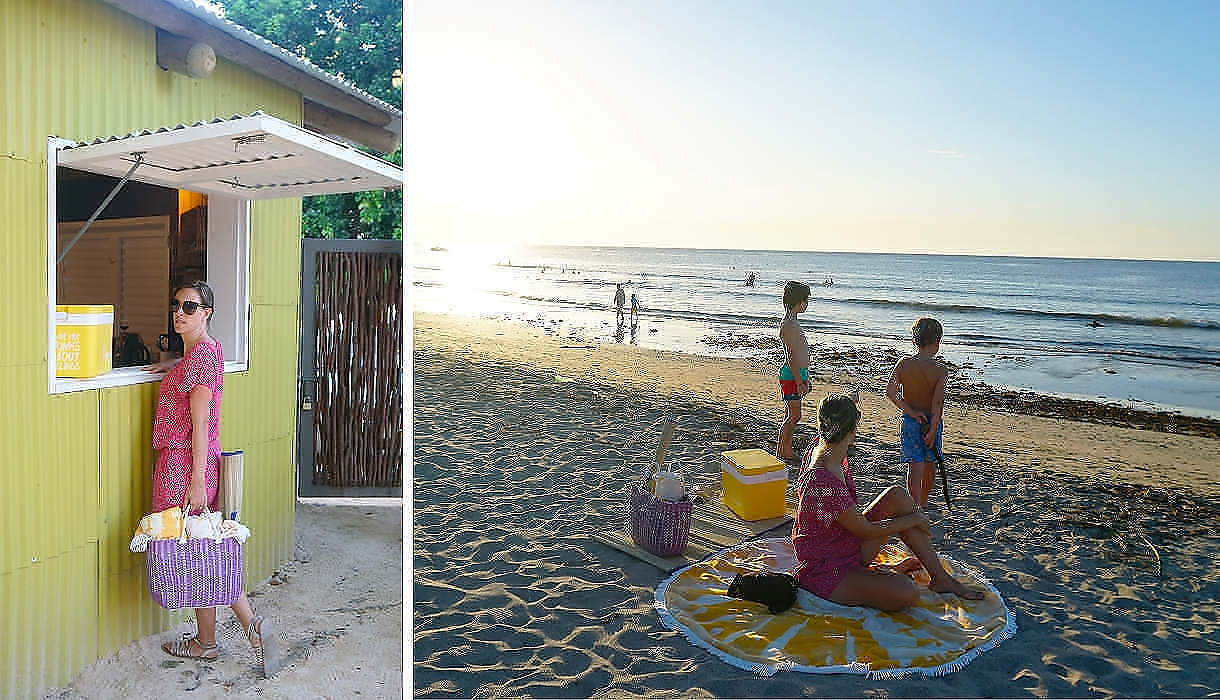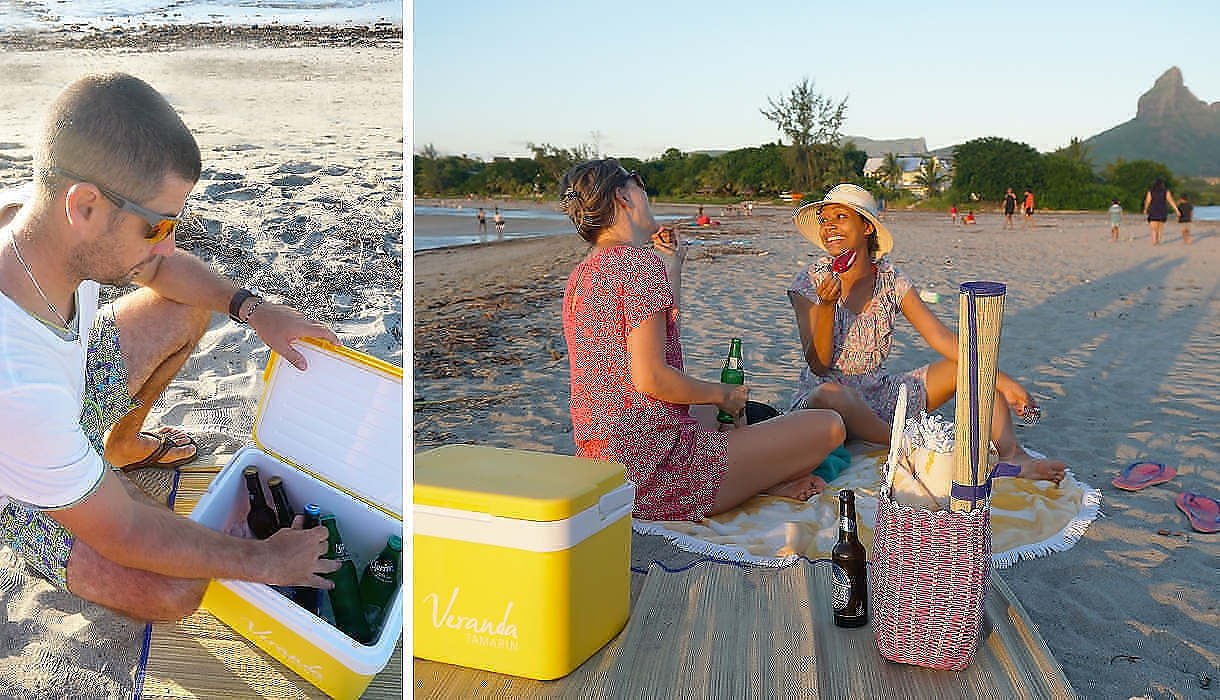 Unsurprisingly, there we meet friends who are most delighted to share with us this mythical sunset on this fabulous beach in Tamarin Bay, followed by the moonrise behind Rampart Mountain.
CLocal cuisine at Tribu restaurant
The Mauritian style à la carte menu excites our taste buds. Laurent choose an octopus curry which he particularly appreciates. He even claims that it is the best octopus curry he's ever had. The boys and I have some fish, which we also very much enjoy.
This Sunday evening, there is no musical group and we take the opportunity to go to bed early.
After a good night's sleep, one last "english breakfast" and it is already time to leave behind this enchanted parenthesis of the Veranda Tamarin.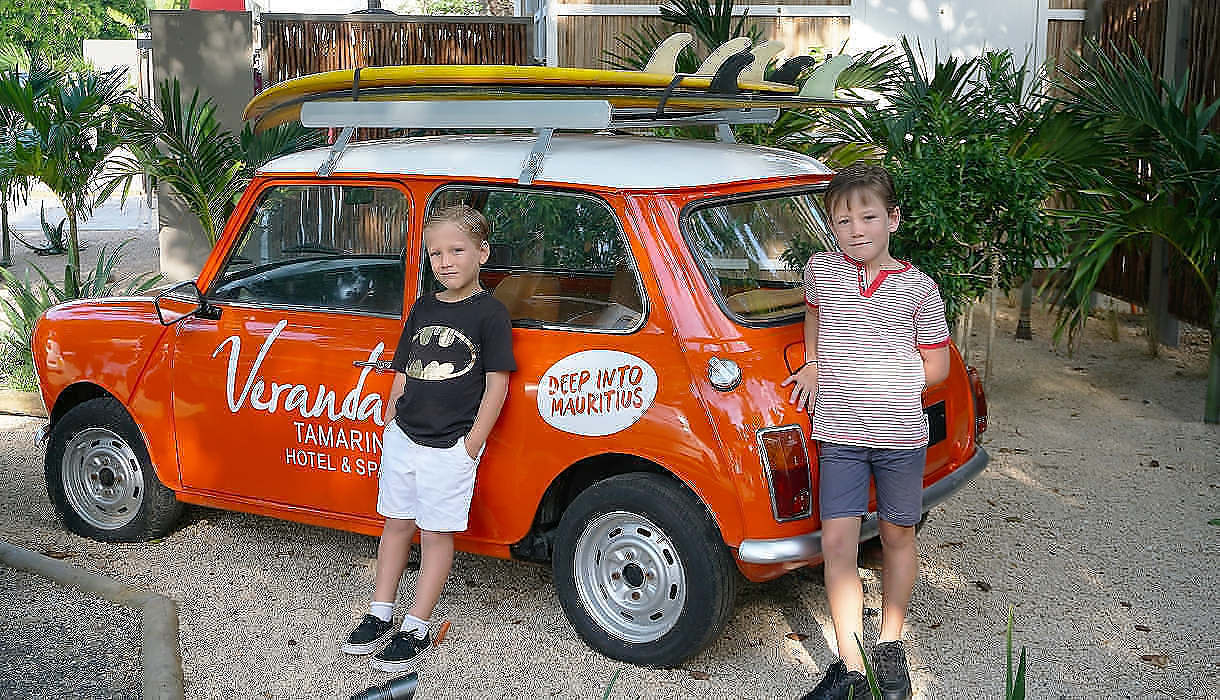 The Veranda Tamarin offers:
Bar and live concert: accessible to Mauritians and non-residents without reservation at Crazy Fish.
Buffet dinner at the Ye man restaurant.
Dinner à la carte at the Tribu restaurant.
À la carte lunch available to Mauritians and non-residents every day at Crazy Fish.
Possibility to stop by Kaz dal for a quick lunch (hotdog…) or street food.