Laurent decided on this new family activity to go discover the Seven Waterfalls with the children and do some physical activities. A trekking 'mari bonne'* to do during your holidays in Mauritius, but that is not only for tourists.
Indeed, this sport in nature is also stimulating for Mauritians in search of unspoiled nature and majestic landscapes!
Mauritius, better known as a destination for beautiful white sand beaches, offers an incredible range of inland activities for an unprecedented family holiday. Discreet, the Seven Waterfalls hide in a valley between Vacoas and the Black River Gorges. This natural and tropical site is the delight of hikers with its waterfalls and natural pools of all beauties away from the roads.
Get yourself some good walking shoes and let's go!
* Mauritian expression widely used on our island, translation "awesome, super"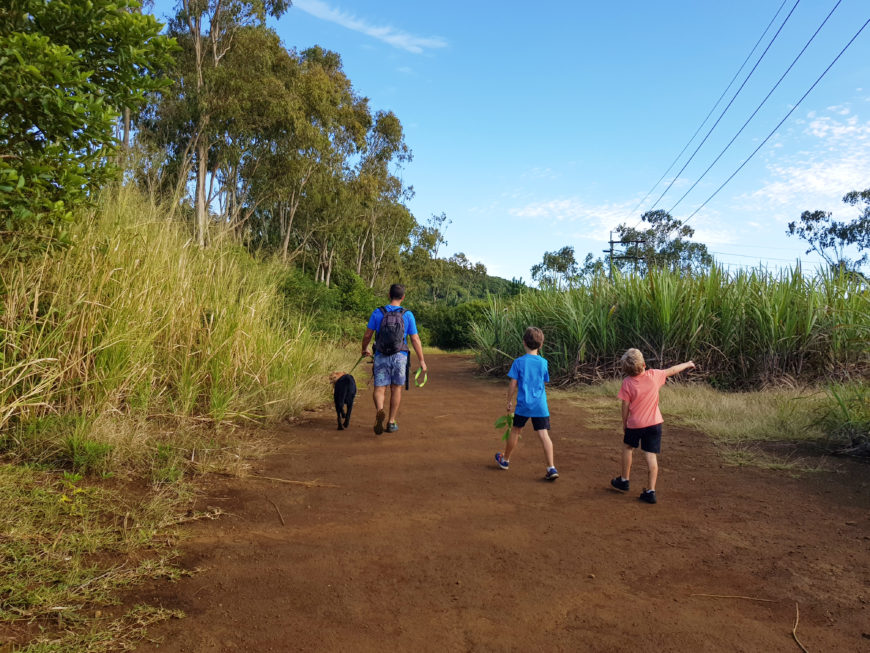 In the top 10 of the most popular Mauritian hikes
This Saturday morning, we got up very early because Laurent suffers from the heat and we want to avoid the noon sun during our hiking. As a guide for electric bike rides, he is often exposed to long moments in the sun and this time he prefers to be in the shade in the freshness of the Mauritian forests. Moreover, if you are looking for a tailor-made hike, do not hesitate to contact him. He will be happy to prepare an itinerary according to your criteria where the best points of interest of his native Mauritius will be on the program.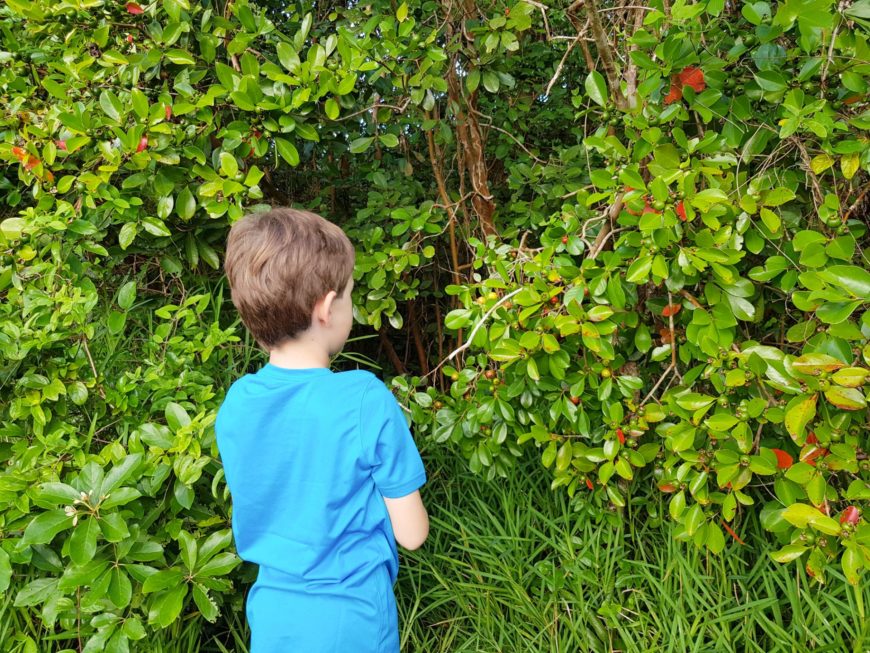 So, it is by a beautiful cool morning sun that, from 7 a.m., we are on our way for a hike. This must-see hike to Mauritius takes you a few hours to get as close as possible to the seven waterfallsof the Tamarin River, also known as Tamarin Falls. Coming from Tamarin, we still need a good 45 minutes to reach the site because it is not located in Tamarin as its name suggests, but owes its name to the Tamarin River which supplies the waterfalls.
---
We are finally here for our hiking!
We park our car after Vacoas in the village of Henrietta near a brightly colored Hindu temple.
Little parenthesis! Do you know that these are Indians from India who travel to Mauritius only to paint the temples? This meticulous work requires some know-how!
Fortunately, Laurent knows all the corners and nooks of Mauritius on his fingertips because, having absolutely no sense of direction, I will never find this place again.
We are more numerous than expected because we have brought our dogs, Jack and Lockie, to do the trekking with family in this preserved region of Mauritius.
The picking season
The trails have no markings, we take the first path… Ow, turn around it's not the right one! We're going back. Oh my God, we forgot the mosquito repellent !!!!
Raphaël makes a makeshift whip with branchesthat we shake on us to avoid the bites of these pesky mosquitoes.
We start this walk at the highest point, the peak is at 293 meters. This waterfall is the highest in Mauritius. Some of the water is used to power a hydroelectric power plant to produce electricity that will be distributed in certain parts of Mauritius. We arrive at a small water point. The basin, made of basalt stones, contains fresh, clear and invigorating water. I approach the edge of the basin and dip my hand in the water. It is very cold; nothing to do with the lagoon!
We continue our journey in this unique landscape in the undergrowth where we pick wild pink berries. The trees are filled with them!
Raphaël was delighted to taste them for you. He thinks he looks a bit like Nicolas Hulot… hihi
It is also the season of yellow guavas in Mauritius. We pick some of them by the way and cannot resist the desire to eat the ripest on the spot!
This unexpected picking gives us a moment of pure happiness.
The children have the impression of being in the shoes of an explorer discovering a new place still unknown in Mauritius.All these fun moments enchant them.
Connect to nature
We do not meet anyone during our walk. We are alone in the world, except for the magnificent straws in tailsthat we see hovering above our heads. They nest in the rock walls of waterfalls. Only their acute cry breaks the silence of this peaceful and calm place that is their natural environment.
It is really the ideal place to connect with nature and relieve the stress of modern life. In this typically preserved landscape, completely immersed in nature, you feel so good!
We do not meet anyone during our walk. We are alone in the world, except for the magnificent straws in tailsthat we see hovering above our heads. They nest in the rock walls of waterfalls. Only their acute cry breaks the silence of this peaceful and calm place that is their natural environment.
It is really the ideal place to connect with nature and relieve the stress of modern life. In this typically preserved landscape, completely immersed in nature, you feel so good!
Spectacular Mauritian landscapes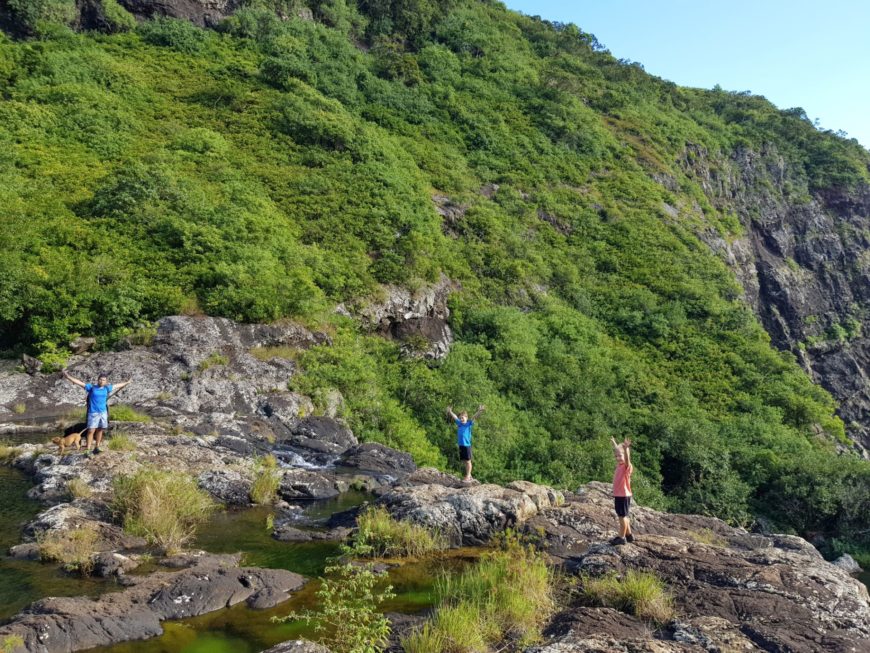 We arrive at the top of a waterfall and we observe this absolutely sublime panoramathat stands before us. A sense of freedom invades us and fills us with joy! This grandiose nature overwhelms us with its beauty. The emptiness is at our feet, and we can now peacefully observe the perpetual surge of this mass of water that rises into the void and lands in a basin.
Our dogs, meanwhile, take a dip. They seem as much in perfect harmony with this nature as we do.
It is also possible to go down these beautiful falls accompanied by specialists. So, if you are a fan of thrills this is a unique experience not to be missed. At the heart of the action, experience Mauritius differently!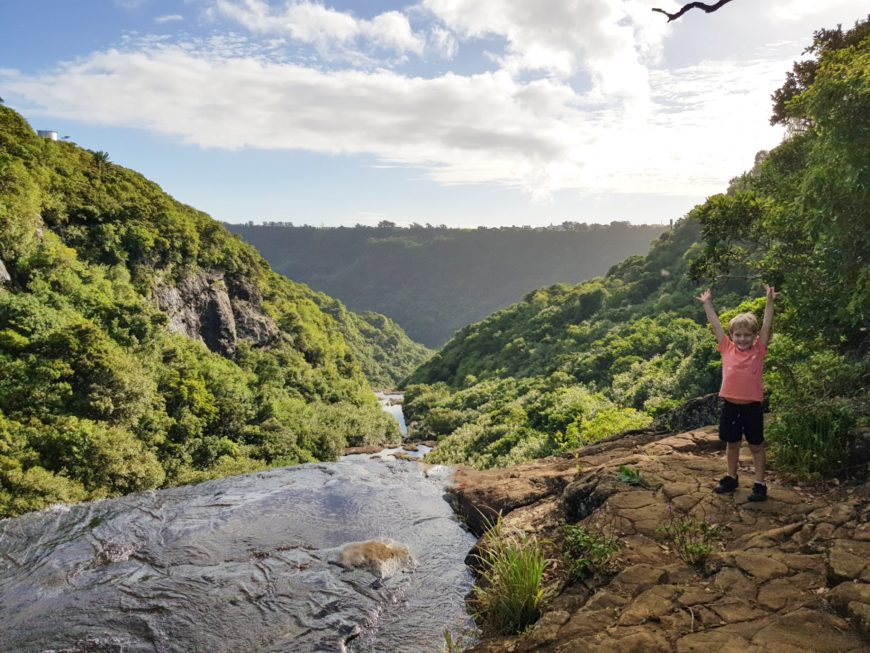 Relax in a magical place
We remain a good moment to contemplate this spectacular landscapeunder an azure sky with shades of green as far as the eye can see. This unique landscape is so different that even we Mauritians have the feeling of being elsewhere.
In this natural site, there are 11 high waterfalls, some streams, 13 recalls, deep ponds in which the most daring can dive from the top of the cliffs, and pools of water, less deep and quieter to accommodate the whole family, including dogs.😁
Each of the seven waterfalls is different depending on its height and flow.
And how about a natural massage under one of these waterfalls?
We continue our journey …
After this delightful moment spent with the family, we go back on our way, holding on to the branches of the trees to avoid falling. The path is muddy and slippery in places. The mosquitoes are delighted to accompany us!
These are extreme conditions for our puppy Lockie who is only 4 months old. We absolutely must help each other on this difficult portion. We hold the hand of Victor, the youngest, we push Lockie who skates in the mud, we catch Raphael in extremis by the t-shirt to avoid slipping!
Phew! Finally after this sporting passage, we arrive in an easy place to access, see the falls closer.
We enter under a waterfall. I have no words to describe what is offered to us so beautiful! I will even say paradise. We are in a huge cave where we feel very small!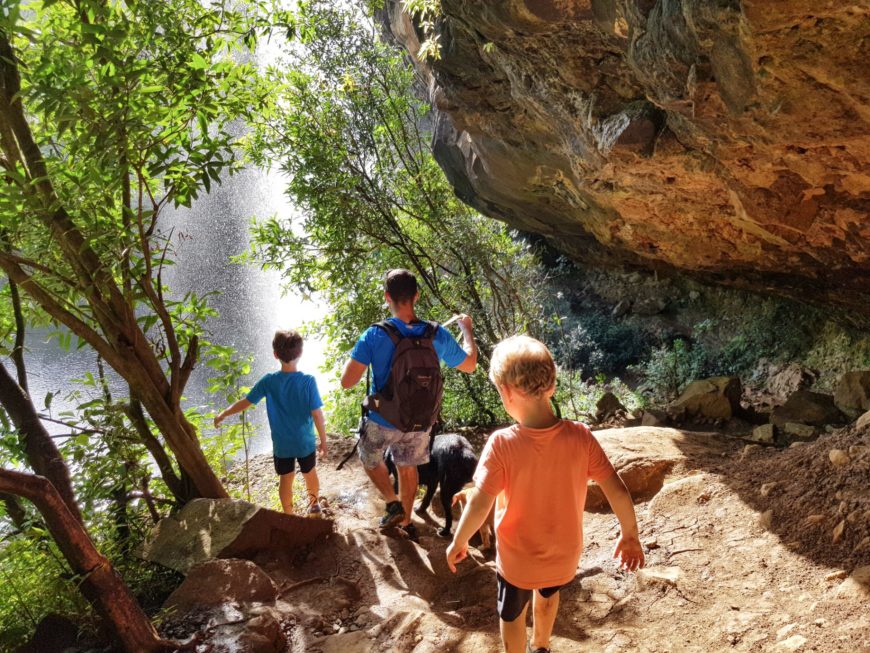 The power of the waterfall that comes to throw itself at our feet impresses us. We remain there for a good moment, in silence, to observe, to listen to the noise caused by this dizzying mass of water passing near the rock walls of a surprising red garnet to crash into the basin.
Tiny rainbows are formed by the effect of the sun on the fine particles of water that are projected into space. Meanwhile, swallows are spinning in front of us to hunt dragonflies. We immortalize the moment by taking some photos of this place so atypical and natural. It is very beautiful.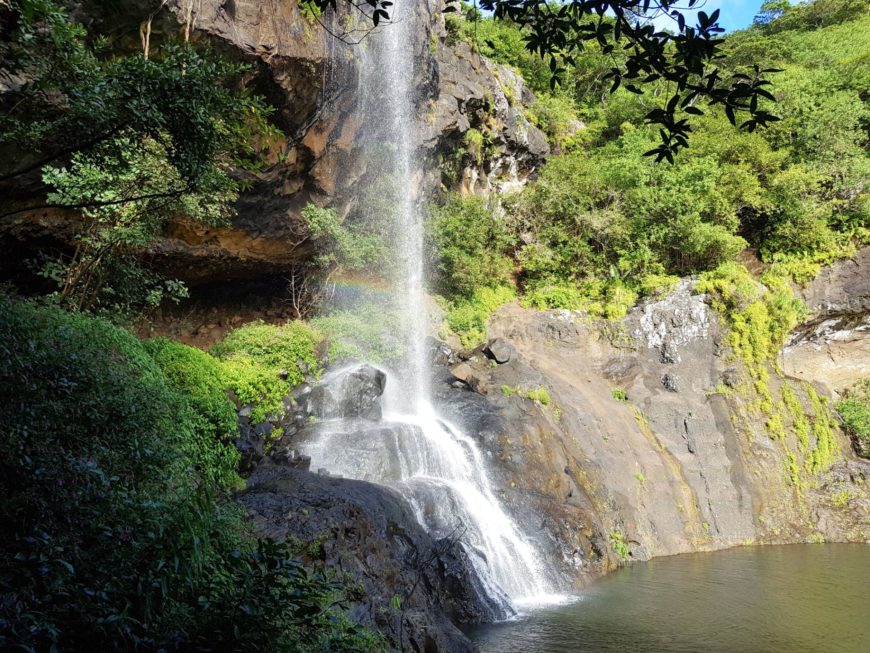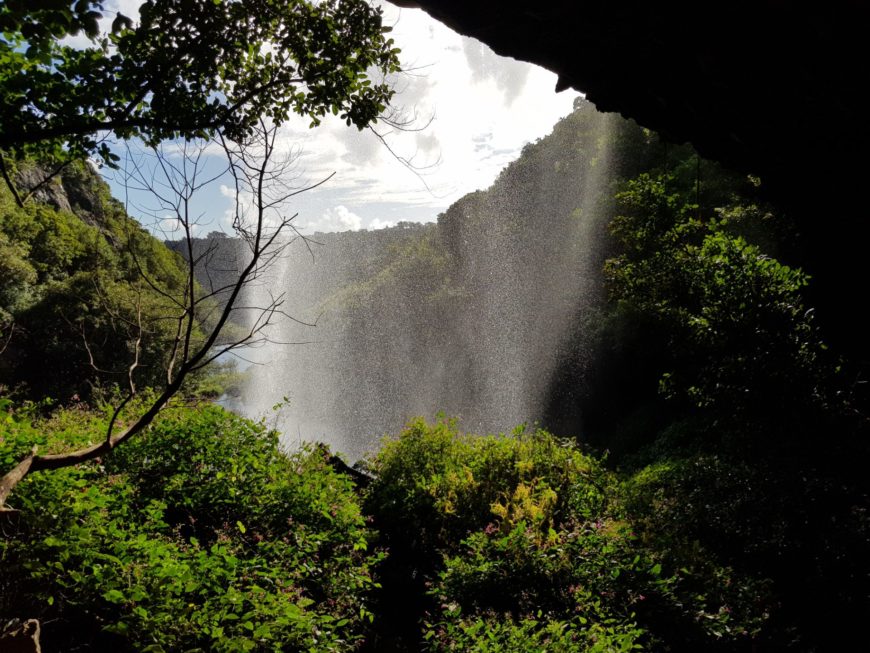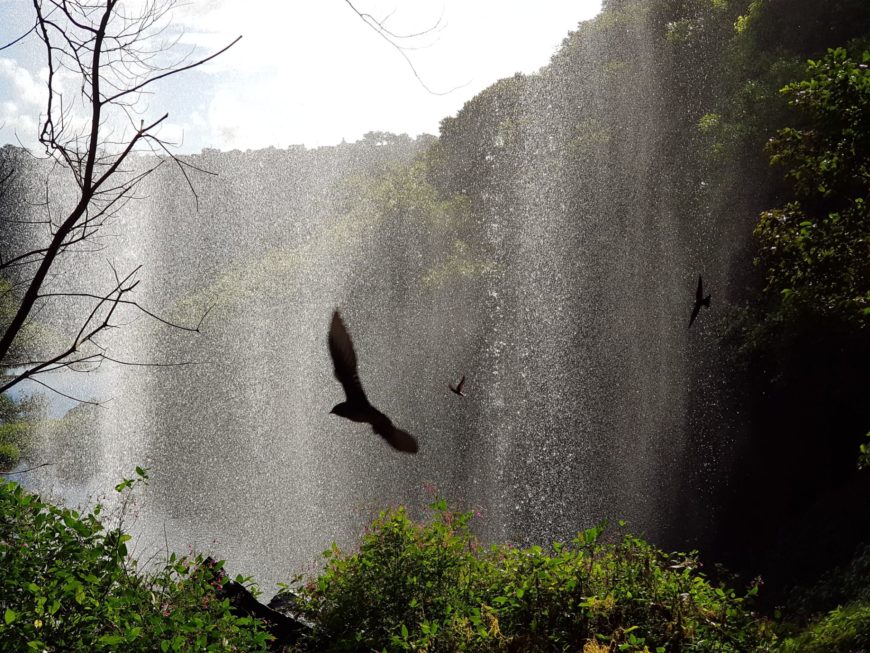 A breathtaking view
At the exit of this cave and after a walk in the shade of the jamrosas and guavas trees of the forest, we arrive at another waterfall. The view is even more beautiful than the previous one.
We decide to stop here and take our time. The resting areas are naturally formed by vegetation.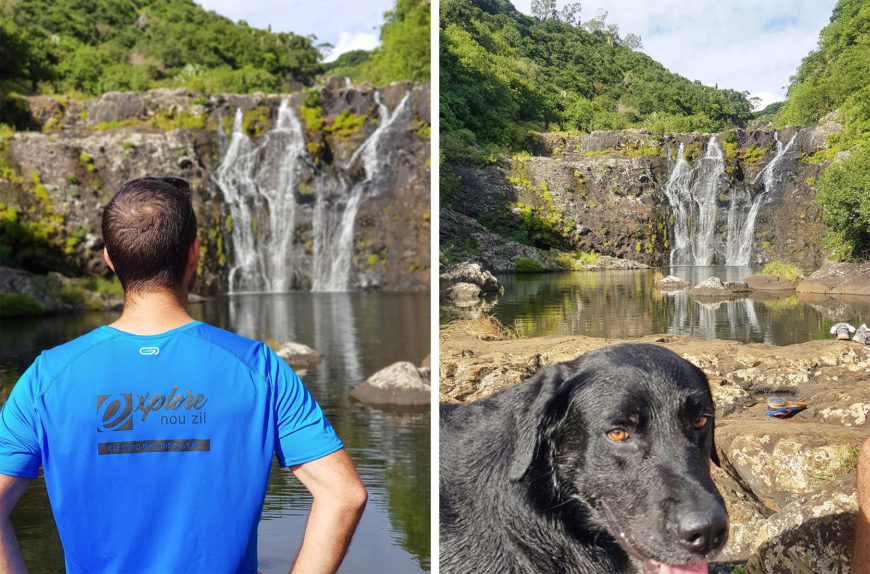 Laurent, always well organized, comes out of his bag, cookies, fruit juice and mandarins to everyone's delight.
This walk in one of the most beautiful forests in Mauritius has definitely made us hungry! We sit on the rocks to better appreciate this little snack and regain strength.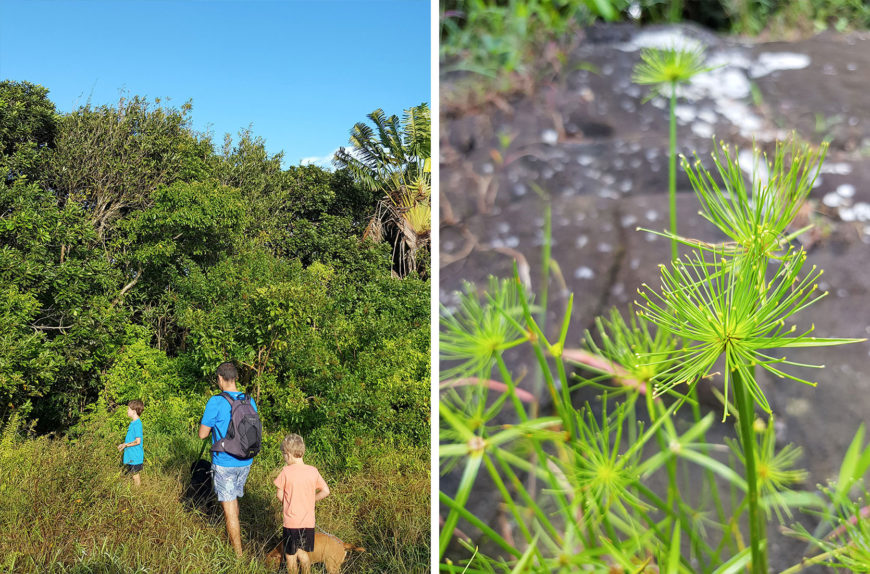 A swim in the cool water of the waterfalls
Then, the kids and I decide to go for a swim. These clear pools of water are so tempting. This one is bigger and is just waiting for us! The dogs are following us! Ha, ha, ha, I haven't worn a swimsuit … so I'm going all dressed …
Ayo ** what was cold when I left ! Kids and dogs seem delighted and do not seem to find the water temperature so cold!!!!
** Oh my god, ho la la
In one of the pools of the fourth waterfall, surrounded by aquatic plants, small fish make a foot pedicure like at the spa! But here it is free! If you are not ticklish, it is an opportunity for you to test this natural remedy offered by nature.
After this spa session in nature, it is time to go home. However, it is difficult to get away from this magnificent show.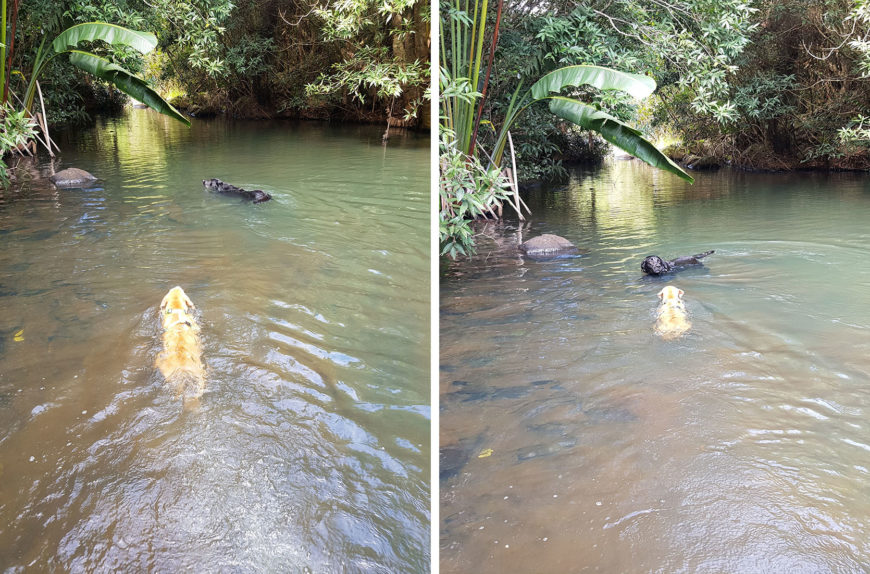 Although the trail is very easy to follow at times, some passages are less obvious because of the mud, and the uneven ground.
So, we go up the waterfalls one by one. As we did only five waterfalls out of seven, we took only two hours to complete this circuit.
A land excursion to Mauritius
J'ai trouvé cette excursion en famille aux Sept Cascades très intéressante. Néanmoins, je vous conseille de prendre un guide car les sentiers et passages ne sont pas toujours évidents à trouver. Je pense, que cette randonnée dans cet endroit magnifique, au cœur de la nature mauricienne, ne présente pas de grande difficultés.
But the land is slippery and in the rainy season, it can quickly become very dangerous.
A guide is therefore highly recommended!
This trek in a preserved place with a multitude of plants to discover and birds to observe throughout the course is ideal for nature lovers.
Remember that Mauritius is a destination that offers many hikes in breathtaking landscapes including in the mountains with a rich fauna and flora. These nature escapes are to be explored during your family holiday in Mauritius.
We are convinced that this hike will please all participants, even those who have already visited the most famous waterfall of Mauritius, the Chamarel waterfall which is near the lands of the seven colors.
In any case, our children love this adventure side of our trekkings in Mauritius. Whether it's taking an electric bike ride on a road-offor by foot, our cultural discoveriesand the history of Mauritiuswill never stop surprising you.
In short, go there, it's magic!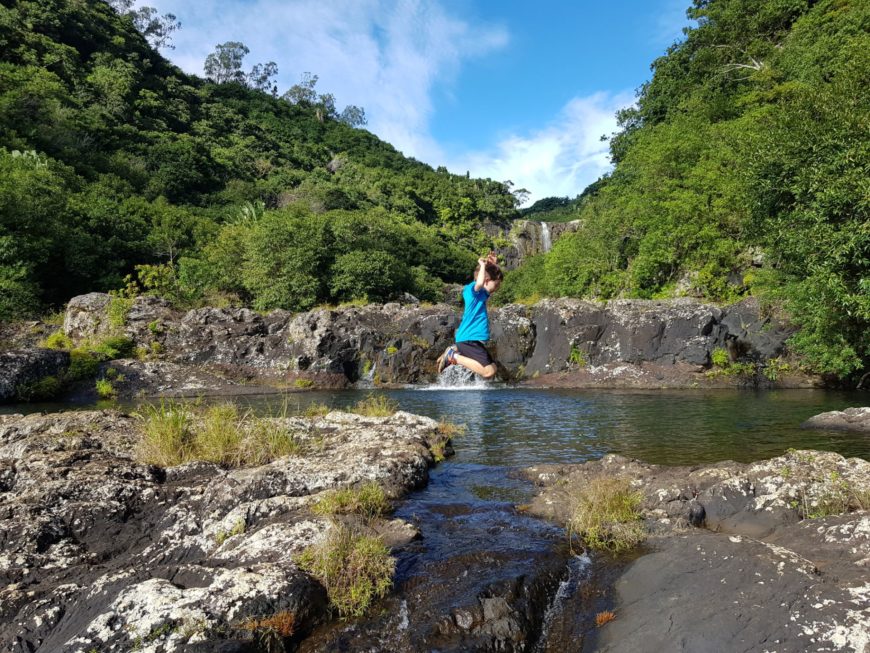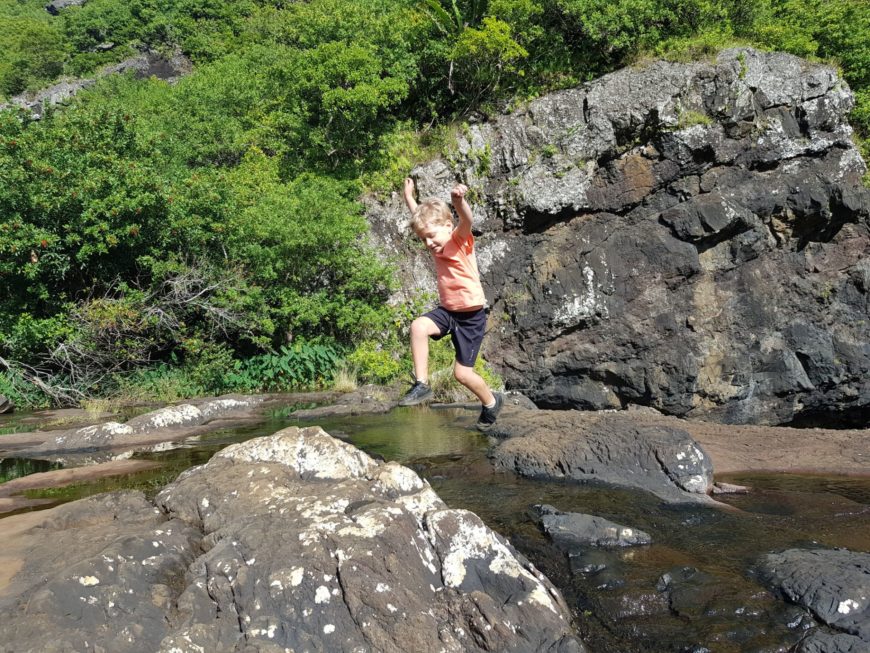 ---
Place to see: The most beautiful waterfalls of Mauritius
In Mauritius, other magnificent waterfalls are to be discovered during your family outings. On the program, walks, picnics and swimming.
Here are some natural sites to visit during your next excursions on our island:

– Eau bleue is a geological site with a beautiful waterfall not far from Cluny. It owes its name to its very particular blue color, which makes it a site of rare beauty.

– Mare aux joncs: In the national park west of Mauritius, for a sporty outing in the heart of nature in the gorges of Black River, follow the signs for 4 km to reach this beautiful waterfall.

– Chamarel: This waterfall is the most famous of Mauritius, the most visited. It must be said that it is superb and impressive with a torrent of water of 100 meters high planted in the middle of a lush nature of Chamarel.

– Rochester falls: A few kilometers from Souillac, lost between the cane fields, this place is fascinating. A large wall with rectangular rocks carved by erosion allows the water to flow in cascade. The weekend young people dive from the top into the deep basin.

– Alexandra falls: This waterfall is accessible from Plaine Champagne to Grand Bassin. Some monkeys walk around and you can observe the waterfall on the side and have a panoramic view of the sea in front of you.

– South-East River: Accessible by sea via the mouth of the river for those visiting southern islands such as "île aux cerfs". It is surrounded by cliffs and lush vegetation.

Welcome to the Mauritian jungle!- Balfour Garden Waterfall: A beau Bassin, on the outskirts of the city, this public garden of 7 hectares reveals its waterfall via different points of view and even allows access to it through a staircase.