A journey through history during your holiday in Mauritius
In the middle of the green cane fields of the north-eastern Mauritius, near a site that offers us a breathtaking view of the northern islands, lies a splendid garden which surrounds a remarkable estate. If you wish to immerse yourself in the old-fashioned atmosphere of the 19th century in Mauritius, I strongly recommend you to stop by this property. Ready to take yourself for a marquee for a short while during this out of time activity that is available in Mauritius?
You would then discover the authentic Mauritius, while staying in an unconventional habitation, a magnificent colonial residence that hides one of the most beautiful guest houses in Mauritius. I liked the idea and Laurent, always very enthusiastic, agreed right away to throw himself into the adventure for a whole weekend at the Demeure Saint-Antoine. Laurent instantly recalled the good moments of his past. Being the son of one of the former employees of the sugar factory that was on site, he lived on the property from the age of 9 to 17. He knows every nook and cranny of this place.
The place is exceptional, especially for a romantic escape as a couple in one of the small paradises for which Mauritius is famous. We decided to spend the first night without children and the second night with them. This allows us to alternate between an evening as a couple in an idyllic setting in Mauritius, and the rest of the time with the children to make them discover a new feature of Mauritius, life in a beautiful colonial house in Mauritius.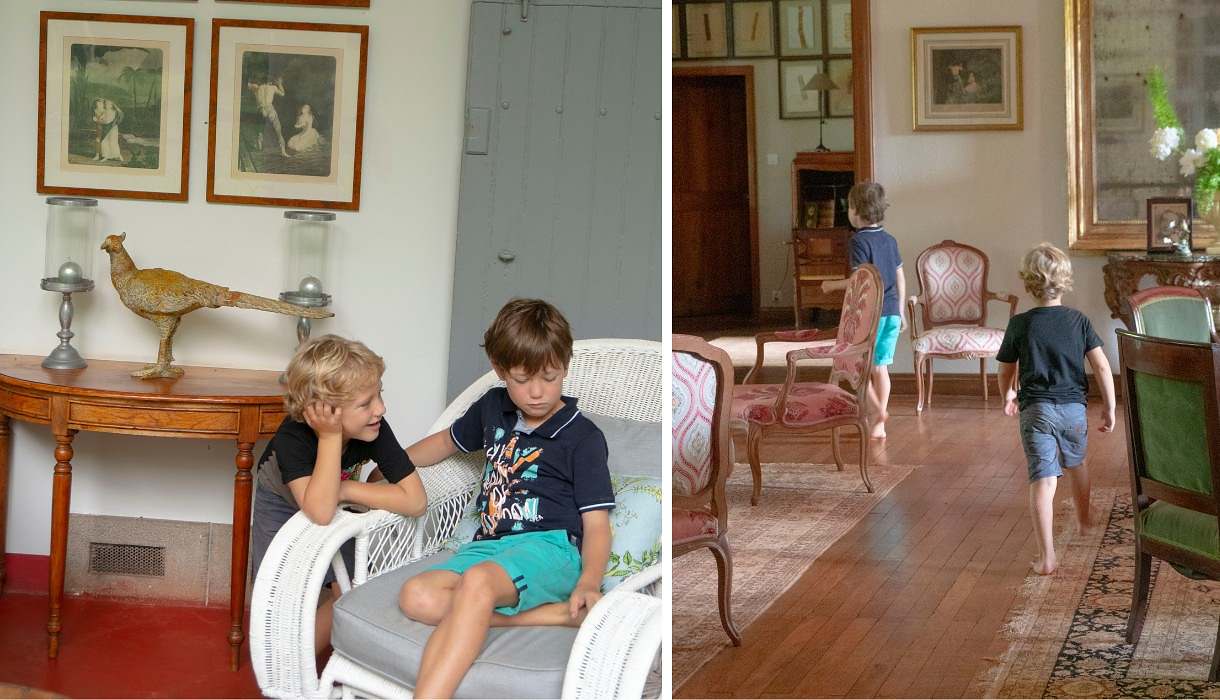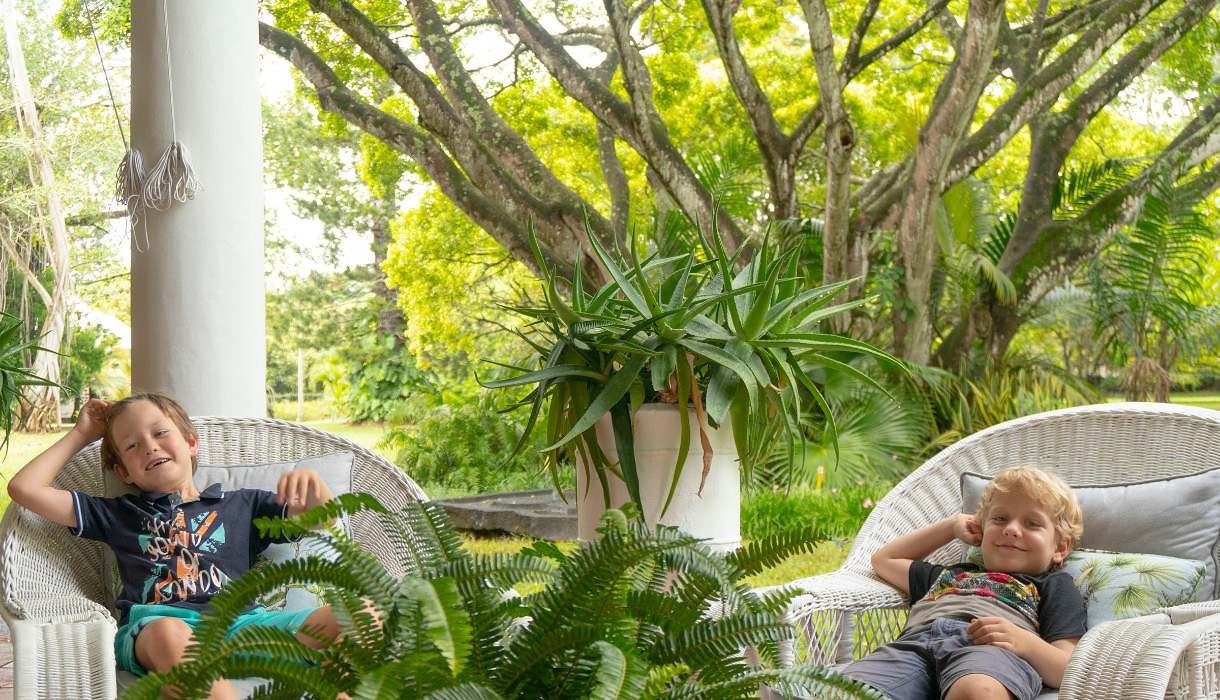 A remarkable historical and architectural past
Built in 1830, La Demeure Saint Antoine belongs to the de Grivel family. This magnificent building is a jewel of the Mauritian architecture. It is one of the most beautiful colonial houses in Mauritius. Built in 1835 in Goodlands, in the North-east coast of the island, this sublime guest house has managed to preserve its authentic charm and offers an unforgettable journey back in time.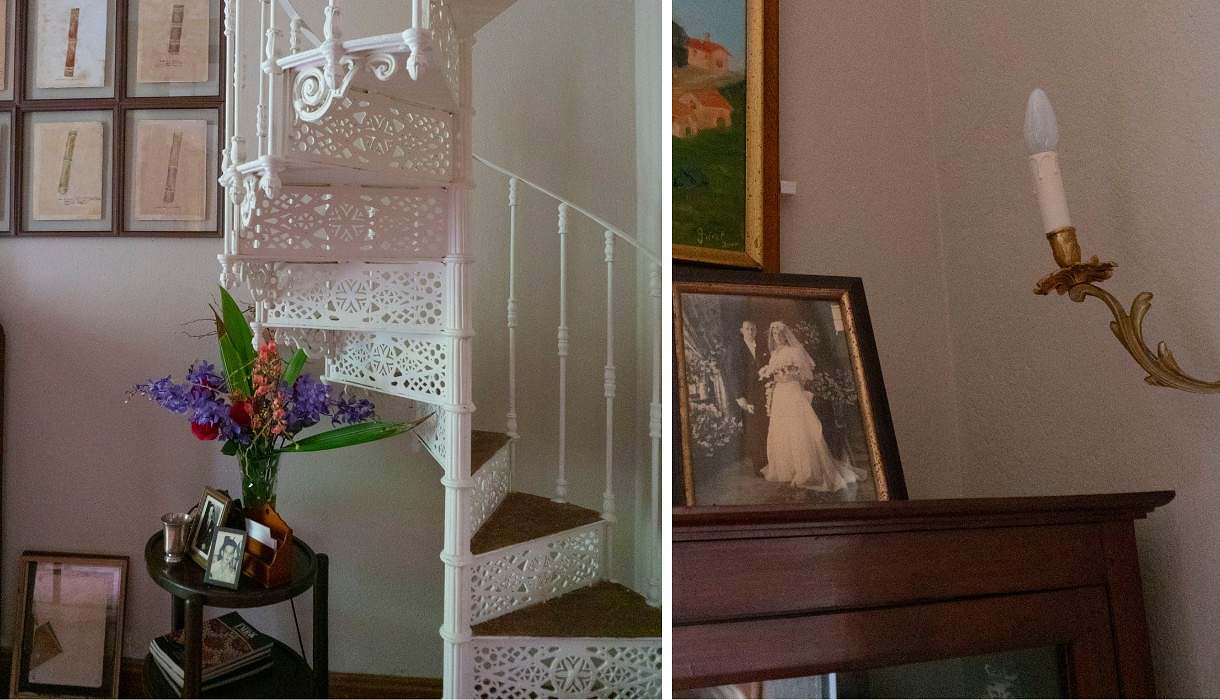 The complex consists of two buildings, each equipped with a colonnaded veranda typical of the French colonial architecture. The first building houses the restaurant "La Salle à Manger" and is open for lunch and dinner. The second building has four rooms available for rent and a huge lounge open to residents and those who come to eat at the restaurant. The Grivel family lives at the back.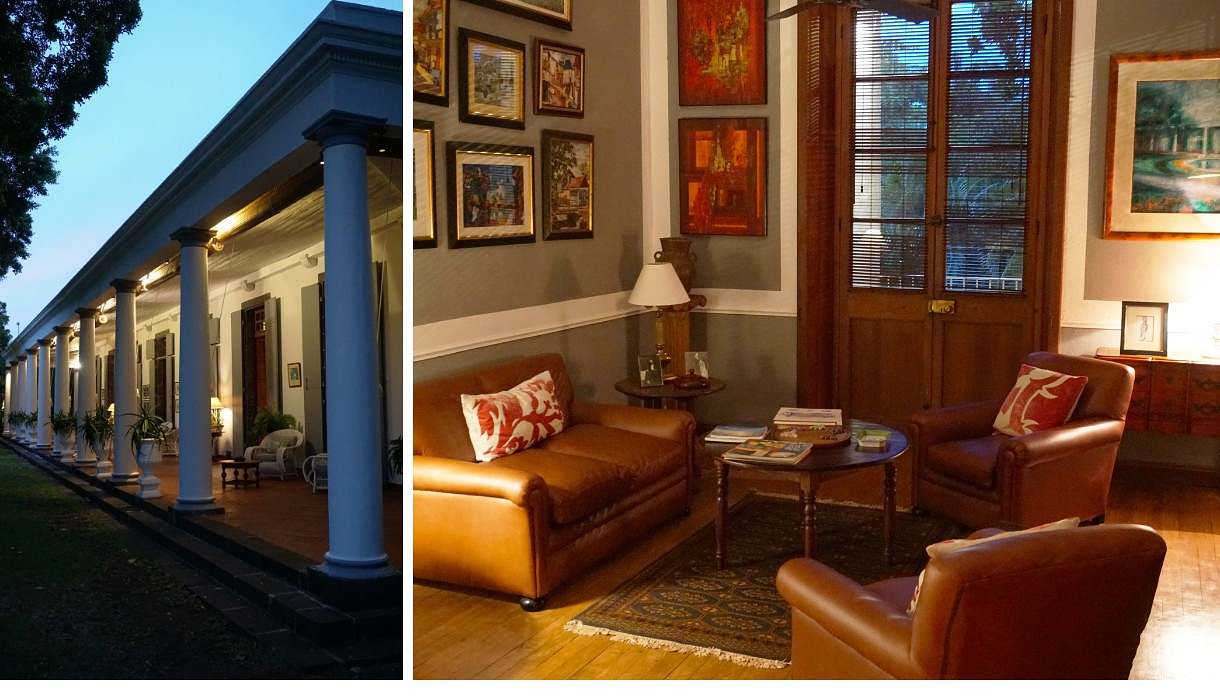 It is very impressive, in arriving from the front, to cross the gardens with its huge trees and this impeccable lawn which lies as far as the eye can see. As we arrived there without the kids, our first thought was: "How much fun they'll have here."
We immediately imagine a past era, the little girls in long dresses with smocks, ribbon in their hair, white stockings and varnished shoes, running in this large garden. And the well dressed little boys, high socks, short shorts, having fun in the trees.
Now let's our dream come true, and welcomed by Sharon, we discover the place.
The bedroom, an incursion into time
We first enter a 25sq.m room with a view of the magnificent garden and its hundred-year-old trees. We next pass through a huge wooden door and are impregnated by the smell of beeswax and old wood. The walls, doors and windows are very high to allow an optimal ventilation and brightness. It is an essential element in any construction of the time because there was no fan or air conditioning, and only intelligent air circulation made it possible to face the hot weather. Beautiful curtains enhance these immense openings. The imposing and heavy furniture, typical of the colonial era, consists of a four-poster bed, a small flap desk, a large wardrobe and a dresser. We immediately imagine this precious wood furniture coming from Europe on beautiful sailboats…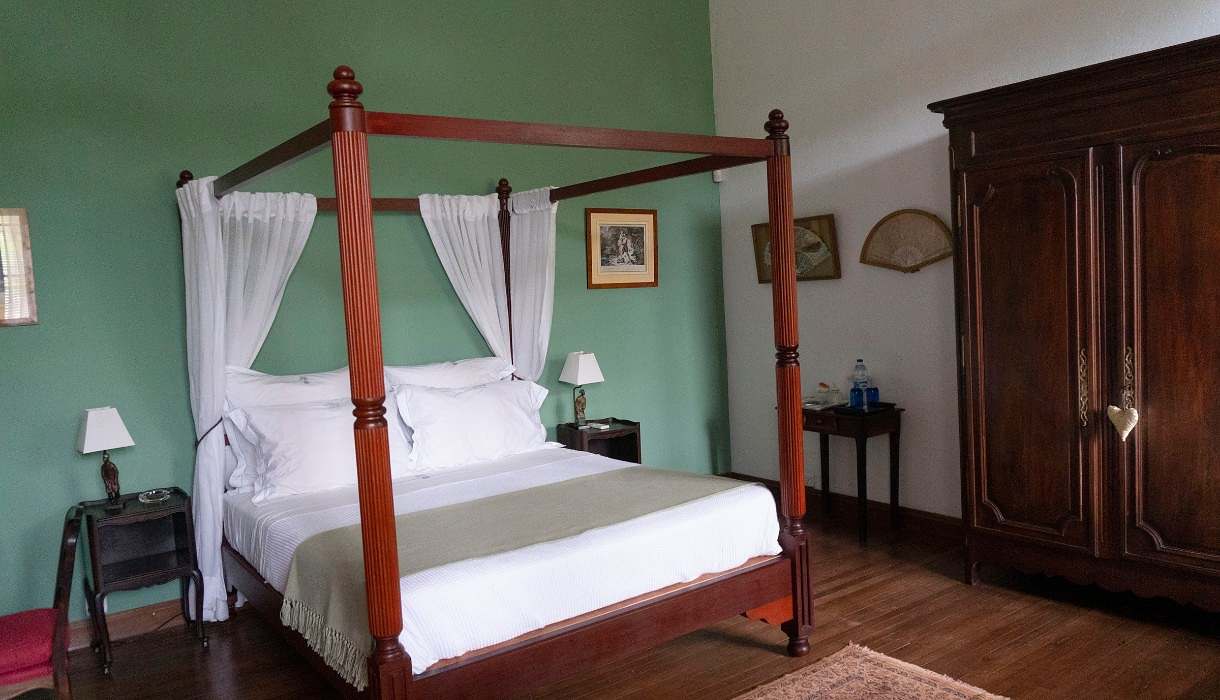 A wooden bathroom, floor to the ceiling, fitted with mirrors on each side gives an effect of grandeur to the room. All the comfort is there to allow residents to spend an unforgettable stay in one of the most beautiful guest house in Mauritius…
But where will our children sleep? What a pleasant surprise to discover an adjoining room, identical to ours which will be Raphael and Victor's home for a weekend. Even better… we shall be the only occupants of this extraordinary accommodation in Mauritius for this weekend.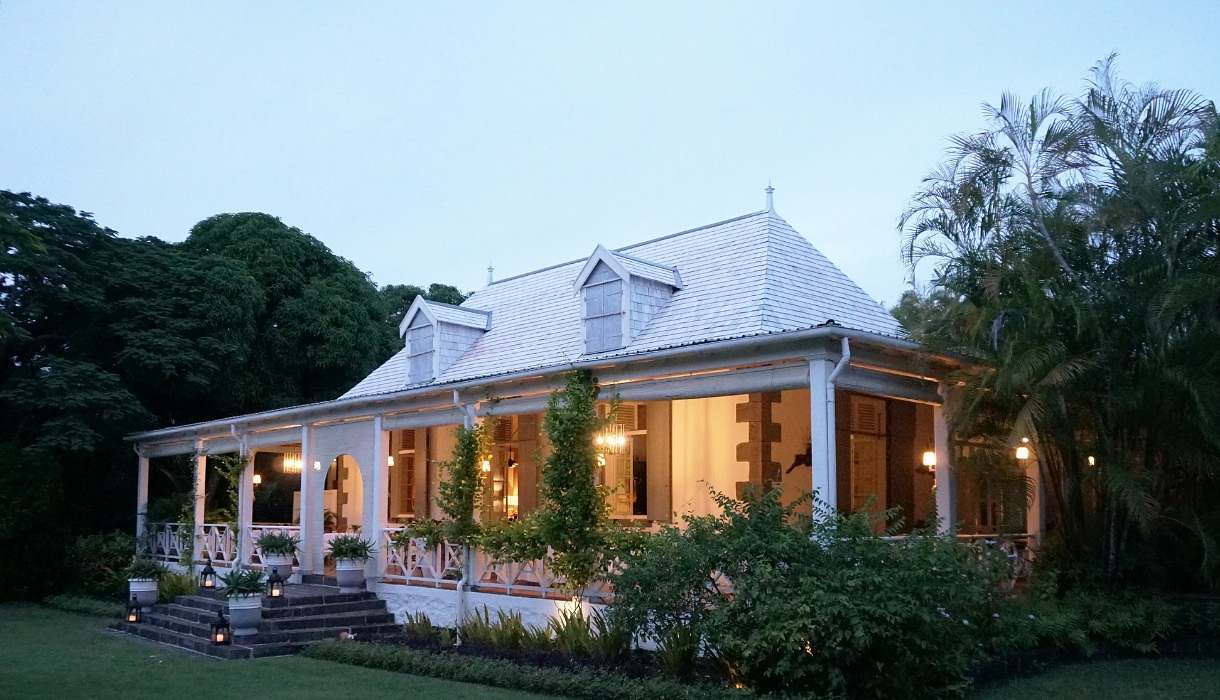 The Grand Salon
This charming room allows you to immerse yourself even more in this life of yesteryear.
The place seems frozen in time with its antique furniture, and very personalized with family portraits in tastefully chosen frames. And since the family still lives in the Demeure Saint-Antoine, their personal touch are present everywhere: Various decorative objects, paintings, old books… We really have the feeling of being privileged guests, ready to live a unique experience in a guest house that in no way resembles a conventional home. As with any well-designed colonial house, a superb veranda with armchairs and small tables surrounds this unique residence, offering its occupants some warmth in winter and a cool spot during the hot summer days.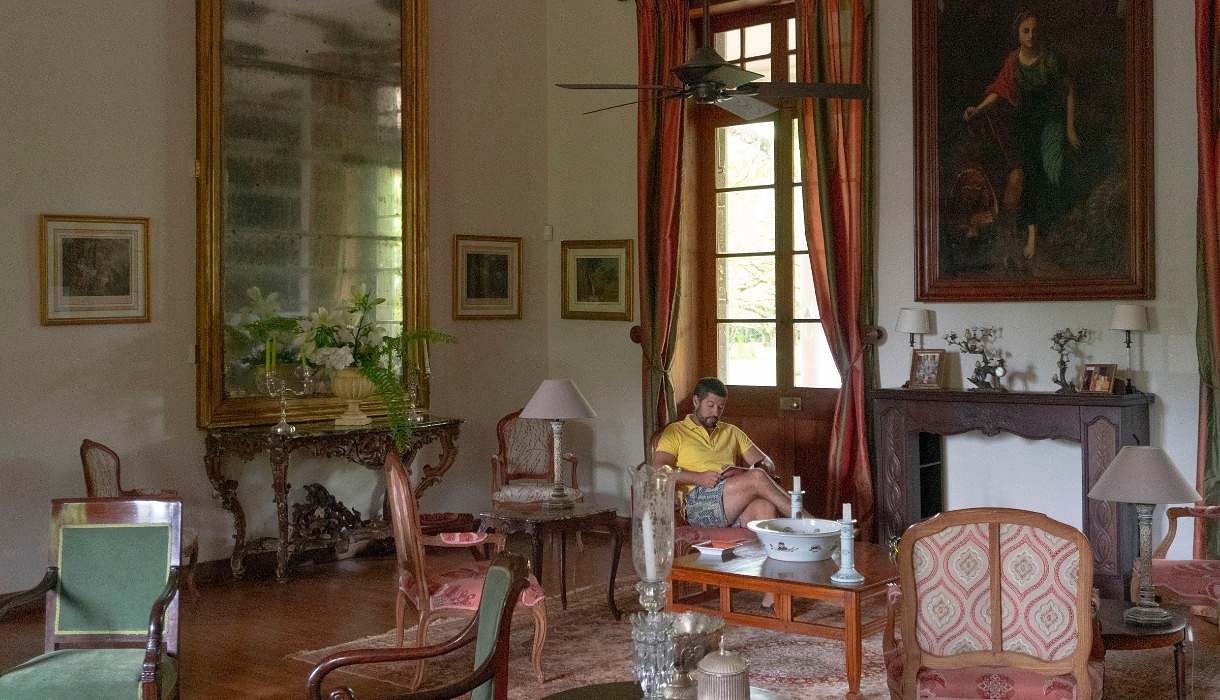 A first evening which promises to be good
Once the visit completed, we are brought a small non-alcoholic cocktail as we sit in the large forged iron sofas in the garden. During this delicious pause in such a peaceful environment we discuss a while about the history of Mauritius, as Laurent tells it so well.
After this short moment of relaxation Laurent takes me to discover the different places of his childhood by bike. We pass by the back of the Demeure Saint Antoine and arrive in the courtyard of the former sugar factory which is no longer in operation. It is with sadness and a great moment of nostalgia that we contemplate the remains of what was once a beautiful sugar factory that actively participated in the development and economic growth of Mauritius. Today the sugar industry in Mauritius is going through difficult times and its future is in jeopardy.
We do a little off-road riding in mountain bike mode and meet Soudesh and his two little dogs. We stay here for a while to know each other.
« Mo pé loué en terrain pou fair plantation : mo pe plant la liane giromon, lalo, pomme d'amour. Lalo mari top akozso plan capav tini jiska 2 ans… Assoir mo ale travail gardien » .
« I rent a plot of land for my plantations. The lalo – a rather sticky vegetable – is perfect because the plant produces for two year. In the evening I work as a guard"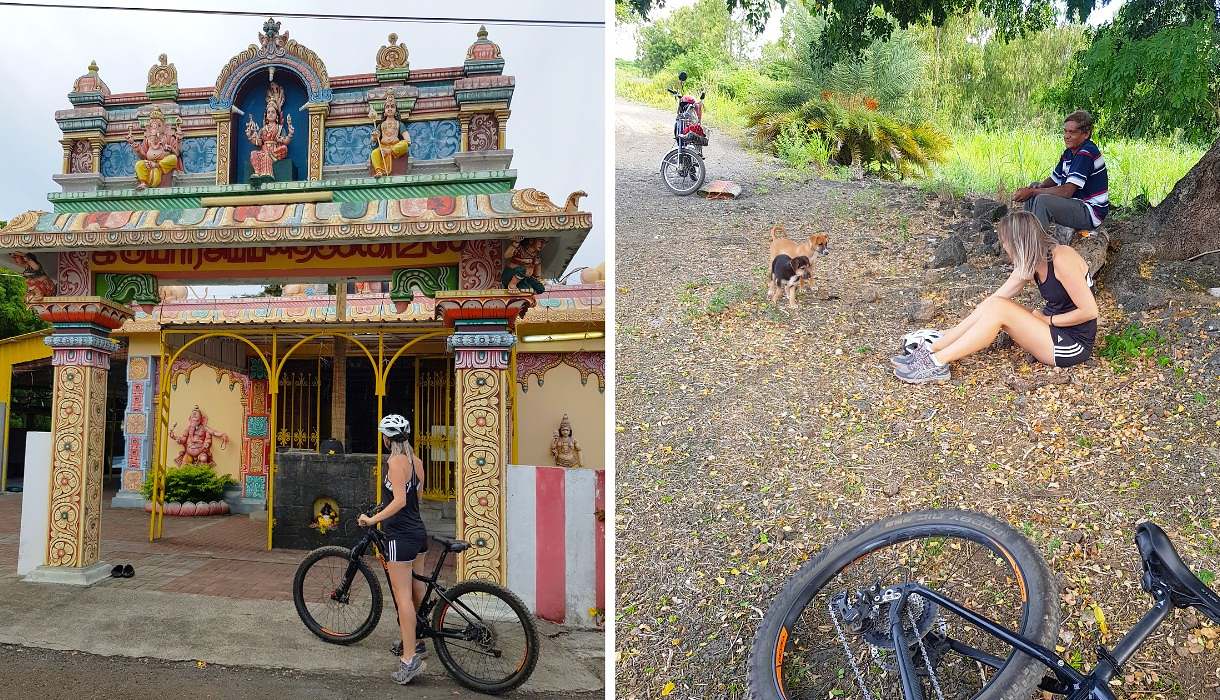 Before leaving, we promised to meet him the next day at the Goodlands market, called Bazar in Mauritius, but unfortunately after searching for him everywhere, we didn't find him. Very disappointed!
We continue our way and arrive at another entrance to the factory yard and talk for a while with the guard. Once again it's a return to the past. He tells us that he has worked here as a guard all his life and he remembers well Laurent, as a child, who made him all kinds of tricks together with the local children. He then allows us to take a quick tour in another part of the factory yard.
After this bike ride that enabled us to explore this North-eastern part of Mauritius, it is time to go back because it is already 6:30 pm.
After a shower and a glass of champagne, dinner is served in the restaurant of the Demeure Saint-Antoine, "La Salle à Manger". On the menu: giraumon soup (pumpkin variety), sea bream freshly caught in Mauritian waters, and a whipped cream dessert.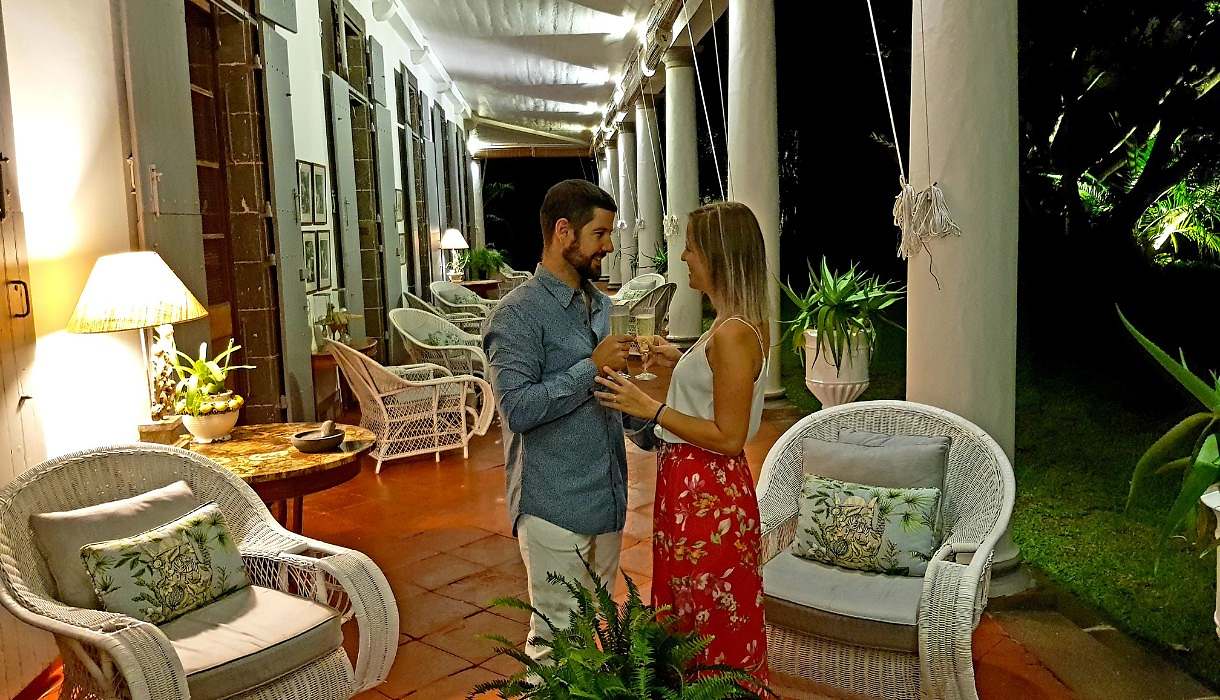 Laurent is delighted: "What a delight this soup, quite similar to those of my grandmother, and what to say about the fish, so refined and perfectly cooked, with a taste close to that of the lobster…"
A childhood perfumed with fangourin
Laurent recalls his childhood memories, when the whole village lived at the expense of the sugar cane factory, used to the noises of the factory running at full capacity during the harvesting season. On the first and last days of the harvesting season, a siren would ring and the villagers' entire way of life would change. Laurent remembers his father working on night shift, while he sneaked into the factory on his bike to taste sugar still warm on the sieve. All Mauritians are familiar with this very particular and somewhat unpleasant smell when sugar factories are in operation. Laurent still remembers the bicycle races near the scale with the other children of the factory employees.
Goodlands, a typical village in north-eastern Mauritius
After a restful sleep in this enchanting setting, we get up at 6:00 am. Outside there is a driving rain, with storms and lightning.
The children joined us at 9:00 am, just in time for breakfast at the Demeure Saint-Antoine. We settle into the restaurant "La Salle à Manger" and start with a plate of fruit, yogurt, omelette, croissant and chocolate bread. What more could you ask for? It is the perfect breakfast for this weekend at Demeure St Antoine, Mauritius.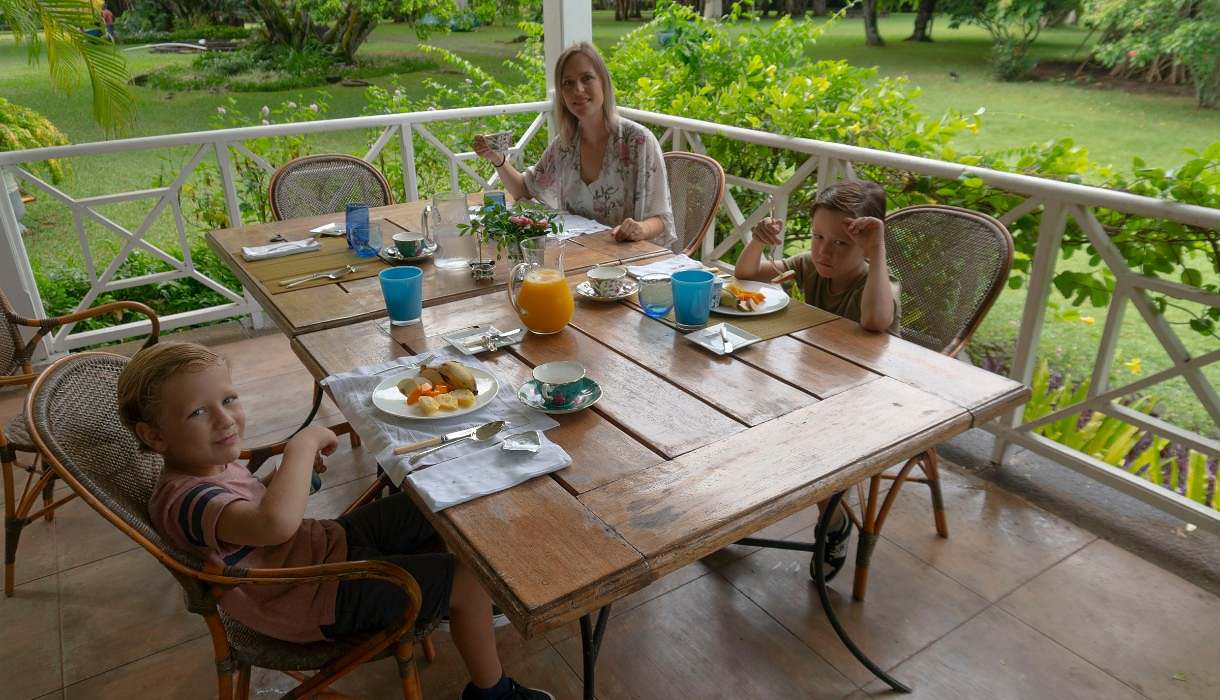 The children are impatient and want to discover the surroundings and do a family activity. We decide to make them discover authentic places in Mauritius.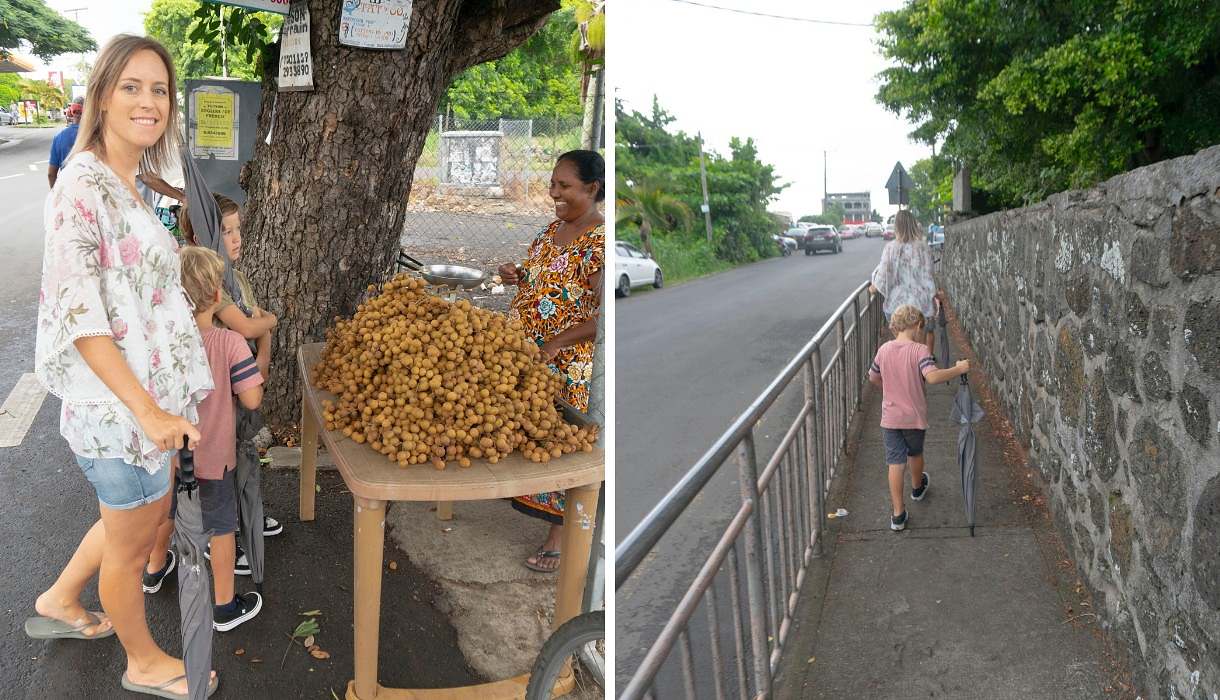 Despite the rainy weather, we remain confident and expect a lull. Equipped with our umbrellas, we discover the Goodlands market, more commonly known as the bazaar in Mauritius. I really like the bazaars, these folk places full of typical Mauritian colours, with their constant noises of all kinds, the guile of the sellers, the aromas of fruits and vegetables. It is crowded with people, foreign visitors and Mauritians of all kinds, who crowd in front of the various stalls.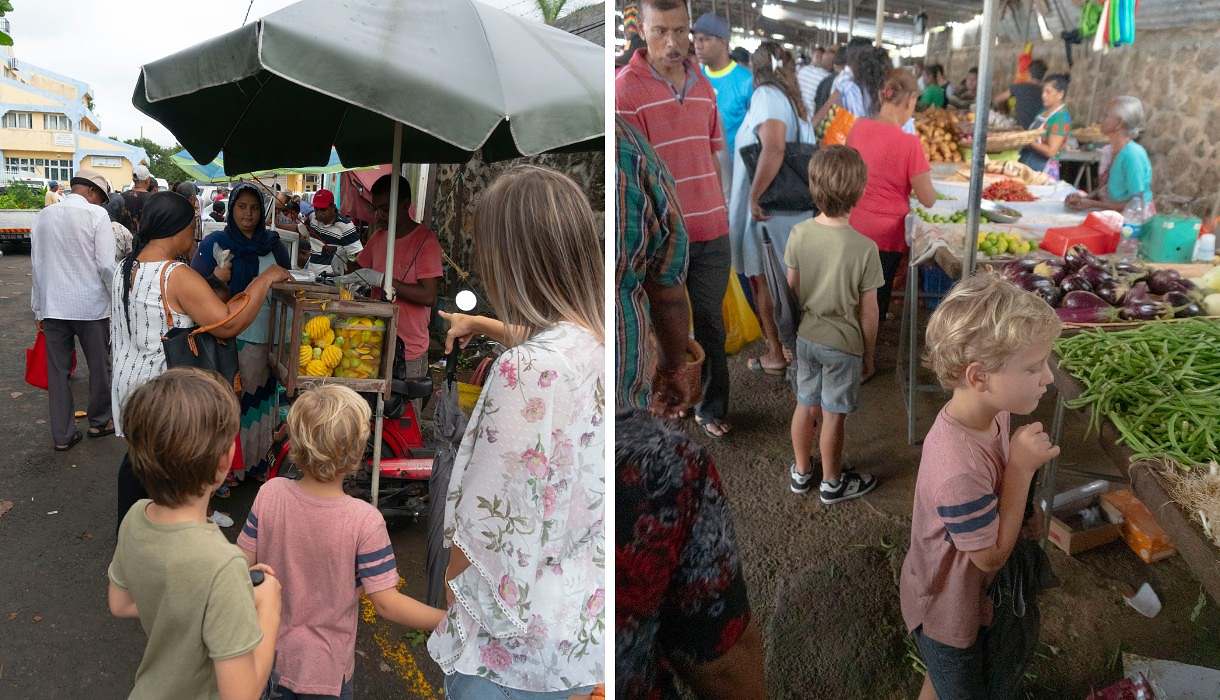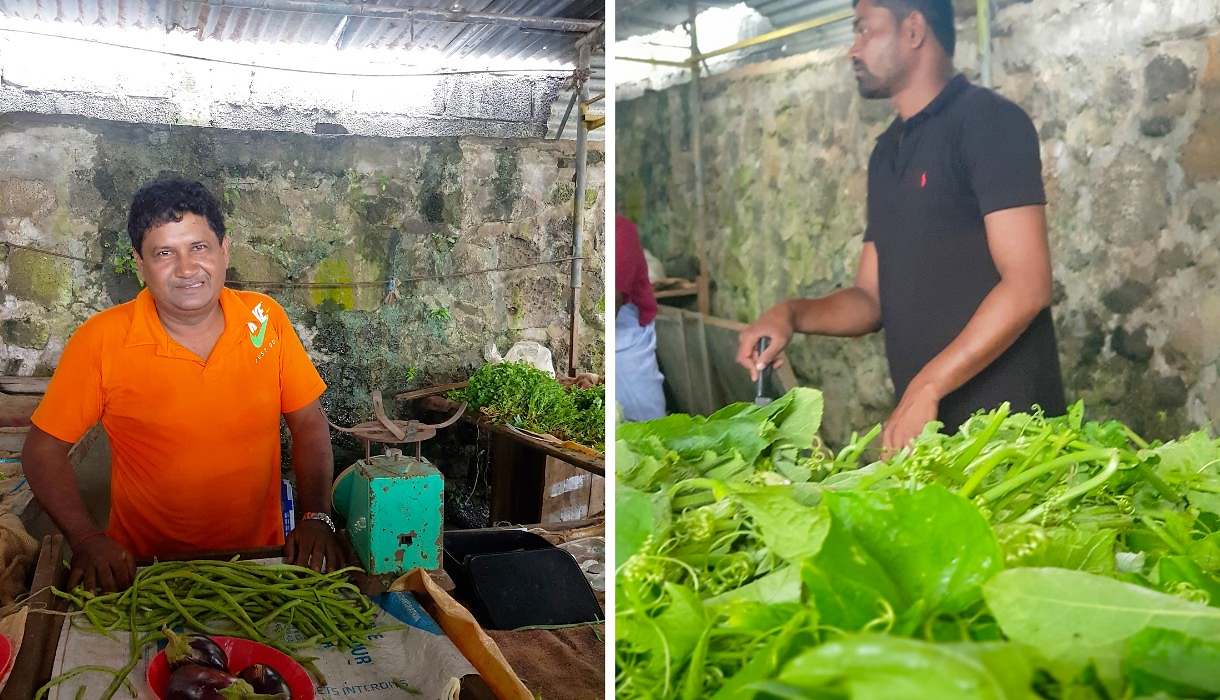 The waxed canvases covering the stalls let the water through and we get soaked quickly. So we decide to go back, while the other visitors continue their shopping without really paying much attention to the rain. And here's a new experience: living the life of the bazaar in the rain.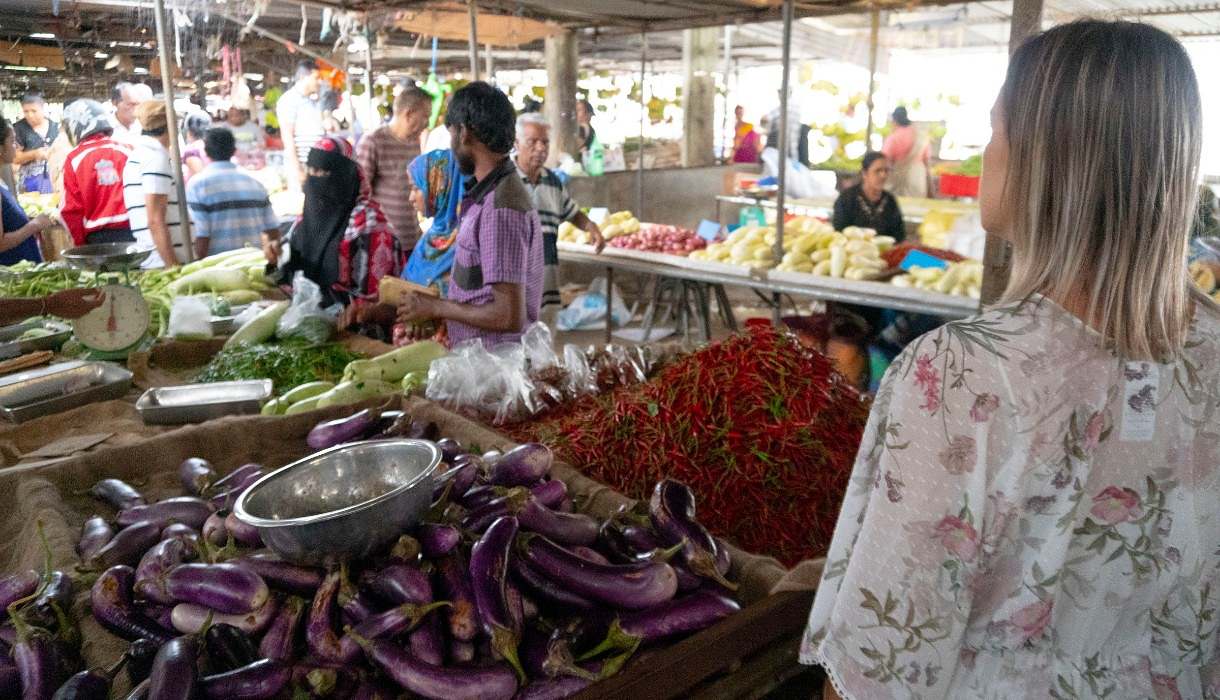 L'ile Maurice étant une ile tropicale avec des micros-climats, les conditions climatiques changent vite. Mais comme toujours, après la pluie, le soleil revient en général assez rapidement.
Discover the surroundings of La Demeure Saint-Antoine
Around 3pm, we decide to have the same bike ride with the children as we had done the day before. But this time Laurent and the kids have classic mountain bikes while I keep the electric bike. A pure moment of relaxation to drive on the small dirt roads, through the cane fields, with always this splendid view…
The cousins join us at the end of the afternoon, to the delight of the children. Fortunately, the weather is fine again and the children have much fun playing Tarzan in the aerial roots of the century-old Banyan, playing hide-and-seek and running around. The Banyan, commonly called Multipliant or tree La Fouche in Mauritius, is a majestic secular, with its aerial roots that turn into swings for children.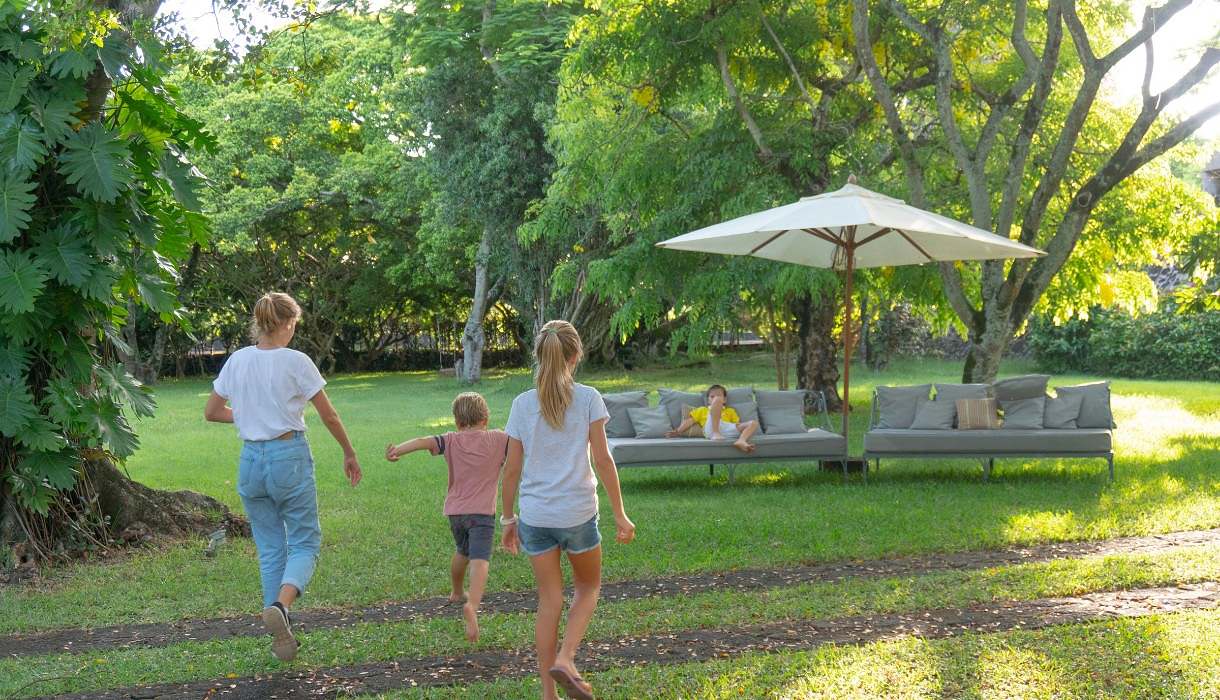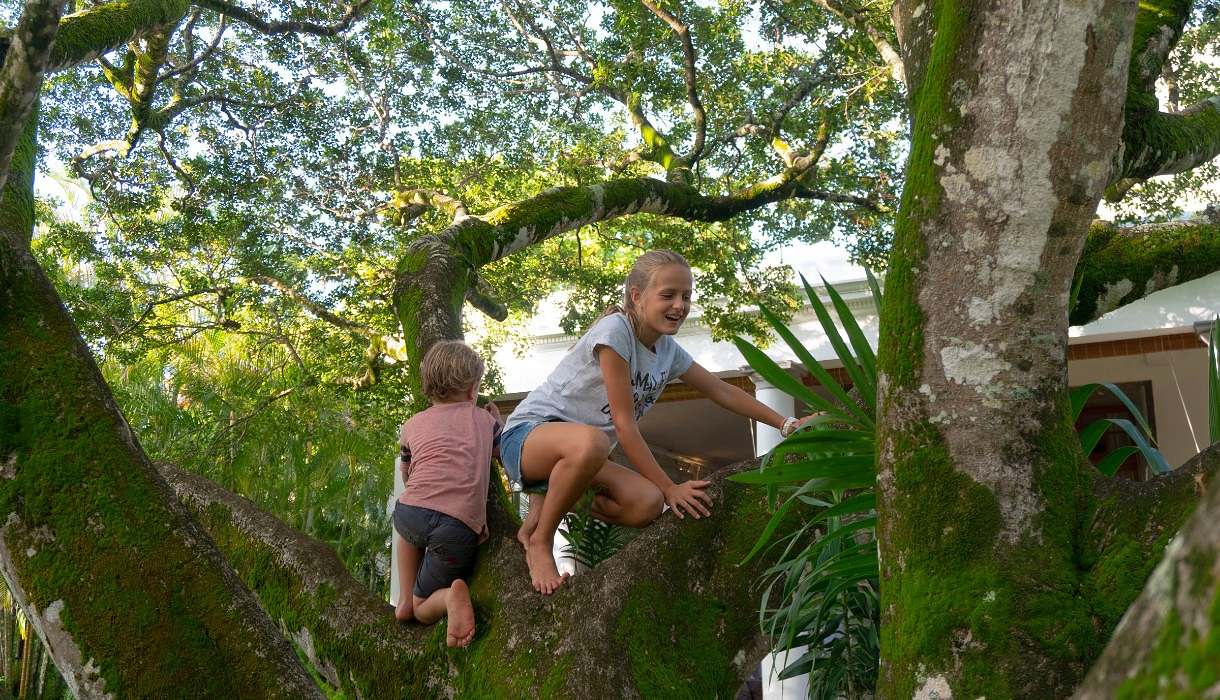 After a good shower, it is time for dinner at the restaurant "La Salle à Manger".
On the menu: tuna and green papaya, grilled chicken and vegetables and as desert 'bananes flambées', very popular in Mauritius. It is a nicely caramelized banana with a touch of Mauritian flair, hard to resist!
A real crush on the starter which was divine!
A romantic awakening at La Demeure de Saint-Antoine
On this second day, Laurent and I got up at 5:45 am with a grey weather, but no rain. We sit on the terrace with a hot coffee listening to the songs of the birds as they wake up. It is a real tumult as they are a large number to nest in the century-old trees. It is a nice peaceful moment in communion with the luxuriant nature that our beloved Mauritius offers us.
In the meantime our children have woken up. Still in their pajamas, they are playing in the gardens to find "the lost treasure". It must be said that the place is ideal for this type of game.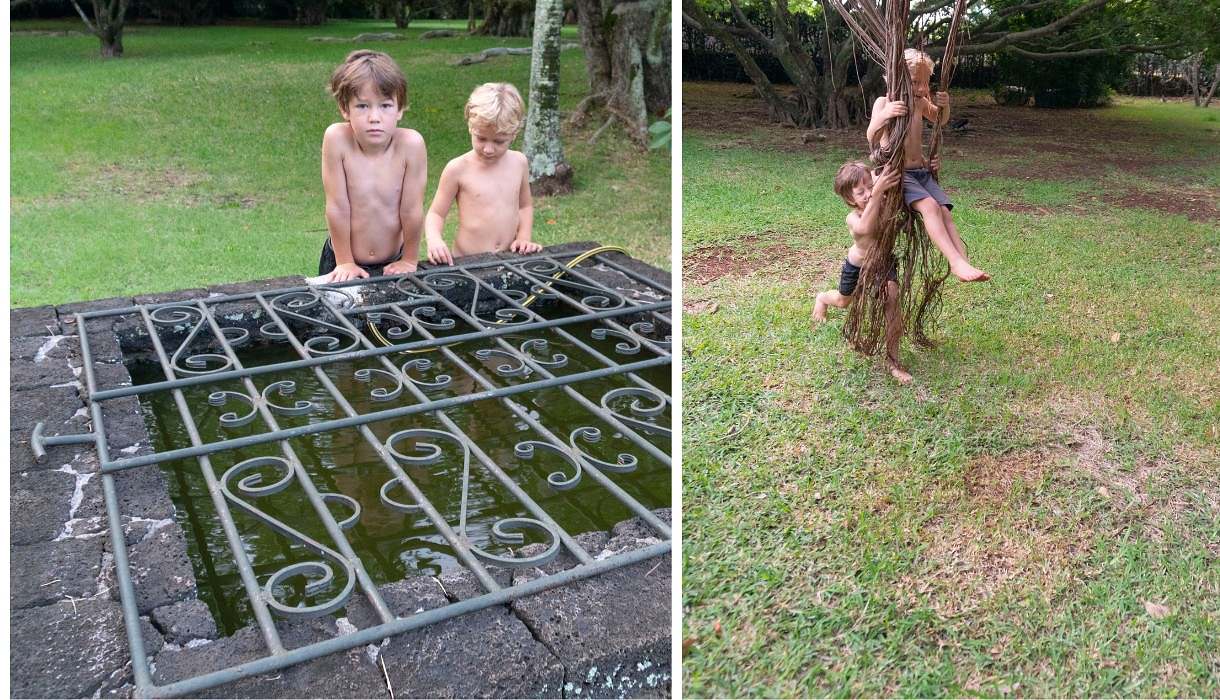 The proposed continental breakfast, which will be served to us on the varangue of La Demeure, is eagerly awaited. Fortunately we do not have to wait too long and the children, just like us, are delighted with this complete and delicious breakfast.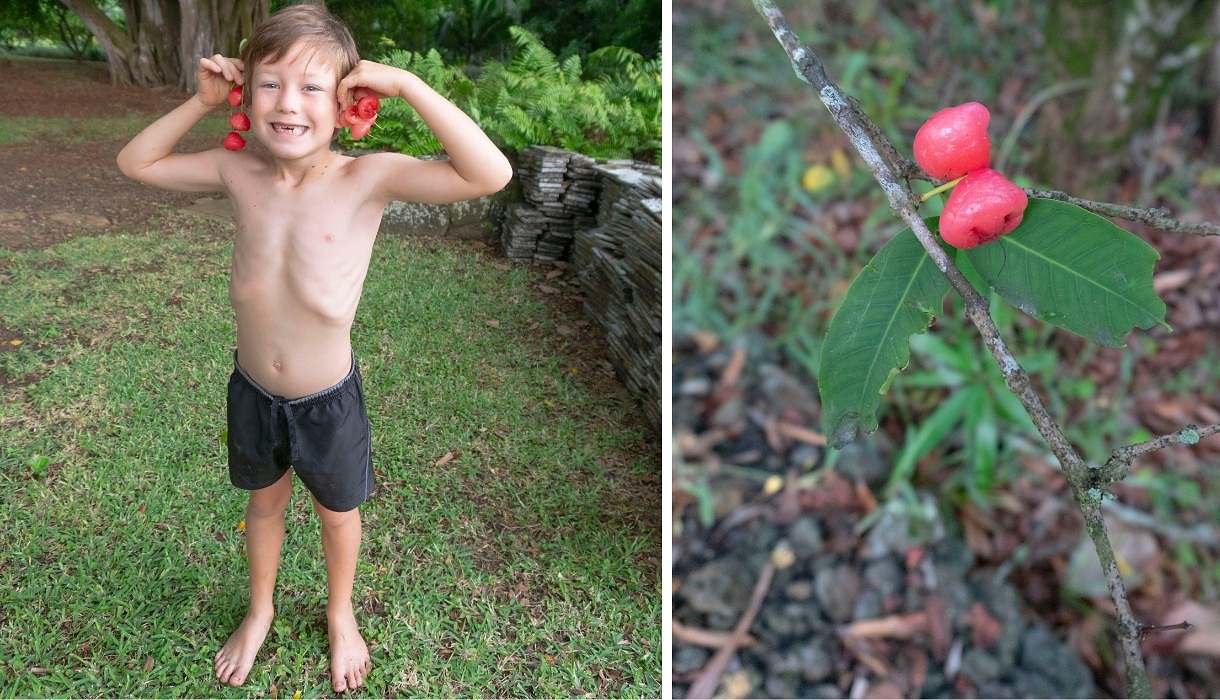 It is raining again and we move to the Grand Salon where there is a beautiful collection of books on the history of Mauritius. Laurent immediately finds true happiness. Reading in such a setting with its thick carpets, antique paintings, trinkets, vases and solid wood furniture, takes us back to another era.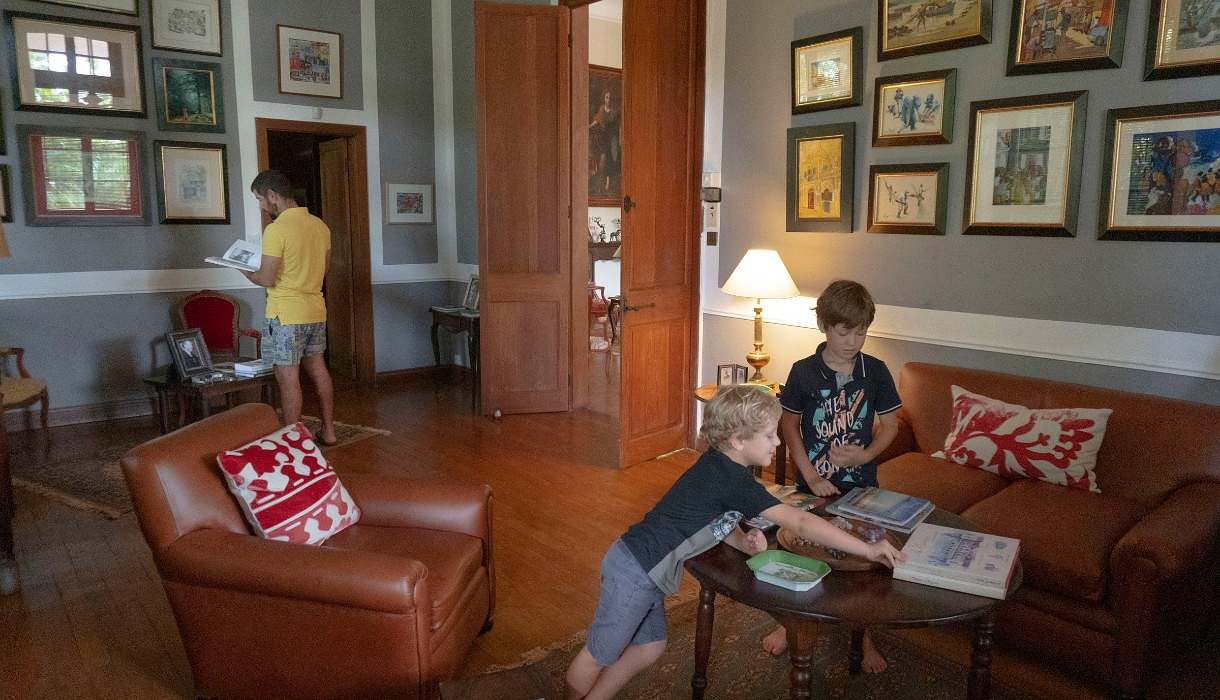 In the adjacent room, the great Mauritian painter, Malcolm de Chazal, is highlighted, famous as much for his naive and luxuriant paintings as for his writings. Some of his paintings are now in high demand. While we are admiring the different paintings, the children quickly found a wooden scrabble game. They immediately set to work to discover new words. Good !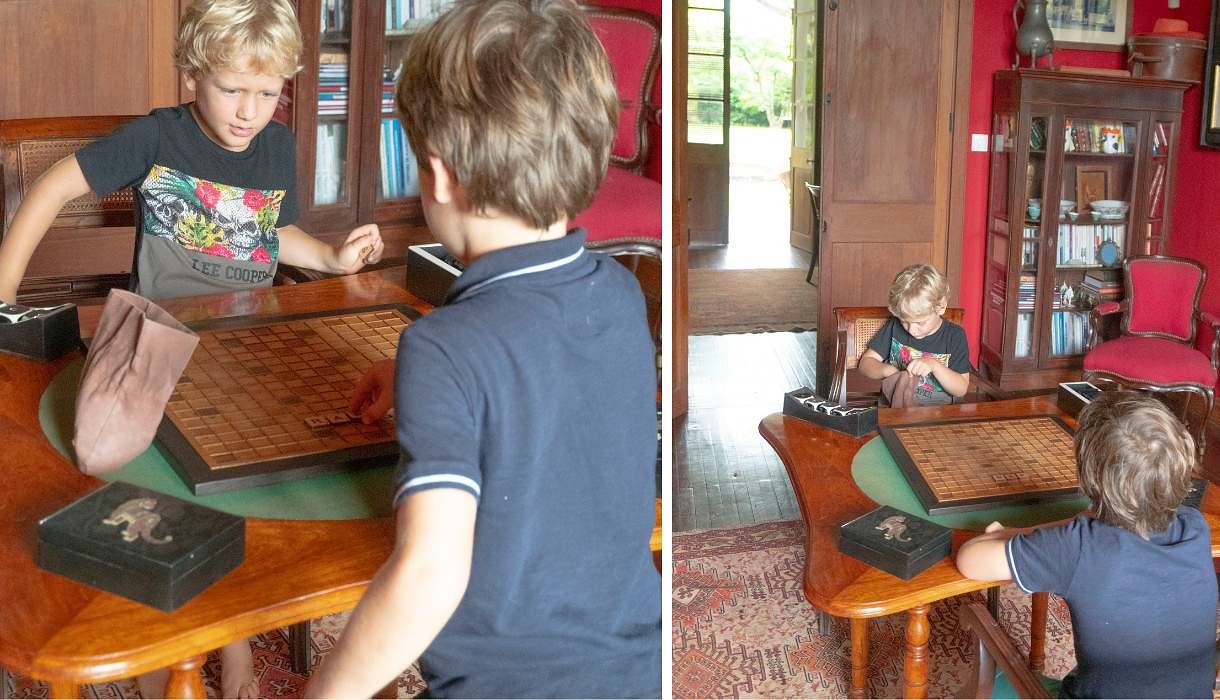 The weather is now relatively fine and we decide to take advantage of this calm to have a long 15 km mountain bike ride at the discovery of the surroundings of the Demeure Saint Antoine. We head towards Madame Azor, Grand Gaube, Melville,right to the embarcadero of Amber Island. I will tell you more about this adventure in a future article. But what I can tell you, for now, is that we finished our trip in a torrential rain covered with mud and completely soaked.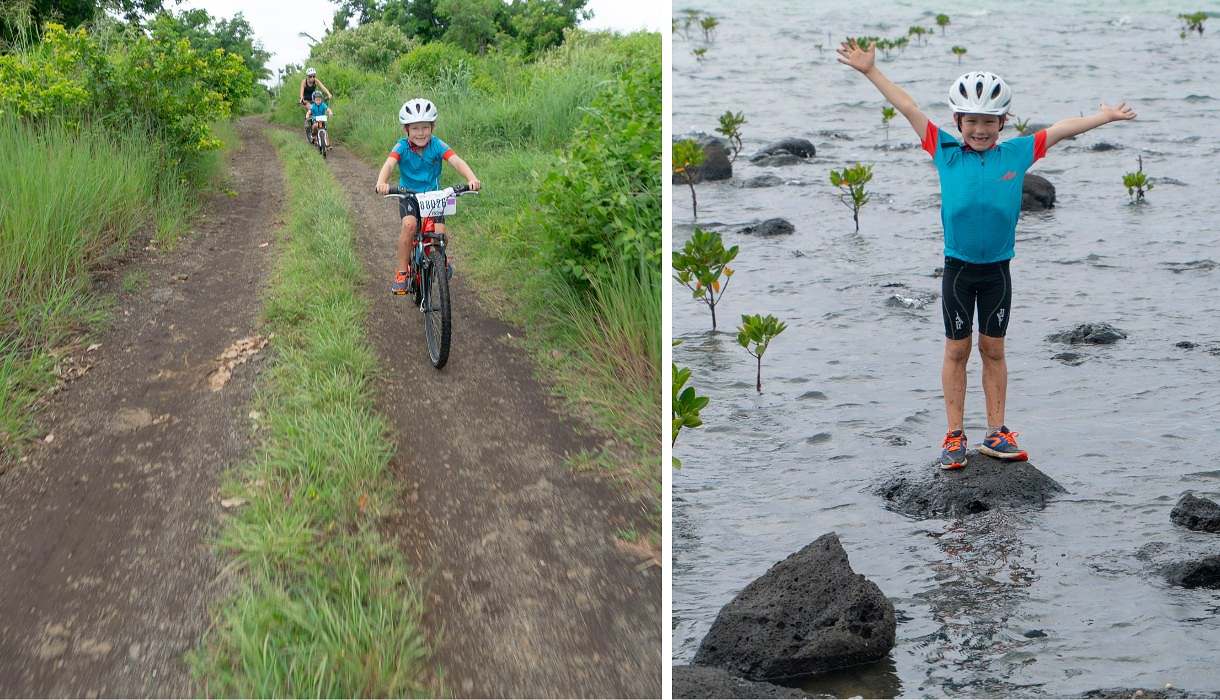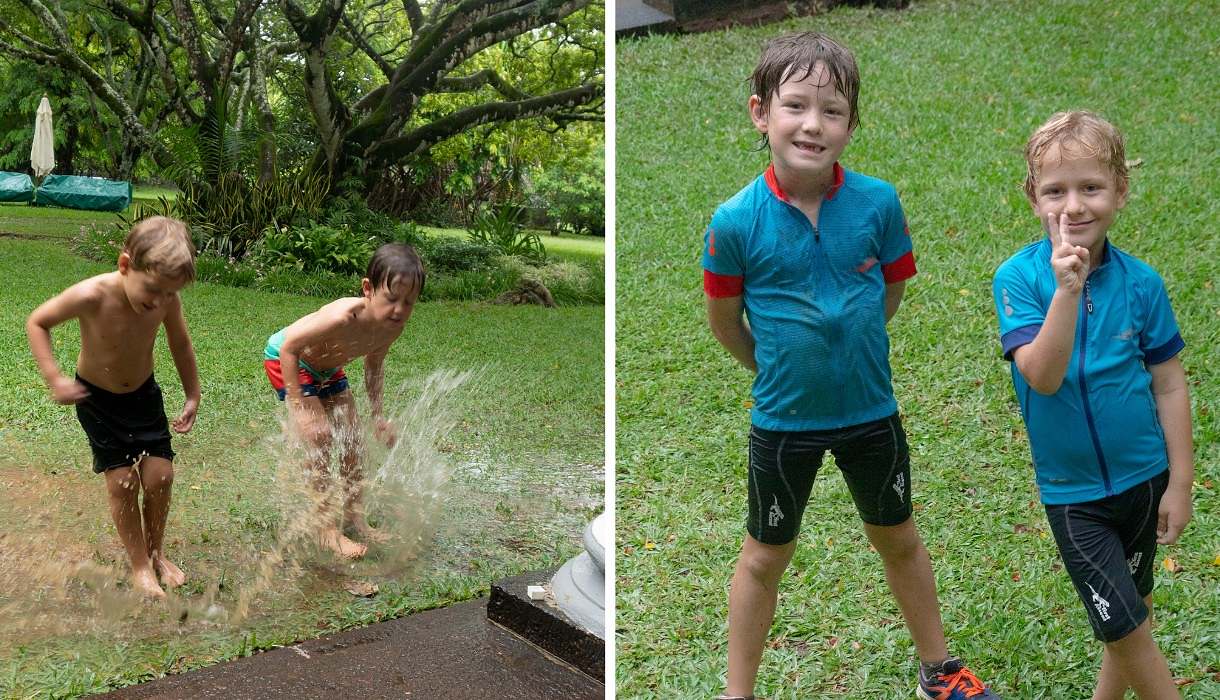 An exceptional destination, an interesting discovery and a professional service
Indeed, just as Mauritius is recognized as an exceptional destination, Explore Nou zil is known for the quality of its services.
Thus, Explore Nou Zil offers two different options to explore what the north-east coast of Mauritius has best to offer.
THE STROLL OF MY CHILDWOOD, a tour of about fifteen kms long, is specially adapted for families with young children. It can be done on a Fat Bike, a classic mountain bike or an electric mountain bike if the children are over 10 years old.
SAINT-ANTOINE RIDE, a 20 km long excursion by electric bicycle, is ideal for adults and children measuring at least 1m47.
Both excursions allow nature lovers to discover Mauritius in a very special way and with the greatest respect for the environment by using a non-polluting transport system.
If you enjoy cultural, sporting and historical activities that take you off the beaten track, let yourself be seduced by an authentic and ecological immersion in the heart of the small villages of the north-east coast of Mauritius. On your electric bicycle you will thus enjoy an exquisite ride which is accessible to nature lovers of all ages.
Cliquez ici pour plus de détails
This weekend at La Demeure de Saint Antoine was both an excellent opportunity to discover the lifestyle in a colonial house and, at the same time, was the occasion to explore this remote part of Mauritius. An activity that I recommend both to all Mauritians and to those who have come to spend their holidays in Mauritius.