Mauritius is commonly associated with romantic beach walks and honeymoons. They are punctuated by a warm island breeze. However, a lesser-known fact is that Mauritius is also extremely welcoming to families. Some many adventures and trips will thrill your children. Although the island is small, there are always activities to do. Your kids won't get tired halfway through your vacation. We will give you examples of activities with the family in Mauritius.
Sailing on the different islands
Sailing will make you discover the islands on the southeast coast of Mauritius. Sailing aboard a sailboat takes you back to the past at the time of the first Dutch history on the island. The bay of the Grand port and Mahebourg are the witnesses of the battle between Dutch and French. You will discover these islands with the help of a local guide. You can go snorkelling in the turquoise sea with colourful fish, a unique place to discover in Mauritius. You can take fresh seafood caught by local fishermen and drink local wine.
Excursion to tropical South West of Mauritius
Start your excursion in the tropical Southwest on the paradise island. The various places where you can continue your excursion are:
– Rochester Falls, to explore the magnificent view of the waterfall
– Souillac, to admire the amazing view of Gris-Gris
– La Roche-Qui-Pleure, where you will have the pleasure of observing the angry waves
– Sancho Islet & Rivière Des Galets
– Maconde Viewpoint, where you'll think you're in the middle of the ocean
– Land of Seven Colours, Chamarel Waterfalls and Curious Corner of Chamarel, one of the most visited attractions in Mauritius
Don't forget to taste traditional Mauritian dishes in the local restaurants.
Sunday brunches avec the family
Islanders are notoriously fond of their lazy weekends and late mornings. Offered by hotels, most brunches offer a varied option with Mauritian options. Hotels offer delicious Sunday brunches accompanied by soft local music. Restaurants offer a surprisingly peaceful setting with bean bags, cabins and beds. You can simply relax there when you are too full to take another bite. Even if it is only a brunch, you will spot a variety of delights. Children will enjoy the "Make your own burger" section. They can have fun by creating their own food.
Catamaran trips with children
Several companies regularly offer catamaran trips. They will help you discover this amazing beauty in its most refined form. Catamaran trips are always fun, with animation, music and singing on board. You can find these trips in all places on the island. If you enjoy the violent waves, you can take a trip to the northern seas of the island. The catamaran will pass through the small islets that dot the ocean. On the other hand, the western seas are soft and have a crystalline turquoise expanse of water. It is perfect for families with children because strong waves are rare. Most catamarans are suitable for children, with lifejackets and food for children.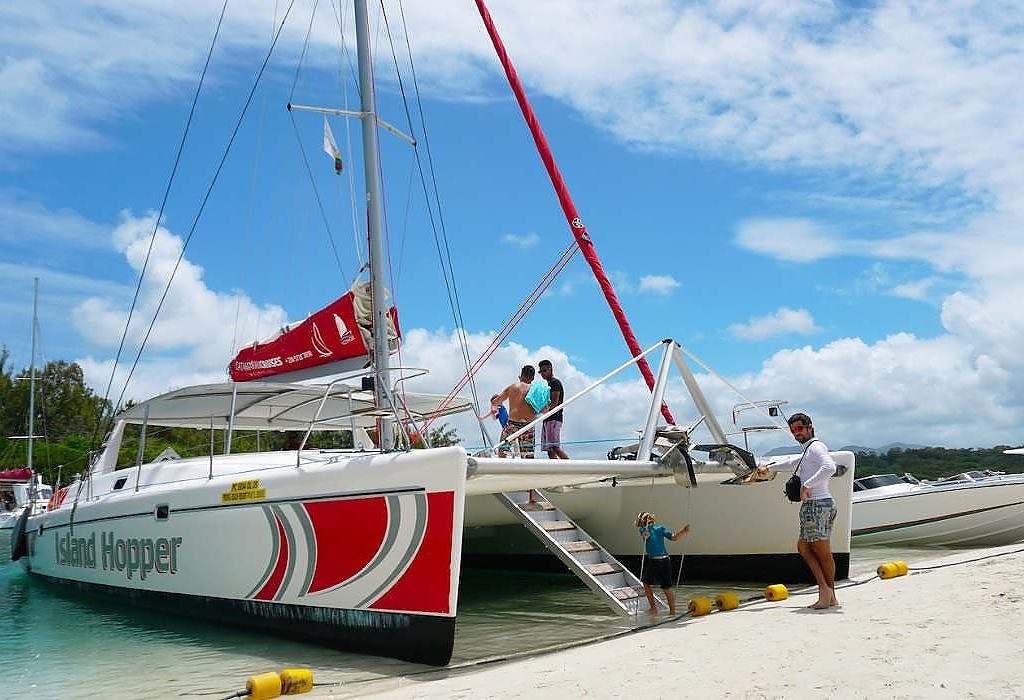 Semi-submarine and submarine trips
A semi-underwater or submarine trip will amaze children and parents. You will discover the many wonders of the Mauritian underwater world. Fully accessible to seniors and children, these trips are perfect for family explorations. This service is offered daily from the coastal village of Grand Baie, north of the coast. Grand Baie also offers lots of scenery, accommodation and entertainment. Submarines and semi-submarines normally depart from Grand Bay's picturesque pier, Sunset Boulevard. If you are claustrophobic, the semi-submarine does not provide the same sense of containment as the complete submersions. It looks like a ship, with the upper deck protruding from the water. One can enter to admire the underwater world in an immersion room.
Shopping at La Croisette shopping centre
located in Grand Baie, in the north of the island, La Croisette is more than just a shopping centre. It has an open space designed to allow you to enjoy the generous tropical sun. This establishment houses everything your children will love: restaurants, cinemas, indoor playgrounds and many walking spaces. Most of the restaurants in La Croisette have special menus for children. To top off the day, you can take your family to see their favourite movie in the mass cinema. It is located on the highest floor of the shopping centre. Ideal for a family holiday in Mauritius, this shopping centre offers you the opportunity to buy souvenirs.
Walk in the adventure parks for children
There are adventure parks designed for children. But parents can also have fun there. Located in the south-east of Mauritius, an adventure park stretches over several hectares of lush greenery. It allows children and adults to explore the wild, rare and protected riches. Its rivers sparkle with the reflections of the sun. This place offers encounters with local birds and animals. It is a discovery that children love. Special packages for children include a plethora of exciting activities such as hiking, zip-lining or even quad biking. Children aged three to five can even take advantage of the Mini Kid's package. They can enjoy age-appropriate activities such as trampolines, inflatable games and the Kart mini-motorcycle.
Excursion at l'Aventure du Sucre
Kids love sugar. What a better place than l'Aventure du Sucre, which translates into Sugar Adventures! It is a museum dedicated to the manufacture of sugar. There are free samples of sugar. Sugar is the best source of income in Mauritius, after tourism. This particular museum seamlessly combines pleasure and knowledge. It provides the whole family with what goes behind the scenes. Located in the northern part of the island, close to the botanical garden of Pamplemousses, this museum includes a restaurant. Visitors can enjoy some local dishes at the end of the visit. Visitors can even download an Audio guide for translations, ideal for a family holiday in Mauritius.