Unique accommodation in the east of Mauritius
Taking advantage of school holidays, we decided to spend a week- end discovering our beautiful Mauritius. Lovers of nature and fond of new sightseeing, it is quite "naturally" that we have booked at Otentic Eco Tent Experience a unique type of accommodation in the east of Mauritius.
The rooms are situated on two sites, namely the Otentic River and the Otentic Mountain.
Otentic River consists of safari tents, fixed to wooden flooring, that have been nicely arranged. If the exterior is worthy of camping, inside we find ourselves with all the comforts such as a very good bed, an essential element to stay in shape before facing the many family activities in the surroundings.
Ayo I love it*
Otentic Mountain is made of authentic and rustic chalets and the wood is omnipresent allows a true communion with the outside world. Being in the mountain, we are completely disconnected from the outside world and cut off from our hectic daily lives. No Internet connection or telephone communication at all, we are in the mountains.
* Ayo I love it: Ayo is a local expression that means everything and its opposite. So we use it when it hurts, when we want to apologize, when we feel sad, when we feel joy, etc. In this case, it means: Oh I love it…
Otentic Mountain Site
We had the highest chalet in the valley and just behind us is the trekking path that leads to the top of Bamboo Mountain. First, we took advantage of our "home sweet home". The parents stayed on the terrace for a long time contemplating this beautiful Mauritian nature. The children, meanwhile, spent a lot of time drawing what they saw from their promontory worthy of Robinson Crusoe's home.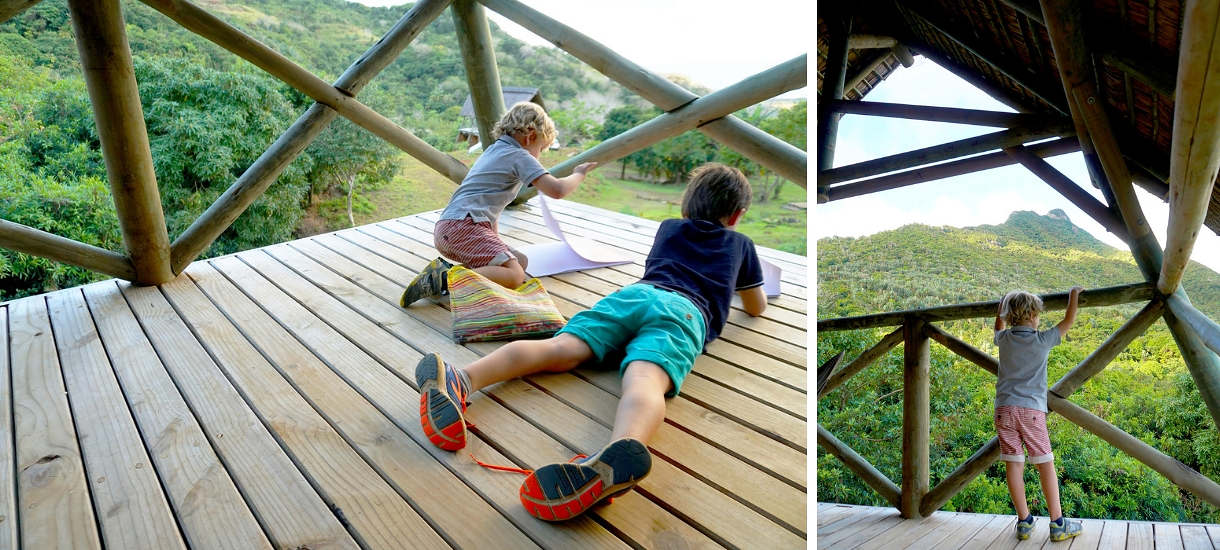 Then, at the end of the afternoon, we took a family walkto locate the place and find out if this ascent to the top of Bamboo Mountainwas possible for our six-year-old son Victor. The two dogs of "Otentic" (Bamboo and Albi) accompanied us on this family outing to discover our Mauritius.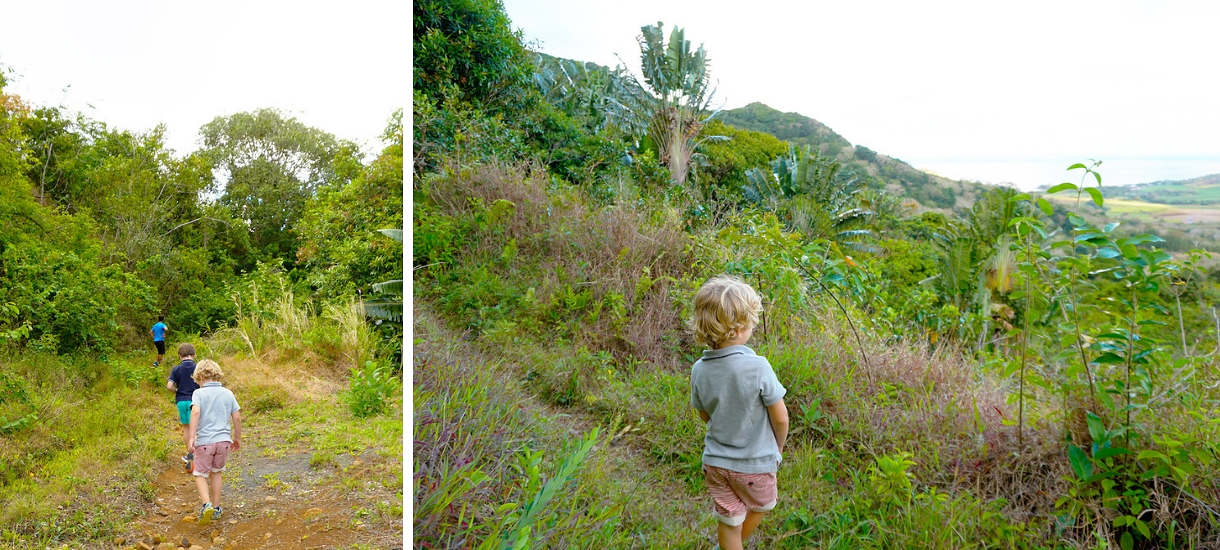 After the effort, the comfort. We all had a good shower, followed by a delicious aperitif for the whole family, and we are ready for the wonderful Creole dishes, typical of Mauritius, that we quickly devoured. My husband was very septic when they came to tell us that all the dishes were entirely vegetarian. He quickly reconsidered his scepticism because the food was so delicious. Awesome Cuisine! I will come back to this a little later.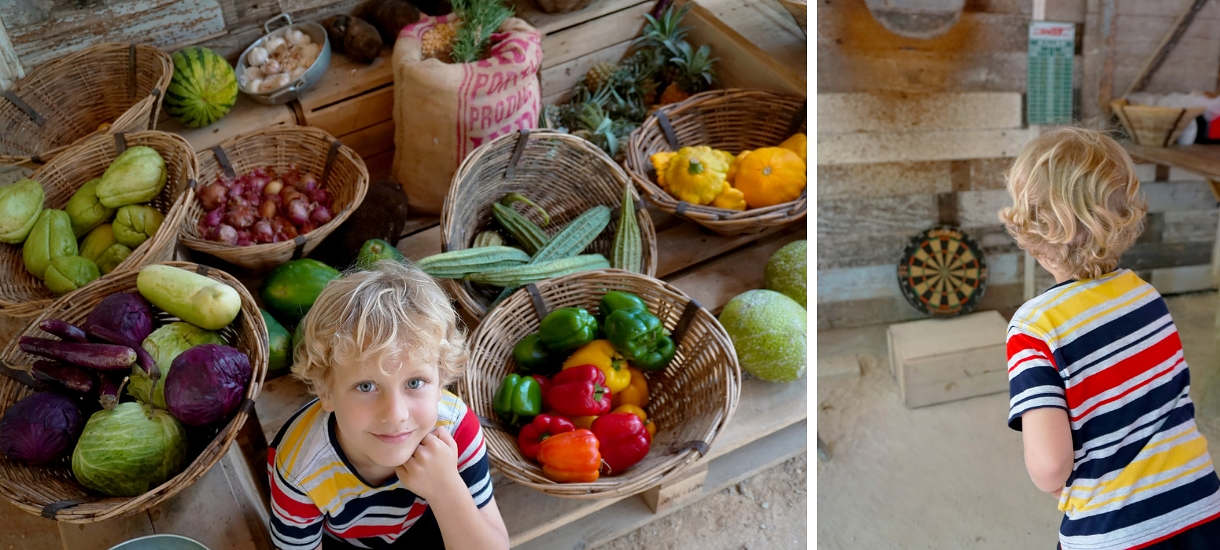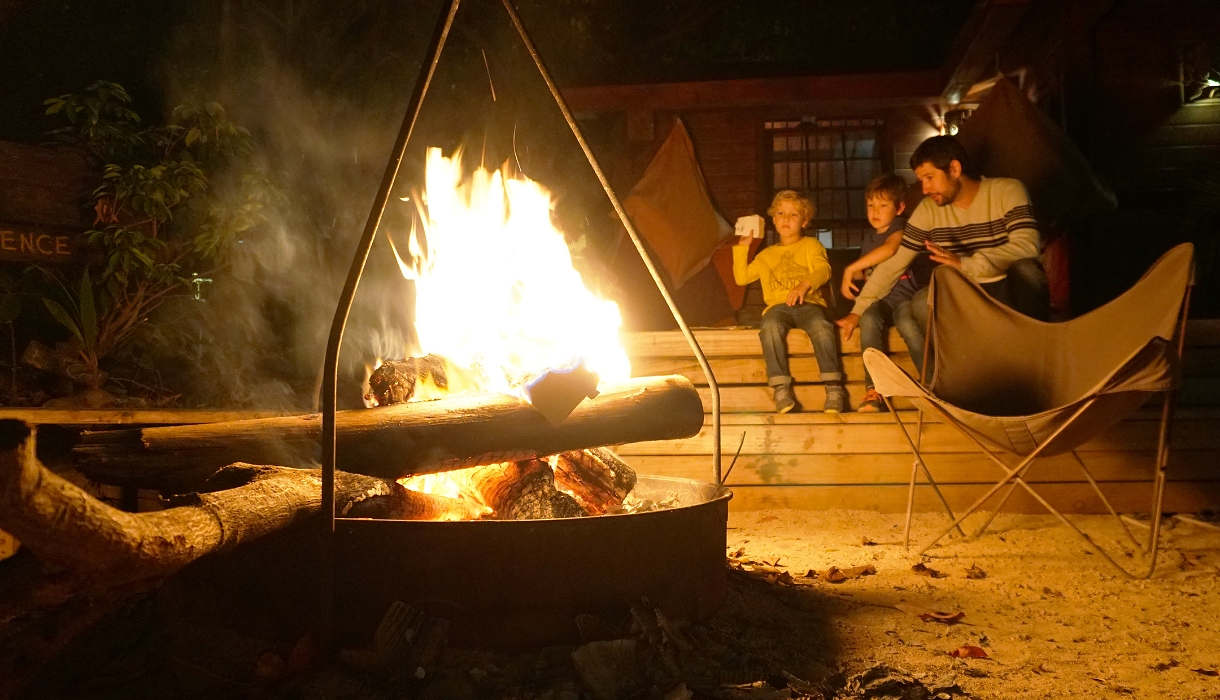 It was not long before we went to bed for a well merited sleep as the next day the summit of our neighbouring mountain awaited us.
Bamboo mountain (small Mauritian summit) to discover)
Second day with the family in this dream natural setting! It was at 5:15 am that Laurent woke us up and he did his best to motivate us to make the ascent. A family activity that was not well accepted by Victor and I since we had decided to stay in bed (lazy as we are). Only Raphael and Laurent went early in the morning to climb Mont Bambousto watch the sunrise!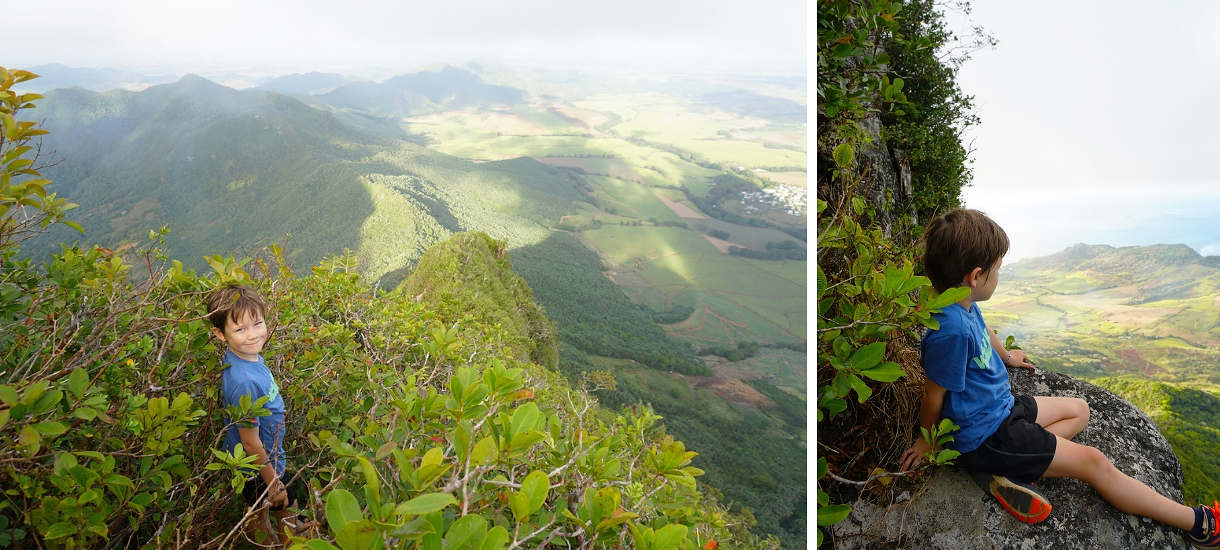 Two brave men. After an hour of climbing through the bushes and on the narrow paths, they were treated to a magnificent reward; a splendid 360-degree view of the valley, not to mention these majestic flights of swallows, hunted by four "kestrel", our famous Mauritian falcons. This scenery is rare because kestrels are not often seen, having been saved in extremis from the extinction of their species by the Mauritian Wildlife Foundation. This small spotted falcon is an endemic species in Mauritius.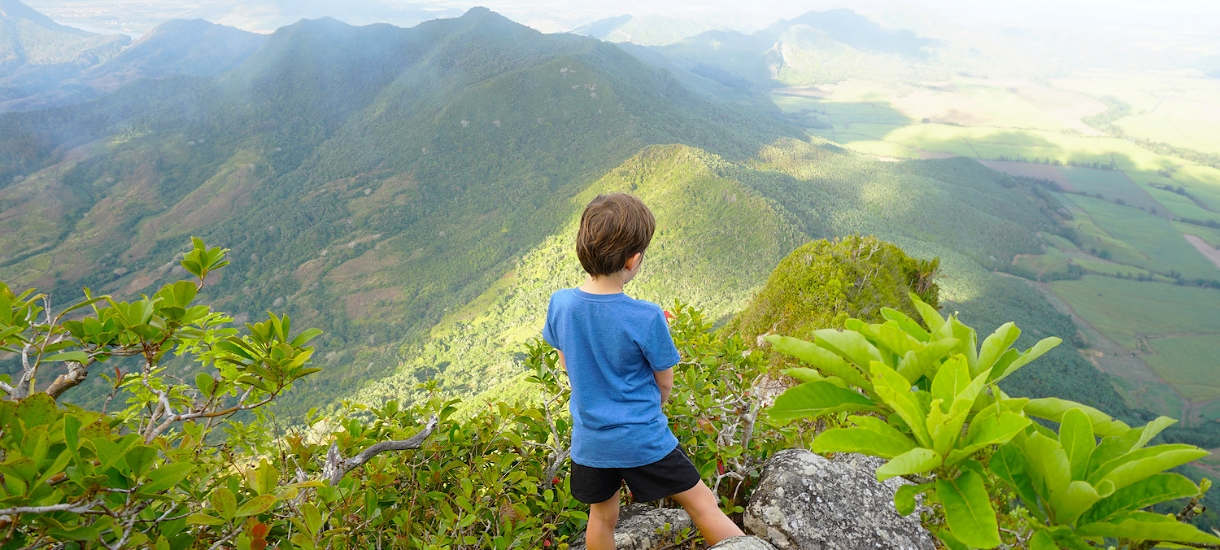 Forty minutes of descent and a makeshift bath in a spring water pool near the restaurant, and here they are sitting with us for a well-deserved breakfast. The rest of the morning was devoted to family games: petanque, dominoes, cards, which made the children happy.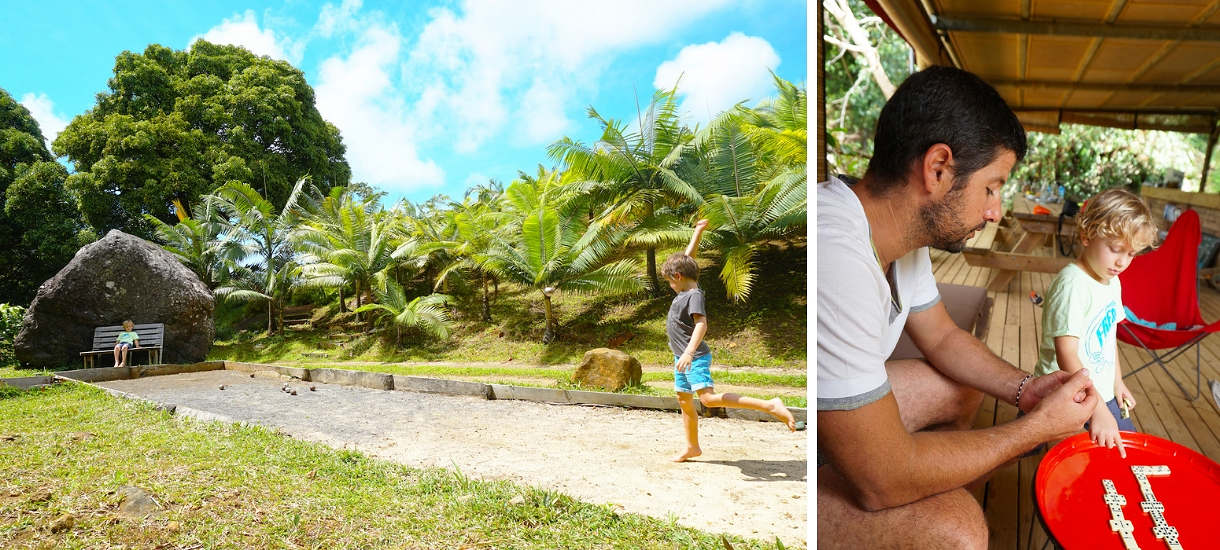 Otentic river and its many family activities – Mauritius
The lunch hour so long awaited by all of us has finally arrived. As already mentioned above, this Creole cuisine offered by Otentic Eco Tent Experience is exceptional. A large selection, great quality, freshest ingredients, everything is combined to make this meal a real feast, all in a natural and heavenly setting. In the evening, between campfires and self-service at the bar, you really feel at home.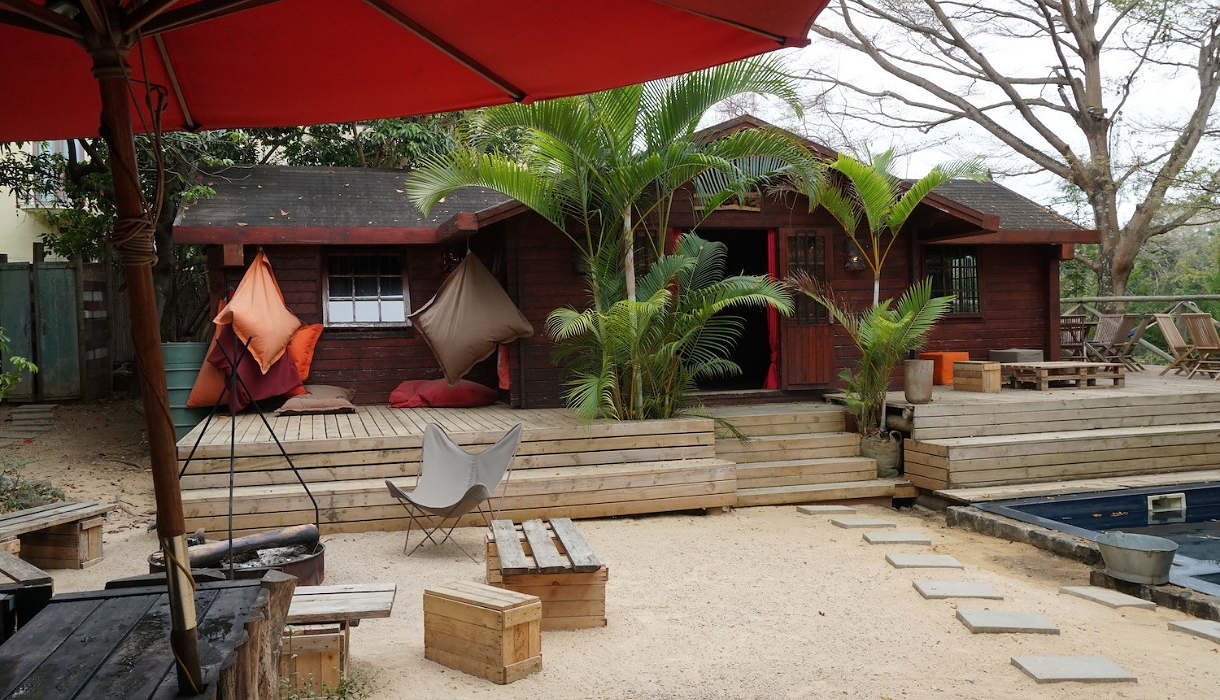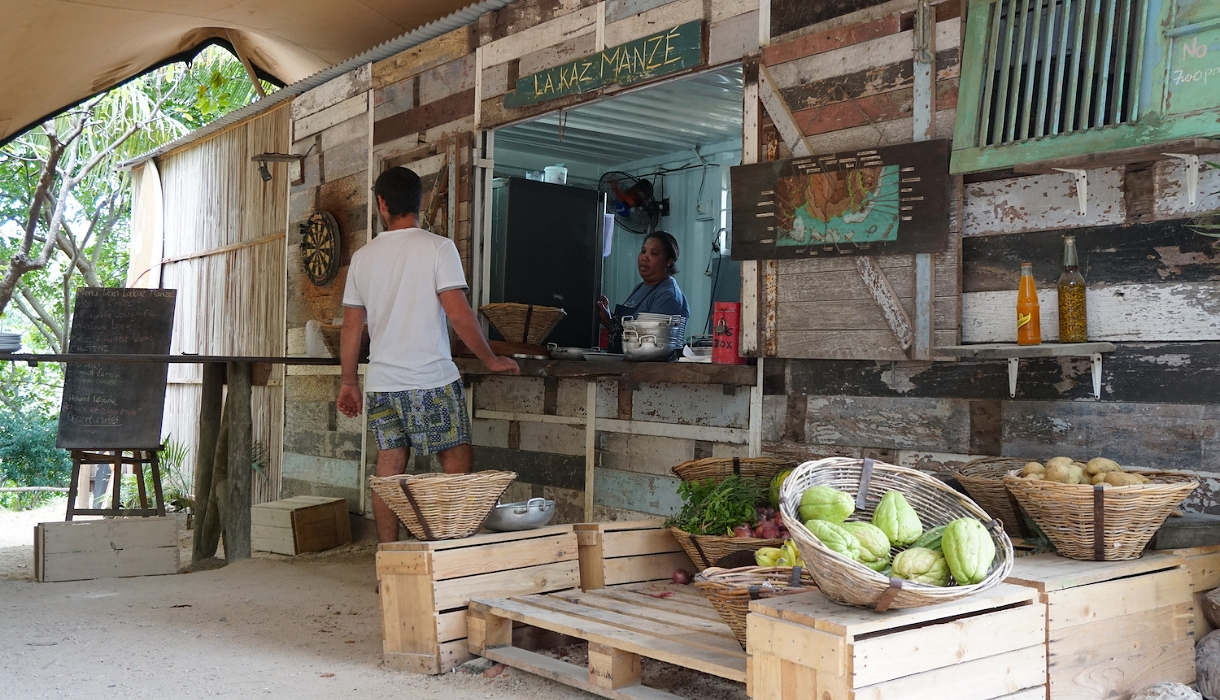 But what can we do as activities in the vicinity of Otentic Eco Tent Experience?
First of all, the small farmers in Mauritius:
We visited the vegetable fields, and more specifically, the onion fields at the remote village of Quatre-Sœurs, and another at Grand Sable. Extraordinary meetings with the friendly farmers who even invited the children to discover their plantations to explain what their work is all about. It is clear that the place is preserved from mass tourism and the inhabitants are incredibly kind to people passing through.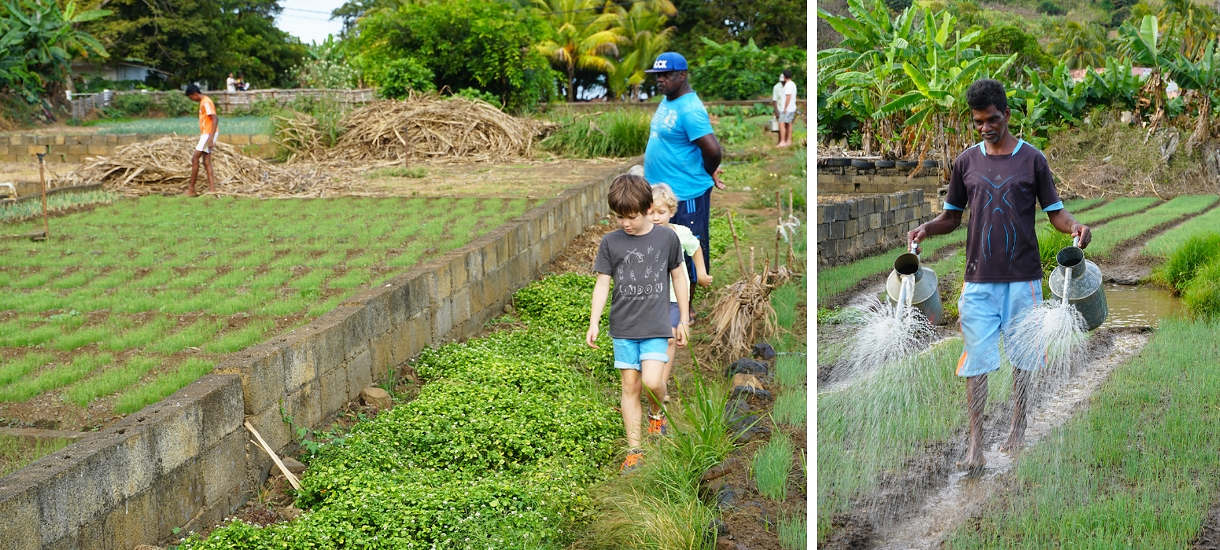 Mauritius island is renowned as a family destinationwhere everyone can find what they are looking for. Meeting the Mauritians, exchanging with the inhabitants of the small remote villages are, in my opinion, very important elements of any trip to Mauritius. The children, far from imagining these small trades, will be delighted to discover them and to exchange a few words with the farmers of our small island Mauritius.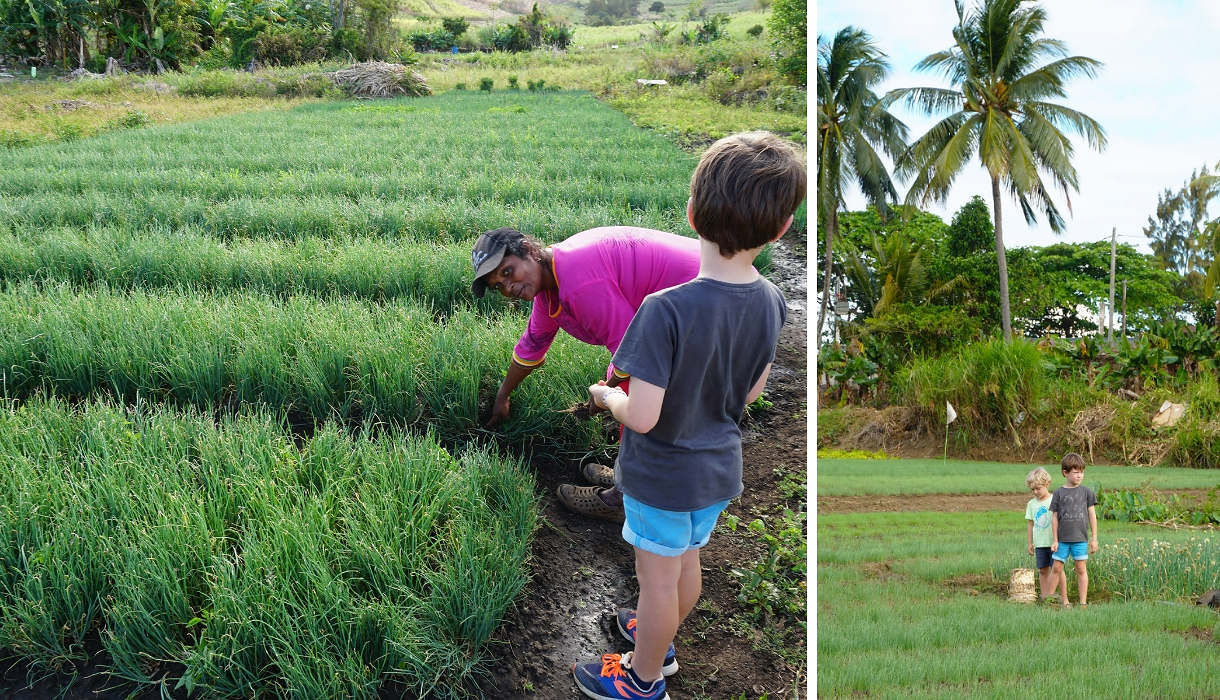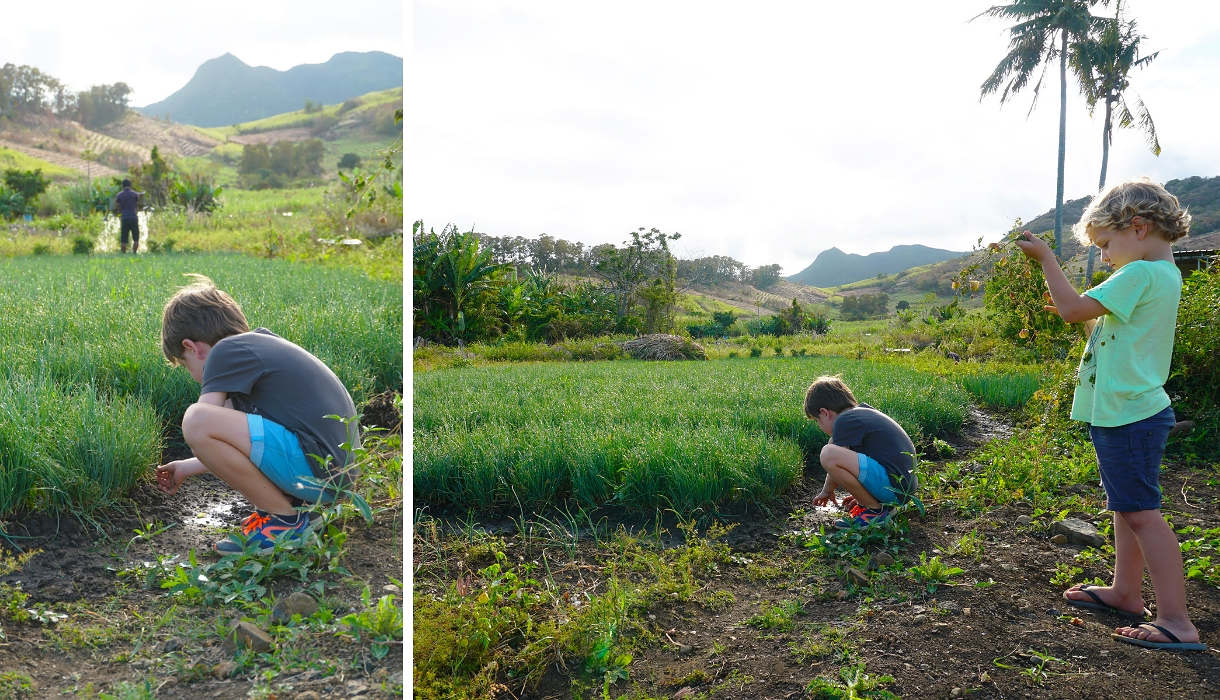 Then the Ruins of the French era:
From Otentic Eco Tent Experience to Pointe au Diable, there are ruins of batteries from the French era. They served as an observation and defence post for the northeast pass of Mauritius. There is a magnificent viewpoint that Laurent has made us discover, difficult to access if we do not know the place well. With a 180° panoramic view of the lagoon, we can now understand why the French chose this place to build the fortifications necessary for the defence of Mauritius.
Further away is the famous museum, unique in Mauritius, which exhibits found objects dating back to the Dutch occupation. Unfortunately, due to time constraints, we did not have time to visit it.
Last day at Otentic River, and fun activities to do with the family during your stay in Mauritius
This time Laurent didn't feel sorry for us and wasn't influenced by our pleas because at dawn he woke us up, and then made sure that we were all well out of bed. The goal: kayak trip with the children to the magnificent waterfall of the Grande Rivière Sud-Est.
As residents of Otentic Eco Tent Experience, it is possible to use the boats and go on an adventure trip to the waterfall. Accompanied throughout our walk by monkeys swinging from branch to branch, it was quite obvious that this moment was one of the children's favourites. Paddling, while observing these clever and agile little animals, made the effort less painful. We finally arrived at the waterfall, where we offered ourselves a well-deserved swim. We then spent a good time walking on the rocks and walking in the nature.
This kayaking activityin Mauritius is my personal favourite family activity. Otentic Eco Tent Experience also offers its residents the opportunity to cross the lagoon by pirogue every morning for a moment of relaxation on the deer island, a small piece of land belonging to Mauritius. A real godsend that we could not seize due to lack of time.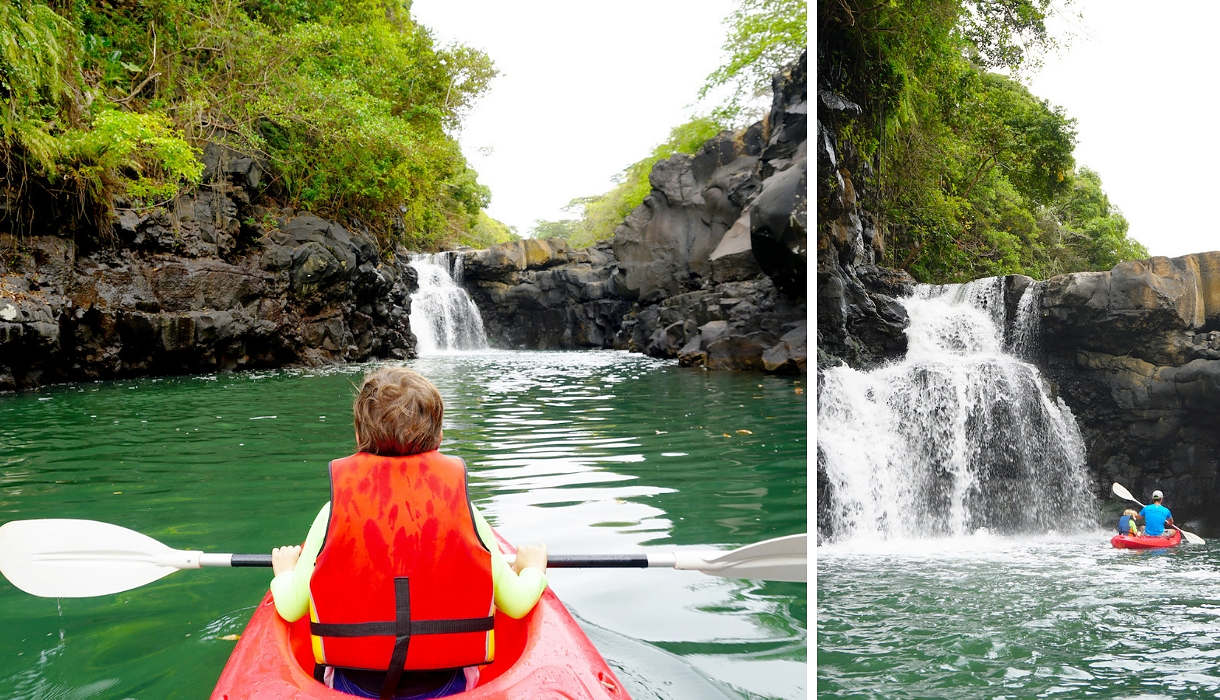 It should also be noted that two shuttles (4×4) travel twice a day between their two sites so that mountain residents can also enjoy the "river" and deer island activities, while river residents enjoy the "mountain" activities.
We loved this Otentic Eco Tent experience and highly recommend it to families on holiday in Mauritius, whether they are honeymooning couples in Mauritius, adventurers, or simply nature lovers on holiday in Mauritius.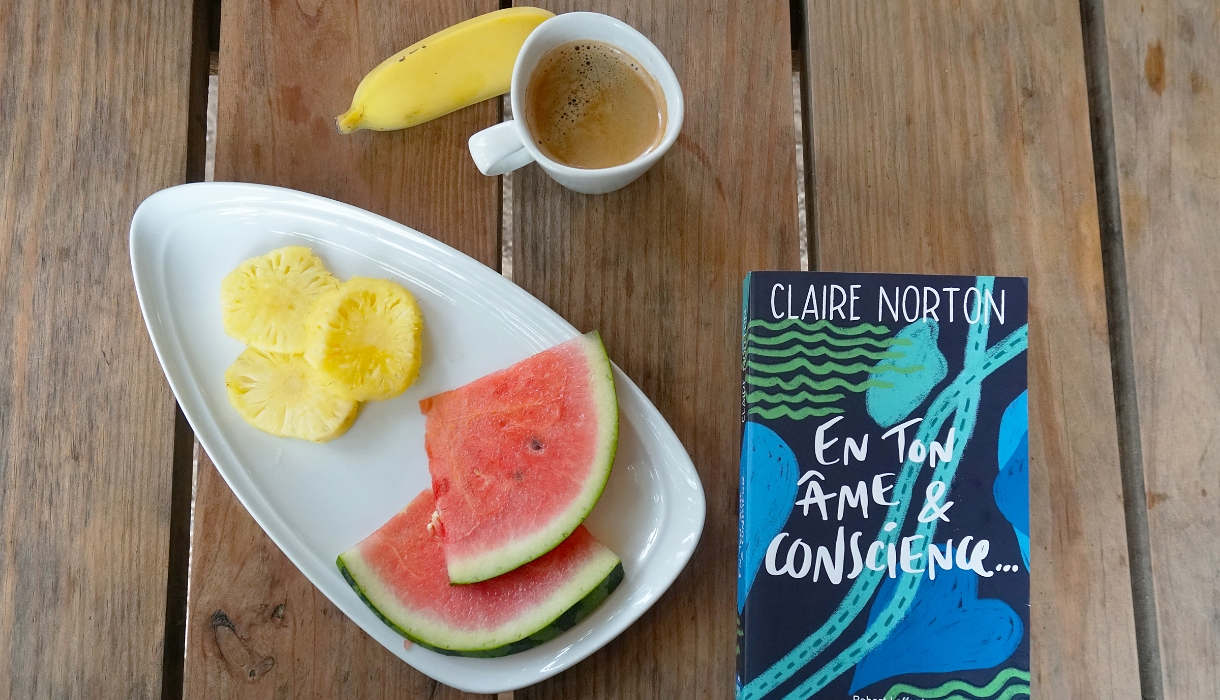 Other activities near Otentic Eco Tent Experience:
If you are looking for a different activity to do in Mauritius during your next stay, contact Electro-Bike Discovery who offers a complete discovery tour of this part of the island by electric bicycle, accompanied by an enthusiastic guide. Children should be at least ten years old. The departure is from Beau Vallon, near Mahébourg where electric bicycles await you. You will have the opportunity to discover Mauritius in an authentic and original way. You will visit the Dutch Museum and meet local craftsmen, such as marine carpenter, vacoas weaver, and you will discover the history of Mauritius. This is the Grand Port excursion…