This Saturday morning, Laurent, Victor and I, as well as our French friends on holiday in Mauritius, decided to discover Port-Louis in an original way. Actually, I don't know Port-Louis very well. It is the administrative capital, teeming with people at rush hour, it is the many 'la boutik sinwa', (Chinese shops) and other shops that attract many tourists in search of souvenirs. It is also the place that is at the very heart of all commerce in Mauritius.
For this first visit we have decided to focus on two places, which are particularly important to us and which we absolutely want our friends on holiday in Mauritius to discover. They are the market of Port-Louis, more commonly known as the bazaar in Mauritius, and of course, the Chinese district, more known as China Town, which I will tell you more about in a future article.
The first difficulty is to find a place to park the car, because in the city centre all the car parks are already occupied. We therefore opt for the Caudan Waterfront car park, and we set off on foot to discover this treasure of our Mauritian heritage, the Baazar.
The Port-Louis Bazaar, Mauritius
As the highway separates us from the city centre, we must first take an underground footbridge to get to the crowded alleys of Port-Louis. Here, discipline is not always there, and sometimes, at the risk of one's life, you cross the road trying to avoid cars and motorcycles. During festive periods, street vendors storm the sidewalks to display their goods, much to the displeasure of police officers and pedestrians who have to walk on congested roads at the risk of being hit by a car. It is one of the many (not very glorious) facets of our dear Mauritius!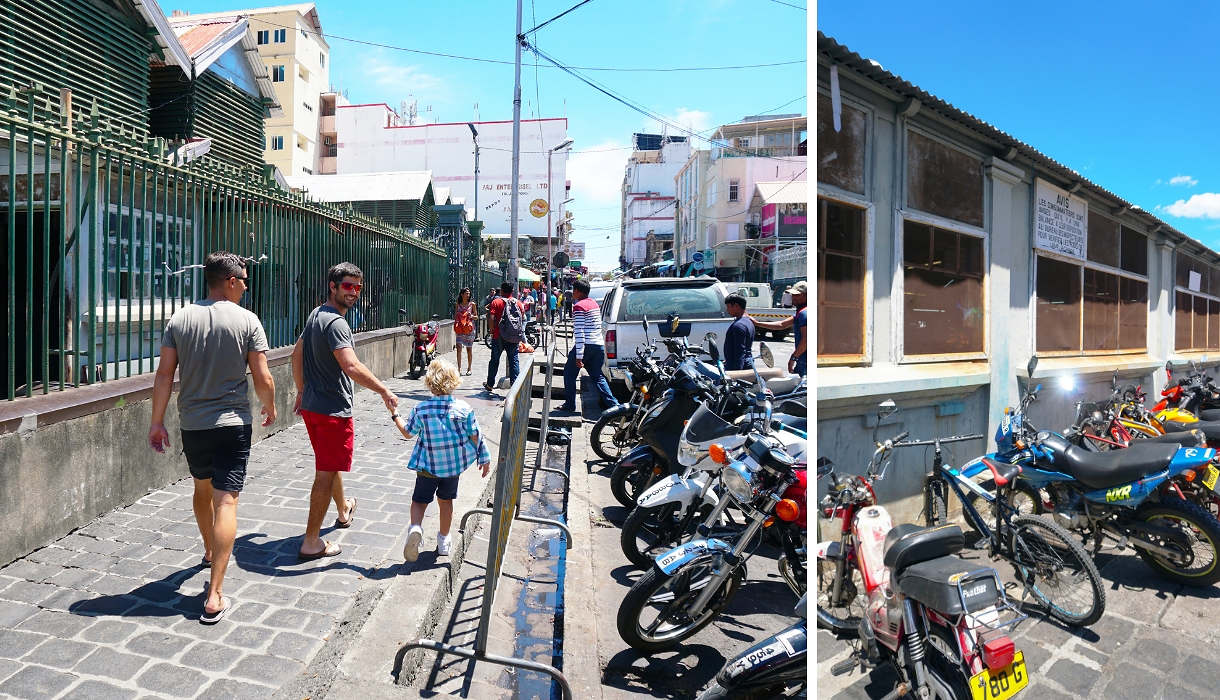 The Port-Louis market, between Farquhar and Queen Streets, is located not far from the North Station, which serves an extremely efficient bus network. It is easy to get there on foot and easy to find, but feel free to ask a passer-by to help you, he will be happy to assist you.
The Port-Louis market, better known as a bazaar in Mauritius, was built in 1828. It was restored a few years ago following a fire that destroyed most of the stalls. However, the Port-Louis Town Hall has ensured that the original stamp is preserved. The bazaar is recognisable from a distance thanks to its sumptuous grids at the two entrances opposite each other.
Once inside, you are struck by its folkloric and colourful side. It is full of people, foreign visitors and Mauritians of all kinds, who crowd in front of the various stalls in an almost friendly noise.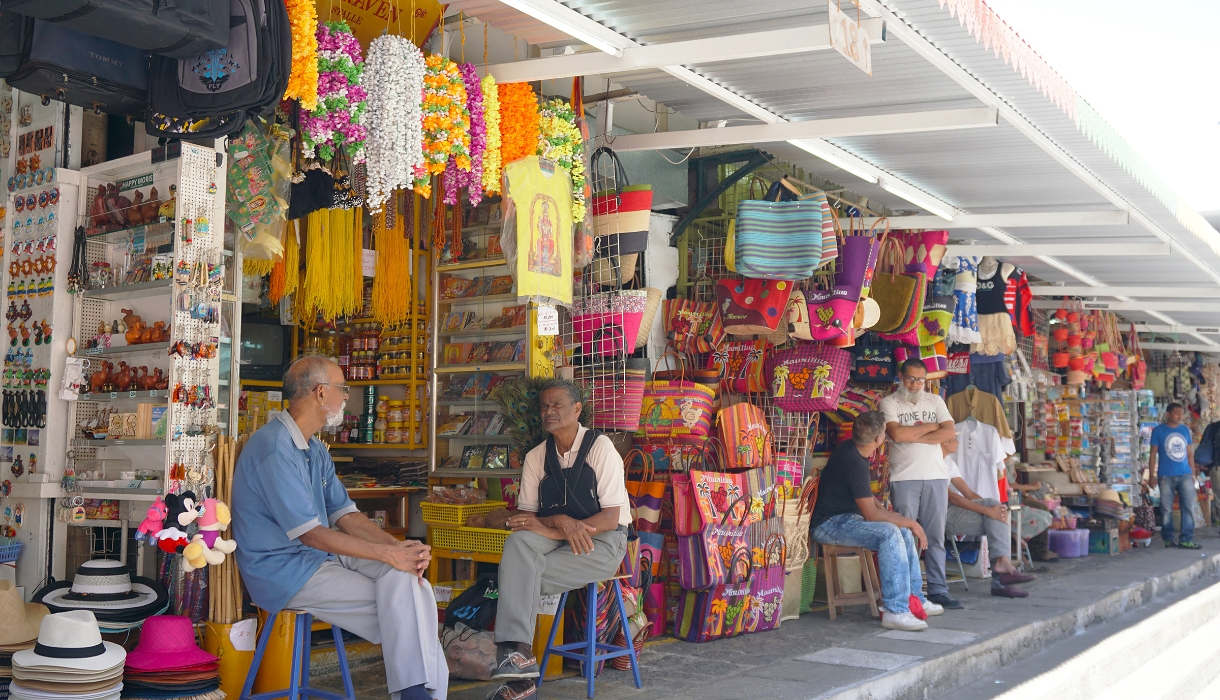 At the Port-Louis bazaar, you can find everything: fruit and vegetables of all kinds, colourful spices that perfume the atmosphere, butcher's shops and fish shops that offer fresh products, souvenir shops offering a wide range of craft products such as clothing of all kinds, basketry, jewellery, boat models and sculptures. Of course, we cannot forget the most popular stalls which attract people all day long, those of Mauritian cuisine.
It is the ideal place to discover culinary specialities from all five continents. There is a wide choice between 'dhollpuri, farata or roti' (cakes, of Indian origin), 'mine touni' (noodles without ingredients, Chinese speciality), 'bryani' (very spicy rice with meat of your choice, Asian speciality), and 'dipinourite' (bread filled with rougail or octopus curry). Rougail is a traditional tomato and chilli pepper-based dish, very popular in Mauritius.
As for drinks, you can have a 'glass' of tea with milk, already sweetened, and served by the ladle, or you can taste coconut water direct from the nut, (practice of all islands, including Mauritius) or ask for an "alouda" (based on iced milk, Indian basil seeds, toukmaria, and vanilla or almond essence). For dessert there is a choice between a slice of pineapple served with salt and pepper, very popular in Mauritius, or sorbets with local fruits or even soft cakes 'Gato moutaille' (jalebis of Indian origin, made with flour, yogurt, sugar and rose water). Delicious….
Do not hesitate to ask Laurent to bring you to discover Port Louis with Explore Nou zil.
It is a godsend for those who live in and around Port-Louis because they shop at the bazaar every day, being sure to find everything they need and at a low cost. It is also a real immersion in the authentic Mauritius.
Butchery: sensitive souls refrain….
We started our visit with the butcher shop, which is located near the entrance. The décor is exotic, with its white and black checked floor, these large work surfaces with piles of meat of all kinds, these jostling of butcher boys carrying huge carcasses on their shoulders…. It's like a huge industrial hangar. Victor was very surprised by the smell of meat and blood. Here, they sell mostly fresh meat, and I think that in hot weather, especially in Mauritius with its tropical climate, it is in their interest to liquidate their stock fairly quickly…
But let's not stay here and instead let's go to the poultry and fish section where a colourful show awaits us, with the chickens on legs freshly landed from Rodrigues Island, and packed in their large braided baskets. They are particularly appreciated by the Sino-Mauritian community, which does not hesitate to disembark early on the quay on the arrival days of the Rodrigues boat.
Not to mention the variety of fish coming from the port or from the four corners of the island… Fresh fish, mostly caught in Mauritian waters, are placed on an ice bed to better preserve them. The beautiful presentation of the multicoloured products immediately attracts the attention of visitors, who often stop to negotiate a good fish for a next feast.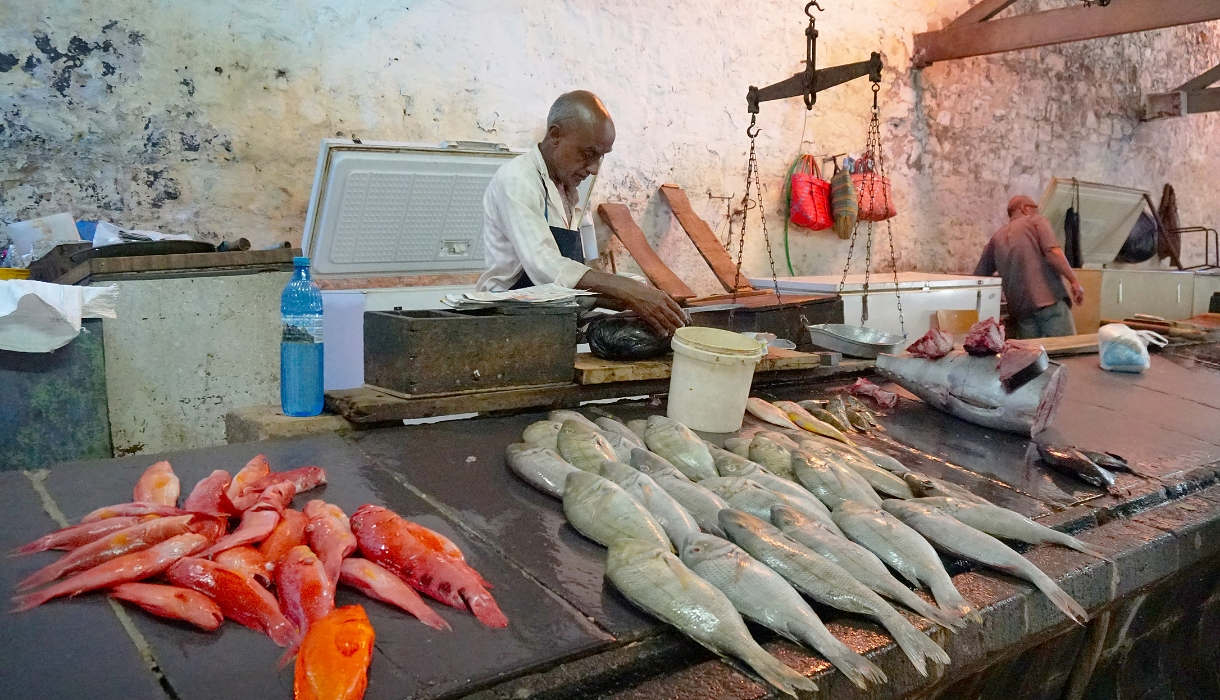 The colours of the Port-Louis market
Then we move to the most colourful, lively and interesting section, the fruit and vegetables stalls. Here, you can admire pyramids of tasty fruits and multicoloured and perfumed vegetables, freshly unloaded, to the delight of the housewives. What a festival of delicate smells and wild scents, something to delight the taste buds. As vegetables, we find onions, tomatoes, scrunchies, calabashes, giraumons, lalos, margozes, carrots, pastries, breasts, cauliflowers, aubergines, peppers. As regards fruits, there are bananas, grapes, pineapples, mangos, lychees, grenadines, papayas, silts, coconuts.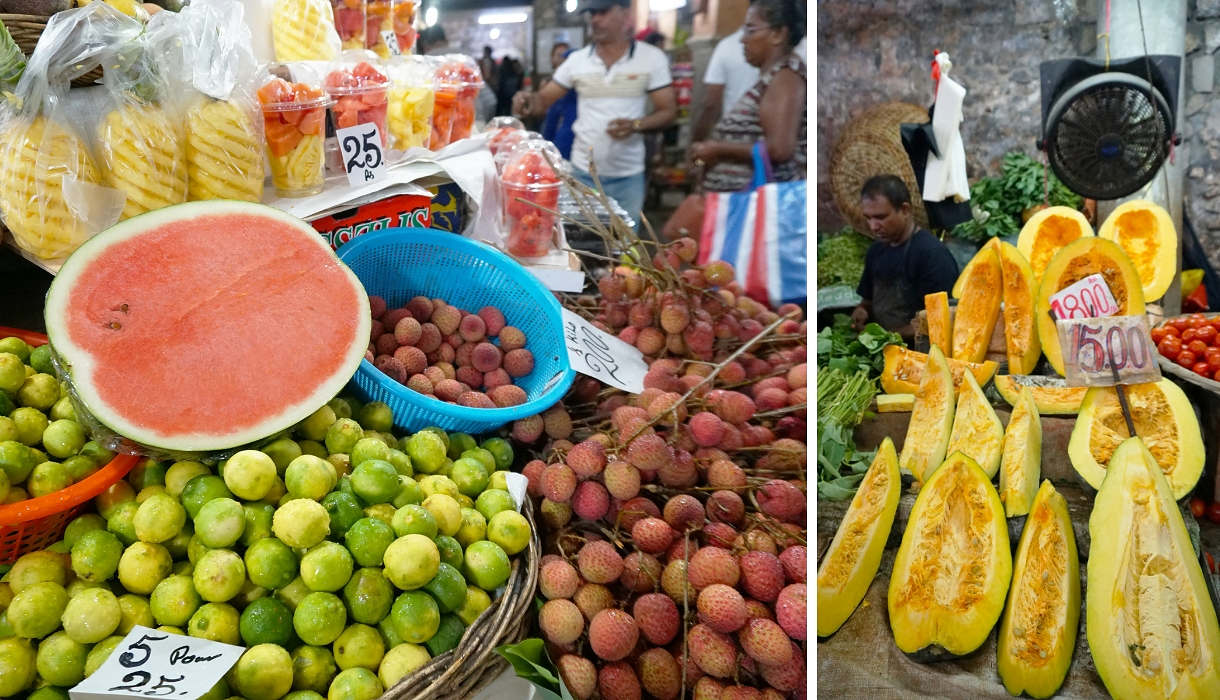 Some of these fruits and vegetables will not be familiar to foreigners and will seem terribly exotic. This is your chance to try them out. Thus, after having received more or less plausible explanations as to the high prices of certain local fruits, we are now the owners of a beautiful bunch of lychee fruit with small seed inside, better known as 'letchis tilagrain' in Mauritius, and of some 'red house' mangoes that we will make our friends taste.
Our friends were delighted to taste these tropical fruits for their first stay in Mauritius, while strolling through the market in an incessant uproar caused by the crowd talking and laughing loudly, the guile of the sales people who are shouting at you, bragging about their products. There are also the lively discussions on local politics, the results of the last horse races or the performance of their favourite English football team, much appreciated by the Mauritians. Paradoxically, Mauritian football is not at all popular in Mauritius.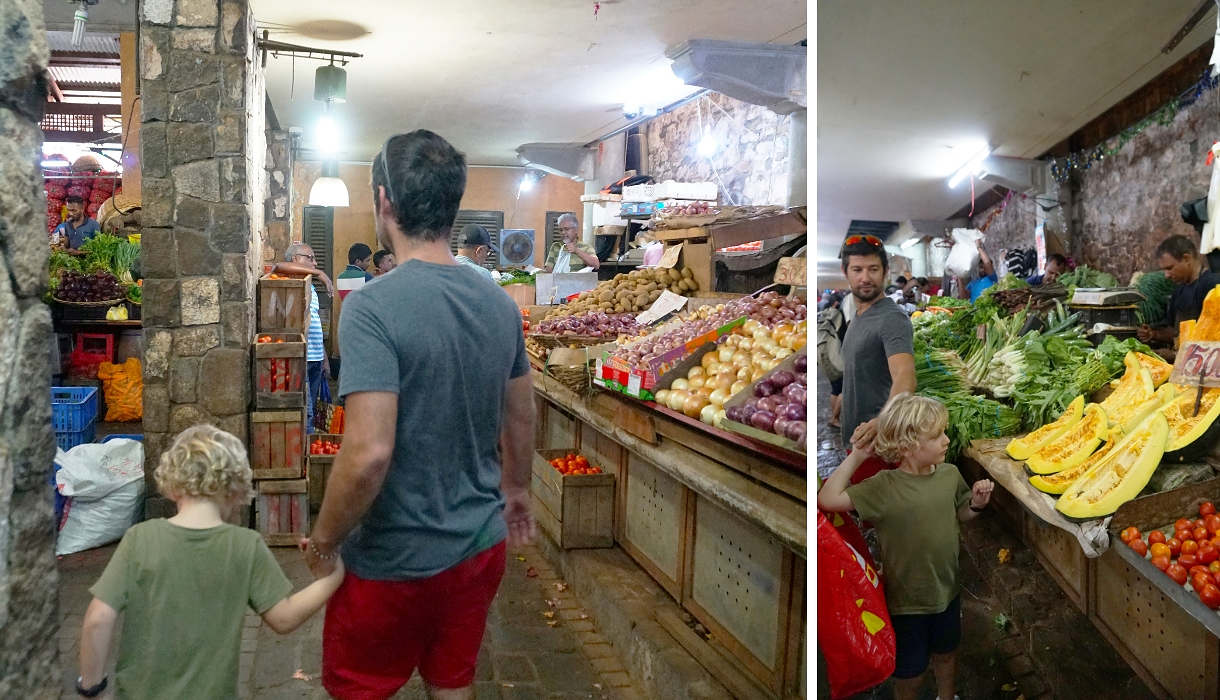 The miracle merchant of the Port-Louis market
To continue our visit we go to stand 244, the "Mootoosamy Herbal Teas". Known worldwide and the subject of many articles in the foreign press, (he is the one who asserts it very seriously) Mr. Mootoosamy is a key figure in the Port-Louis market. Here you can buy spices, plant leaves, herbs and roots, with which you can make infusions, herbal teas or concoctions that, he claims, can cure any kind of illness.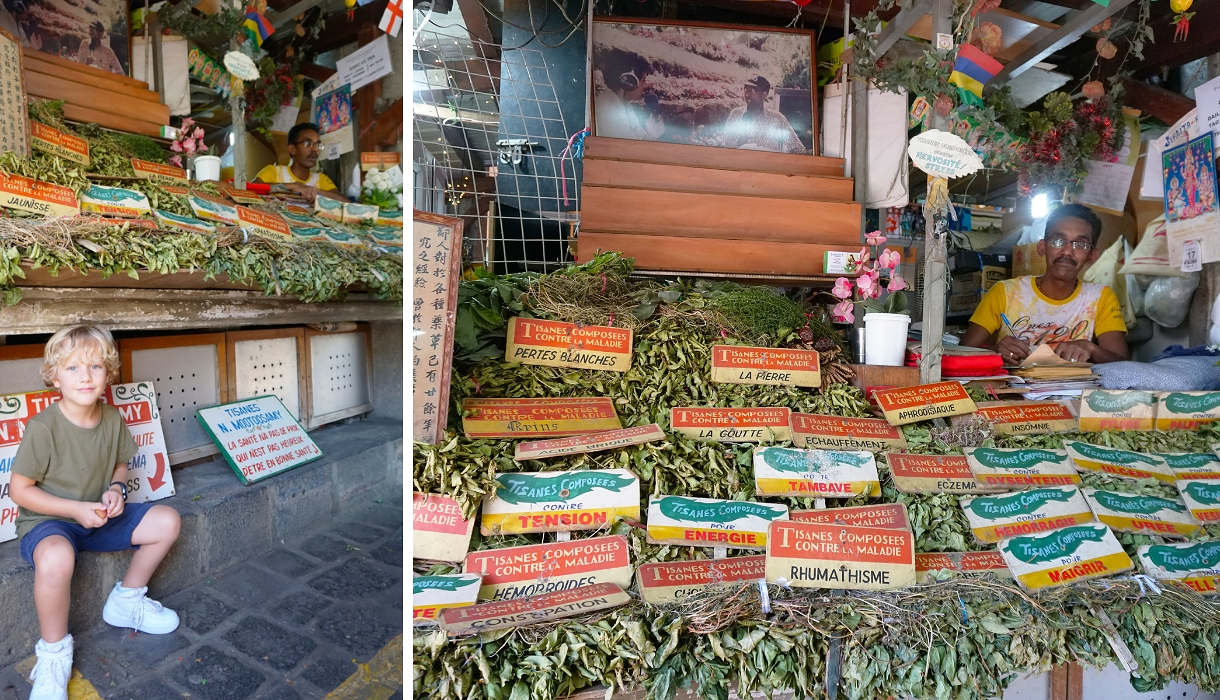 Just tell him what you're suffering from, and he'll hand a knowledgeable finger to a mysterious, dried plant: that's your cure! Have fun reading all the signs and you will see that he can cure any disease. There is even a sign above certain plants: "For everything else!" That's how sure he is of his products!
I have an interesting exchange with this gentleman who explains this endangered profession to me.
« I also had the opportunity to represent Mauritius at UNESCO and the African Union, because we have traditional herbs from the islands of the Indian Ocean. »
We immediately see the pride Mr. Mootoosamy exudes in telling us about this profession that is so dear to him, but which is less and less recognized. He claims to be very well known in his field and the knowledge he acquired from his father is passed on from generation to generation. I advise you to take the time to buy him a preparation to bring home, and at the same time, you will contribute to the safeguard of a rare and endangered profession.
« My family has been doing it for four generations. But I have a small advantage over my ancestors because I wanted to study pharmacy. I do homeopathy as well as traditional medicines. There are plenty of doctors who come to buy my herbal teas. Old doctors, they know the benefits of plants very well »
I really appreciate these exchanges, which are so exciting and enriching and which allow Mauritians to get to know each other better. This is one of the unique experiences to be done in Mauritius.
Victor, less interested, enjoyed the Lychees, sitting on the edge of the sidewalk, near the street-food district, in a small alley, where you can discover all the richness and diversity of Mauritian gastronomy. Don't miss this opportunity to stop by the next time you visit the Port Louis bazaar.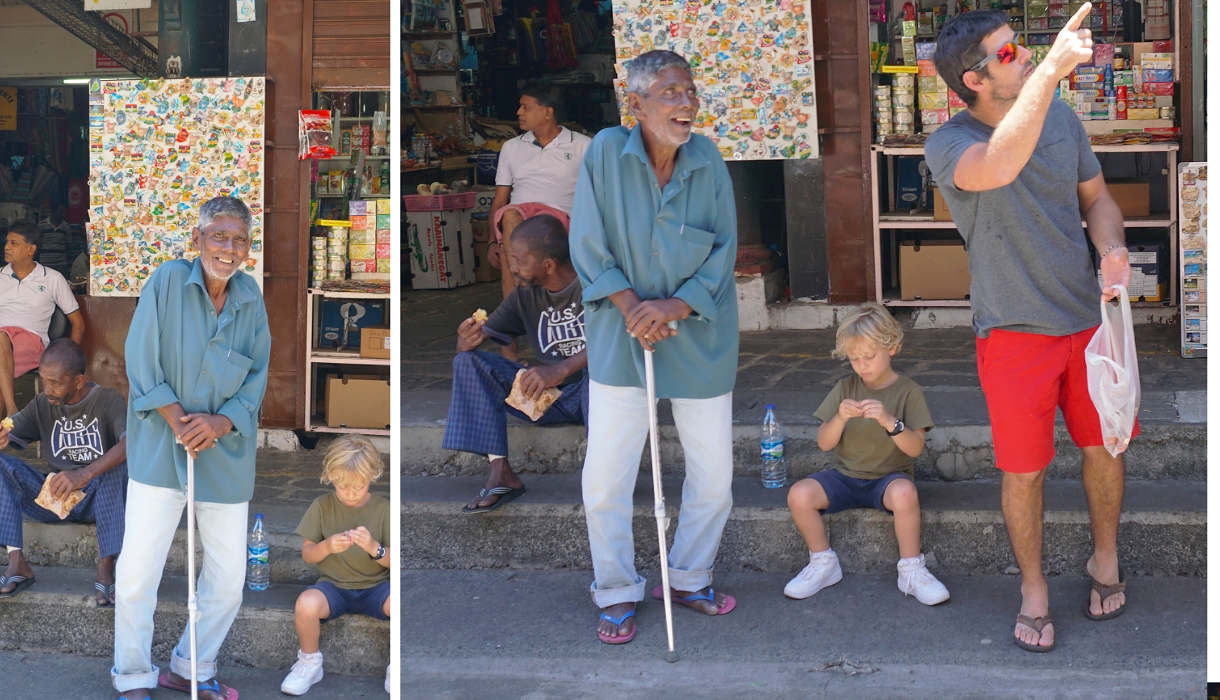 Discover the traditional brooms of Mauritius
To conclude our visit of the Port-Louis market and before going to China Town, we went to visit Premdath, a broom seller at booth 157. He sells traditional garden brooms, made with dried coconut leaves, soft home brooms, 'fatak brooms', made with mud flowers tied in boots, "coconut" brushes to wax the floor, as well as delicious coconut water rich in vitamin, calcium, potassium and magnesium, so excellent for your health.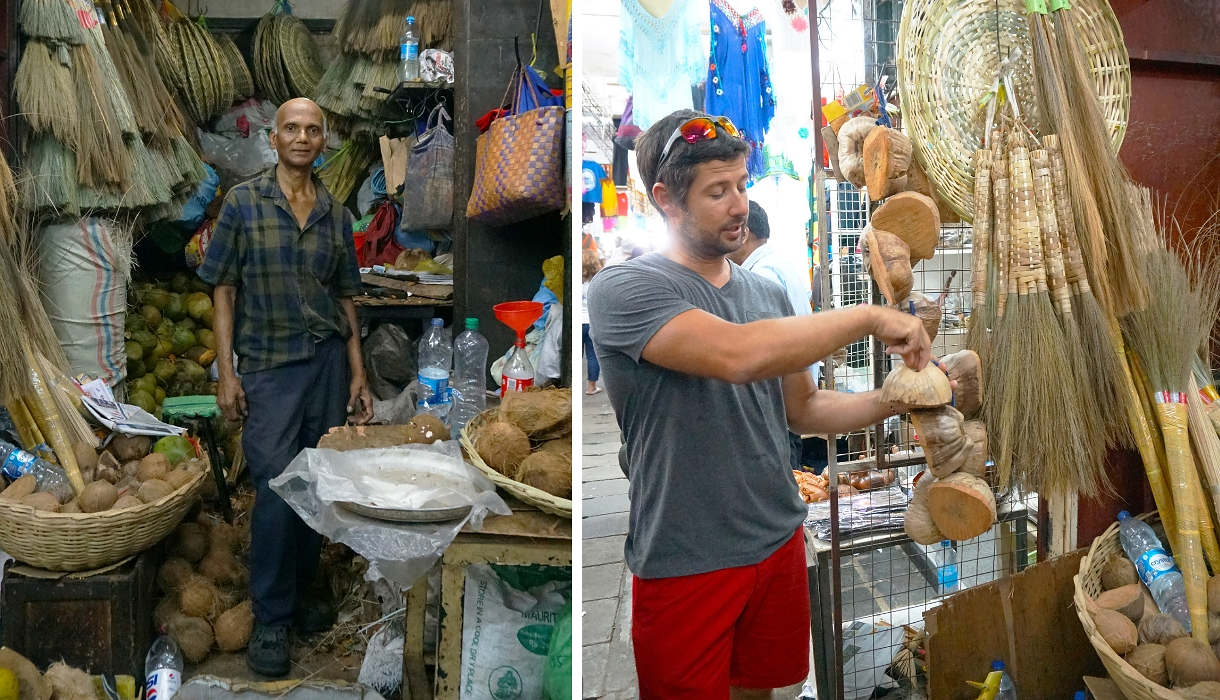 Unfortunately, this profession has almost disappeared, because the young people no longer want to take over. He can no longer find anyone prepared to make the brooms for him, and he is forced to bring some from Madagascar. This is unfortunate when you consider that Mauritius has all the raw materials necessary for the manufacture of these brooms!
« I have been working in the market since 1965 and the job is getting harder and harder. People buy less of this type of broom and prefer more modern brooms».
Once again, I really appreciate this moment of relaxation. Simple but sincere exchanges lead me to get to know my fellow man better.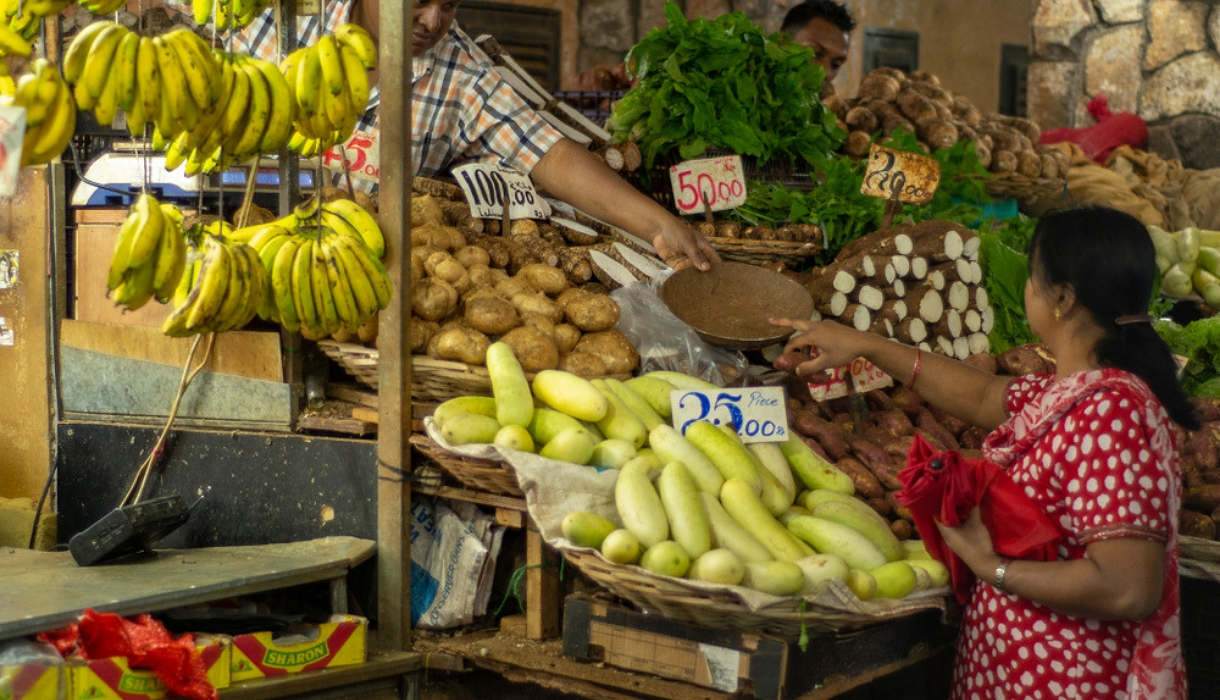 Finally, to conclude our friendly visit to the Port-Louis market, we challenged Pierre, the French friend on holiday in Mauritius, and who had never eaten a chili pepper in his life, to taste a "firecracker" chili pepper, considered to be the strongest in Mauritius.
Click on the video below to see if he has taken up the challenge
The unavoidable market of Port-Louis in Mauritius, the authentic lung of the old city, open from five and a half hour in the morning until six o'clock in the evening, is certainly the most popular meeting place for the Mauritian population and undoubtedly symbolises all the authenticity and diversity of the Mauritian nation. We find there, concentrated, all the Mauritian folklore, but authentic. On the other hand, beware of a few indelicate sellers who try to abuse the ignorance of foreigners for local goods' prices: a single watchword, bargain! The custom is part of local mores, so don't hesitate !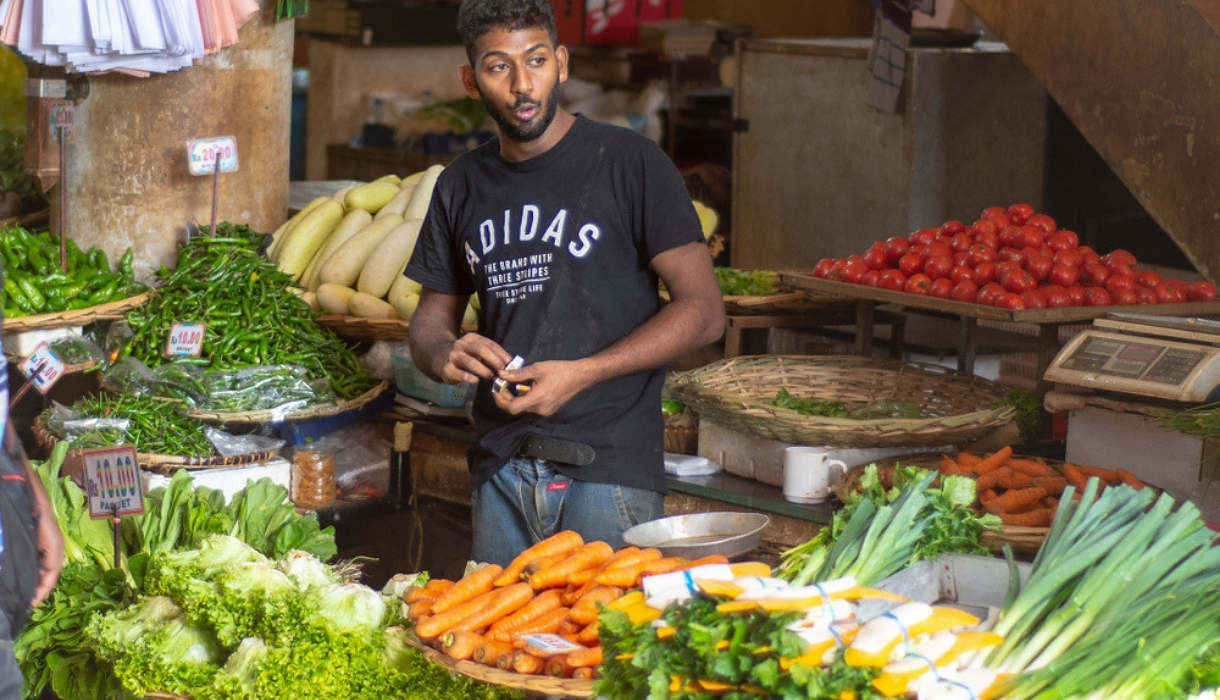 Our friends were delighted with this wonderful Mauritian culinary and cultural experience, and for having been immersed in the authentic Mauritius. And even if the visit may seem like a part of the normal tourist itinerary, don't hesitate for a second to experience the visual and olfactory experience that makes the Port-Louis market one of the essential activities to do on holiday in Mauritius! A must do in Mauritius.
Do not hesitate to contact us. Laurent will bring you with pleasure in the streets of Port-Louis to live a unique experience, to discover the history of Mauritius and the culture.