The wild South of Mauritius

"For those who love history," la cambuse", the lazarette in the traditional navy, is a ship's local between the hold and the false deck, where part of the food is stored. This is where the cambusiers distribute the uncooked food to the crew on a daily basis. It is a dark and often poorly ventilated space. This name immediately evokes the beautiful sailing ships facing the raging seas and still has for us, Mauritians, a perfume of History…" tells Laurent.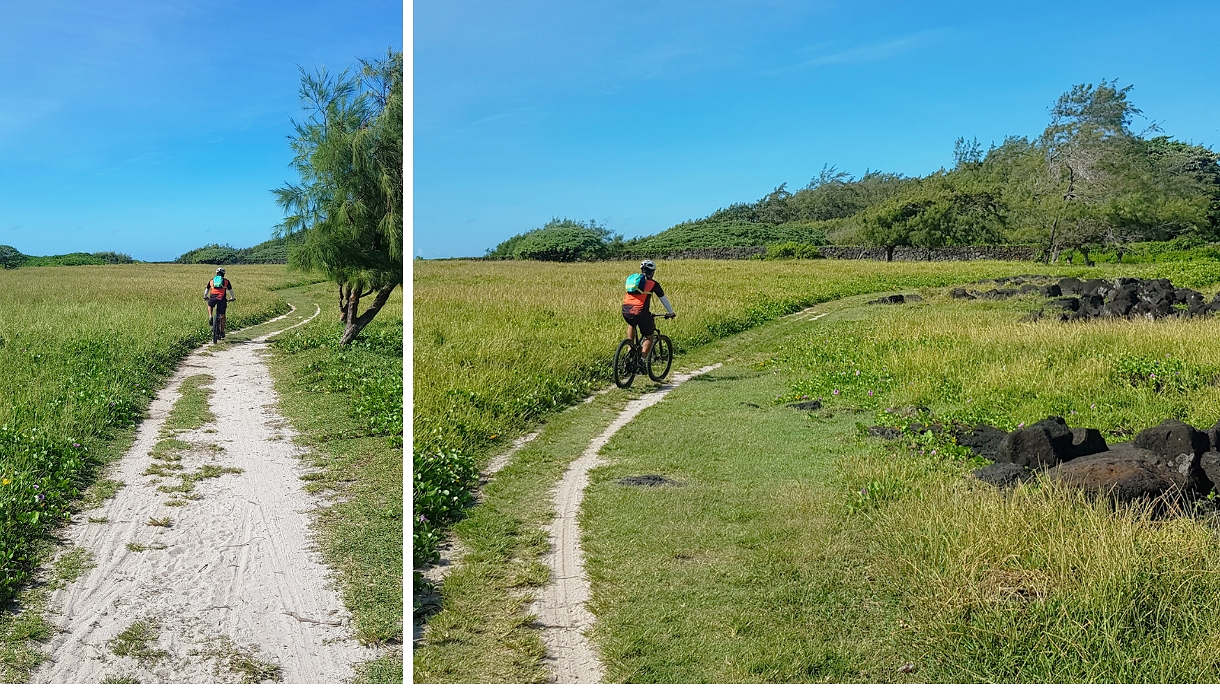 Laurent and I have set off for a new discovery of Mauritius by electric bicycle; La Cambuse ride… So beautiful, so magnificent that Explore Nou Zil now offers group excursions on request. Those who have ears should hear!
Located not far from Sir Seewoosagur Ramgoolam airport in the south of Mauritius, La Cambuse beach is not part of Mauritius' traditional tourist circuit. La Cambuse is a magnificent beach, quiet and rarely visited; it is a haven of peace for your holidays in Mauritius. Filaos and veloutiers bring their fair share of shade to this little-known beach which reserves beautiful surprises for anyone who wants to do an original activity during their holidays in Mauritius or even to our Mauritian compatriots who have never visited it.
A smooth start
IIt is 9am and we start our ride from the public beach of la Cambuse. It is a dreamy weather, a dazzling sun that Mauritius has in store for summer. This journey as a couple on electric mountain bikes on Mauritian soil promises to be a "sweet excursion ", idyllic. We ride along the deserted beach of la Cambuse and discover breathtaking landscapes. The extreme turquoise sea invites us to swim but the currents are strong in the region and we are here to practice an outdoor activity, not to swim… The area is still wild and there are only a few constructions here and there. Mountain biking or standard electric biking is perfect for Mauritius as it enable us to take these small paths that are otherwise inaccessible.So, if you want to discover this South coast in a completely original and relaxing way, this walk is for you!
Contact Explore Nou Zil (Mauritius) who will take care of the whole organization.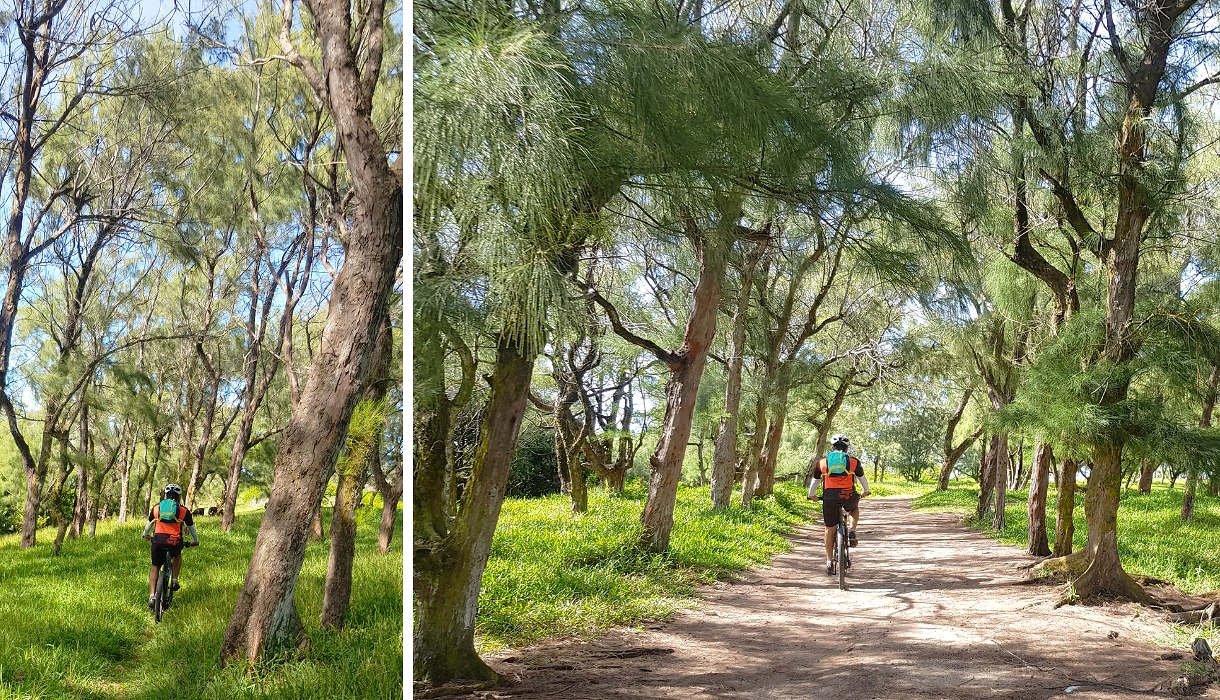 A meeting that scares "meuh"
We arrive at the edge of a forest, where the grass is rather high, and the path barely visible. There, surprise: we discover a herd of cows and oxen grazing peacefully on soft grass. At once I panic because the horns of these animals are rather long and the path is narrow. I tell myself that they are probably not used to seeing people riding bicycles next to them.
So how do I get through?Send Laurent as a scout?
Huh! What a "good" idea! I am reckless, but not stupid.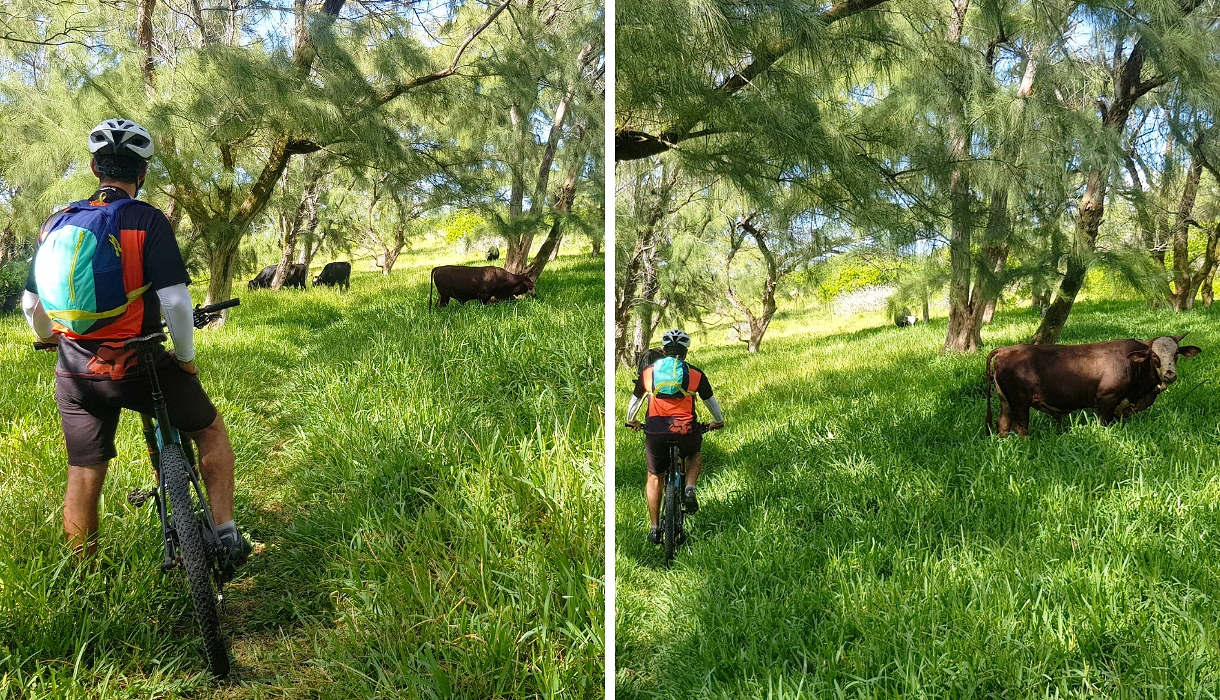 Laurent goes first and to my great relief, the cows don't flinch, and don't even turn their heads. It's almost offensive! So I pass without fear. ?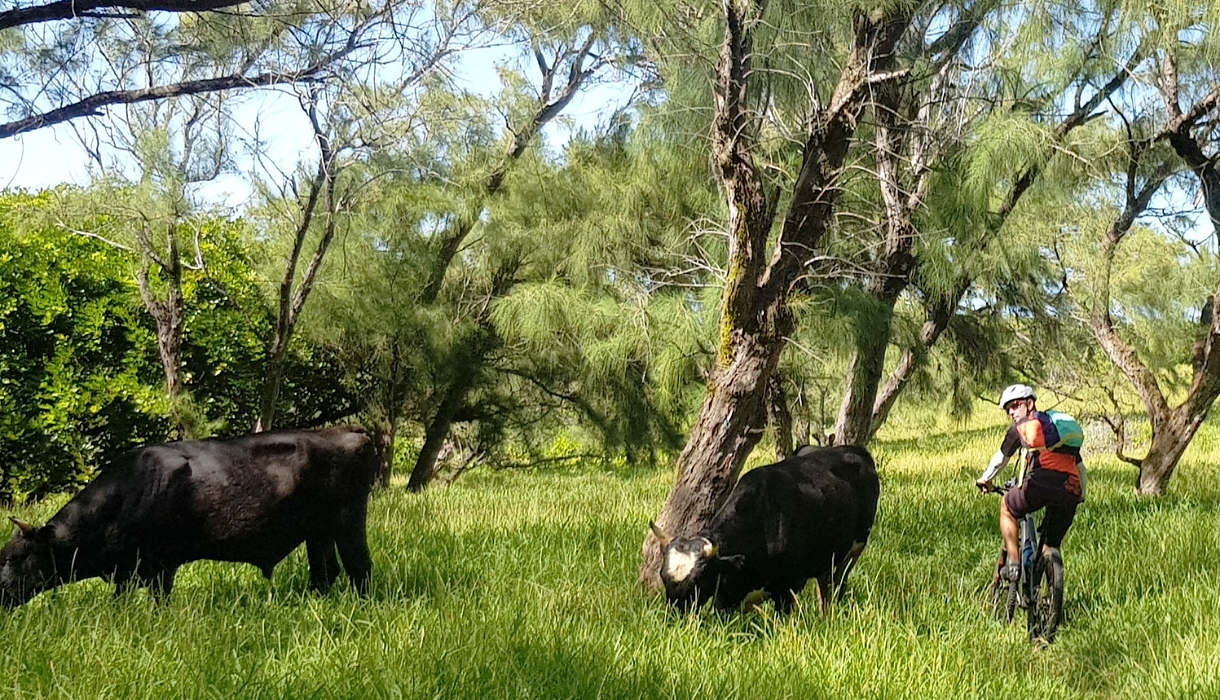 Trails that smell like holidays
We continue our ride on rather driveable and flat paths. We take great pleasure in alternating small dirt paths,which are found a little inland, with those made of sand along the beach.A real pleasure for the eyes, but also for the soul: you really feel alone in the world. It is true that this wild area is outside the usual tourist circuits of Mauritius, it is a real little corner of paradise for those who dream of exclusivity…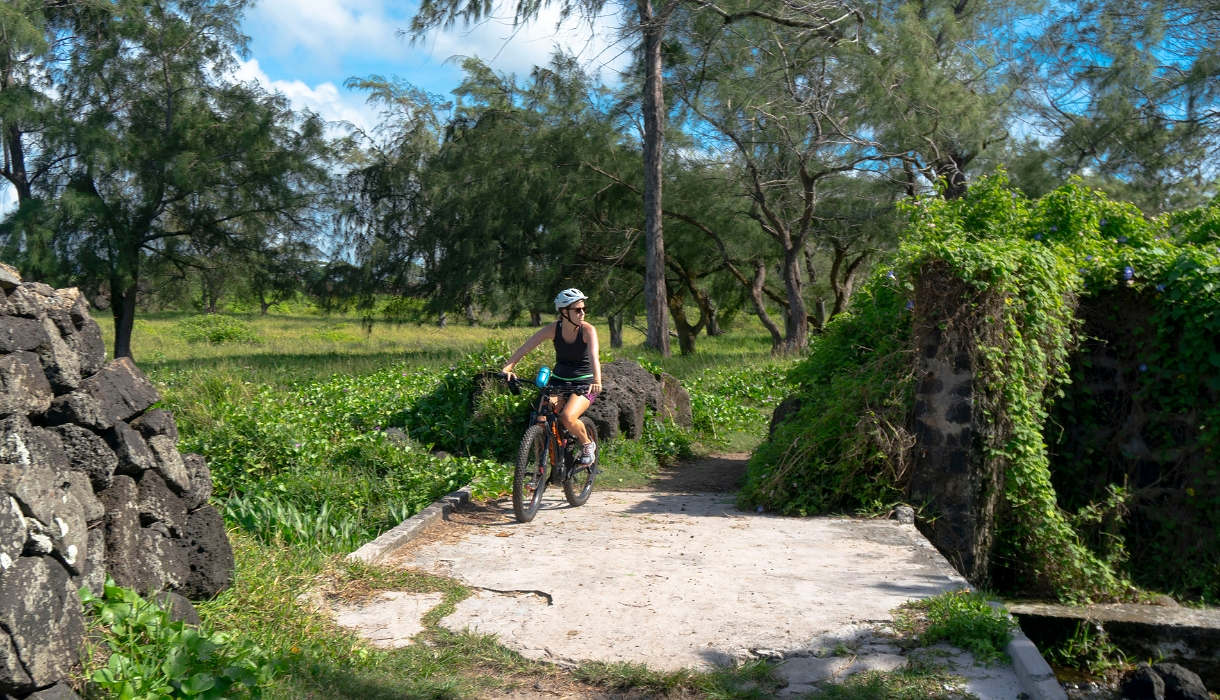 The weather is superb and we have a stunning view on the whole lagoon. As we go along we discover small wild coves of the Bouchonwith pirogues (small wooden boats) of fishermen already back from fishing. Crystal clear water, a setting worthy of a postcard, is the guarantee of a successful holiday in Mauritius! "Beauty is the promise of happiness."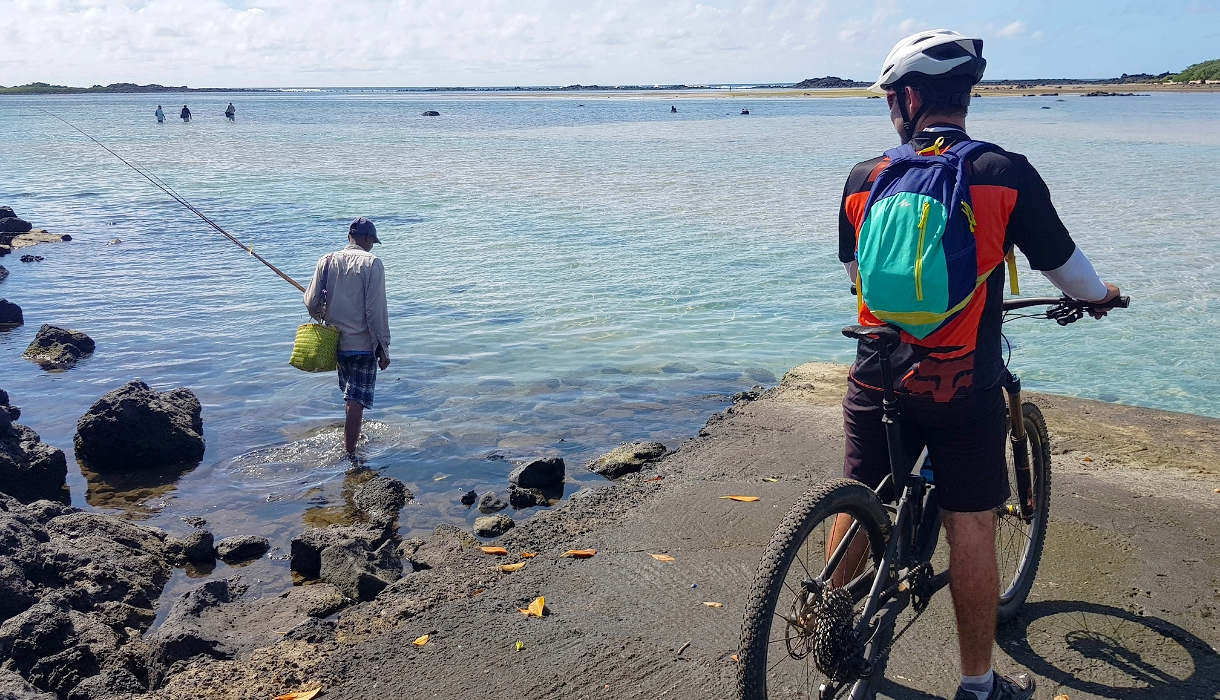 A more technical part
The road is more and more technical, because there are rocks and you have to zigzag, cross, bypass these obstacles while staying on the narrow path. This is great fun, and it really allows you to practice mountain biking. It must be said that electric bikes are most suitable for this type of terrain.
Further, the fact that there is an electric assistance allows me to take the slopes with ease and not to be left behind by Laurent who, as usual, rides a traditional mountain bike; he has a much higher sporting level. The electric bike allows me to do many rides with Laurent without difficulty and at a good speed.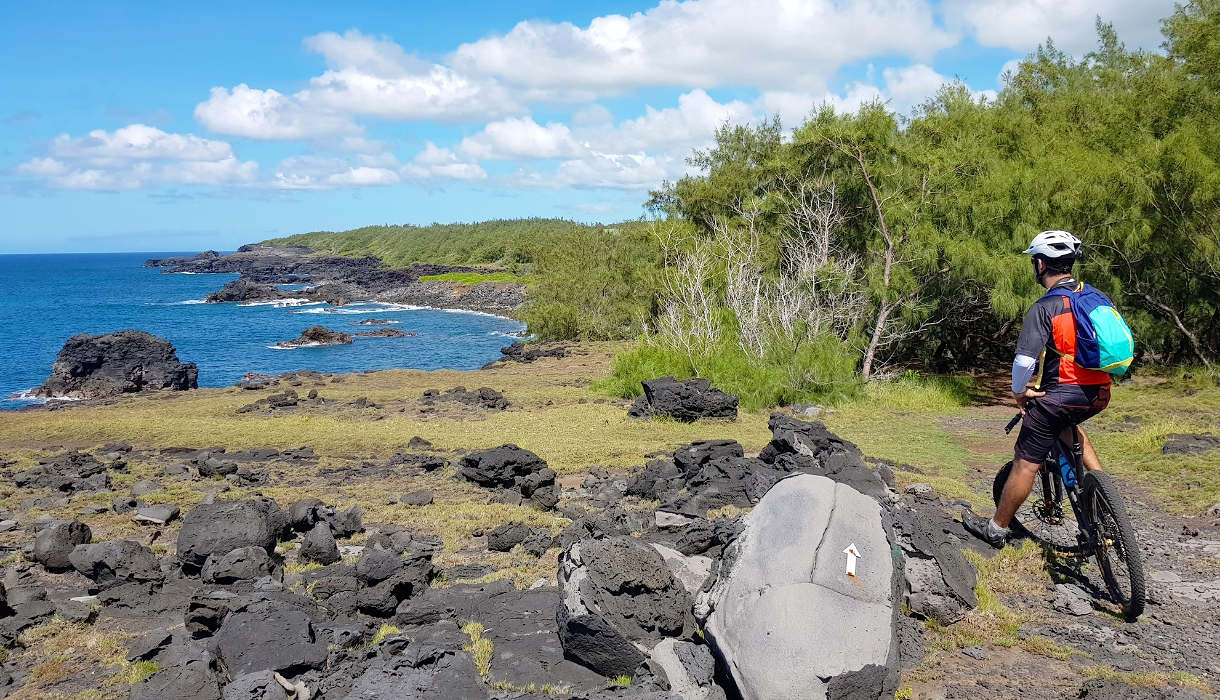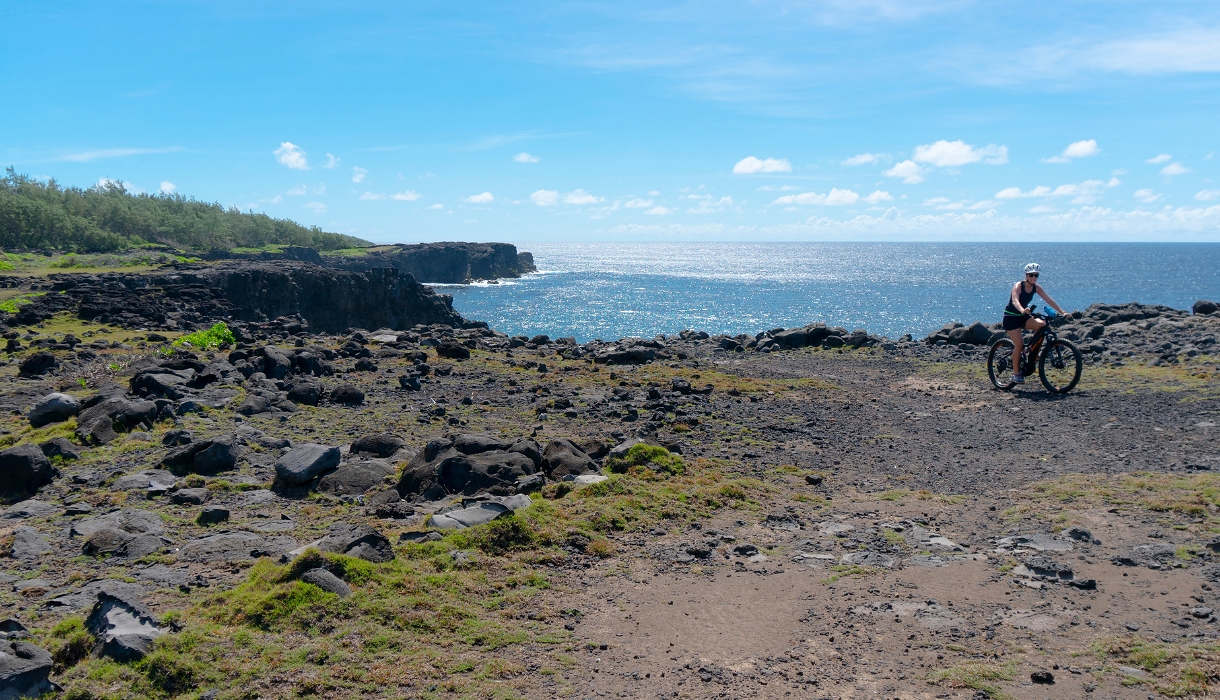 The tumultuous cliffs of South-East Mauritius
We finally reach the cliffs, and we end up on a bridge naturally carved in the rock by the wind and ocean waves. It's very impressive to see these waves crash and to hear the wind whistling as it rushes under the bridge, what a marvel!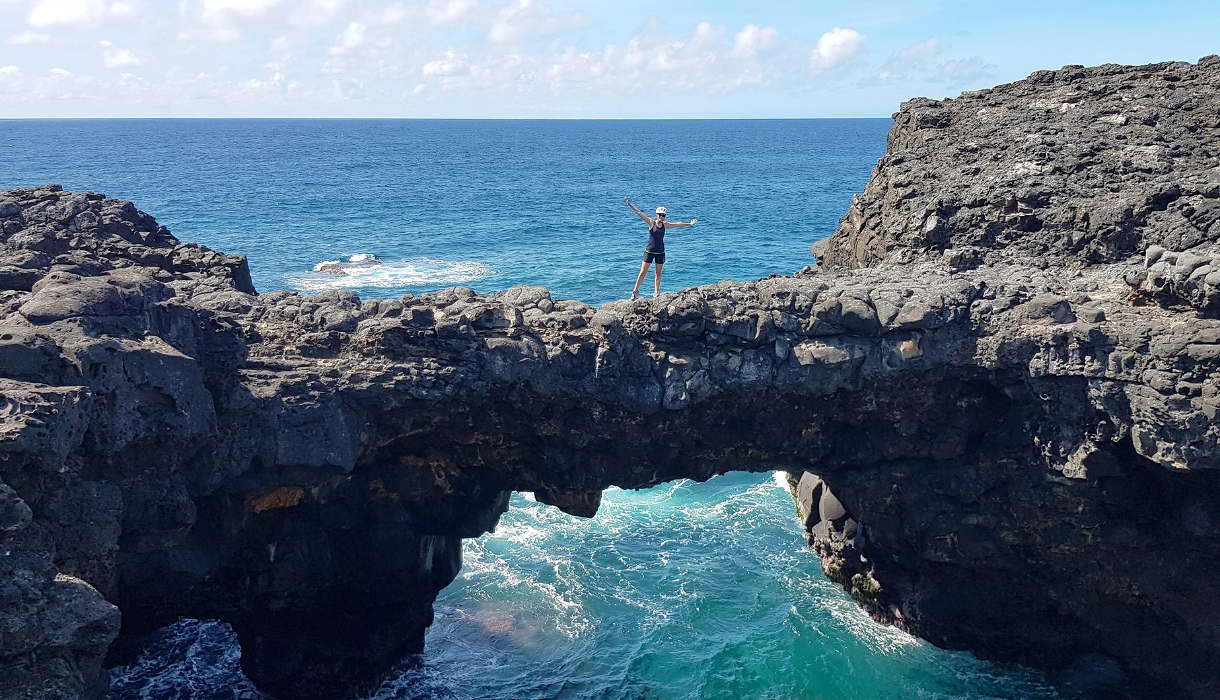 Some tourists who came by bus are already there, taking pictures. We walk on the rocks and observe this wild and totally preserved nature of Mauritius.
Apparently, marriage proposals are often made in this enchanting setting… I think that in these circumstances it is better to say yes…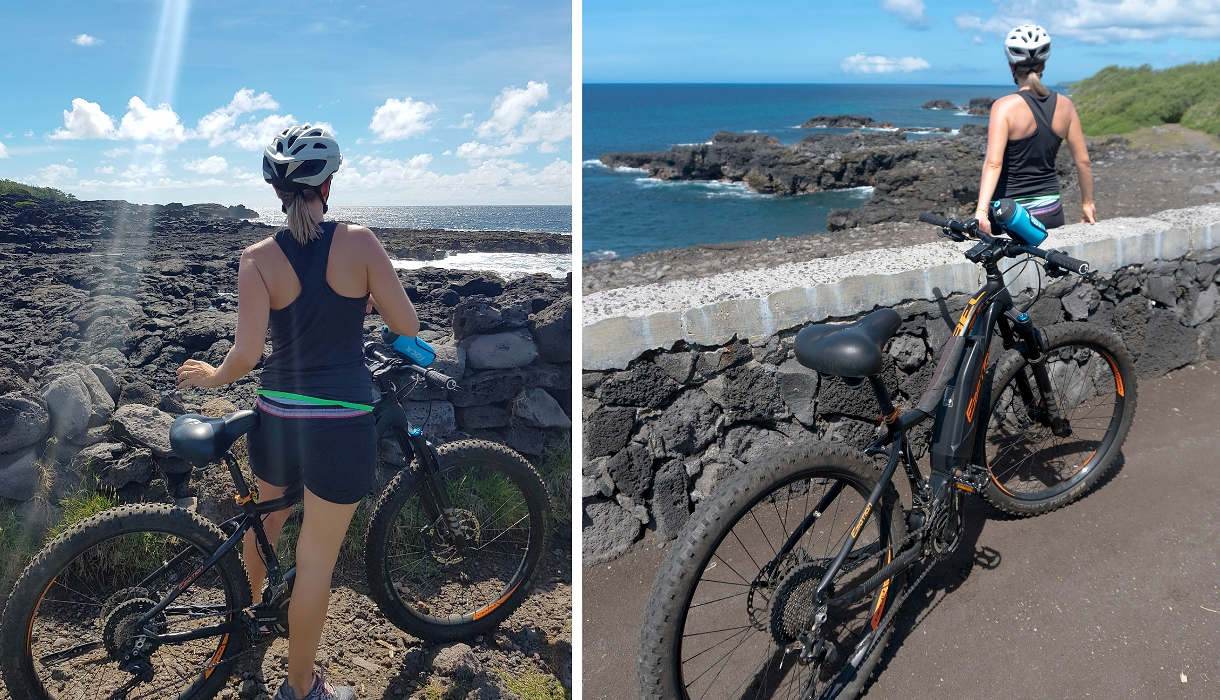 The place where we stand to observe the Blower, this natural cavity carved into the rock by wind and waves, is particularly well designed to allow both foreign and Mauritian visitors to observe this phenomenon in comfort and safety. However, this phenomenon only occurs when the sea is rough and the waves are sufficiently spaced apart. The show is then very impressive!Don't forget to go there during your holidays in Mauritius, it's worth a look.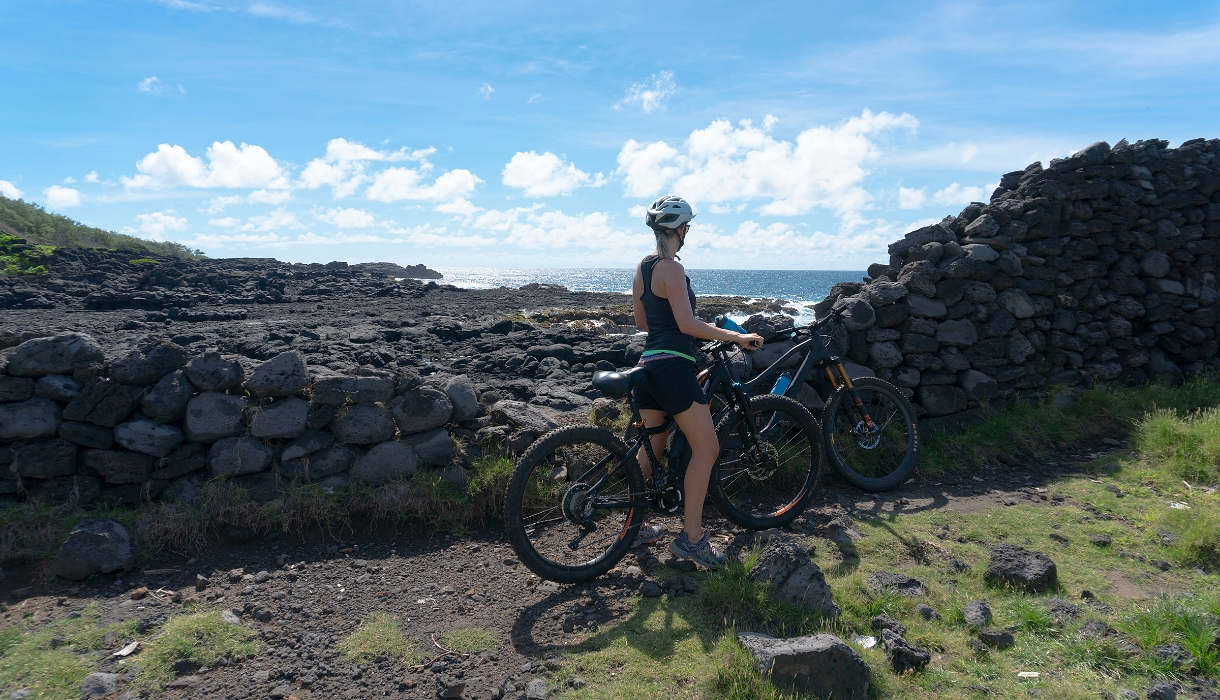 A sweet oasis, the factory, Mon Désert -Mon Trésor
It is now quite hot and we take the road again driving through the cane fields. We are now in a gently sloping terrain which does not prevent us to drive at high speed as these grounds are well suited for mountain bike rides. And with my electrically assisted mountain bike I really enjoy myself, as well as Laurent who is always eager for outdoor activities!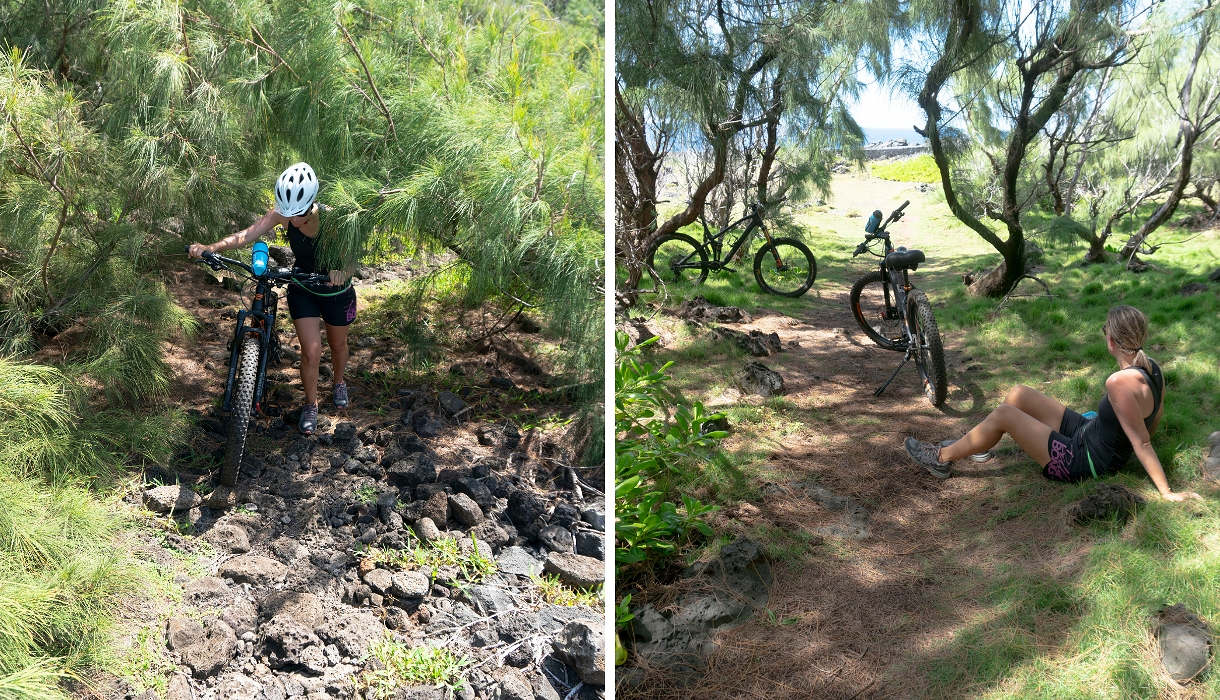 What a disaster, we have no more water and we are thirsty. So we stop at the Mon Désert-Mon Trésor factory to ask someone for some. How fortunate we are! They have a refrigerator and they brought us fresh water. It really saved us, because, dehydrated, I was starting to have a headache. Once rehydrated, rested, and rejuvenated, we set off again and pass through the friendly little village of Le Bouchon. The dogs lying on the sun-heated road do not even get up when we pass by. I'd rather that than have a dog hanging on my calf!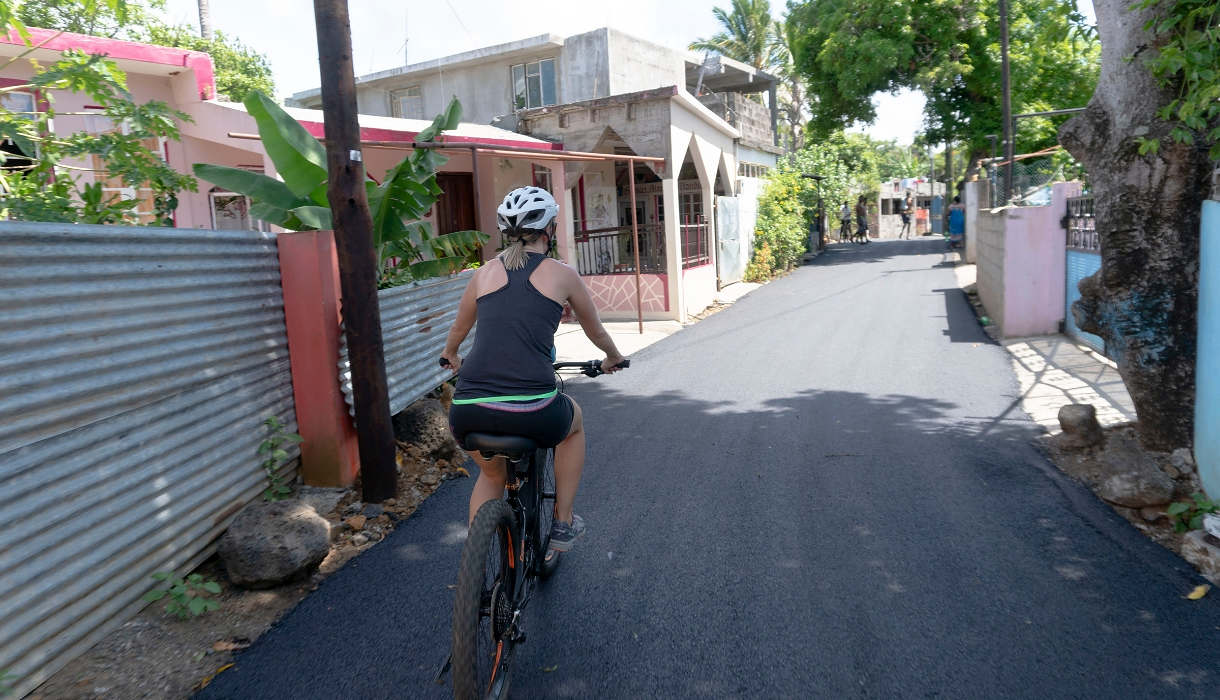 How beautiful our Mauritius is!We love this walk in la Cambuse so much that we will try to bring our friends who are currently on holiday in Mauritius. After 2h30 of electric mountain bike for me and classic mountain bike for Laurent, we finish the loop, delighted with this magnificent day. We will not fail to add it to our list of favourite activities which Mauritius has to offer.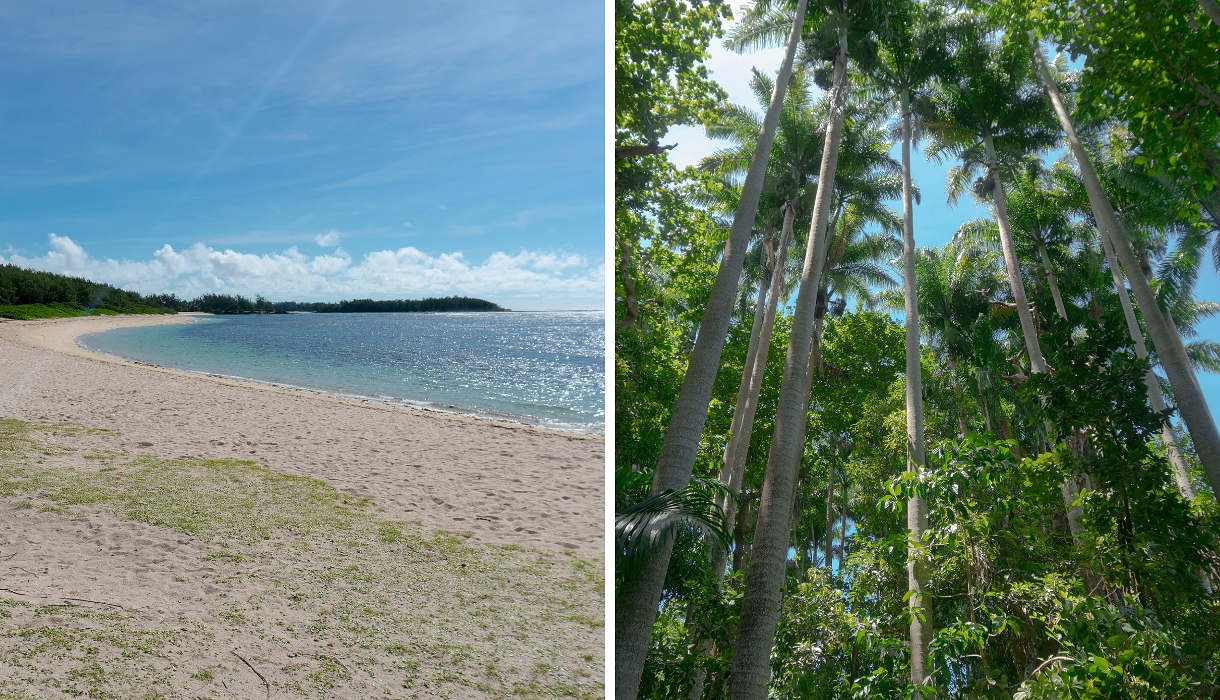 I would like to recall that this mountain bike tour in the South is perfect for those who dream of an uncommon sports activity with their family in Mauritius. To ride an electric or conventional mountain bike and practice an outdoor activity while admiring the beautiful nature, this is what Explore Nou Zil has to offer.