Arrival at the hiking site with the children
Like its name suggest (making the boys laugh) it was the "3 Mamelles" mountain (literally "3 udders" in French) that we decided to attack this Saturday.
We can say that for young hikers this could be a complicated hike. However, our second son, sporty by nature, managed to keep up, though being only 6 years old. We even brought our dog Jack with us. We can thus say that it's a hike that's accessible to all. Out of the three peaks, we chose the middle one, as it represents the most accessible way to the top. A simple trek, a family excursion in Mauritius!
Serye net! in the local language (superb, top)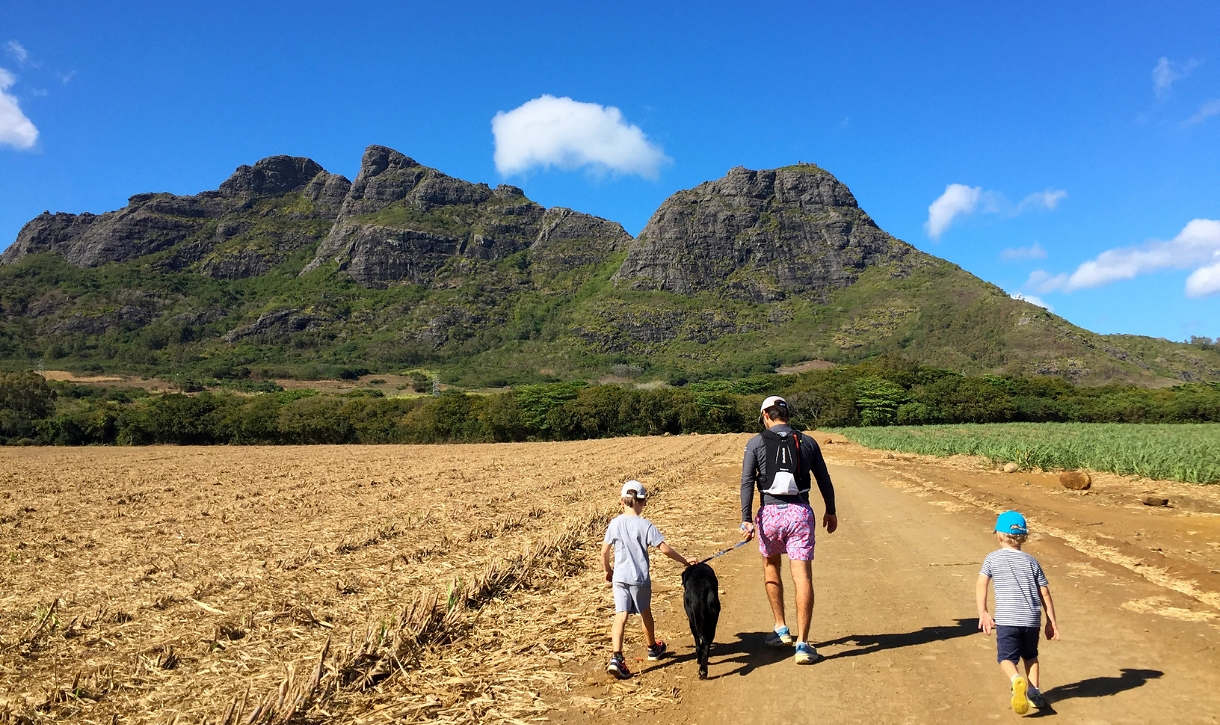 The ideal way to do this family excursion in Mauritius, is to park your vehicle down the starch road, in the sugar cane fields, and then follows a short 10-minute walk. For those who would like to save on their resources, you can drive to the foot of the mountain. But I assure you that it's a pity, as you will miss the charm of a nature walk which is very pleasant. On your way you will be able to see inscriptions on flat stones which mean that we are on the right track. 'Go on the track', or 'let's go for it: these 3 udders'
No special equipment is required, only a pair of good shoes, water (without any moderation), solar protection and a picnic to refuel the climbers at the summit.
Breath-taking landscapes: how beautiful is our island Mauritius, its mountains and its nature !
This setting is really beautiful. Wild and lush, this nature is exceptional and so enchanting that it lets you believe that you are alone in the world, the more so that we didn't meet anyone. Our family excursion on our Mauritius Island started as a dream.  I would add that doing this excursion as a group is a good idea. In addition to being fun to share, it acts as a booster while tackling the most steeply parts. Our children fully enjoyed the brush-filled trail that climbs into the undergrowth. As parents, it is in good taste to accept all their offerings: stones, flowers of all kinds but to encourage them to keep moving forward. Family activity: yes, but let's not delay because we have to climb…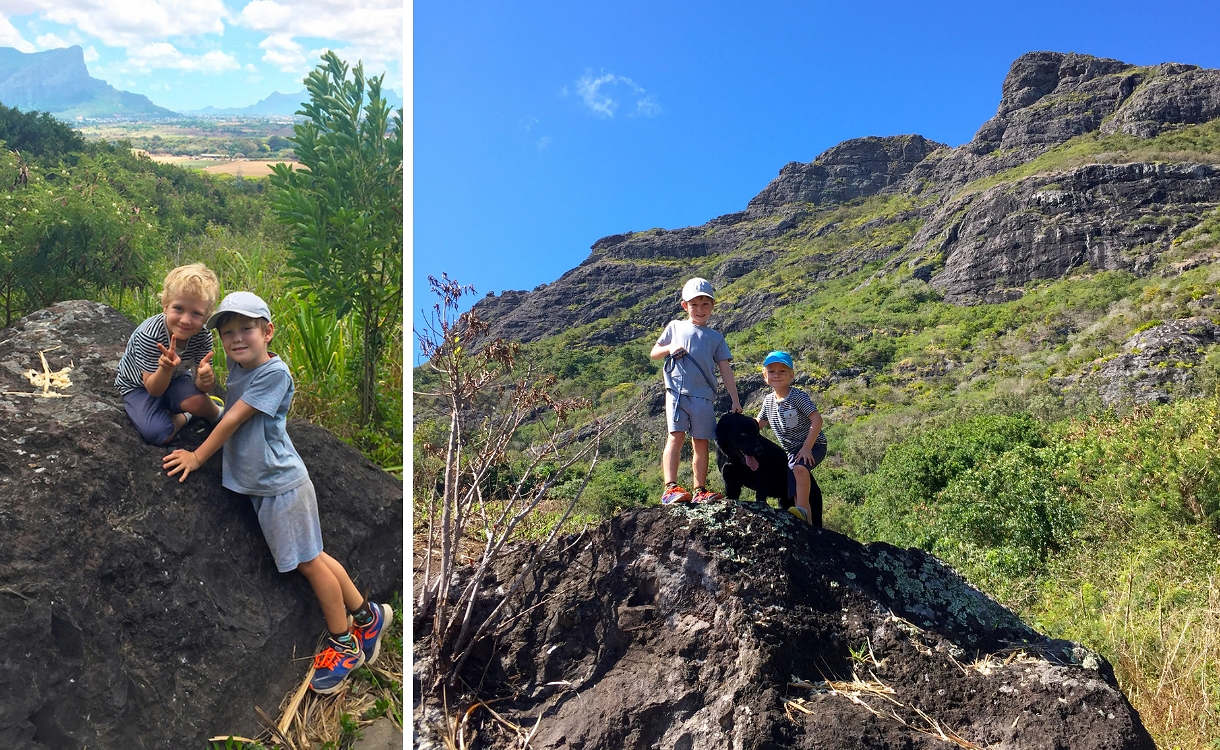 The aim of this family excursion is to reach the summit                                                                                                                                      
After a few gentle bends, the path leads into the undergrowth, for a shaded and relatively cool spot. We took advantage of this pleasant atmosphere to have a well merited rest before we embarked for the final act. Directives are given: 'No more rest before the summit', 'Do not leave the track as the void is not far away' and 'Remain cautious and focused'.
It took us an hour to reach the "window pass" without many sufferings. But it would be a different affair to reach the top. The climb is very steep and the emptiness is omnipresent. The strong wind gave us enough of this feeling of height and this, combined with the feeling of emptiness, made us feel like experienced mountaineers. However, for security reasons we decided not to go to the very top, staying about 20 meters from the summit.
We took a good break for lunch and photos. All tightly packed we admired a breathtaking view. To the North we could see the majestic Corps de Garde mountain and the Moka range, and to the South the famous Morne mountain reach in history.  The fields of Yemen, yellowed by the bright sun, are super and offer a magic contrast with the surrounding green valleys.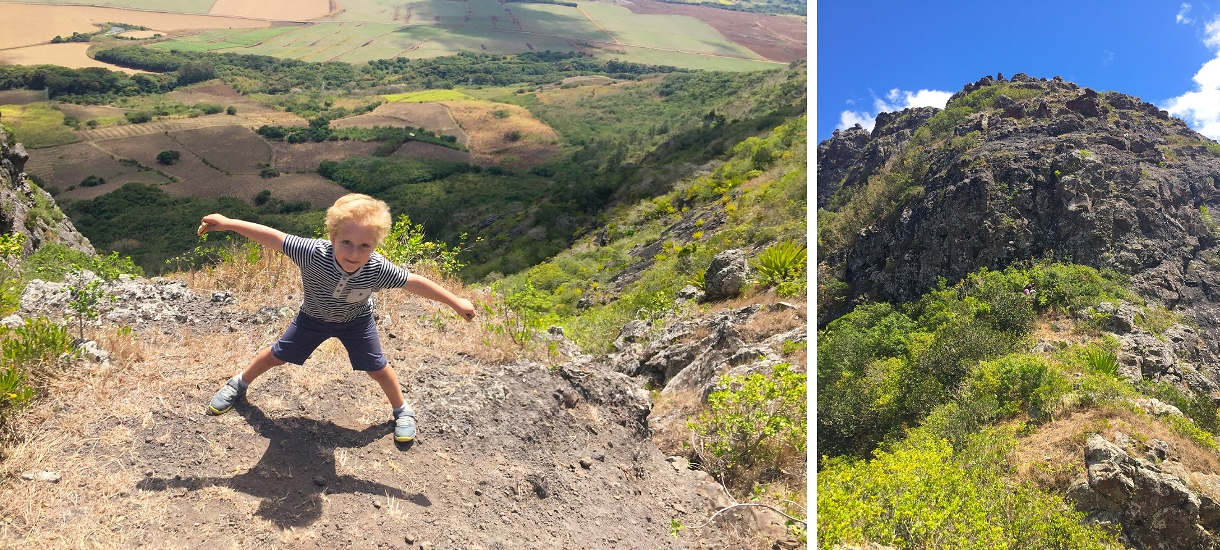 Back to the starting point: an extraordinary family hike
The descent is going very well and everyone is delighted with the achievement. Our island Mauritius and its mountains offer an incredible choice of small mountain treks that I am sure will seduce you. The children were proud of their ascent worthy of a great achievement and we saw them tired but amazed by their rather sporty trek!
Hereunder is the list of our beautiful Mauritian mountains and I would be happy to advise you if you want to take your friends or family for a different way to discover Mauritius!
PRACTICAL INFORMATION :
Les sept autres montagnes pittoresques de l'île Maurice
 Piton de la Petite Rivière Noire : Situé dans le parc national des Gorges de Rivière-Noire, le piton de la Petite Rivière Noire ou le mont Piton est connu comme la plus haute montagne de l'île. Elle culmine à 828 m d'altitude.
Pieter Both: Est située dans la chaine de montagnes de Port-Louis et de Moka. Culminant à 823 mètres d'altitude, elle tient son nom du gouverneur général des indes néerlandaises.
Le Pouce : Se situant également dans la chaine de montagnes de Port-Louis et de Moka, le Pouce monte jusqu'à 812 mètres d'altitude. Ayant la forme curieuse d'un pouce, la montagne se dresse entre le Pieter Both et la Montagne des Signaux.

La montagne des Signaux

: Tout comme le Morne, la Montagne des Signaux est une figure emblématique pour l'île Maurice, non seulement grâce à sa beauté mais également pour l'histoire qu'elle cache.
Le Morne Brabant : Classée patrimoine mondiale par l'UNESCO en 2008 sous le nom « Paysage culturel du Morne » et culminant à 555 mètres, la montagne abrite une végétation luxuriante, avec des plantes endémiques et exotiques à perte de vue.
Corps de Garde : Visible depuis la ville de Rose-Hill et celle de Quatre Bornes, le Corps de Garde, d'origine volcanique, est située entre la montagne du Rempart et Le Pouce. D'une altitude de 720 mètres, elle est le 4e sommet le plus haut de l'Ile Maurice.

Montagne du Lion

: La montagne du Lion se trouve dans le sud de l'île Maurice, non loin du village de Vieux Grand-Port. Elle atteint 480 mètres d'altitude et faisait office de mirador en 1810 pendant la fameuse bataille du Vieux Grand-Port.