A smart hotel for you to relax with your family during a week end.
All those who want to enjoy a whole week end with their family in a smart hotel just have to repeat our experience.
Living in the little village of Tamarin we feel essential to have regular outings with the whole family in search of new exotic places all around our small but beautiful island of Mauritius. We normally spend half a day on each occasion, but this time we decided to go for a whole week end in a hostel. We just wanted to slow down our tempo, get to live in a different environment, relax and share this adventure with our two boys.
The selection process did not last long and we opted for le Canonnier Beachcomber Golf Resort & Spa – Mauritius, one of the best hotels of the Beachcomber Group, offering a unique view on the small islands in the north coast of Mauritius. This hostel has been recommended to us on several occasions as being an ideal place for a family week end.
We were all very exited not knowing exactly what to expect.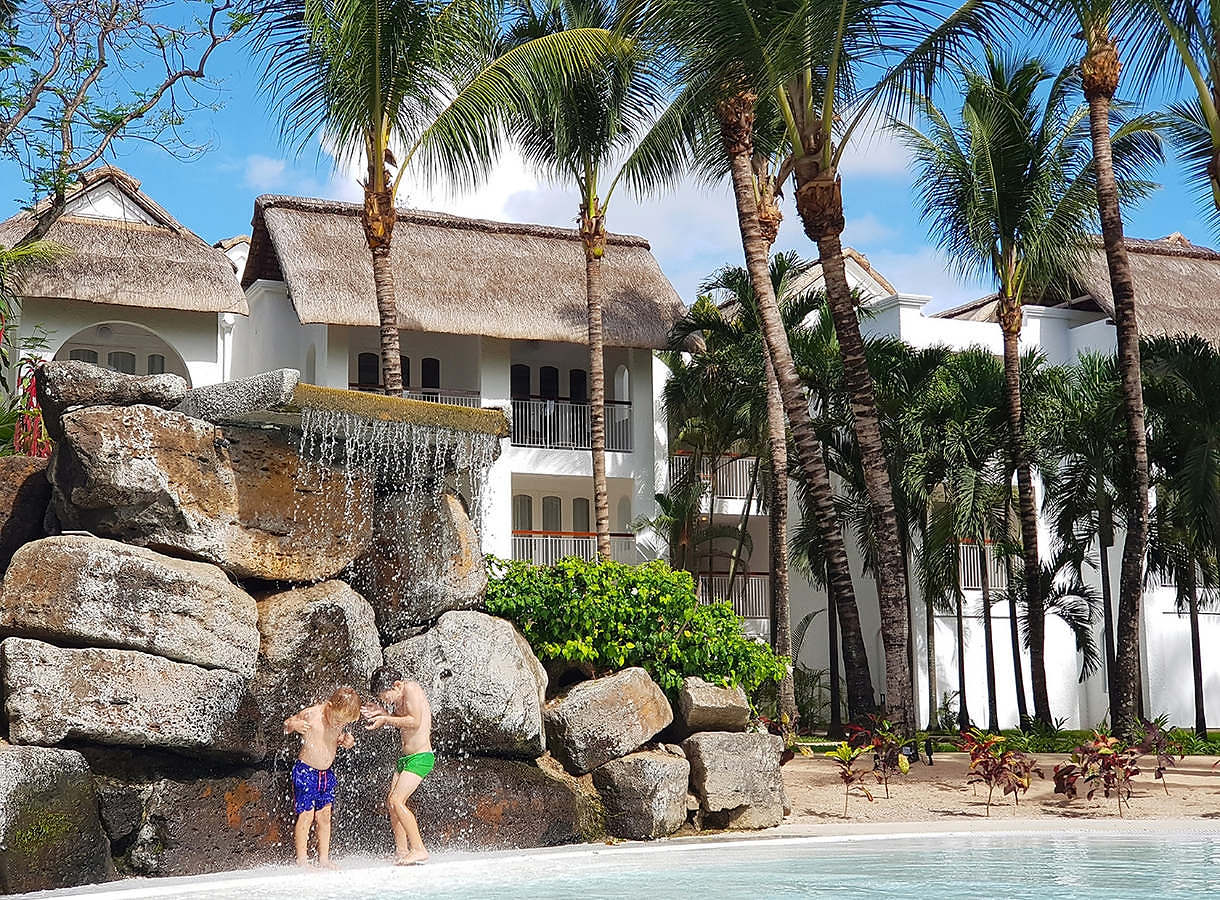 Time has come to start the adventure. Having packed the necessary clothing for the week end we are now on our way, direction Grand Bay, more precisely towards Pointe aux Cannoniers, a wonderful place with its multi-coloured lagoon, only forty kilometres from Tamarin.
Our arrival at this earthly paradise situated in the north west coast of Mauritius.
On arrival at this small paradise, which has recently been renovated, we received a warm welcome, typically Mauritian, and the staff was available at all times, doing their best to please us.
We were all eager to move to our family room which would be our home for a week end.
Clean and so spacious that we felt as if we were in a small apartment. A special mention for the bath, according to the children's verdict.
After having a drink time has come to discover the Canonnier Beachcomber Golf Resort & Spa – Mauritius's chef's specialities.
We opted for the option 'All Inclusive' as we wanted a relaxed week end and we did not want to bother about meals and drinks ordering process each time a child wants something. We then had to decide on the type of buffet which would suit us best. After deliberation we all opted for The Frangipanier buffet, and we have been delighted. There was a large variety of dishes, from typical Mauritian food to traditional European plates, from which to choose. Victor, although only six years old, was about to be the greediest, but finally ranked after his mother.
The deserts. The superb display of the various deserts was an invitation to taste all of them. Unfortunately, we had to be reasonable as there was no more room, except for one or two. We therefore exchanged views on the different flavours, each one of us being convinced that he was the only one to have made the right selection. In fact, we were all absolutely right.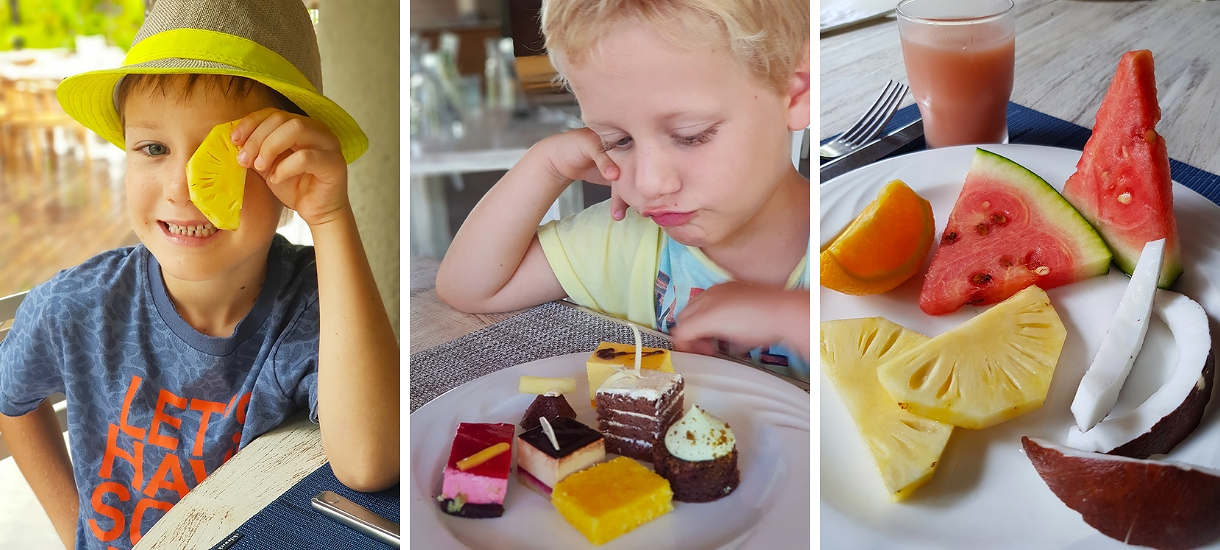 Various activities offered to families by the Canonnier Beachcomber Golf Resort & Spa, in Mauritius.
No way would we spend the whole day in the dining room.  The hotel is ideally situated, overlooking an immaculate white sand beach with aligned sun beds and colourful umbrellas.
It was not long before the two boys asked to be directed to the Tip Top Kids Club which offers a wide range of water activities to be performed by the whole family. Sailboards, bottom glass boats, pedal boat, Kayaks, snorkelling and water skiing are available for free.
Returning to the beach our two pirates spent much time looking for treasures under the rocks in the swallow waters. They however rested satisfied with their catch, a few small fishes which they released after a careful examination. For my part I was so happy to jump, with them, from one rock to another, which reminded me my childhood.
Followed was a two-hour promenade in kayaks, sneaking between the tiny isles, before having a well merited swim in the immense swimming pool. The kids were still standing strong.

hop, hop, hop…
A spectacular view of a sundowner at
Canonnier Beachcomber Golf Resort & Spa

– Mauritius

Time has now come to have a drink at the beach bar and to share with the boys the wonderful moments which we had all along the day, while observing the sun gradually plunging into the turquoise sea, emitting a panel of bright colours ranging from yellow to orange and from violet to red.

We highly recommend to lovers and to those who wants an activity with the family to consider coming for a sun downer at the Canonnier Beachcomber Golf Resort & Spa– Mauritius before enjoying the diner.
After a long day on the beach it is time for diner and show 
We are back again in the dining room. The atmosphere is quite different from what we experienced in the morning. The display of the various ready cooked dishes was impressive. There was a large variety of starters which drew my attention while the three boys were more interested in the main course.
After the diner we had an insight of the Mauritian folklore presented by local artists. It was a very pleasant evening.
Enjoy the last day at Canonnier Beachcomber Golf Resort & Spa– Mauritius
After having spent an excellent night in our comfortable room we had a late breakfast, followed by a visit in the hostel boutique where we bought souvenirs for the children. You can also find Made in Mauritius handicrafts as well as dresses, clothes for golfers and snorkelling equipment.
We could not depart without paying a last visit to the beach.
The beach seemed more wonderful than previously, perhaps because we were visiting it for the last time, or at least for a certain time.
Our departure for Tamarin was a difficult moment for all of us, but mainly for the children who really enjoyed their week end at The Canonnier Beachcomber Golf Resort & Spa– Mauritius.
To conclude, we can say that the hotel Canonnier Beachcomber Golf Resort & Spaoffers a service which matches the very best standard. It is a haven of peace for those who look for a place to relax in an environment which is respectful of the nature.
For the more athletic ones, the Canonnier Beachcomber Golf Resort & SpaHotel provides a large panel of nautical activities free of charge. It can also, on demand, organise with renown service providers other interesting activities such as big game fishing, catamaran trips or guided visits of the Mauritian heritage or the exploration of the fauna and flora of Mauritius, both with electrically assisted bikes of Electro-Bike Discovery also known as Explore nou zil.
You can also rent bicycles at your hotel and discover by yourself some interesting aspects of Mauritius.
The hotel Canonnier Beachcomber Golf Resort & Spais the ideal resort where you can enjoy family activities and have a memorable stay during your holidays in Mauritius.
We really enjoyed our week-end with the family at the Canonnier Beachcomber Golf Resort & SpaHotel
Did you know?
The Pointe aux Cannoniers is a small cape in the North of Mauritius, in the Indian Ocean. It is well placed near the incomparable beach of Mont Choisy, at only four kilometres to the East of Grand Bay and five kilometres of Trou aux Biches.
From The Canonnier Beachcomber Golf Resort & Spa– Mauritius you can visit the Pamplemousses Gardens, the Aventure du Sucre Museum or the renowned chapel of Cap Malheureux for being mentioned in the love story of Paul and Virginie. You can make these visits either by bus or by electrically assisted bikes of Explore nou zil.